Professional welders often look for multi-process welding equipment if their job involves different types of welding. Even beginners and hobbyists also need them to try out various methods. Multi-process welders are handier than others because they can single-handedly pull off multiple activities without requiring you to invest hugely.
So, if you fall under any of the user categories, this article is for you. Here I will bring the best multi-process welder units for you, review their features, and pinpoint their pros and cons. Other than that, you will also get a thorough buying guide to learn how to get the best one.
Without beating around the bush, let's start!
Best Multi-Process Welders Reviews
1. Lincoln Electric Powermig 210 MP – Best Multi Process Welder Under $2000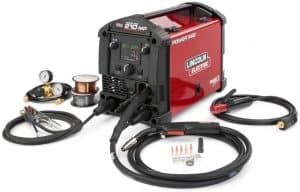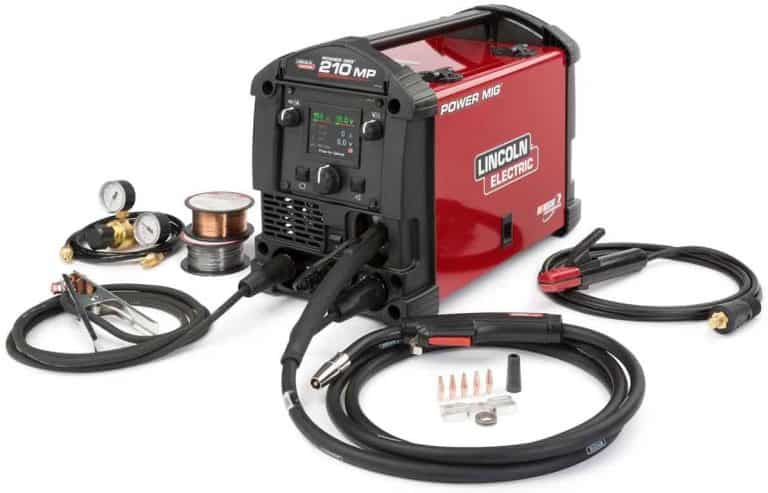 Lincoln MIG 210 MP is the best multi-process welder for small contractors, hobbyists, and trainers who often have to perform multiple kinds of welding. You can use it for all fundamental welding purposes. It has a light structure so you can carry it comfortably. It features a digital display to facilitate user convenience.
The other features enable it to deal with stick welding, TIG welding, flux-cored welding, and MIG welding. Besides, there are push-and-turn controls and color displays to simplify the setting. You will find the digital readouts easy. They let you make slight adjustments if necessary.
The color display will be your guide to prepare the setup. It makes the entire operation hassle-free and intuitive.
The dual-voltage input (230V or 120V) suggests that a user can run it with every power unit. Constructed with all-metal and sheet-metal wire drives, the welder has a rugged body. So you can use it readily in your workshop or house.
But this is not all you get with the welder. There will also be a K870 Foot Amptrol and a K1782-6 TIG Torch. They have advanced settings and options, but anyone can access them.
For any welding novice, the Lincoln welder is a treasure. It is highly flexible and can teach you the ABC of welding. It will be of more use with your progress.
Reasons to get
Capable of performing many welding processes
Solid construction
Easy to operate
Digital readouts available
Pre-programmed settings included
Perfect for every small and medium level job
Reasons to avoid
Not the best one for industrial purposes
2. ESAB EMP215IC – best dual voltage multi process welder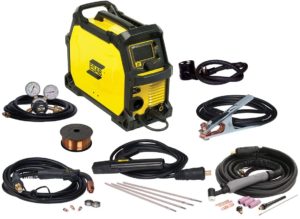 When you have to weld stainless steel, aluminum, or other metals, the professional-grade welder from Esab will fulfill your demands. It is the best multi-process welder for both experienced and amateur users.
The display will enhance user convenience, and the handle will allow them to carry it without feeling burdened.
The unit will deliver efficient and dependable performance for stick, MIG, lift TIG, and flux-cored welding. Motivated by pro welders, the product works as a whole package to weld steel, aluminum, and other metals.
Its innovative display screen is large and has high pixel density, ensuring clear views for you. You will see a manual and a list of spare machine parts on the display screen. It enables you to enter material thickness, material type, and wire size.
Along with durable construction, there is the advantage of portability. The brand gave the welder a handle cage roll design to tackle any jobs around the site or workshop. They built it sturdily with aluminum.
The dual voltage has enough flexibility – you can choose 230V or 120V as per your job requirements. The lift arc, being very smooth, works reliably. Moreover, the welder will correct any mistake you make. That is what I liked most about it.
Finally, the package will bring earth clamps, a TIG torch, an electrode holder, a MIG gun, and other regulators and accessories.
Reasons to get
Intuitive display screen
Easy to set up
Great value for money
Easy to change spools
Flexibility in dual voltage inputs
Capable of correcting operator's mistakes
Reasons to avoid
Not that beginner-friendly
3. Miller Multimatic 215 – best professional multi process welder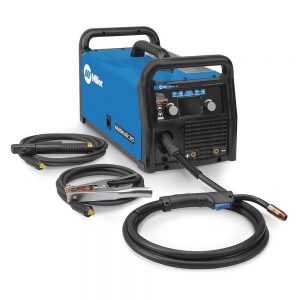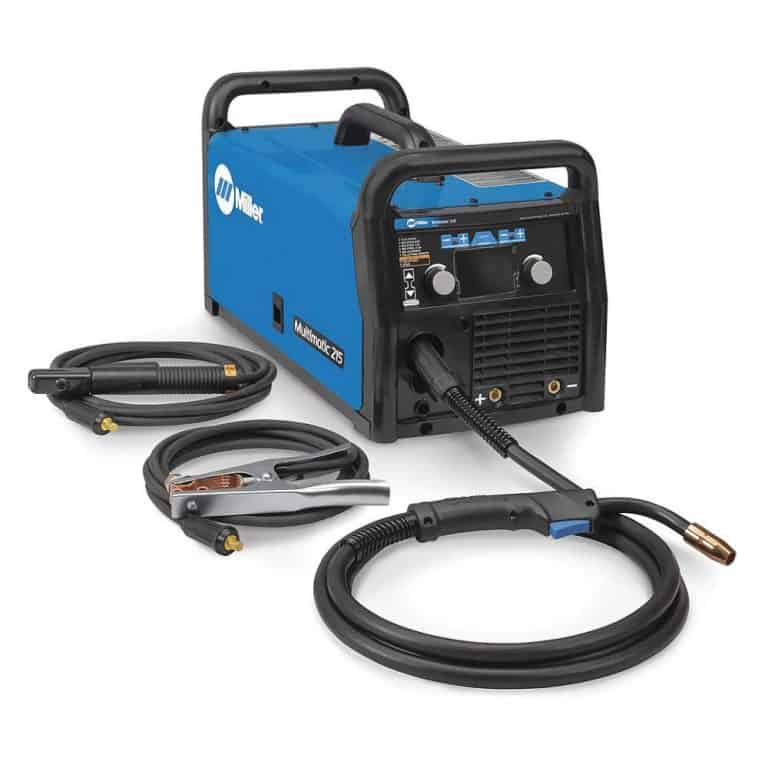 If you are searching for a compact welder with multi-process capabilities, this Miller model is a good choice. It allows you to adjust welding functions as per your needs. Its overload protection mechanism shields it during unusual power supply situations. The use of modern inverter technology distinguishes this welder from others in markets.
Miller's Multimatic 215 is a multi-process welder with a 230 A power supply. Stick, DC TIG, and MIG welding are all possible with this portable welder. Its diversity and ease of use aid in the development of welding skills.
When it concerns the built-in panel, it has a regular color LCD and Miller's Auto-Set Elite. The Auto-Set Elite sets MIG, Stick, and TIG welding parameters automatically. Simply enter the tungsten electrode diameter and metal thickness. You can also do it manually according to your preferences.
This welder is just 38 pounds in weight. As a result, it is light and easy to transport.
With the exclusive multi-voltage plug from Miller, this dynamic welder can run on 240V or 120V input power. The equipment can weld mild steel with 3/8″ thickness.
Thermal overload protection instantly turns off the source of electricity. When the welder's duty cycle surpasses its limit, it will do so. When needed, the fan-on-demand electricity source cooling system kicks in. As a result, it uses less energy and produces less noise.
Reasons to get
Easy adjustments between functions
Clear views and bright display
Less energy consumption and noise production
Amazing portability
Ability to develop user's talents
Reasons to avoid
Difficult to operate in the beginning
4. Everlast PowerPro 164Si – best multi process welder with plasma cutter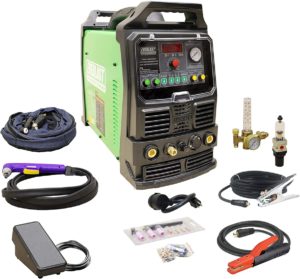 This welder machine is perfect for anyone who wants a digitally controlled multi-process welder. It is designed as an all-digital multi-process inverter to deliver precise welding results for each task. The equipment is becoming famous due to its user-friendly interface and ability to swap inputs precisely.
The cutting-edge digital model has all the features of previous models. It has also added synergic capabilities to the 3-in-1 welder's MIG components.  MIG, Stick, and TIG welding are the three primary welding procedures that it can do.
The bright display exhibits the outputs and inputs accurately. The intuitive panel layout may take a while to adjust, but that will be no issues later. You can select features in the panel swiftly and simply.
The light design of the welder makes it carriable and suitable for job sites and motorsports.
The user can dial in their desired Stick welding output using the customizable arc force controls. The configurable burn-back controls preserve power when feeding ceases. This will allow the wires to burn back to their correct length without the need to trim them.
Welders looking for versatile welding performers for their shops or constructions sites must check this one out. It can handle the daily welding chores seamlessly. And the included additional items have decent quality.
Reasons to get
Synergic capabilities
Advanced design
A panel with an intuitive layout
Suitable for commercial and DIY welding
Swift setup
Reasons to avoid
Internal issues regarding gas leakage
5. Weldpro 20 AMP Inverter – Best Portable Multi process welder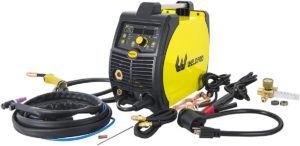 One of the newest welders this year is the Weldpro 200A multi-process welder. The welder can carry out aluminum welding and lift TIG welding with the added spool gun. It is simple to put up and made to last.
Its uses are for hardware, factory maintenance, automotive modification, factory maintenance, and décor, among other things. Aluminum welding, flux core / MIG welding, and TIG welding are among the welding methods it can accommodate. At a peak power of 200A, several welding procedures are also performable.
The dual-monitor on this 3-in-1 unit is simple to read. It will present the outputs and inputs precisely.
When recurrent welds occur, you can set the amperage and wire speed easily. There will be a menu system to showcase the essential information. The digital screen displays the amps and volts based on ARCH, MIG, or TIG functions. Furthermore, you can adjust the inductance settings.
The welder weighs only 30lbs. So you can move it anywhere without any hassles. You can also keep it anywhere because it does not take much space. The credit goes to its dynamic design.
There are overload protection and VRD high temperature associated with an indication for security purposes. You will also enjoy the feature with special provisions to adjust volts to the extent of 20% more or less from the beginning range.
Consequently, the welder offers you a wide array of adjustments. The applied inverter technology will deliver high power outputs. And there will be a switch for your spool gun when you use aluminum.
The additional parts with the welder ensure sustainability. Its overall appearance is satisfactory enough to give it a go.
Reasons to get
Maximum output of 200A
Compact and lightweight design
An added adapter cable
Overload protection and high temperature
Durable construction and simple settings
6. ESAB Rebel EMP 205ic – best multi process welder with ac tig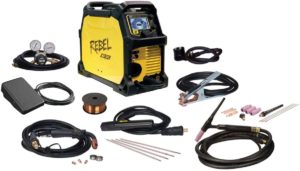 This MP welder is users' favorite because of its versatility and portability, having lots to offer for many processes with convenience. The all-round system gained accolades for its top-notch performance during each welding activity. And yes, it also supports various languages!
The model comes with MIG, AC TIG, flux-cored, stick, DC Pulse TIG, and DC TIG capabilities. You will find it available with professional features like high-frequency in DC and AC modes. The parameters are easy to adjust.
The feature named sMIG or Smart MIG constantly adjusts to your welding technique. Thus, it can offer steady arcs and remarkable welding outputs.
In addition, the display has four memory locations for each process, and they are programmable. Other settings include language selection, trim adjustment, inductance control, etc. You can make changes to obtain your desired performance.
The weight is 47 lbs. So portability is no issue here. And the handle roll cage design paves the way for you to use it at any construction site. It will reduce training time for novices, whereas productivity will boost for experienced users.
Reasons to get
Professional-level TIG features
Portability and durability
Lightweight design
Efficient performance
Multilingual and feature-rich display
Excellent for novices and professionals
7. Eastwood Elite MP250i – Best all in one multi process welder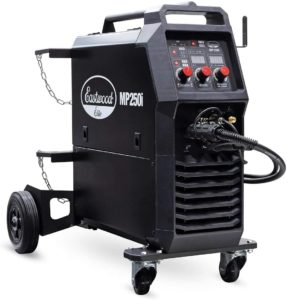 The welder from Eastwood is a powerful unit to accomplish all your welding missions. Its amperage ranges from 25 to 250, so you can apply it for everything. Talk about customization or even metal fabrication. The welder can manage them all!
It has an impressive duty cycle of 60% for a welder with a competitive price tag. Eastwood gave its welder a straightforward and sleek control panel. There are several dials and buttons to customize the settings and make them easily operable.
The machine runs on 240V or 120V. It is pro at welding steel. Welders can also try aluminum but with an additional spool gun.
The package of the welder has other essential items. Based on the performance it provides, the price is justifiable. However, the weight is 149 pounds, which may be an issue for some users.
Reasons to get
60% duty cycle
Availability of additional accessories
Reasonable price
Easy to operate
Usable for various purposes
8. Vulcan OmniPro 220 – best multi process welder under 1500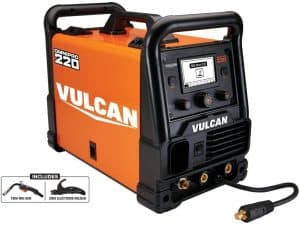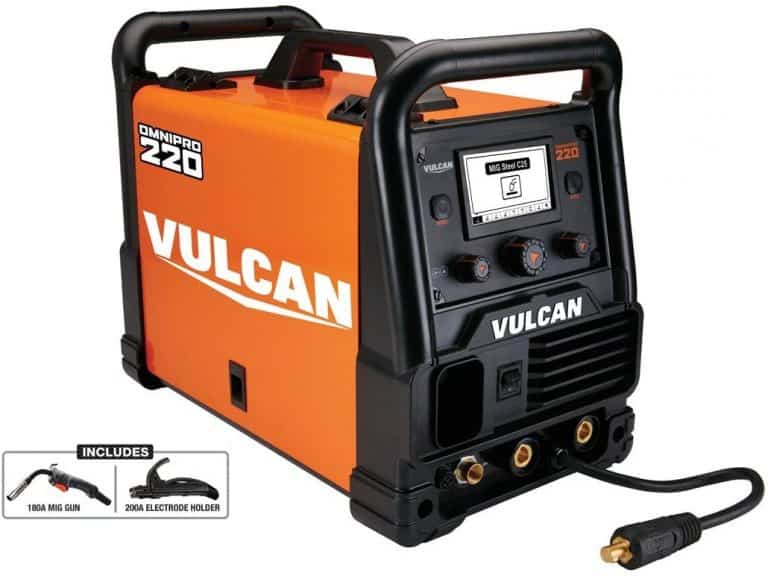 The Vulcan OmniPro 220 welder's drive system is made of industrial quality aluminum, making it extremely powerful and long-lasting, which is crucial in a welder.
By utilizing inverter technology, the OmniPro 220 improves your speed and power, resulting in higher performance and better cutting and welding. The wire feed speed ranges from 50-500 inches each minute based on where you use it.
The Vulcan is a three-in-one machine, having DC MIG, DC Stick, and Flux-core capabilities. Simultaneously, it offers a clear LCD screen to choose between operations. To alternate between MIG and stick welding jobs, you will not need to purchase different machines.
The welder additionally features a memory capacity and a 4.3-inch LCD screen with preloaded and programmable work options. Instead of experimenting with selecting the optimal settings, you can rapidly master the controls. Just load the application that corresponds to your equipment and get started!
The gadget comes equipped with spool guns, one of its best features. To prepare for MIG, you won't need to purchase an adapter. It accommodates both steel and aluminum welding.
The industrial-grade driving gear flawlessly connects the wire with the torch. That results in a highly lasting and sturdy yet lightweight welder.  It also has a wire capacity of about 15 feet.
Reasons to get
Quality construction
Superior performance
Equipped with spool guns
Adapter not necessary
The flawless connection between the wire and the torch
9. Lotos TIG200ACDC – best multi process welder for aluminum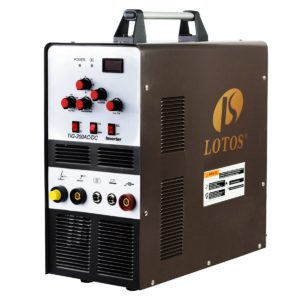 Lotos has the best multi-process welder to assist you in getting accurate welding output. It is superbly user-friendly for professional and individual use. Both professionals and beginners will find it beneficial. It has a dual voltage to permit you to switch between energies.
You can weld mild steel, aluminum, stainless steel, and alloy steel with this welder. It can detect the necessary voltage amount to make automatic adjustments.
The brand used wave inverter technology to build the unit to provide the most exactness in welding. It is robust enough to weld ⅜ inch solid metal elements.
You will enjoy first-class results during Stick and TIG welding projects. TIG will produce 10 to 200 amps, while it is between 30 and 200 amps for stick welding.
Like most welders, the Lotos one also offers different accessories with the product. They are essential to begin any regular welding jobs. In the case of this one, you will get a TIG torch, a mask package, and a pack of other items.
Reasons to get
Budget-friendly price
Versatile performance
Easy to control
Maximum accuracy ensured
Dual voltage
Reasons to avoid
Absence of the pulse feature
10. AHP AlphaTIG 200X – best multi process welder under $1000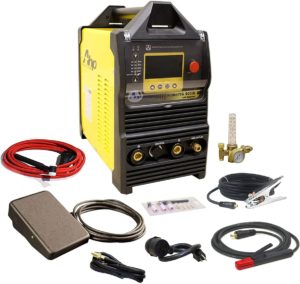 The AHP 200X is high-quality yet low-cost to TIG weld stainless steel, aluminum, steel, and stick welding. It comes with several fascinating features, and you'll struggle to get a better bargain TIG welder that offers such outstanding performance.
It is mainly for TIG welding. But you can purchase it for stick welding, too. The arc will be smooth. Plus, there will not be much splatter.
It is a dual voltage welding equipment, operable on either 220V or 110V. That is especially useful when you are a newbie without a generator. Also, if you want to use the welder in multiple places more conveniently, the AHP would be the best multi-process welder for you.
I loved that the welder can weld equally accurately on both voltage levels. You will get more power from 110v when it raises a 140A output, generating smooth arcs. The output ranges between 10A and 200A to ensure more power and versatility. From ⅜-inch mild steel to ¼-inch aluminum, the unit can weld it all.
The weight of the machine is 50lbs. That means you can carry it around. Its 110v option makes it more eligible for portability as you can run it with any household power unit. It is more useful when you have no generators or go places to work.
Reasons to get
High-quality arcs
Value for money
Portable and useful to work in different locations
Equally efficient on both voltage levels
Very powerful and multifaceted
Reasons to avoid
Foot pedal quality is not satisfactory.
11. Lotos CT520D – best multi process welder under $500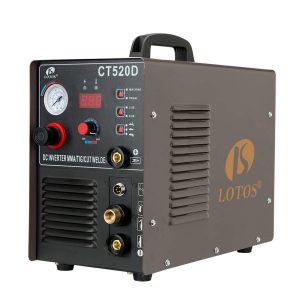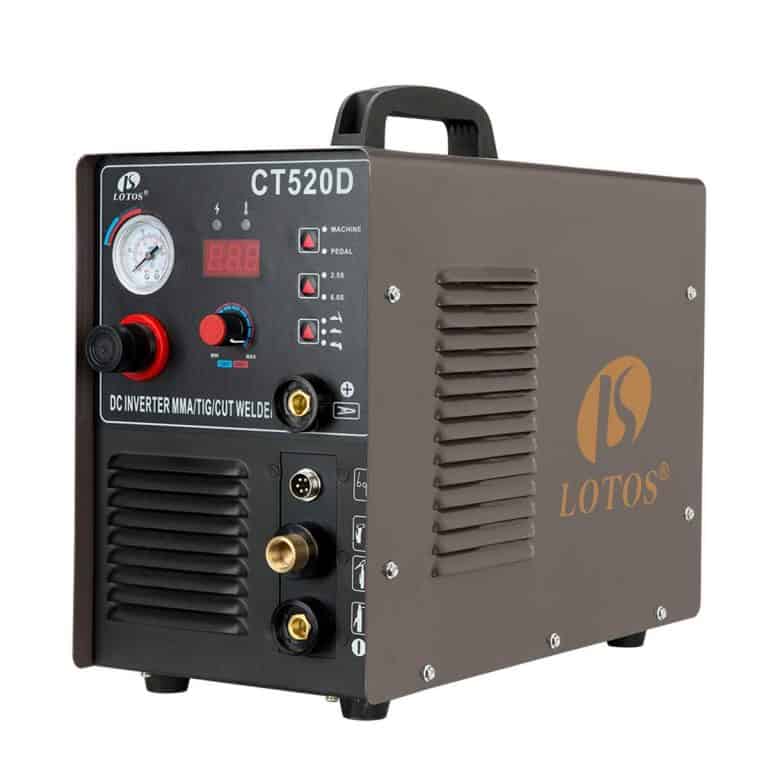 This one from Lotos will offer you a range of options if you are a MIG welder. It is one of the most advanced plasma cutters available at a fair bargain.
You will get three types of services from the unit. It works as a 50A air plasma cutter, a 200A stick welder, and a 200A TIG welder. And all of it will happen at your flipping a switch.
There is a start-hand control system installed in the welder. Its job is to initiate a fast and easy arc start. Apart from that, the foot pedal is precise at providing stable welding.
The security system lets you change the modes quickly. It is one of the most valued machines to weld and cut together. Its non-touch pilot permits you to cut through rusty and uneven surfaces speedily.
If you frequently do outdoor projects at different places, keep this unit on your list. It weighs only 38.5 lbs, made to be transportable. Additionally, it will come with a comfy grip so you can carry it anywhere.
About safety, do not worry at all. Lotos CT520D is the best welder in terms of security. Plus, it is easily operable because of its fantastic control system and advanced technology.
Reasons to get
Multifunctional, light, and safe
Conveniently operable
Excellent cutting capability
Efficient operation
Very well-built
12. Forney Easy Weld 140 MP – best cheap multi process welder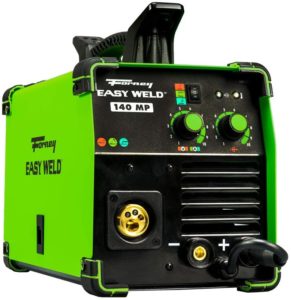 The 140 MP welder can perform three basic methods of welding. You have to change the processes as per your work purposes. The easy-start system simplifies its functioning. And the integrated handle will facilitate convenience and portability.
You can easily set it up and perform the flux-core process during MIG welding. Then you will switch it to weld mild steel by gas setup. For stick welding, it can operate stick electrodes. That would include a stinger and ground clamps.
The vivid display featured in the unit will present you with inputs and outputs. You will control the voltage level using it. Even more, the welder's wire feed controls let you dial in perfect welds. The welder does not look heavy, so carrying it will not be an issue.
The brand made the equipment durable with all-metal cases and metal wire drive assembly. The materials shield it against outdoor elements' ruggedness.
And guess what? There is a one-year warranty with the welder!
Reasons to get
Broad voltage range
Highly suited for light work
Resilient construction
Capable of repairing old things and creating new things
Warranty available
13. PrimeWeld TIG225X – best multi process welder for the money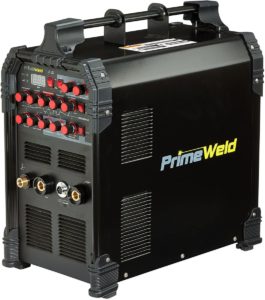 The multi-process welder from PrimeWeld is a unit with many sophisticated characteristics. To start with, it now comes with a rocker-style pedal. That is something most welders have loved lately. So, if you buy this one, you will not have to replace or modify the foot pedal. Just unbox it, and it is ready to be of service.
Like the other welders I reviewed, this one runs on 240V and 120V. With that, it offers an adapter so you can convert from one voltage level to another.
The control is the best part of the welder. You can have authority over it almost during every step of your work. There are post- and pre-gas flow settings, pulse and slope controls, AC balance, and others. Now there is a much-needed heads-up for you. Learning to use it to the fullest will take you a while. But it will be more than worth it.
You also get to choose between 4T and 2T trigger control. If you often install out-of-place long welds, the first one will become your best buddy.
The brand will give you a legit CK17 torch. If you have been welding for some time, you know the quality of CK torches. So, that is one pleasant surprise for you at this budget. You can also get some water-cooled torch for the welder. Not that you would need it now, but if you ever do in the future, when your torch gets hot, you can enjoy this feature.
There will also be a Superflex hose to make your job easier. It is effortless to flex and move it. So when you are at work, you will not need to busy yourself and put half of your focus on fighting it.
Here is another beautiful surprise for you. While the product is, hands down, the best multi-process welder for the money, PrimeWeld did not keep it limited to that only. It also made sure you get to use it for a long time without having much concern. So there is a three-year warranty available after all of the things you get from the welder.
Reasons to get
Great features with high control
An original CK torch
Option for water-cooled torches
Reasonable price
Three-year warranty
14. LOTOS LTPDC2000D – best multi process welder for home use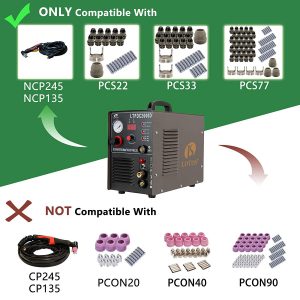 Let me tell you the first thing about the Lotos LTPDC2000D. It is the best multi-process welder for home use. If your job is not about outdoorsy projects, you can be sure of relying on it.
The three-in-one equipment is a 200! Stick welder, a 500A pilot arc plasma cutter, and a 200A DC TIG welder. It will cut innumerable metals with half-inch of thickness for you.
If the duty cycle is crucial to you, you must have found out that most machines do not have it as their brands advertise. But Lotos stayed true to its words in this case. The welder will help you with the dual time while welding and plasma cutting.
It will keep cutting for six minutes at its highest amperage without any pause. And the welding can continue for the same duration without any interruption. So, given the temperature settings, you can expect it to fulfill its duty cycle criterion as advertised.
Purchasing the Lotos welder will get you accessories like a power unit cord, a TIG torch, ground clamps, an air filter, a cutting torch, and a regulator. Besides, you will get a one-year warranty coupled with a thirty-day money-back guarantee.
Reasons to get
Impressive duty cycle
Best for home use
Welding without interruptions
Multiple additional items
Availability of both warranty and guarantee
Very budget-friendly
Reasons to avoid
Not usable for welding aluminum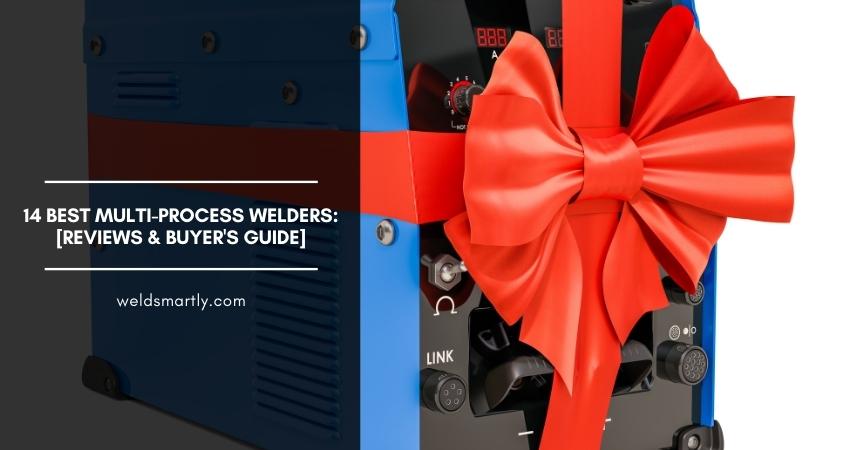 How To Buy The Best Multi-Process Welder?
Buying the best multi-process welder requires you to pay attention to some factors. If you are not aware of them, you may end up with an overpriced, underperforming welder. So let's look at what you should keep in mind during the purchase process.
Build Quality
The build quality of an MP welder is mostly about its durability. You can estimate the same by its warranty range. The lengthier the warranty, the higher the quality. Also, look at the included accessories and check their standards.
You may have to pay more for it. But over time, it will save you money.
Power Supply
Dual voltage power supplies are very nifty. While browsing online or visiting a shop, remember not to rely on specific outlets. Besides, you may prefer 220V for higher output. That will enable you to cut solid materials in single passes.
Overload Protection
This one is a must-have for any welder. It will allow safe witching during different processes. If your welder does not have it, its body will become vulnerable to damage.
Price
An MP welder is pricey regarding how much you will have to pay. But it is also a lot cheaper than buying individual equipment for different activities. For home uses and DIY purposes, get an affordable one with the basic functionalities. Additional features will add to the total cost.
Ease Of Use
One of the main reasons for buying an MP welder is minimizing the hassles of using multiple welders for multiple processes. So, get yourself a welder with an easy setup. Otherwise, it will take you hours to learn its functions and operate it.
Versatility
This one does not need more explanation. But I want to tell you about the features. Then you will know what you should expect from your welder.
MIG features enable you to use the welder in professional workshops. They are perfect for industrial purposes. On the other hand, TIG features are all about making aesthetical welds. Their precision is excellent for sculptures. You can also use them for welding motorbikes and car shells.
And stick features are for heavy pipes, repairs, and steel constructions. Moreover, you can run them to weld corroded or dirty materials.
Weight
Heavyweight welders are appropriate for workshops, industrial and commercial sites where you need pro-grade welding. However, for residential and DIY purposes, the weight should be light. If it is not, it will be a problem to move it when needed. Look for welders weighing approximately 40lbs. They are convenient to carry.
Display
The ease with which you can control a multi-process welder's characteristic determines its performance and flawlessness. To acquire the desired result, you may have to change the inputs. Most of these machines have a bright display that allows you to quickly read the outputs and inputs to regulate the operation correctly.
If the equipment has a digital display, some characteristics such as amperages and wire-speed have easy regulations. The intuitive LCD screen offers further convenience when controlling. Another benefit of a quality display is that it walks users through the installation process step by step.
Frequently Asked Questions
If you have questions after reading the reviews, scroll down to see if the questions answered below are useful.
What should I remember when picking a multi-process welder unit for industrial and commercial purposes?
Whatever purpose you want your welder to serve, see if it has enough amps. The power ensures whether the welder can handle different welding projects or not. Besides, you should also consider durable construction for the applications. A welder should be stable and sustaining when used for industrial and commercial purposes.
Is every multi-process welder versatile?
Yes. The purpose of using multi-process welders is to get rid of repeatedly switching between equipment. MIG, Stick, and TIG are the basic welding processes. So when you choose a unit, make sure it supports these methods. Plus, it should allow you to switch between the features easily.
Is there any advantage of using a portable multi-process welder?
Of course! It will benefit you with easy transportation and small storage. It is fantastic for DIY and residential purposes.
What other features should I expect from a multi-process welder?
The most advantageous features include integrated handles, intuitive display interfaces, digital controls, etc. All of them contribute to the ease of using a welder.
How do I select multi-process welders based on power units?
The power supply can impact many factors. So, when you make a decision, see what type of power unit is available. The gas-powered and electric ones are two popular types.
If you need constant current, the electric ones would be the best for you. Otherwise, you should go for the gas-powered ones.
Final Verdict
The final verdict is about the products that come to my mind when I think of the best multi-process welder. The first is the Lincoln multi-process electric welder because of its reasonable price, wide variety of features, and superior quality.
My second pick comes from the Everlast brand. It offers you the best welding solutions, providing better value for money than most welders in the market.
Finally, the ESAB Rebel Welder makes it here, trumping the rest with its workability for professional applications, advanced handle design, and intuitive display.
I chose these three based on specific criteria as mentioned above. If you have different demands, you can check out the others. Rest assured, each deserves to be the best multi-process welder. And yes, do not forget the buying guide!
That is all for today. Happy purchasing!