As popular as plasma cutting or welding is becoming among DIY persons and hobbyists, the need for an appliance with dedicated components for both plasma and welding tasks is real. This very demand raises the concern for an affordable unit.
Lotos LTPDC2000D is one such plasma and welding machine for those who need to address the 'affordability' matter without sacrificing the highly sought-after features like pilot arc torch and HF start. The satisfactory duty cycle facilitated by an advanced cooling mechanism furthers its utility.
With all these included, it can be a good pick for those who don't want to worry about welding aluminum, leaving a lot of dross, and losing the consistency of cuts.
Do all these descriptions sound too convincing to be practical? Let's go through this in-depth Lotos LTPDC2000D review for further understanding.
To know more about other options from Lotos check the Lotos Plasma Cutter Review article where we have compared 8 best selling units from the same brand.
Introducing Lotos LTPDC2000D
Save $100.64
Product Features
★ 𝐍𝐨𝐧-𝐓𝐨𝐮𝐜𝐡 𝐏𝐢𝐥𝐨𝐭 𝐀𝐫𝐜 𝐏𝐥𝐚𝐬𝐦𝐚 𝐂𝐮𝐭𝐭𝐞𝐫: 10-50AMP Plasma Cutter Current Output; Max Ideal Cut Thickness: 1/2" ; Max Severance Thickness: 3/4"; Pilot Arc Torch Efficiently Cuts through Rough, Painted, and Rusty Surfaces and Produces Minimal Slag; Compact Plasma Cutter Has a Handle for Portability and Uses Non-Hazardous Compressed Air to Cut Stainless Steel, Alloy Steel, Mild steel, Copper, and Aluminum
★ 𝐓𝐢𝐠 𝐖𝐞𝐥𝐝𝐞𝐫: 15-200AMP DC TIG Electric Current Output; Quality TIG welding on Stainless or Steel and Precise Welding of Thinner-gauge Materials; HF arc start hand torch control and Precise Foot Pedal Welding Heat Control(Foot Pedal & Argon Regulator are NOT Included).
★ 𝐒𝐭𝐢𝐜𝐤/𝐌𝐦𝐚 𝐖𝐞𝐥𝐝𝐞𝐫: 15-200 AMP DC Stick/MMA Electric Current Output; Easy ARC Start, Stable Welding Arc; Deep Weld Pool and Beautiful Welding Shape; Adjustable Hot Striking Arc Current which Can Greatly Improve the Arc-Starting Function; Suitable for Welding with Different Kinds of Acid or Basic Electrode.
★ 𝐒𝐞𝐭𝐮𝐩 𝐰𝐢𝐭𝐡𝐢𝐧 𝟏 𝐌𝐢𝐧𝐮𝐭𝐞: The pre-installed NPT 1/4" industry type D plug and air filter regulator allows you to quick connect to your air compressor by using the stand coupler existing on your air compressor. The whole machine can be setup quickly within 1 min.
★ 𝐋𝐢𝐟𝐞𝐭𝐢𝐦𝐞 𝐓𝐞𝐜𝐡𝐧𝐢𝐜𝐚𝐥 𝐒𝐮𝐩𝐩𝐨𝐫𝐭: we offer a 𝟑𝟎 𝐝𝐚𝐲 𝐦𝐨𝐧𝐞𝐲-𝐛𝐚𝐜𝐤 𝐠𝐮𝐚𝐫𝐚𝐧𝐭𝐞𝐞 & 𝐚 𝟏-𝐲𝐞𝐚𝐫 𝐍𝐞𝐰 𝐑𝐞𝐩𝐥𝐚𝐜𝐞𝐦𝐞𝐧𝐭 𝐰𝐚𝐫𝐫𝐚𝐧𝐭𝐲 along with a 𝐭𝐨𝐭𝐚𝐥 𝟑-𝐘𝐞𝐚𝐫 𝐥𝐢𝐦𝐢𝐭𝐞𝐝 𝐰𝐚𝐫𝐫𝐚𝐧𝐭𝐲 covered by our US based lifetime technical support. To avail the warranty, please submit the warranty registration form on our website. 𝐎𝐮𝐫 𝐔𝐒𝐀-𝐛𝐚𝐬𝐞𝐝 dedicated customer service team is readily available to assist you through phone or email.
As an Amazon Associate I earn from qualifying purchases
It's a plasma cutter welder combo that allows a wide range of cutting and welding applications with impressive duty cycles under the required temperatures.
Using dual voltage system, pilot arc, and German PAPST cooling system, the machine is technically capable of running efficiently with minimal slag and brief idle periods.
LTPDC2000D is a more advanced unit than CT520D including the pilot arc as the only remarkable difference.
Who Is LTPDC2000D Ideal For?
No doubt, the machine hasn't been made to be good enough for professionals who pursue highly demanding jobs like those of a factory or construction sites. But, it works quite well for people engaged in basic structural steelwork and metal fabrication at both homes and workshops.
Problems You Might Face
This unit requires certain accessories and parts for intended operations, and the manufacturer's description may not be very definitive about them. But, you may need to buy some of them separately.
Foot Pedal: Buy only from Lotos! The FP05 Foot Pedal is the right one for both LTPDC2000D and CT520D.
Argon Regulator: If you're going to use argon on more than a few occasions, you should get either AR03 or AR04 regulator for monitoring and controlling the flow rate.
Pigtail: To enable the unit to run on from 220 V to 110 V 50/60 Hz, you need PT01 Pigtail Type 1.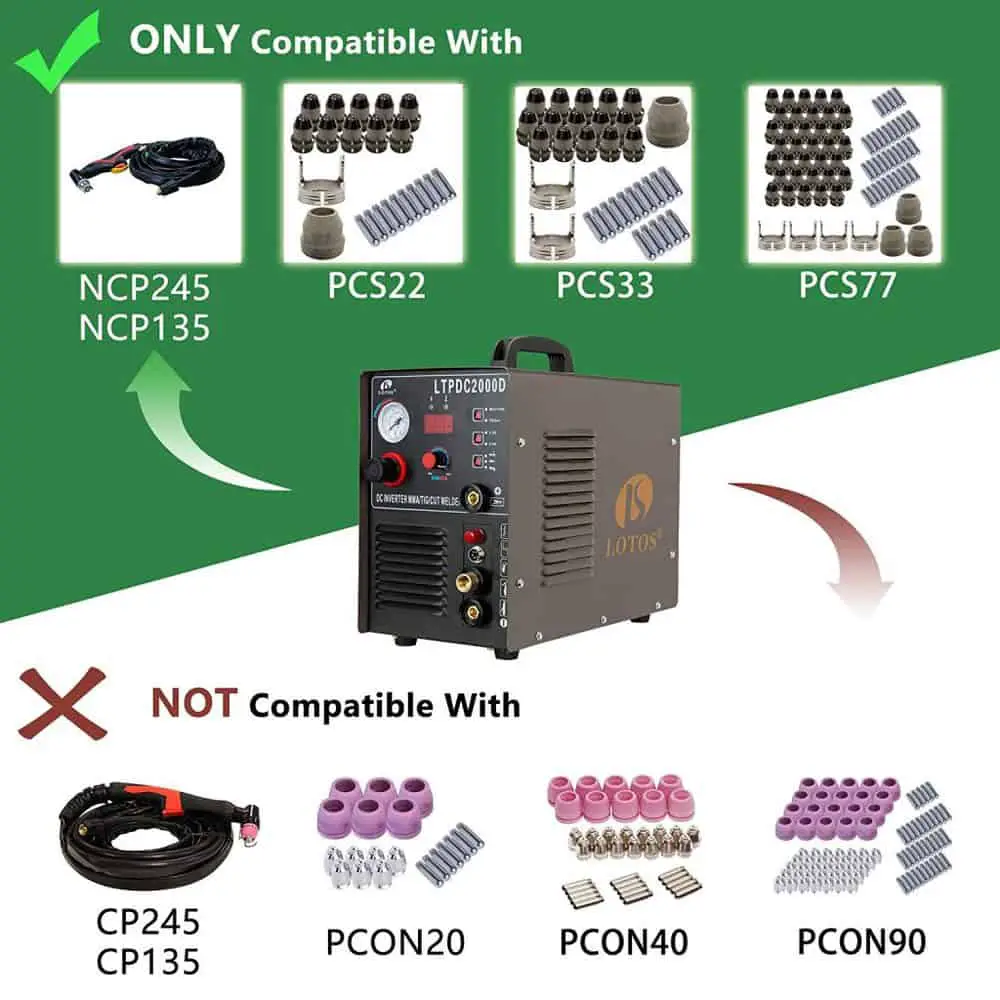 All these accessories will cost you more than a hundred bucks, but they're still worth it. Now, let's see which benefits you'll enjoy and limitations you might find.
Pros
An affordable plasma cutting and welding combo
Pilot arc for improved cut quality and enhanced consumable life
Adjustable striking arc current for easy and improved arc-starting system
HF arc start for enriched metalworking experience
Pre-installed NPT, air filter regulator, and type D plug for hassle-free connection to an external air compressor and quick setup
Lightweight design with carry handle for quick mobility across workshops
Cons
Potential difficulty figuring out the right compressor capacity
Note: For this machine, just any air compressor won't work. Even the general rule (slightly higher than the required air pressure) may not apply. The recommended air pressure for the machine is 3.6scfm @ 65psi. So, you should look for a unit that is capable of maintaining larger than 4 scfm @ 70 PSI, and in some cases, you may want even larger.
Check Price & Reviews on Amazon
Lotos LTPDC2000D Review: Features and Benefits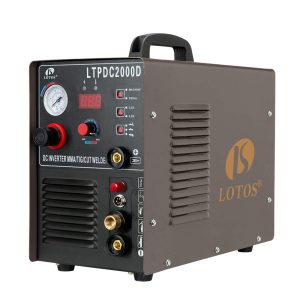 Check Price & Reviews on Amazon
This combo machine incorporates all the typical plasma and welding mechanisms combined with some technical improvements. Now, you'll learn more about the different features and associated benefits that the machine offers.
Cutting and Welding Capacities
You'll get three separate tools, such as the 50 A plasma torch, 200 A TIG welder, and 200 a Stick welder. All of these are designed for serving different purposes.
For those who are accustomed to handling rigorous plasma/welding operations, none of the performance indicators associated with this cutting and welding machine is extraordinary. But, the rated cutting (1/2″ or 12.7mm) and severance thickness (3/4″) can still be important to note.
Plasma cutting is possible as long as the materials are stainless steel, mild steel, and aluminum. Welding is recommended on stainless steel, moly, and ferrous metals. So, you can easily accept the fact 'one machine for many projects'.
Duty Cycle
If you find it sensible to consider duty cycle important, you might have discovered that the advertised percentage barely turns out to be true for most machines. But, the LTPDC2000D will give you some serious dwell time during both plasma cutting and welding.
It can cut nonstop for 6 minutes at its maximum amperage and for the full extent of its duty cycle at 35A. it can weld for 6 minutes at 200 A without interruption and 100% at 150 A. Given the recommended temperature settings, the machine should live up to its advertised duty cycle.
Pilot Arc
Let's be clear about this special technology which is more efficient than non-pilot arc in certain ways. Cutting through both clear and rough surfaces, it leaves slag only in a very small quantity. It means you need not bother about keeping the material surfaces free of rust, paint, or any signs of roughness.
With this arc, you no longer have to touch the torch's tip to your work metal. So, whatever type of cut you want to achieve, the quality shouldn't be poor, and the life of the consumables doesn't essentially need to be shorter than the standard.
Additional Read: Best 110V Stick Welder Reviews
PAPST Cooling System
Unlike the cooling system in an average plasma/welding machine, PAPST is a particularly efficient technology to control the temperature of the engine during cutting/welding works.
The process doesn't start with a fast-cooling approach. Rather, it transports the cooling to all parts and then begins its job. However, the heat is ultimately removed at a rate faster than what you can get from a typical cooling system.
You might wonder how much of the generated heat is removed by it. Well, it can remove about 30% which is good enough to allow the engine to remain cool and maintain its thermal efficiency at the same time.
Check Price & Reviews on Amazon
Alternatives You May Consider
As an Amazon Associate I earn from qualifying purchases
Check out my separate reviews on the other plasma cutters compared in the above table –
Final Verdict
For a wrap-up of the machine's usability, you can focus on a few things like its cutting capacities, speed, duty cycle, consumables, and technologies.
Its cooling system and pilot arc with HF start ensure that you won't have to end up getting poor cutting/welding outputs. Even without the foot pedal, pigtail, and gas regulator, the inclusion of all these facilities makes its price more reasonable than the competitors'.
Thus, its value is easy to assess for both newbies and professionals. Check the product's latest price here.