Plasma cutting is a highly sought-after technique for non-linear cuts, metal artwork, CNC plasma cuts, demolition, scrapping, and recycling operations.
Modern plasma cutters come with loads of industry-specific specs and the promise to ensure quality cuts through steel, expanded metal, and >1-inch thick non-ferrous material.
However, any random plasma cutter won't help you with these challenges.
Large cut thickness except only in adverts!
Lower rate/percentage of duty cycle than what's labeled!
When either of these is true, you'll experience low-quality cuts, unwanted stops during the operation, overheating, safety concerns, etc. which are the last things you want while doing plasma cutting.
Soon, you'll end up regretting a wrong choice and looking for the right unit that brings higher power output, cuts clean, allows precision, and lasts long.
Here's a Lotos LTP5000D review that unwraps every small detail of the product and explains how it can assist you in the above difficulties.
To know more about other options from Lotos check the Lotos Plasma Cutter Review article where we have compared 8 best selling units from the same brand.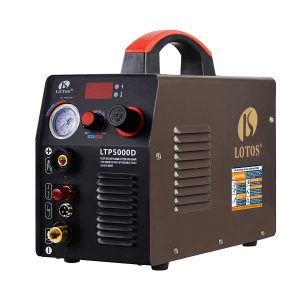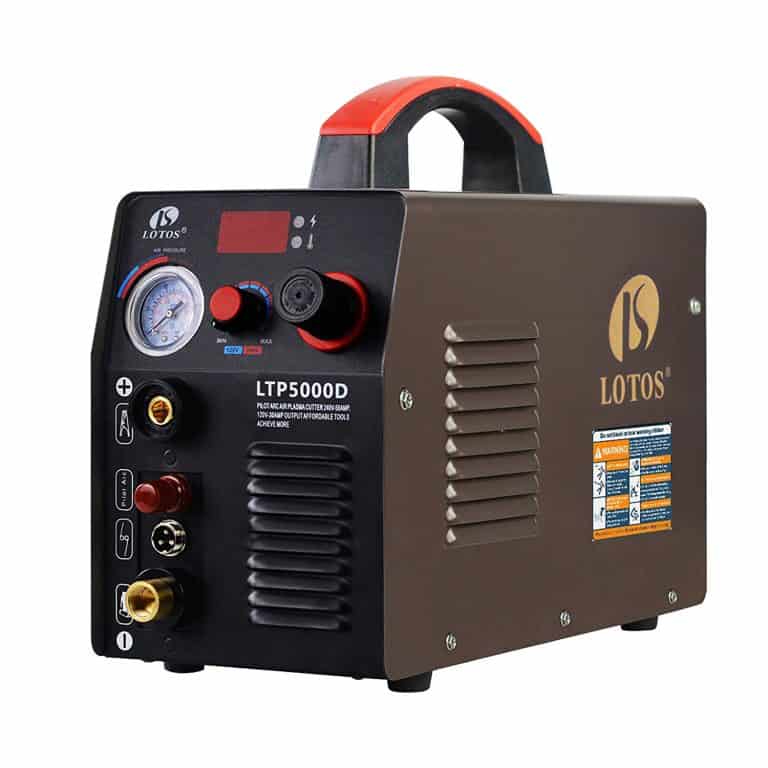 Introducing Lotos LTP5000D 50Amp Plasma Cutter
As an Amazon Associate I earn from qualifying purchases
The Lotos LTP5000D is a 50 A plasma cutting machine with dual voltage system allowing ½" clean-cut thickness and 3/4″ severance thickness on 10-gauge mild and stainless steel and aluminum.
Producing non-touch pilot arc and using inverter technology with PAPST cooling system, the plasma cutter claims to operate with ample power output and precision cutting for prolonged periods.
The machine alone weighs 19 pounds and the package includes torch power supply, torch, pre-assembled NPT 1/4″ industrial-grade D plug, ground clamp, consumables, air filter regulator, and an instruction manual.
Considering the advertised specs, one can confuse this one with LOTOS LT5000D which comes at a little higher than half the price of LTP5000D but offers nearly similar features except only its use of an Air plasma and a slight compromise on the power output (same motor specs though).
A higher-end model from the same brand is LTP8000 which features increased power output, cutting thickness, and a substantial raise in cost.
Additional Read: Lotos Plasma Cutter Review
Who Should Use LTP5000D?
This plasma cutter is ideal for those who are qualified professionals working at a fabrication shop. You can expect to tackle home projects that require long periods of operations. However, this machine isn't essentially built to withstand the workload of an industrial project.
If you're an occasional user with no urges to commit to the trade more frequently than 1-2 time(s) a month, a more affordable unit with humble specs like those of LT3500 should be enough.
So, why should anyone look for this pilot arc plasma cutter? Well, here's the list of advantages and limitations you might be interested in.
Pros
Standard features and adequate cut and severance thickness for copper, aluminum (1/2″ or 12mm), mild steel (5/8″ or 16mm), and stainless steel (1/2″ or 12mm)
Digital air pressure monitor with Essential safety features for unhindered operations
Compact and not much weighty
All essential components included to help the user save on separate purchase
Preassembled machine requiring only a few setup steps (thoroughly illustrated documentation)
Use of clean, dry, non-hazardous, and oil-free compressed air for eco-friendly operation
A built-in carry handle for portability and four integrated legs for stability on the jobsite or at home
Cons
Loud operation to make noise about 100 dB
Airflow rate which is 3.6scfm @ 65psi unlikely to be effective under certain circumstances like high altitude and humidity
Slow speed (around 20 inches per minute or IPM and even less for standard cuts)
For the noise, you might be interested in jobsite hearing protection. But, for the speed, you should take time and avoid being obsessed because you'll only spoil your time and have imprecise cuts.
Lotos LTP5000D Review: Features and Benefits
The machine packs a bunch of standard features; each of which is employed to carry out certain functions and enable the user to overcome the typical obstacles involved in plasma cutting. Let's see how LTP5000D helps in this regard.
Pulse-Width-Modulation (PMW) Technology
Modern electrical works demand efficient regulation of voltage. PMW provides the boon to a regulator by switching the voltage to the electrical load with the right duty cycle. As a result, the output voltage comes at the required level.
PMW facilitates the inverter power supply system incorporated into this plasma cutter for strong DC welding currents. On the plus side, the inverter here prevents any negative impacts of irregular voltage on the unit. But, what do all these have to do in a real-life situation?
You get an uninterrupted and appropriate amount and supply of current, which is the key to clean and precise cuts.
Fluctuation of voltage barely affects the machine keeping it durable.
Duty Cycle
Lotos LTP5000D comes in absolute compliance with the International Electrotechnical Commission (IEC) standards regarding its duty cycle. Using a power supply up to 40°C (104°F), the unit features a 60% duty cycle at 50A, 110V, 220V.
Since the duty cycle of a plasma cutter is the calculation of its operational duration in a period of 10-60 minutes, this Lotos plasma machine should operate 6 of every 10 minutes at a stretch without being overheated or any mechanical interruptions.
So, you can easily get an edge when the plasma cutting job (durable steel or materials) you're about to do requires an operational period longer than just a few minutes.
Some plasma machines boast 100% duty cycle, but the percentage this Lotos model comes with is certainly plus for a plasma cutter at this price.
PAPST Advanced Cooling System
Every plasma cutter relies on a cooling system. The plasma arc has a very high temperature which may melt the nozzle and electrode, and cooling prevents that. The PAPST cooling system uses an advanced German technology that helps to keep up the performance and stability of the plasma machine.
MOSFET Transistors
The use of power MOSFET transistors ensures that the DC motor is regulated appropriately and greater efficiency during low-voltage operations. They're able to work at lower power without drawing current, which is a good thing as safe operations are always desirable.
MOSFETs are free of gate currents. Such a state brings high impedance input and thereby a high switching speed. Thus, the simple working principle of these transistors brings you the required level of power output – higher for cutting thick metal and steadier for thin objects.
However, MOSFETs use a thin oxide layer which is susceptible to irreparable damages upon electrostatic charges. Also, voltage overload may cause MOSFETs to become unstable pretty quickly.
Switch Power Inverter Technology
The main transformer used in the unit is actually an inverter one intended for power conversion. The transformer ensures optimal voltage levels. It can handle a considerable amount of power conversion but doesn't quite fit the dimensions of a typical power transformer.
The inverter system includes Insulated-Gate Bipolar Transistor (IGBT). Designed to inspire high-power applications on a frequent basis, IGBT enhances the capability of the inverter.
Rather, the inverter technology being in use results in increased efficiency and reduced size and weight of the transformer. The combination of these factors ultimately translates into a portable plasma cutter.
Non-Touch Pilot Arc
The pilot arc improves the way the plasma arc is transferred to the work materials. You can continue to cut without having to come in contact with the tip. The transferred arc electronically senses the flow of the current. The amperage increases to make the arc more intense which allows for appropriate cuts while enhancing the lifespan of the consumable.
With the pilot arc approaching the plate, no surface issues like rough or unclean can cause any difficulty. The arc eliminates the need for having a clutter-free surface of the work metal. It gives this specific arc type an upper hand over the non-pilot arc which works well only on the clean surface.
You get a broadened scope of plasma cutting as painted or rusty materials are equally acceptable and the amount of slag produced in the process is typically very small.
How to Get the Most of Lotos LTP5000D?
Lotos Technology is a name that resounds through the metalworking industry and for fair reasons.
Check and adjust the air pressure regularly; otherwise, internal components may get affected.
Maintain temperatures between 14° F and 104° F with a maximum of 80% humidity level.
Keep your work space free of dust and smoke coming from compressed air to avoid poor cut quality and health hazards.
Inspect each connector to get proper connections.
Don't overuse any consumable.
Replace any worn component.
Protect the machine from dampness/dust/water and keep it protected when you don't need it.
Consumables And Accessories For LTP5000D
Like any other machine your Lotos LTP5000D will wear out torch consumables during its life span. So, having the spare ready is always a good idea. In spite of being a Chinese brand Lotos is in the market for quite some time and they are achieving the best seller tag in Amazon continuously. So you can trust on this brand and finding spare consumables is also easy.
As an Amazon Associate I earn from qualifying purchases
Using this machine on 110v would require to purchase a separate pigtail adapter which is not included with the machine.
As an Amazon Associate I earn from qualifying purchases
Alternatives You May Consider
As an Amazon Associate I earn from qualifying purchases
Check out my separate reviews on the other plasma cutters compared in the above table –
Final Verdict
Now that all findings of the product are explained, the only thing you'll find useful is a concluding statement that reveals whether or not this Lotos machine is going to meet all your preferences. Well, let's wrap up the thoughts.
Provided that you know your way around the setup and the basic plasma techniques, you won't essentially make a bad job of ½" or 5/8″ cuts.
Speaking of the duty cycles, 60% is pretty much a favorable rate even for some demanding projects. In case, the cycles are exceeded, the built-in heat variable component stops the machine saving its other parts, and the fan does its job to make the machine operable again in mere minutes! You won't have to idle yourself much longer.
Feeling interested already? Well, click here to check out the product!