If you're into metalworking, you probably know that it's the cut quality and performance of a plasma cutter that matters in the end. Each unit comes at a price and particular capacities which wildly vary from model to model. But, the need for a plasma cutter that cuts and lasts exactly as it claims is constant.
With hundreds of units from dozens of manufacturers, finding one such unit that serves you moneywise is always arduous. PRIMEWELD CUT60 is a relevant name where performance has to be consistent without the cost being too much.
It doesn't present you with an assortment of cool technologies, but its value is measurable through the way it cuts different metals with precision. In this PRIMEWELD CUT 60 review, all of its key features have been outlined and explained to help an intending buyer.
Introducing PRIMEWELD CUT60 60Amp Plasma System
Product Features
CUT60 PILOT ARC 3 year warranty 7 day per week support in USA
PT60 blowback cutting torch WITH EURO CENTRAL CONNECTION
Blow-back start technology, Pilot Arc
60% duty cycle at 60amps, 110/220 with adapter
Continuous Pilot Arc enables you to cut expanded, rusted, painted metals
As an Amazon Associate I earn from qualifying purchases
PRIMEWELD CUT60 is a 60 A plasma cutter with the ability to cut through metals like aluminum, carbon steel, mild steel, stainless steel, and copper – no thicker than 20 mm.
The package includes a torch, plasma machine, standard consumable kit, power cord, clamp, moisture separator, and other essential accessories so that you need not buy anything special other than a suitable air compressor.
CUT 60 is a higher-end and obviously costlier upgrade from the CUT50DP which has many smart control features with marginally lower cut thickness and capacities.
Who Is CUT60 60Amp Plasma Cutter for?
Like many of its rival brands, PRIMEWELD has brought plasma cutters for both home users and heavy-duty applications. CUT 60 is the one you want to use for simple metalwork, auto repair and salvaging tasks along with some basic detailing on metals.
Additional Read: PrimeWeld CT520D Review
Problems You Might Face
For most of the part, this PRIMEWELD Plasma Cutter poses few challenges for even the first-timers. Despite, the following things should be kept in mind while using the plasma cutter.
Using a Creepage-Protecting Switch
A plasma machine works in combination of different parts carrying different operating voltages. For this, isolation among those parts is required so that unforeseeable risks can be averted. This safety can be ensured by a special switch that protects the parts against creepage. You can get one at a small cost.
Dealing with Arc-Striking Issues
Don't go cheap on electrodes. You need to use only the electrode and accessories from Primeweld. In Too small cutting current, too low power net voltage, too big airflow, and too strong cooling effect are the reason for arc pause to occur very easily. So, try to bring a balance among those factors.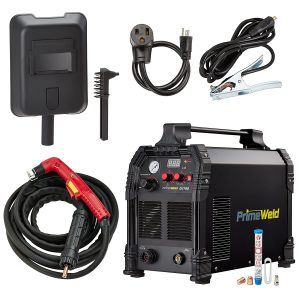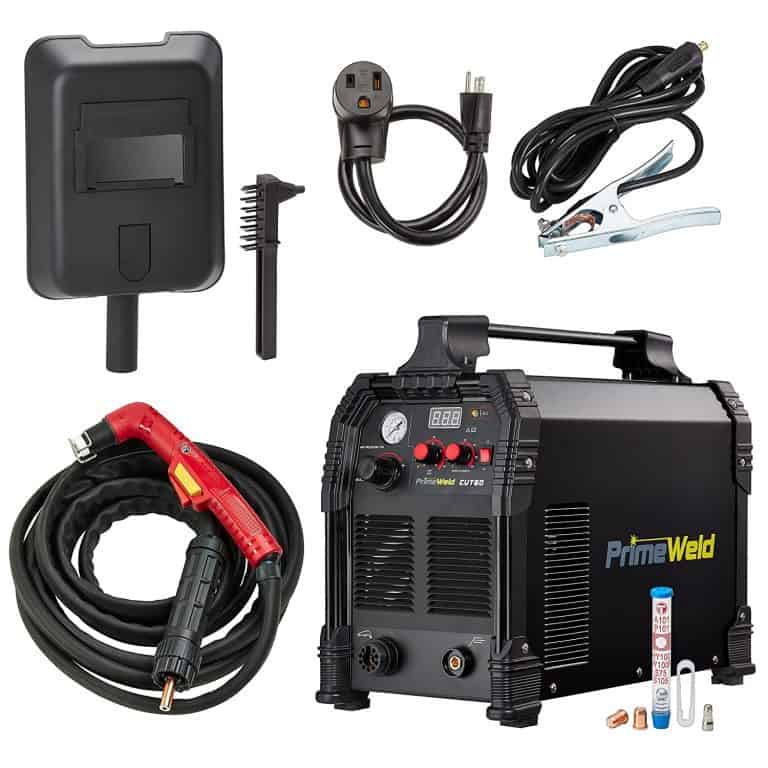 Check Price & Reviews on Amazon
Pros
An affordable CNC ready plasma unit with satisfactory power factor and adequate cut capacities (in terms of thickness and speeds)
Durable torch with Euro Central Connection for comfortable and safe operation
Pilot arc with blow-back start for smooth plasma cutting with efficiency
Lightweight machine with a conveniently mounted carry handle for portability across places
Continuous Arc mode for working on expanded, painted, and rusty metals with efficiency
Cons
Short power cord for outdoor uses
Faulty blow-back start which may fail on occasions
PRIMEWELD CUT 60 Review: Features and Benefits
While examining the features, you'll notice that some are typical like the torch and electrical setup while others are less frequently adopted like blow-back style instead of HF start. In this section, all the essentials have been discussed for your understanding.
Cut Thickness and Capacities
CUT 60 is designed to allow the users to cut through a wide range of materials and thickness measurements. Its operating data is given below.
Recommended Cut Thickness: 1/2″
Maximum Clean Cut: 7/9″
Severance Thickness: 3/4″
Speaking of the speed, particular adjustments are required for different metals. According to the manufacturer, ideal settings look like the following.
Electrical output set to its maximum (60 amps)
The built-in air regulator set to 75 psi
Torch standoff set at 0.06 inches to the metal being worked
With the above settings, you can cut metals that are no thicker than 1/2″ at 23.62 inches per minute (mild steel), 18.90 inches per minute (stainless steel), and 27.17 inches per minute (aluminum).
For a machine with this cut thickness, the cutting speeds are by far acceptable under all circumstances except those within an industrial facility.
Check Price & Reviews on Amazon
PT60 Torch with Euro Central Connection
The PT60 Torch is thoughtfully built to ensure comfort and ergonomics without sacrificing performance. There's a trigger safety cover added to prevent any accidental activation, meaning that beginners can also use it safely. The Euro-style central connection system has been designed to reduce the likelihood of electric fire and shock.
Pilot Arc and Blow-Back Start
This particular start technology incorporates a pilot arc as its core feature. For this method to work, a complete circuit needs to be occurred within the head of the torch. Unlike HF start which is oftentimes the most popular arc starting method these days, the blow-back method poses little to no threat to the plasma system or any other surrounding electronic appliance.
Compared to HF start, blow-back function may feel a little slower, but you can easily get past that sluggishness when the needs aren't too strict as those in a professional environment and you have no worries about the plasma machine or other electronics.
The pilot arc features the 'continuous' mode which is very useful as you attempt to cut through expanded metals, rusty or painted surfaces.
Duty Cycle and Power Efficiency
The rated duty cycle of this unit is 60% at 60 amps. Now, that's a huge plus under surroundings where one can't accept too much of the machine's idle time.
The power factor is 0.93. A slightly better factor like 0.95 would be more useful, yet its power efficiency is still 'on an equal footing' with the industry standard.
Check Price & Reviews on Amazon
Alternatives You May Consider
As an Amazon Associate I earn from qualifying purchases
Check out my separate reviews on the other plasma cutters compared in the above table –
Final Words
Maybe, you would like all of your thoughts to come down to the one question, "Should I buy CUT 60?" Let's start with the downside first.
A huge fan of HF start won't find the 'blow-back' thing very nifty. FYI, its usability isn't ignoble at all since most of the plasma machine users barely feel the slow start and progression of a blow-back method, but its safe way of functioning is too obvious to ignore.
Its cutting ability is consistent, and so is the duty cycle unless you push it too hard on the limit of 10 minutes. Again, it leaves minimal dross, which is acceptable to many. All these leaves you little to worry about, don't you agree?
Well, click here to check the latest price!