If steel and aluminum were the only work materials, plasma cutting or welding wouldn't be so tricky. Also, you wouldn't have to give much weight to the versatility of a machine because the market is flooded with plasma systems that can cut through steel and aluminum with great precision.
When you need to stay on a small budget but find something that handles metals like cobalt, titanium, copper magnesium, and nickel alloys, it becomes quite a challenge to find a functionally capable machine.
Again, maintaining the least heat-affected zones and a low warping percentage aren't very easy to ensure. If these concerns are real for you, PrimeWeld CT520D has the potential to render your purposes achievable.
Well, roll your eyes on this comprehensive PrimeWeld CT520D review and decide whether or not you can rely on it in either of these cases.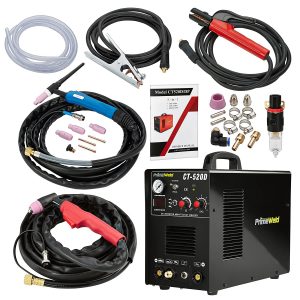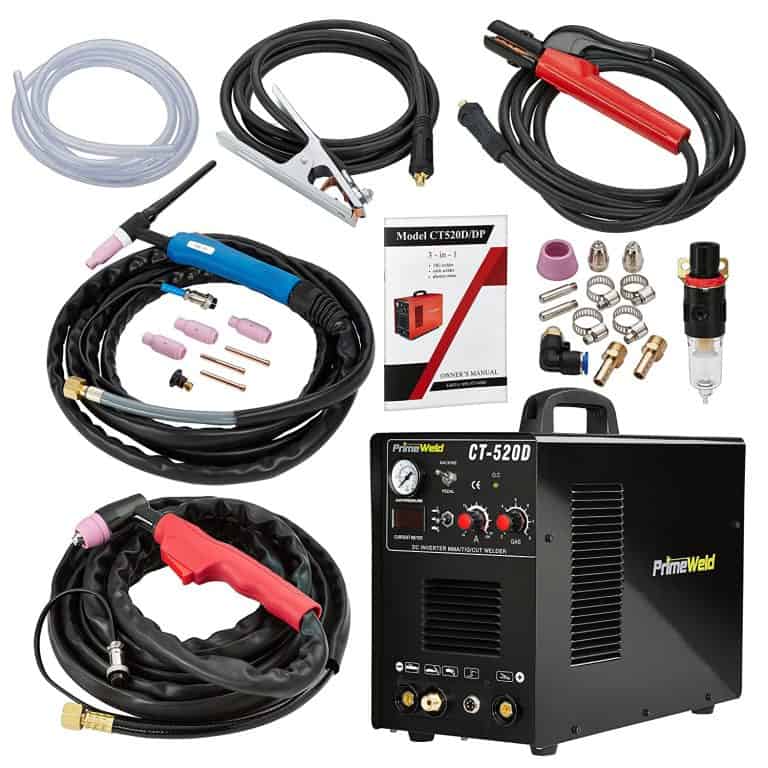 Check Price & Reviews on Amazon
Introducing PrimeWeld CT520D
Product Features
MULTIPURPOSE WELDER AND CUTTER: Cut many metals up to 1/2" thick with the 50A plasma cutting function. The TIG and stick welding settings also work with a variety of metals. Features an 50Hz/60Hz input power frequency and 85% power efficiency.
VERSATILE 3-IN-1 WELDING/CUTTING MACHINE: The 50A plasma cutter is used for cast iron, mild steel, copper, and more. The 200A TIG torch can weld magnesium, and stainless steel. Use the 200A stick welder for minor welding repairs.
UNIQUE MULTIPURPOSE WELDING MACHINE/PLASMA CUTTER IN DESIGN & PERFORMANCE: This 200 Amp welder consumes less energy, lowering the operation cost. The safe and user-friendly plasma cutter doesn't use flammable constituents, reducing exposure to risks.
PORTABLE, RELIABLE UNIT: The multipurpose welder and plasma cutter weighs only 32lbs, making it a great portable option. It features a duty cycle of 60% at maximum amps on all processes. It also easily switches from DC TIG welder to DC stick welder.
GREAT CUSTOMER SERVICE: Backed by a 3-year warranty, we're committed to after-sales service. When you contact us, you speak with real technical specialists and representatives, and our USA-based parts and customer service is available 7 days a week.
As an Amazon Associate I earn from qualifying purchases
It's a reasonably priced combo machine that allows one to cut through 3/4-inch metal at most with fairly acceptable performance for 1/2″, 1/4″, and 3/8″ in thickness.
CT520D is comparable to CT520DP Pilot Arc 50A Plasma Cutter which comes with a Pilot arc system and at a higher price. The remaining features are quite similar.
Who Is This Product for?
Like most other plasma and welding combos, this CT520D machine makes quite a mark when used for DIY projects and small workshops. However, you may look elsewhere if you have to do a lot of aluminum welding, and a pilot arc is one of your top preferences.
Additional Read: PrimeWeld CUT 60 Review
Problems You Might Face
Even after having each of your demands met, you want to keep the following things in mind before buying/ using this PrimeWeld machine.
Weld Aluminum with Caution
TIG welding isn't impossible with a DC welder, but you need to use DC negative. In addition, choose helium and avoid argon, should you need precise welds.
Beware of the Start Method
The machine uses a starting mechanism that incorporates neither a high frequency nor blow back arc at the beginning. It all starts with a low back arc and then goes on to be high quickly.
Buy a Compatible Foot Pedal
Having no foot control system, you'll want one that makes amperage control a breeze. The manufacturer sells a 5-pin foot pedal which is compatible with both CT520D and CT520DP. Alternatively, you can also look for an amptrol that should work well.
As an Amazon Associate I earn from qualifying purchases
Get the Recommended Consumable Set
For the torch and welders to work properly, you should avoid choosing no other kits but the manufacturer's recommended consumable set that includes 10 electrodes, 10 shield cups, and 10 nozzles.
Here's a quick take on the advantages and disadvantages of the product.
Pros
Good support to allow for cutting and welding different other materials alongside steel and aluminum
Advanced torch and welding equipment to maintain low warping rate and keep the unused metal surface unaffected
Variable cut thickness and welding capacities for aiding in projects with diverse requirements
Welding inverter integrated for faster and more efficient welding at reduced costs
Extended warranty period for buyers' peace of mind
Cons
Too short leads for potentially poor work lead connection that may result in low-quality Shielded Metal Arc Welding (SMAW)
Check Price & Reviews on Amazon
PrimeWeld CT520D Review: Features and Benefit
Considering the technical details, one can easily surmise that PrimeWeld hasn't been keen on touting a lot of technological specs. Yet, you'll find some serious stuff that needs to be discussed to convey a realistic picture of the machine's utility.
Plasma and Welding Combo
Most plasma systems are bound to depend on their cutting speeds to determine if the arc will lag behind or shoot ahead. Higher speeds cause a lagged state, and slower speeds may push the arc to shoot forward. Again, the speed is associated with the dross levels and precision causing the user to keep looking for a perfect ground for the job.
The plasma torch included in the package is built with these factors in mind. Guess what? You may not be able to enjoy automatic speed controls, but the main goal – to make precision cuts, should become easier.
The 200A TIG torch permits welding the thin sections of materials like aluminum, copper alloys, magnesium, and stainless steel, not to mention that the users have a great control over both the weld and the cut. Whether you're carrying out a small automotive or architectural project, the TIG torch will serve as long as metal welding is involved.
Last but not the least, the 200A stick welder makes an ideal choice for small repair works. Should you need to ensure instances of seamless welding on materials, you can just pick this one up and start.
Duty Cycle
You'll see an impressive number which is 60% at 50A, and it's applicable to all operations. It might sound 'too good to be true'. But, certain factors like the work surroundings and recommended temperatures are at play here.
During a plasma cutting session, the rate may fluctuate and even go below 50%. However, a higher duty cycle during welding processes compensates for the compromise.
IGBT Inverter
The whole point of relying on IGBT inverter for welding projects is not only the weld quality being improved but also the operating cost being reduced significantly. The use of inverters allows the welder to do the job faster without compromising on efficiency.
Consumable Life
Typically consumables include nozzles, electrodes, swirl rings, retaining cap, and shield cups. While you may not be able to work much long with them, you'll certainly find them useful in terms of their durability. Most plasma systems at this price don't include a single piece of consumable, and therefore require you to buy them separately.
Check Price & Reviews on Amazon
Final Words
Perhaps, you're thinking that having the CT520D in place may eliminate all your worries about material supports or warped surfaces. In practice, you should be able to manage suitable surroundings and other external factors responsible for effective plasma and welding activities.
However, you can't just let the 'work lead connection' thing go unattended. Try to keep the area clean and attach the work lead properly to the metal being welded. Thus, the odds can be in your favor.
Feel free to ask any question that comes and click here to check the latest price of the product.