There's a common belief among the users of plasma cutters that cut thickness is the only BIG thing that one should care about. With the same idea in mind, one can't help wondering how far the need for thickness may go. Eastwood's Versa Cut 60 is a plasma cutter designed specifically to address this very concern.
It gives you the best of both thick and thin cut profiles. You can have as many as 56 cut thickness measurements to choose from 1/64 inch to 7/8 inch. It seems rather surprising, but that's what the unit claims to offer.
This in-depth Eastwood Versa Cut 60 review reflects on the unit's cutting versatility, strength of specs, and overall usability.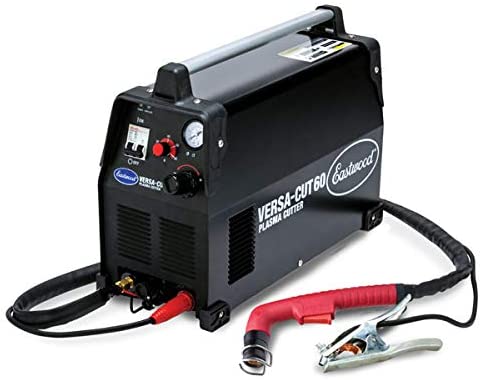 Note: Check our in-depth comparison of the top 3 Eastwood Plasma Cutters.
Introducing Eastwood Versa Cut 60 Amp Plasma Cutter
Versa Cut 60 is a moderately powerful plasma system offering a wide range of measurements for cut thickness. It's designed to cut through 1/64 inch at 20 A, and that capacity can be expanded up to 7/8 inch at 60 A. This variability along with some typical plasma features creates a considerable amount of value, which is why you might be interested in it.
This machine has a couple of upper hands than its close counterpart Versa Cut 40. Sold at a higher price, Versa Cut 60 features greater cut thickness and higher amperage with most other specs being the same.
Who Is Eastwood Versa Cut 60 for?
Although the manufacturer claims that anyone who wants to cut metal can rely on the machine for satisfactory results, higher-end plasma systems are desirable for commercial and industrial projects where heavy-duty performance is compulsory. That leaves room for only those who take on small metal workshops and household tasks including some curved and intricate cuts with precision.
Problems You Might Face
You won't have any major setback when it comes to plasma cutting performance, but still, there're things you need to take care of.
Using the Contact Tips
It's common for someone using the unit for the first time to get confused about the Cutting Nozzles or contact tips as to its suitability as a drag tip or a standoff or both. In any usual case, you can use it as a drag tip, but cutting metal that is thicker than 1/2 inch requires the use of a standoff because thicker metal involves more heat.
Avoiding Gouging with the Machine
The manufacturer recommends users not to use this plasma machine for gouging metal due to the likelihood of excessive heat buildup that may damage the torch.
Using a Moisture Trap
Since clean, dry air is the only thing the unit requires, you may want to count on the built-in moisture separator but that doesn't work very well alone. Bring an additional moisture trap to ensure that the air supply comes as demanded by the machine.
Using the Flow Meter
Start by cutting the power supply of the torch hooking up the air only. Then, the bottom of the tube needs to be held to the torch's end. In order to have the air set appropriately, the ball located inside that tube needs to be floating in the circle being stamped out on that tube.
Pros
A wide range of cut thickness capabilities upon variable amperage and air pressure adjustments and settings
Built-in pilot arc with HF start to feature instant arc striking and allow hassle-free cutting operation for expanded and rusty material
Internal moisture separator with air pressure regulator to facilitate and control clean, dry airflow to the torch for consistent results
Extended duty cycle for consistent performance
Reliable MOSFET inverter to ensure the supply of adequate current for projects with variegated demands
Cons
Poor consumable life
So much for the internal "last-chance" moisture separator
Eastwood Versa Cut 60 Review: Features and Benefits
You won't see a lot of signs of automation in the control system, but the machine still has something to draw your attention.
Cut Capacities
Measurements of cut thickness for this machine are too detailed to describe in brief. Anyone will enjoy the tremendous varieties from the thinnest to the thickest cuts. It cuts metal that is 1/64-inch or 1/32-inch thick. On the plus side, thicker metals like 55/64 inch or 7/8 inch can be handled with ease. Worried about the type of metals to cut? Aluminum, copper, mild and stainless steel, you name it!
Pilot Arc and HF Start
If you're interested in instant arc starting and a consistent show of that, the pilot arc will do that. Then, there's the high-frequency start which may not be a must-have feature for many users, but you'll love it when cutting aluminum is your goal.
MOSFET Inverter
Seeing such a long list of numbers on metal thickness, it can be hard for some people to resist themselves from trying the unit for different tasks that may involve various levels of efficiency and voltages. With MOSFET in the inverter system, Versa Cut 60 is equipped to offer optimal efficiency even at low voltages.
Duty Cycle
It's 60% at 60 A. The cycle should be good for most plasma cutting projects, but it can be furthered by lowering the amperage settings which can be done using a dedicated control knob.
Air Pressure Regulator and Moisture Separator
There're moments when you need to have the air pressure flown just as the goal of precision requires. Look at the air pressure gauge and use the control knob to set the pressure correctly.
For the air to be clean and dry, a moisture separator comes as a built-in a feature. With the removal of the air source, it automatically drains the trapped moisture. Pairing the separator with an additional desiccant system, you can get the job done more appropriately.
User Review Video
Alternatives You May Consider
As an Amazon Associate I earn from qualifying purchases
Check out my separate reviews on the other plasma cutters compared in the above table –
Conclusion
No doubt, the top-selling point of Versa Cut 60 is its detailed and varied cut capacities. The speed (15-20 inches per minute) is almost okay for intended applications. The duty cycle also adds to its positive sides.
However, you may get far from being optimistic while checking on the lifespan of the consumables which wear pretty fast, and sometimes, you can't fix it with common knowledge or luck. So, you should do everything as the book (instruction booklet) says.
With the overall performance considered, you'll find the price to be in between the "too high" and "very low" segments.
Click here to check the latest price and deals on the plasma cutter!