For a plasma cutter to stand out among others, it must have at least one noticeable specialty or it should be able to help the user with at least one specific problem.
One of the familiar limitations of most plasma machines is their limitation to allow for variability in cut thickness. The absence of an internal air moisturizer to ensure the flow of clean air makes it to the list too. What if you could get all of them handled with just one unit?
In this Eastwood Versa Cut 40 review, you'll know about one such plasma system that takes care of all your problems and provides extended duty cycles.
We have a detailed comparison among the Top 3 Eastwood Plasma Cutters in a separate article.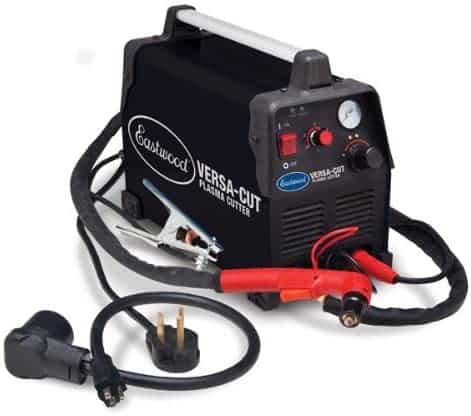 Check Price & Reviews on Amazon
Introducing Eastwood Versa Cut 40 Amp Plasma Cutter
Product Features
Works With 110V Or 220V Ac Input
20' Torch Cable; 10' Ground Cable With Clamp
Supplied With The Popular Nema 50P Plug, Requiring A Nema 50R Receptacle.
Duty Cycle: 60% @ 40 Amps ; Torch Tip: 0.1Mm
Air Requirements: 5-7 Cfm @ 60 Psi ; Rated 40-Amp Output
As an Amazon Associate I earn from qualifying purchases
Eastwood Versa-Cut is a 40-amp plasma cutter designed to be ideal for cutting through a wide range of thickness measurements from 24 gauge to 3/8″ steel and aluminum using 110v or 220v AC input. With a built-in pilot arc torch, it cuts clean through rusty or painted material with consistency getting dry air; thanks to the internal moisture separator.
This Versa Cut model lies between the Versa Cut 20 and Versa Cut 60 plasma cutters, all being the results of calculated changes to the rated power output, cutting precision, maximum cut thickness, and hence, the price.
Who Is This Product for?
While many contractors and trade workers can rely on this plasma cutter for their day-to-day job-site purposes, users with one very specific purpose like artwork, auto restoration, and repairs may also immensely benefit from the machine for it handles the curvature and intricacy involved pretty efficiently.
Problems You Might Face
The machine itself isn't faulty, but your effort to ensure its readiness is important. So, it warrants your attention to the different factors which might be the cause of your troubles, no matter how the skills you have or tidiness your workplace has.
Using the Appropriate Voltage
The machine uses either 110v or 220v depending on the thickness of your preferred material. Choose 220v for any recommended metal that is 3/16″ or thicker.
Taking Care of the Torch Tip
As vulnerable as the torch tip can be to the accumulation of molten metal and likelihood of burning and erosion, you should check it at least once after a couple of times the machine being used. Any sign of damages makes it all the more certain that you replace the part.
Fixing the Pilot Arc
A spattering pilot arc is not a rare thing to find. When you see it, make sure that the air pressure is set to 60 PSI or below. If nothing happens, it's indicative of a replacement of the electrode and nozzle.
A few quick points have been given below to help you learn the advantages and the limitation(s) the product comes with.
Pros
Use of inverter system for arc stability and enhanced cutting power
Built-in pilot arc for instant arc striking and great usability
Air pressure and amperage settings for easy adjustments
Internal moisture separator for enabling clean, dry air to be transported to the torch
Voltage-sensing technology to help with choosing the correct voltage
Lightweight design to ensure portability across workshops and job sites
Cons
Too short nozzle tip to let the user see the spot being cut
Nearly impossible to cut aluminum using 110v
Eastwood Versa Cut 40 Review: Features and Benefits
Alongside the typical features for plasma operations, the unit comes with a few specialties which make its availability desirable and let even new users have their way around it.
Cutting Capacities
This Versa Cut plasma system allows a wide range of thickness measurements from 1/64″ to 3/8″ with three rated outputs, such as 20 amps, 30 amps, and 40 amps using air pressure from 30 PSI to 60 PSI.
Whether you want to cut steel and stainless steel or aluminum, it's capable of delivering the power and flexibility required by variable requirements of metalworking projects. Remember adjusting the air pressure to get expected results while following different techniques.
Speaking of the cutting speed, you can expect more inches per minute (IPM) using the right material and the machine with all settings adjusted correctly.
Duty Cycle
The only thing to tell about the duty cycle is that it's pretty standard for an above-average plasma machine. Expect to keep the machine running for six minutes before it needs to be cooled for 4 minutes. It gives you 60% in duty cycle at 40 Amps.
For increasing the rate, you can use a particular dial for amperage settings. Just lower the amps and enjoy extended duration.
Inverter Technology and Pilot Arc
If there's one thing that stands true for any plasma cutting project, that has to be the fact that you need stable arc and power coming right through the unit you're using. Employing inverter technology, this unit maintains a stable arc and thus provides adequate cutting power.
The pilot arc facilitates the instant arc striking which is necessary when painted, rusty, or expanded materials need to be cut. Though there're red flags to the use of a plasma cutter on expanded metals, you can have some safe cutting actions with this machine.
Internal Moisture Separator
As long as you've an idea about the need for dry air in plasma cutting, you'll want to make sure the plasma torch is getting as much clean and dry of the air as possible.
Unlike many of its competitors, Versa Cut 40 includes a built-in moisture separator that removes the moisture and dirty liquid to make the air ready for use by the torch. You may not watch things in action, but you can certainly consider it a great plus.
Voltage-Sensing Technology
When a plasma machine is made to be ready for 110v and 220v input, it means you can choose either of them depending on the thickness you're trying to cut through. The voltage-sensing system can help you choose between them efficiently, especially when you want to cut steel or stainless steel which is 3/16″ or thicker.
Conclusion
There's nothing without limitations. It's a truth that stands strongly in the world of electrical machinery. This Eastwood Versa-Cut machine may not cut aluminum very efficiently, but it does pretty well when other recommended metals are cut.
Its nozzle tip may be annoyingly short, but you can do the cutting without much of a problem provided that you've a strong focus on the job. With everything considered, the Versa-Cut model can be worth your trust.
Follow this link to check the price and latest deals.