Stick welding is the informal term used for Shielded Metal Arc Welding. This welding process is suitable for metals that are going to be used outdoors. It's quite a cost-effective method and creates a strong bond among the metals.
110V stick welders can be used for light to medium range of stick welding. With so many options available in the market, the best 110V stick welder could turn out to be quite challenging to find. Also, 110V stick welders are not pretty common, so it can be even more challenging to find a good brand that produces the good stick welders.
This is why we've conducted extensive research to find the top stick welders. We've also added a buying guide with the essential factors that a stick welder should have so that you can find the best one according to your needs. It doesn't matter whether you're a professional or just a beginner, we've got a suitable device for you!
Best 110V Stick Welders: Quick Comparison
10 Best 110V Stick Welders Reviews in 2021
So, without further ado, let's dive into the reviews of the best stick welding machines in 2021 that come with 110 volts.
1. Weldpro – Best 110V Stick With Multi Process Welder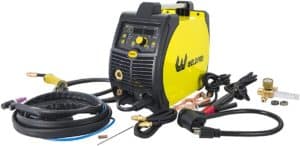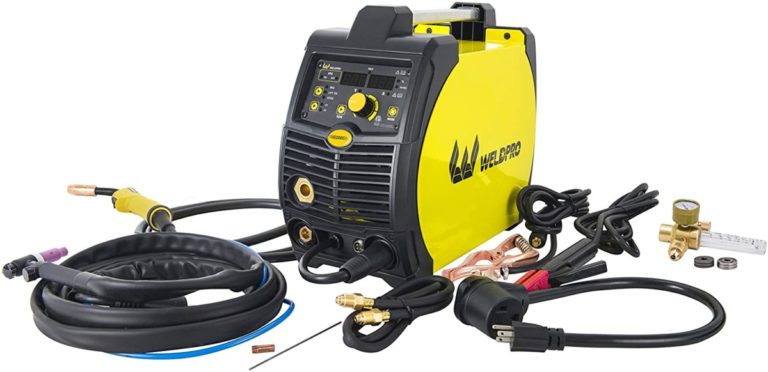 If you don't have access to a 240-volt power outlet, the Weldpro 200 Amp is highly recommended. We've found the machine performing exceptionally well considering the price range it comes in. It also does a pretty good job with 110 volts.
Why We Selected It in Our Top List
State-of-the-art Foot Pedal
Unlike most other welding machines available in the market, Weldpro comes with a foot pedal that works extremely well. It's helpful to control the amperage so that you have continuous experience of welding.
Many welding machines come with this feature, but while you're doing TIG welding, the efficiency of most of these foot pedals is up for questioning, which is not the case with Weldpro.
Dual Voltage and Spool Gun
The machine is equipped with a dual voltage feature. You can control the amperage based on your welding task as you need. With a 30% duty cycle on 200A, you can perform any welding with the Weldpro. The additional spool gun is handy for flux core and MIG welding as well.
Lightweight Design and Digital Display
Weight could be an issue if you need to carry the welding machine for your work. As the Weldpro weighs 30 lbs. only, moving it wouldn't be much of a trouble. The comfortable and compact design makes it easier to handle. Weldpro is equipped with a dual-display that can be used to read the wire speed and amperage.
Pros
It comes in an affordable price range
Compact and lightweight design
Suitable for stick, TIG, and MIG welding
Dual voltage and dual display feature
Cons
The welding cable is a bit short
2. Forney Easy Weld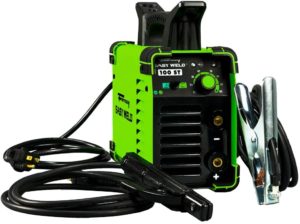 The reason why it's hard to find a reliable 110V stick welder is that these devices are often difficult to use. As you're working with thick steel in stick welding, you need to have an added set of skills to control a stick welder. This is where the Forney Easy Weld comes to the rescue with its easy-to-use features.
Why We Selected It in Our Top List
Lightweight and Durable Build Quality
The name says a lot, and when you see the words "Easy Weld" embedded in the name, you know that the machine is bound to be lightweight. But, that doesn't mean that manufacturers compromised with the build quality. Forney Easy Weld comes with the solid build quality and is highly durable. It'll last for a long time if you don't damage the machine accidentally.
AC Input with Adequate Duty Cycle
Although the machine delivers 100% DC, it's compatible with AC outlets. It adds a rather simplistic feature to the machine's usability. A duty cycle of 20% at 80A is more than adequate for versatile welding tasks.
Electrode Holder and Ground Clamp
Forney Easy Weld comes with most of the necessary components that you might require. The electrode holder and ground clamps are both 8 inches which is enough for any welding tasks. The 90-amp machine runs on 120 volts and can put up with most metals in your workshop.
Pros
Compatible with TIG welding
Extremely portable and compact design
Works without compressed gas
Can handle electrode up to 1/8″
Cons
It doesn't come with a foot pedal
3. Win-Win Welding Machine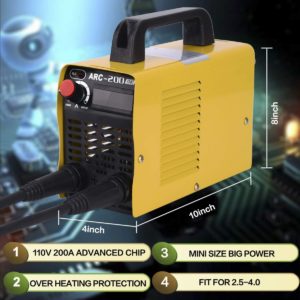 If you're just a beginner in welding and don't have much idea about the tasks, then a Win-Win welding machine could be a win-win solution for you. With its compact design but heavy-duty performance, you're bound to fall in love with the stick welder.
Why We Selected It in Our Top List
Versatile Use and Energy Saving Feature
This high-quality welder can work with all types of metal, including alloy steel and carbon steel. You can work all day with this welder without any issues. The stick welder is also equipped with an energy-saving feature which is absent in a lot of welding machines.
Easy to Use and Heat Resistance
As we already mentioned, this welding machine is perfect for beginners. So, it's bound to be a machine that's easy to use and control. It's also equipped with a heat-resistant feature which doesn't let the machine get too hot while using it for a long time.
Compact Design and High Duty Cycle
Size could be an issue if you need a stick welder that's also portable. Unlike a lot of the other stick welders, a Win-Win welding machine won't take much space and can be moved easily. It comes with a 65% duty cycle at 200A, which is more than adequate for any welding tasks.
Pros
Compact design and durable build quality
Efficient duty cycle with heat resistance feature
It saves a lot of energy and can be used for a long time
Versatile uses and easy to control
Cons
The clamp and holder could be a bit longer
4. HitBox Dual Volt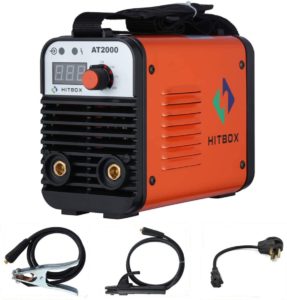 If you want a stick welder that comes with a dual voltage feature and is also in an affordable price range, you can't choose anything else other than the HitBox dual volt welding machine. You can't expect it to perform as a heavy-duty welding machine, but it'll get your job done with most light to medium welding tasks.
Why We Selected It in Our Top List
Portable Design and Stable Performance
A lot of the welding machines are portable and compact, so what's unique with the HitBox? Sometimes, you have to compromise with the build quality when you cut down the weight, which is not the case for HitBox. It's compact and lightweight and provides stable performance in long welding sessions.
Adequate Duty Cycle and Dual Volt Feature
At 140A power, the machine will provide a 40% duty cycle. Not bad, right? It's enough to perform most of the welding tasks around the house and workshop. The dual volt feature makes it highly versatile and easy to use.
Suitable for Indoor Use and Arc Welding
When you look at the HitBox dual volt welding machine, the term indoor welding is the first to pop up in your head. It's so compact and lightweight that you can just carry it like a small handbag around the house. The
arc welding
feature adds extra benefit to the machine. It's easy-to-control feature makes it one of the finest portable 110V welding machines.
Pros
Dual volt feature with 60% duty cycle
Can handle longer welding sessions
Suitable for arc and stick welding
Compact and good for indoor use
Cons
Had complaints about longevity
5. Miller Thunderbolt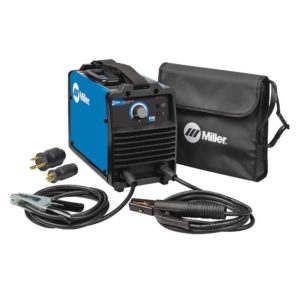 Dual volt welding machines are on the rage these days. But, many people who know the true potential of DC welding machines are not yet convinced. If you're one of them and looking for a stick welder that comes with DC, then the Thunderbolt from Miller Electric is the one you need.
Why We Selected It in Our Top List
Compact and Heavy-duty Machine
Miller Electric has done a marvelous job with the Thunderbolt series. The current one is almost 100 pounds lighter than the previous models. The Thunderbolt is now highly compact and built with solid materials to make it a heavy-duty stick welder.
Amp Control and Hot Start
The machine has a precise amp control feature that can't go wrong. You'll get accurate readings and will be able to control the amp as per your welding tasks. The Hot Start feature is unique about the Thunderbolt series. It helps to start the machine instantly and make it ready to work.
Adequate Duty Cycle with DC Current
Thunderbolt provides a 30% duty cycle at 160A power. It's enough to complete any light to medium welding tasks with ease. The DC runs on both 120 and 240 volts which makes the machine quite versatile.
Pros
Lightweight and easy to use
Hot Start feature with precise amp control
It doesn't make much noise
The arc is relatively smooth to operate
Cons
It doesn't come with any digital display
6. LOTOS Stick Welder – Best 110V Stick Welder With Plasma Cutter Combo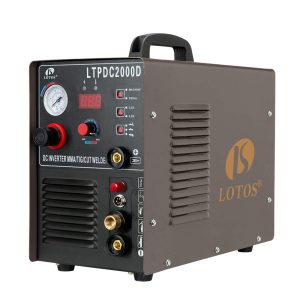 If you perform DIY welding tasks, a plasma cutter is one of the best tools you can use. But what if the plasma cutter comes with all the other welding features you need? This is what the LTPDC2000D from LOTOS is offering you. With this welding machine, you can literally perform all types of welding jobs without any hassle.
Why We Selected It in Our Top List
Dual Volt and High Duty Cycle
Nothing could beat the versatility of dual-volt welding machines. This stick welder runs on 110V and 220V power while providing a 60% duty cycle at 200A. Quite an efficiency, right? We also found the plasma cutting feature run on 10-50A which is enough to perform any DIY projects.
Versatile Use and Pilot-Arc
As the name suggests, this wielding machine has a plasma cutting feature. Other than that, it's perfect for TIG and stick welding that runs on 15-200A. The technology of Pilot-Arc helps to get a clean cut on corroded metals. Its versatility will save you the hassle and money for buying an additional plasma cutter.
Easy to Control and Efficient Cooling Feature
The LOTOS plasma cutting welding machine is extremely easy to use and control. It comes pre-installed, which allows you to set the device ready to use in just 1 minute. The advanced cooling feature doesn't let the machine get too hot and cools it down instantly after a long welding session.
Overall, it's the best 110V stick welder within its price range for versatile DIY jobs.
Pros
Suitable for Stick, TIG, and plasma cutting
Dual volt and pilot-arc feature
Adequate cable length with clean cutting ability
Suitable for steel and DIY welding
Cons
The leads needed to be a bit longer
7. LOTOS TIG with DC Stick Welder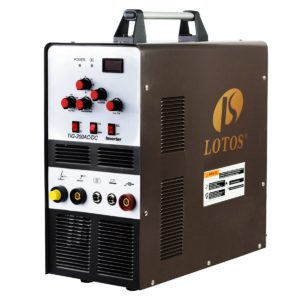 Enough about lightweight and compact welders! Heavy welding tasks require heavy-duty welding machines that can handle the pressure. If you're looking for the a stick welder that falls in this category, we've got another LOTOS welding machine for you. The LOTOS TIG Welder is not only capable of performing heavy-duty TIG welding, but it's cut out for Stick welding as well!
Why We Selected It in Our Top List
Dual Voltage and Good for Aluminum
Do you even need to ask? Yes, it comes with dual voltage compatibility of both AC/DC currents. Now, what's unique about this welder is that it's specifically built for aluminum welding. Most of the welding machines work best with steel while also being able to work with aluminum. But, the LOTOS TIG welding machine was built keeping aluminum compatibility in mind.
Argon Regulator and Foot Pedal
The machine comes with an argon regulator that allows you to control and monitor the gas flow rate. It's pretty efficient to see whether you're making good progress or not. The foot pedal is essential for TIG welding. You can control the amperage rate with it.
Plasma Cutter and Advanced Cooling
Although not explicitly built for plasma cutting, the welding machine is equipped with this feature that indeed adds quite a value to the device. Its precise plasma cutting ability gives it an edge to fight its way on top of the list of the best welding machines. The advanced cooling feature makes it resistant to heat and cools down the device instantly.
Pros
Dual voltage with gas and amp controller
It comes with a TIG clamp and Stick clamp
Suitable for aluminum welding
Perfect for heavy-duty welding tasks
Cons
A bit heavier than other welding machines
8. Hobart Stickmate 160i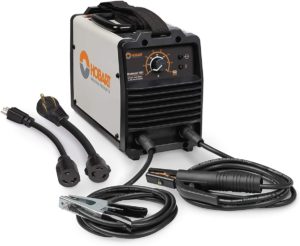 Hobart is a US-based company that's been producing high-quality welding machines for a long time. To cut down some costs, they outsource some of their manufacturing facilities to China. The Stickmate 160i from Hobart is among such products that are built in China.
But, before you start to feel skeptical, you should know that the company has made sure that the product meets all the criteria of other US-made welding machines, which don't let the Stickmate fall behind in the list.
Why We Selected It in Our Top List
Highly Portable and Solid Build Quality
The machine is compact and comes with a lightweight design. As the unit weighs 15 pounds only, you can literally carry it anywhere you go and do your tasks. The robust build quality doesn't compensate the machine for its overall performance and makes it highly durable.
Dual Voltage Power
The device comes with a dual voltage feature that makes it a versatile welding device. You can run it on both 110V and 220V, depending on your tasks. At 110 volts, you can weld 1/16″ to 1/8″ metals and 1/16″ to 5/32″ with 220 volts.
Adequate Duty Cycle
The welding machine can provide 30% efficiency at 160A power and 20% efficiency at 65A power. Of course, other machines are available with better performance, but this machine's portability and versatile features would be quite hard to find.
Pros
It comes with a solid shoulder strap
Dual voltage feature with up to 160A output
Lightweight and compact design
Built explicitly for Stick welding
Cons
Price is a bit high considering the overall performance
9. SUNGOLDPOWER ARC MMA Welder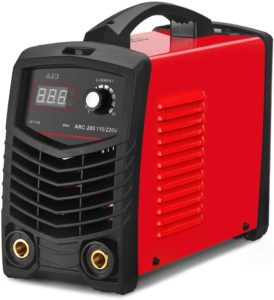 Good welding machines cost quite a lot. And you'd find only a handful of options while looking for the best welding machines for stick welding within an affordable price range. If budget is an issue and you also need a versatile welding machine, then SUNGOLDPOWER's got your back!
Why We Selected It in Our Top List
Dual Volt and High Duty Cycle
The dual voltage feature is a must for a welding machine to be among the good ones. The SUNGOLDPOWER isn't an exception and runs on both 110V and 220V power. It provides 60% efficiency in 200A power, which is more than adequate for all types of welding tasks.
Energy Efficient and Portable
The machine is highly energy-efficient. You can save up on a lot if you use it for your light to medium welding jobs. The device is also highly portable as it comes with a compact and lightweight design.
Voltage Protection and Good for Cast Iron
SUNGOLDPOWER is equipped with voltage protection that will keep the machine safe from over or under voltage. Most of the welding machines are suitable for using metals like steel and aluminum. The SUNGOLDPOWER is also suitable for working with cast iron which opens up many chances to perform DIY welding tasks.
Pros
Compact design and lightweight
It comes with overload protection
Saves a lot of energy and provides a precise performance
Suitable for TIG and Stick welding with its IGBT inverter
Cons
Clamps could be of better quality
10. DEKOPRO Portable Welding Machine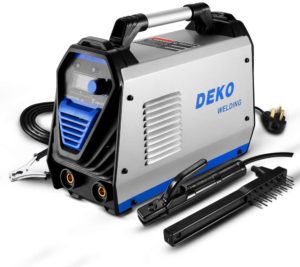 As we're at the end of reviewing the best stick welders with 110V power, we can't leave without mentioning DEKOPRO. If you need a stick welder that's both portable and provides high performance, you're in for a pickle! But, DEKOPRO is here to help you with its heavy-duty quality and compact design.
Why We Selected It in Our Top List
High Performance and Energy Saving Feature
DEKOPRO portable welding machine offers a 60% duty cycle at 200A, which is quite adequate to perform any sort of welding job. Its dual voltage feature adds value to its overall quality and makes it a versatile machine. The device saves a lot of energy with its advanced energy-saving feature.
Attractive Design and Robust Build Quality
If you're among the people who want their tools to be classy and attractive, then DEKOPRO is the perfect option for you. It comes with a gradient gray color that gives it a classy look. The stainless steel body makes it robust and long-lasting.
LCD Panel and Additional Welding Components
The operating panel is relatively easy to follow with its clear LCD screen. The device also comes with all the additional parts that you may require for welding. The ground clamp and electrode holder are there for TIG welding. An external power adapter and a brush for cleaning the metals also come with the unit.
Pros
Portable and compact design
It comes in an affordable price range
Longer cables and provides stable performance
Equipped with overload protection and energy-saving feature
Cons
The leads could be a bit better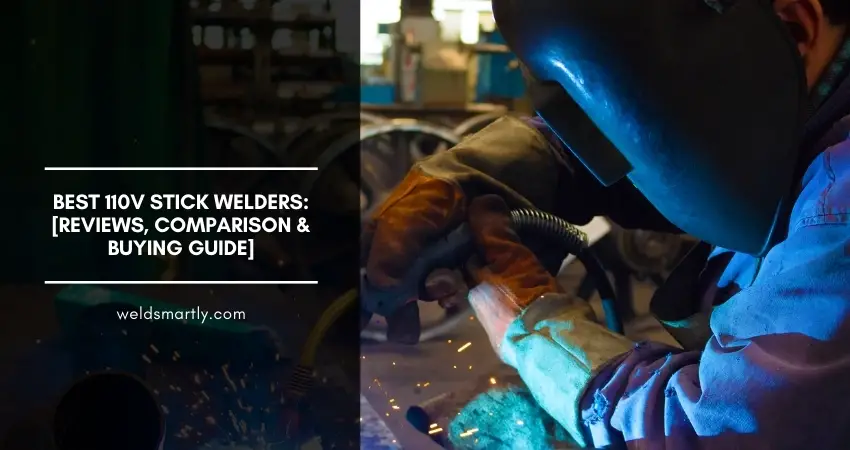 How To Choose The Best 110V Stick Welder?
Now that you know what the best stick welders are, you need to know the essential factors of a stick welder. If you have any device in mind, try to assess the quality against the factors we're going to discuss below.
Type of Metal
If you're a professional welder, you're already familiar with this. If you're not, you should know that the metal you're going to work with depends largely on the performance you're going to get with your welding machine. So, you have to see whether the machine you're choosing is compatible with your preferred metal or not.
Most of the welding tasks are done with steel. And most of the stick welding machines are compatible with steel or stainless steel. But, when you're working with aluminum, you need higher efficiency that some welding machines might not offer. The LOTOS TIG welder from our list is perfect for aluminum.
Higher Duty Cycle
All welding machines have a particular set of duty cycles that they offer. 30% efficiency at 160A power means that the machine will lose 70% power generated in 160A power. The higher the duty cycle, the more efficient the device will be. But, you can't just go for the highest duty cycle and not considering other factors.
Site of Work
This may not be something you generally take into consideration, but the place where you'll be performing the tasks also affects your machine performance. If you need to move your welder around a lot, you have to go for portable welding machines. If the machine stays in one place all the time, you should rather invest in a heavy-duty machine.
Quality of Performance
The overall performance of your welding machine depends on all the other factors that you take into consideration. But, you have to choose the right welding machine that's cut out for your specific task. If you're just beginning to work with welding machines, you don't have to get a heavy-duty welder spending hundreds of dollars.
But, if you're a professional and require using the machine on a regular basis for medium to heavy tasks, then a lightweight welding machine will not provide you the suitable performance.
Versatile Features
Welding machines mainly have one job- welding. But, technology has blessed us with many opportunities, including availing of devices that can perform multiple tasks. Likewise, most welding machines can perform multiple types of welding.
TIG and Stick are the most common type of welding that the most 110V stick welders can perform. Along with that, machines like the LOTOS plasma cutter also come with additional features like plasma cutting or MIG welding.
Price Range
Lastly, price is a factor that you have to consider if you're on a budget. Even if you're not, you shouldn't spend money on something that wouldn't provide the proper value. Good quality stick welders will surely cost a bit more than the typical ones.
But that doesn't mean you have to go broke just to buy a stick welder. There are plenty of high-quality stick welders available in an affordable price range. The ones we reviewed in this article are on that side as well.
Frequently Asked Questions
How can I set up a stick welder?
Most of the stick welders come pre-installed. If it doesn't, setting it up shouldn't take much time. You just have to put the electrode at a proper angle closer to the joint. Then, the electrode's tip will move 15 degrees towards the joint. Move it 15 degrees upwards if you're welding vertically.
You'll find 2 sockets on your stick welder. One is for the ground clamp, and one is for the electrode holder. Install both of them in their respective sockets. Tighten them as you need, and your welder is ready!
You'll find plenty of tutorials on YouTube on how to set up a stick welder. Follow those videos if you still need help.
What welding machine should I go for if I'm a beginner?
If you're a beginner in welding, you have to find the best 110V stick welder that comes in an affordable price range and offers easy usability. Forney Easy Weld could be a good option for this.
Which metal is best for stick welding?
People mostly use stainless steel for stick welding. But, aluminum is the best metal to use for stick welding. It can endure heat four times more than stainless steel, thus making it the best option for stick welding.
Which is better for stick welding- AC or DC?
Most high-quality welding machines come with dual voltage features, so you don't need to worry about that if you choose one of them. If you go for something else, then DC welder would be the perfect choice for you. DC welding machines have positive polarity, which ensures better arc, instant start, and far fewer spatters.
What is the strongest type of welding?
Stick welding provides an adequate amount of strong bonds among metals. But, if we're talking about the most durable bond in welding, then the TIG welding would be the winner. TIG welding uses gas tungsten that enables the machine to create the strongest bond that's quite solid and long-lasting.
Conclusion
Finding the best 110V stick welder could go wrong if you don't know what to look for. We hope it'll be much easier for you now as you know all the factors and the best welding machines for stick welding.
Al the machines we reviewed are worth buying and will provide adequate performance. But, you need to choose the one that's best suited for your needs.
For example, the Forney Easy Weld would be the right choice for you if you're a beginner. LOTOS welding machines will be the right choice if you need to work with aluminum and need a plasma cutter as well. If you're looking for something in an affordable price range, then DEKOPRO or SUNGOLDPOWER would be the right choice for you.
In the end, it all comes down to the welding tasks you're going to perform and your requirements. We hope you'll be able to choose the best one that'll serve you for a long time.
Happy welding!