Finding a plasma system for 1/2″ clean cuts or a welding machine for basic metal joining has never been easier. Plenty of choices will overwhelm the mind of those who want to buy a metalworking appliance.
But, the scope becomes narrower as your requirements become so specific as welding thin-gauge metals, e.g. 18-gauge stainless steel or needing the arc on a relatively more consistent basis.
If either of these describes your situation, you've got a way around them. Let's go through this Lotos CT520D review to see how the plasma cum welding machine addresses the needs.
To know more about other options from Lotos check the Lotos Plasma Cutter Review article where we have compared 8 best selling units from the same brand.
Introducing Lotos CT520D
Save $20.26
Product Features
★ 𝐏𝐥𝐚𝐬𝐦𝐚 𝐂𝐮𝐭𝐭𝐞𝐫: 10-50AMP Plasma Cutter Current Output; Max Ideal Cut Thickness: 1/2" ; Max Severance Thickness: 3/4"; Compact Plasma Cutter Has a Handle for Portability and Uses Non-Hazardous Compressed Air to Cut Stainless Steel, Alloy Steel, Mild steel, Copper, and Aluminum
★ 𝐓𝐢𝐠 𝐖𝐞𝐥𝐝𝐞𝐫: 15-200AMP DC TIG Electric Current Output; Quality TIG welding on Stainless or Steel and Precise Welding of Thinner-gauge Materials; HF arc start hand torch control and Precise Foot Pedal Welding Heat Control(Foot Pedal & Argon Regulator are NOT Included).
★ 𝐒𝐭𝐢𝐜𝐤/𝐌𝐦𝐚 𝐖𝐞𝐥𝐝𝐞𝐫: 15-200 AMP DC Stick/MMA Electric Current Output; Easy ARC Start, Stable Welding Arc; Deep Weld Pool and Beautiful Welding Shape; Adjustable Hot Striking Arc Current which Can Greatly Improve the Arc-Starting Function; Suitable for Welding with Different Kinds of Acid or Basic Electrode.
★ 𝐒𝐞𝐭𝐮𝐩 𝐰𝐢𝐭𝐡𝐢𝐧 𝟏 𝐌𝐢𝐧𝐮𝐭𝐞: The pre-installed NPT 1/4" industry type D plug and air filter regulator allows you to quick connect to your air compressor by using the stand coupler existing on your air compressor. The whole machine can be setup quickly within 1 min.
★ 𝐋𝐢𝐟𝐞𝐭𝐢𝐦𝐞 𝐓𝐞𝐜𝐡𝐧𝐢𝐜𝐚𝐥 𝐒𝐮𝐩𝐩𝐨𝐫𝐭: we offer a 𝟑𝟎 𝐝𝐚𝐲 𝐦𝐨𝐧𝐞𝐲-𝐛𝐚𝐜𝐤 𝐠𝐮𝐚𝐫𝐚𝐧𝐭𝐞𝐞 & 𝐚 𝟏-𝐲𝐞𝐚𝐫 𝐍𝐞𝐰 𝐑𝐞𝐩𝐥𝐚𝐜𝐞𝐦𝐞𝐧𝐭 𝐰𝐚𝐫𝐫𝐚𝐧𝐭𝐲 along with a 𝐭𝐨𝐭𝐚𝐥 𝟑-𝐘𝐞𝐚𝐫 𝐥𝐢𝐦𝐢𝐭𝐞𝐝 𝐰𝐚𝐫𝐫𝐚𝐧𝐭𝐲 covered by our US based lifetime technical support. To avail the warranty, please submit the warranty registration form on our website. 𝐎𝐮𝐫 𝐔𝐒𝐀-𝐛𝐚𝐬𝐞𝐝 dedicated customer service team is readily available to assist you through phone or email.
As an Amazon Associate I earn from qualifying purchases
Sold at a fraction of the price of any high-end plasma cutter, Lotos CT520D combines plasma and welding functions into a single unit to let users cut through and weld steel, aluminum, copper, and other conductive and ferrous materials.
The label says you can expect up to 1/2″ cut and 3/4″ severance thickness along with standard duty cycles during plasma and welding works. So, the versatility that the unit promises should be good enough to draw one's attention.
In view of the features and technical details, it's hardly different from LTPDC2000D except only for a pilot arc plasma torch and a higher price.
Who Is This Product for?
Lotos CT520D has been designed for professional uses but at personal workshops where welding or plasma cutting isn't required for hours. Under the right circumstances and for the recommended requirements, this machine renders you valuable operational time.
Problems You Might Face
Despite being desirable, a foot pedal and consumable set, none of which is included, don't essentially add to the shortcomings of the machine. Rather, you should concentrate more on the following matters.
How to Choose the Right Consumables?
The manufacturer has made no shortage of consumables for its plasma machines, but the only compatible set for this model is either "LCS33" or "LCS22". While many other kits like Loots CON40, LCON20, and LC90 may resemble the recommended ones, you need to buy the right one for the desired performance.
Should You Weld Aluminum Using the 200 A TIG Welder?
Although AC current is required for welding aluminum, you can make considerable progress by using helium gas only and having years of experience. Unless you can fulfill both requirements, you should be better off without welding aluminum.
Check Price & Reviews on Amazon
Pros
Lightweight 3-in-1 combo machine at affordable prices for both professional and household uses
HF arc start for welding with precision
Well-mechanized TIG welder to allow for welding thin-gauge materials
Quality Stick/MMA welder to bring beautiful and detailed shape
NPT 1/4″ Type D Plug with Industrial Grade Air Filter Regulator for quick connection to air compressor
Cons
Short ground cable
No 220 V – 110 V Converter Pigtail included
Lotos CT520D Review: Features and Benefits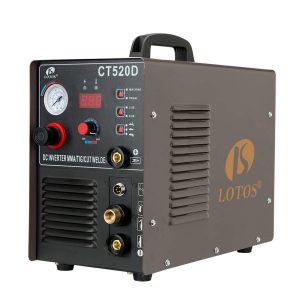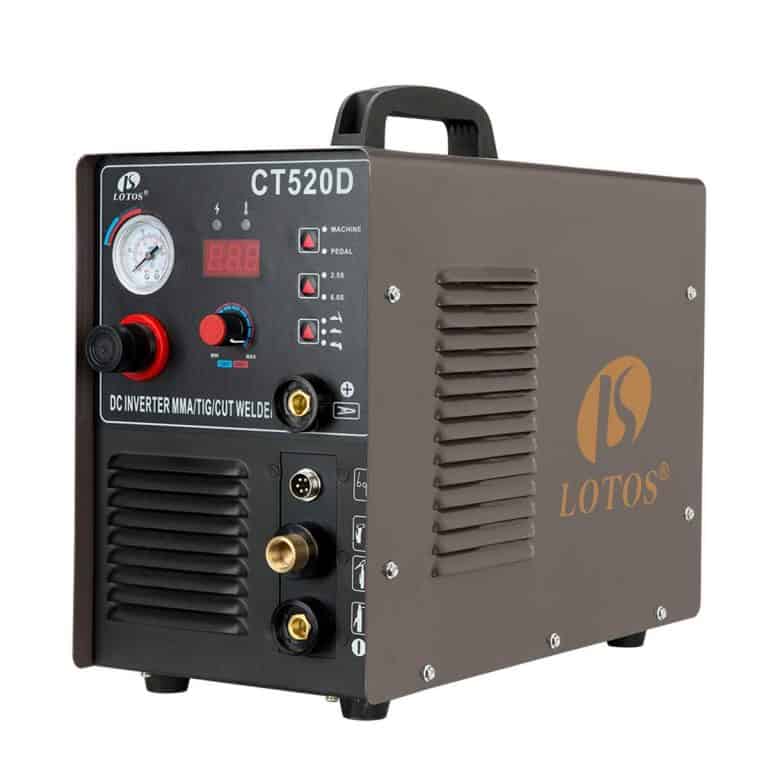 Check Price & Reviews on Amazon
For an affordable plasma and welding combo machine, CT520D stands out for a few features that yield users great benefits all the way up to a creditable plasma cutting/welding project. Let's know about them one by one.
Cut Capacities
With this machine, you can cut up to 1/2″ (12.7mm) speeding at 80% of its maximum capacity. Rated severance thickness is 3/4″. Fact is that a lot of units come with the same claim but don't usually live up to that standard, which is not the case with this one. Its performance is as solidly noticeable as its claim.
However, you can't really have the same good cut quality under all circumstances. For optimal performance, factors like the correct air pressure, temperatures, and right work material are the keys to getting cuts as clean as 1/2 inch.
3-in-1 Combo
CT520D comprises a plasma torch to facilitate plasma cutting and a TIG torch and Stick welder to permit welding operations. The plasma cutter cuts through aluminum, copper, mild, alloy, and stainless steel while the TIG and Stick welder enables you to weld steel, stainless steel, moly, and a wide variety of ferrous materials.
You need a stable arc for precise welding work, and the arc start has to be good enough for that to happen. Then again, you need to have the air ionized and the gap between the material and tungsten point bridged. These are the tasks best accomplished by a high-frequency arc start.
Including all of these functional capabilities, the TIG torch isn't just a tool without actual benefits. Its impressive ability to work on thinner-gauge work materials is hard to miss. What's special about it is that you'll have happy times welding aluminum.
Duty Cycle
Under the standard settings of temperature at the workplace, you can expect outstandingly long duty cycles: 60% @ 50A and 100% @ 40A.
While tackling TIG/Stick welding operations, the rated duty cycles are 60% @ 200A and 100% @ 150A. Adequate, isn't it? Actually, this extended duty cycle is one of the reasons why most of the plasma systems and welding machines from Lotos Technology are appreciated.
Foot Pedal Amperage Control
It's alright to count on a foot pedal for heat control, especially when you're about to weld aluminum. You can skip this particular part and prepare one yourself, but that may not be compatible with your machine.
Fortunately, this Lotos machine accepts a foot pedal. The inclusion of a pedal would be highly appreciable, but you can still love the unit as it allows for such a control and thoughtful design to let you enjoy flexibility and get comfortable and responsive feelings during any welding task.
Check Price & Reviews on Amazon
Final Verdict
Has this review been any help to you? Think about the problems that made you look for a plasma and welding machine in the first place.
You want to handle a project that involves welding thin-gauge metals, right? As long as it's up to 18 gauge, you won't have a problem. Anything thinner than this, you ought to be cautious to avoid damaging the work material.
No doubt, CT520D is big on duty cycles, but you shouldn't overdo it unless you're ready to spend too much on consumables. Choose the recommended foot pedal for flexible amperage control and get the right pigtail. Don't forget to write to us if more confusions arise.
In the meantime, you can click here to check the latest price of the product.