The Vulcan OmniPro 220 is the latest flagship multi functional welding machine from Vulcan, and admittedly, the welding manufacturer company is fairly young' compared to—say—Miller welding that just celebrated its 90th anniversary in 2019.
However, the Vulcan OmniPro 220 has recently gained a lot of recognition, with many experts' suggesting that it might be one of—if not the most—advanced welder available in the market today.
For starters, the OmniPro 220 is very easy to use compared to other welders of its class, mainly due to 132 preset programs. It is also energy-efficient and also fairly light at only 49 pounds (shipping weight 87 lbs)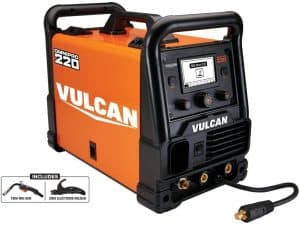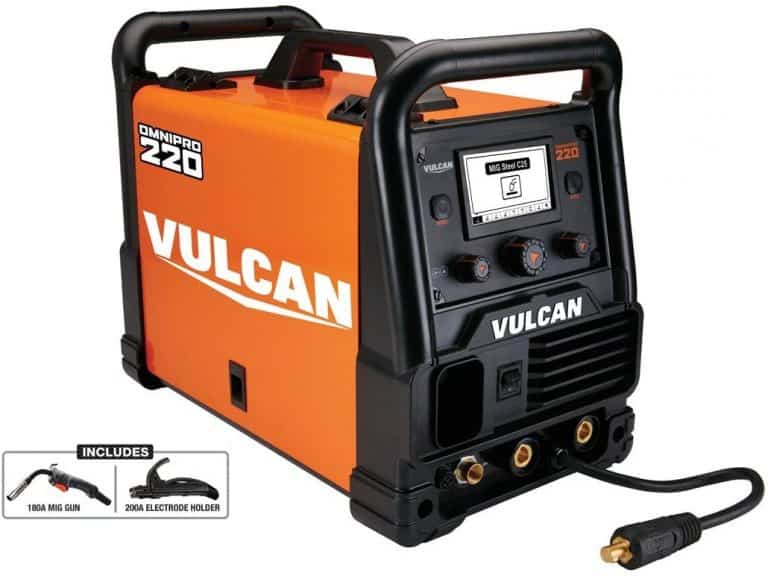 Presenting The Vulcan Omnipro 220: What's included in the package
In the box of Vulcan OmniPro 220, you get the following:
The Vulcan OmniPro 220 welding unit
MIG welding gun
Electrode cable (including holder)
Contact tips
Gas nozzle
Contact tops
120 Volt and 240 Volt input cables
Spools
Key Features:
30.2 x 19.2 x 15.5 inches
The best-in-class LCD display (4.3 inches)
Lightweight at just 49 lbs
120/240 V voltage
30A minimum amperage output
Duty Cycle:
120v-100A 40%
120v-75A 100%
220v-200A 25%
220v-115A 100%
CSA certification
Thermal overload protection
50-500 inches per minute wire feed speed
vulcan omnipro 220 Welder Review: Features & Benefits
Versatile and Intuitive
One of the key highlights of the Vulcan OmniPro 220 is its flexibility with all the modern technologies and features design for a more intuitive user-interface. So, we get access to more advanced features without requiring us to be an expert.
For instance, the OmniPro 220 features a really good, bright 4.3-inch LCD where you can easily select between 132 different presets. On the other hand, the Vulcan OmniPro220 offers MIG, DC TIG, DC Stick, and Flux-Core welding—so we can say that it's a true multi-process welder—
Also, the OmniPro220 offers a dual-voltage technology (120V and 240V), so you can use it all around the world without the need for an adapter.
Ease of Use
Still related to intuitiveness, the OmniPro 220 offers a feature to instantly recall the memory of the critical welder settings. In combination with the bright and (relatively) large LCD, users can easily switch between settings for various welding activities—even for beginners—
One of the key qualities of the Vulcan OmniPro 220 is this very easy-to-use interface, including in terms of handling and transporting since it is a relatively light welder at just 49 pounds—and you can carry it with both single-handed and double-handed carrying.
One of the most user-friendly welders available in the market today, and one of its biggest selling points.
Duty Cycle
Duty cycle is an important factor to consider in any welding equipment. In essence, the duty cycle defines how many minutes of a 10-minute period during which we can safely produce a specific welding current.
For example, a 40% duty cycle means we must rest the welder for 6 minutes after 4 minutes of continuous usage. When you are paying an employee for welding, for example, anything less than 100% is a waste of your money.
With that being said, the Vulcan OmniPro 220 offers a 100% duty cycle at 75 amperes (120 Volt) and 115amperes (240 Volt), and a 25% duty cycle for 200 amperes, with the maximum amperage output being 220 amperes.
Power Output
How powerful the welder is, how versatile in power usage, and how long it can operate (read duty cycle above) are very important factors when deciding between different welders.
Vulcan OmniPro 220 offers an output power ranging from 30 amperes to 220 amperes, open-circuit voltage of 78 Volt, Wire Feed Speed of 50 to 500 inches per minute, and Thermal overload protection.
Also, this welder features inverter technology, allowing it to be energy-efficient while maintaining its powerful operation.
Meaning, it is a heavy-duty welding machine with a lot of versatility.
Weldable Metals
The Vulcan OmniPro 220 can weld steel (and stainless steel), chrome-moly and cast materials. If you want to weld aluminum, you will need an optional spool gun (not included with the package).
The OmniPro 220 is capable of welding steel as thin as 0.02 inches (24 gauge) up to ⅜-inch thick, an ideal capability for light industrial use. It can handle aluminum as thin as 22 gauge, but again, will require an additional spool gun.
Also, it doesn't work with standard TIG torches, and you will need to purchase an additional torch if you want to use TIG welding.
Build
Sturdiness is also an important factor in choosing a welder as heavy-duty equipment.
Here, one of its key highlights is its industrial-grade aluminum on the drive system, allowing it to be quite durable in handling continuous heavy-duty welding.
Pros and Cons of Vulcan OmniPro 220 Welder
Pros:
User-friendly with an intuitive interface, bright LCD monitor and 132 pre-loaded programs
Sturdy and powerful with dual-voltage technology
Relatively lightweight at just 49 lbs
Capable of TIG/MIG, Flux-core, and DC stick welding
Cast aluminum drive system
One-year no-hassle opportunity to return it for any reason at all
Extended warranty available
Cons:
Not the cheapest welder around—although worth the investment
Might need an outer cage reinforcement for extra durability
Our Verdict
The Vulcan OmniPro220 Multi-Process Welder is a very versatile welding machine—truly lives up to the multi-process welder' in its name—, but one of its main highlights is its ease-of-use.
It utilizes a very intuitive preset-based control, featuring 132 different presets that you can select and control from a bright and fairly large (4.3-inch) LCD screen and intuitive buttons. These preset settings will allow beginner welders to play around with various welding options (while also offering safety), and the 100+ preset options offered are surprisingly very handy with great results.
Very good penetrative power, capable of operating from 30A to 220A, with a 100% duty cycle at 75 amperes (120 Volt) and 115amperes (240 Volt).
A minor downside is that it doesn't include a TIG torch—and can't work with standard TIG torches since the gas line needs to be connected to the TIG lead, unlike most products available in the market—, so less versatility in this aspect.
It's not a cheap investment, but definitely worth every penny, especially considering Vulcan offers a 1-year money-back warranty (no questions asked).
Click here to check the latest price.