Welding becomes interesting when you start crafting things using a welding machine. The more you practice welding, the more you gonna love this magnificent art.  On the flip side of the coin, you may lose sharpness in welding due to the lack of practice. That's why you should try some easy welding project ideas for beginners to keep yourself on-song.
Some spectacular DIY beginners' welding project ideas include a pan rack, laptop table, fire pit, garden trellis, storage rack, decorative metal bowls, candle holder, picture frame, keychain holder, shooting target, and many more.
Let's see all the exciting and hassle-free welding projects and hone your skills to step ahead in the race of becoming a professional welder.
50 Simple but Effective welding Project ideas for Beginners
Here I've tried to share as many welding ideas as possible so that you can try them whenever you get the opportunity and necessity. Also, I don't include any tricky or challenging project concepts to help newcomers grow more confident by successfully completing each one.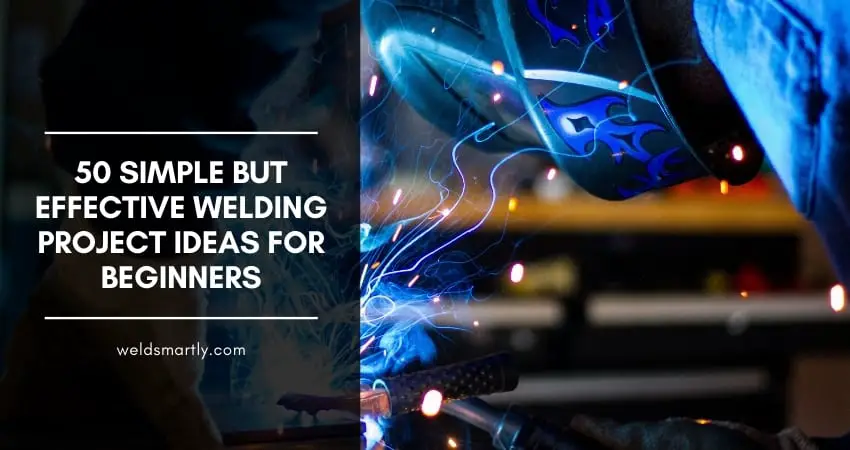 Without further delay, let's see what's in store for you…
Nested table
You may have seen Nested tables in restaurants and shops that can be nested by slipping smaller one under the bigger. These tables are very space-saving, and you can easily construct this unique furniture with your welding machine. All you need is some flat, thick, and long metal sheets to make the frame of a Nested table.
Birdcage
If you are a bird lover who likes to keep some birds in his house, you need a birdcage. How about making cages for your lovely flying pets by yourself. With a welding machine, you can make this dream come true. Moreover, you can make these cages look gorgeous by adorning them with our creative style.
Garage Storage rack
To make our garage organized and work-friendly, we include garage racks to store things systematically. It is vital to have proper-size shelves that go along with our garage size and settings. Therefore, sometimes it becomes challenging to find an appropriate one for your garage.
Now, with a welding machine and some steel or metal sheets, you can quickly build a perfect rack, and it will save your money too. You can also help your neighbors by making one for them.
Picture frame
How incredible would that scene be where your prettiest picture beautifies your drawing room inside your self-crafted picture frame! Guess what? You can easily design breathtaking frames with a welding machine. The good thing about making a picture frame is that you can determine its size according to the picture's shape. So, images will properly fit inside the steel frame.
Keychain holder
In our daily life, we have to keep our essential keys near our hands. These keys are tiny and can easily be lost. However, if you keep them organized in a keychain holder, you can easily access them. So, take your welding machine with some small hooks and a long sheet to construct a fashionable keychain holder.
Making a keychain is so straightforward that you can build 5-10 keychains in an hour. Impressive, isn't it? Why not make some making and selling them online.
Clothe racks
Every house needs a cloth rack, and your home shouldn't be different. The interesting fact is that if you know even the basics of welding, you shouldn't face any issue creating a masterpiece cloth rack. Additionally, you can add custom features like adding a shoe rack on the lower part of your cloth rack.
Chair and stool
You can try crafting stylish metal chairs and stool using a welder. These valuable pieces of furniture will enhance your room's beauty while providing comfort and convenience in your daily life. You can effortlessly construct these things with any welding machine.
Candle-holder
This is another motivating welding project idea for beginners. You can make several types and designs of holders to mount your candles on any special occasion. Horseshoes, square tubing, and small metal disks can be utilized to make candle-holder.
Pencil holder
Like Candle-holder, you will be able to build a top-notch pencil holder by welding metal sheets and square or cylindrical tubing together. Attach a doll or metal art with the holder, and it will have a gorgeous appearance. You can gift these pencil holders to people who love to decorate their study room with special showpieces.
Shooting targets
If you love practicing target-shooting, then this tiny project idea will come in handy for you. All you need to do is weld some circular metal disks and secure them in a metal bar. To reduce the ricocheting hazard, you should pivot the plate.
However, you should design different sizes of targets to test and hone your aim for your next shooting competition.
Car creeper
Car creeper is an incredibly handy tool. DIY hobbyists and garage workers use this thing to go underneath a car safely. The good news is that you can make your own creeper using a welding machine. You just need to know ARC welding basic to craft this great creeper smoothly.
Barbecue pit
This is a fascinating welding project concept that is very cost-effective and time-convenient too. Moreover, you can use your self-made barbecue pit to make your friends' barbecue parties more memorable. Don't worry; you only need some steel bars, sheets, and a Tig welder to acquire this skill.
Car bumper
A robust off-road car bumper keeps your car's frontal parts protected if you ride your vehicle in an urban area where the road is full of gravel. You can save a considerable amount of money if you build a car bumper with your welding machine. However, you should try this project under the supervision of a professional welder.
Security door
If you are concerned about your home's security, you can make a metal security door for your entrance. At first, you have to make a door frame and add heavy steel sheets to the frame. And, to do these things, you need a welding machine and basic welding knowledge.
However, you should take the proper time to finish this task and check every joint thoroughly, as improper welding joints may hamper the overall security of your home.
Garden decorations
Using metal like stainless steel in adorning your garden is a sagacious decision. First of all, metal decorations will look expensive, and they won't be damaged by the sun and rain. Also, these garden showpieces are very sturdy too. As a result, your pet or any animal can't damage these easily.
The good news is that you can make wonderful decorative pieces for your garden by welding different sizes and shapes of metal together. You can utilize unused spoons to craft an attractive spoon-flower, metal birds, trees, animals, and many more.
Decorative gate
It is not a beginner's task to weld and construct big metal gates for houses. Nonetheless, it would be hassle-free for you as a new welder to designing a small decorate gate for the yard or garden. Moreover, it wouldn't take more than a day to finish the job.
However, if you want to make intricate decorations on the gate surface using your welding machine, then you need to take help from an expert welder. Otherwise, you may make the gate look ugly.
garden trellis
Those who love gardening and cultivate different vegetables and plants know how crucial the garden trellises are! They not only support plants but also enhance the beauty of your home. You can easily customize and craft a space-saving trellis using your welding machine and some metal bar and rods.
Tunnel trellis and arch trellis are very popular, and they create a wonderful atmosphere in your garden. You need to do tack welding first to set the frame and make the final welding when the frame is ready.
Welding table
Well, as a welder, you should have known the necessity of a welding table. How about making a heavy-duty welding table? You can shape the welding table according to convenience and add extra features to it to have a stress-free welding session.
You need some metal sheets, round tubes, angle irons along with your TIG or MIG welder to construct a perfect table to work on your next welding projects.
Metal box
Boxes are vital objects of our house as you can store and secure plenty of valuable things inside. Moreover, a metal box shows a more solid performance and keeps everything securely. Either a small toolbox or big storage container, you can make every kind of metal box if you know the basics of welding.
You can also decorate these boxes to make them more precious and attractive. Also, attach a lock to the box to make it secure.
Antler trap
Help your hunter friends by making an antler trap for their expedition. Make sure that the trap is sturdy enough to trap adult deers. It won't take much time to build an Antler trap with a MIG welder.
However, before making an antler trap, make sure that it is legal in your state to use this trap. Otherwise, you may violate any hunting-related law and have to pay a hefty penalty for that.
Metal spade and shovel
Both the shovel and spade are extremely useful for garden works. Also, these tools help you to dig the soil for making drainage systems too. As a beginner welding project, making these super helpful tools can be a great idea to hone your newly learned welding skills.
You can use any welding machine to craft these metal objects.
Pan rack
Now, you can help your wife, mother or yourself by making a lovely pan rack for your kitchen. It would help to organize the kitchen neatly and save a lot of space. You need one long metal tube, some hooks, washers, and nuts to make a pan rack. You need a tig welding machine for this task.
The good thing about crafting a pan rack is you will need only 1-2 hours to do this welding job. And, you need to know the basics of welding to finish this project.
Laptop table
A sturdy laptop table can give you a lot of ease while spending lots of time on your laptop. You can make the table more dynamic than other laptop tables found on the marketplace by adding some additional features.
Moreover, a laptop table can also be used as a TV-dinner table, small book reading table, and a side table. You can easily make this table with a TIG or MIG welder.
Metal log basket
You can keep the logs organized and help them remain aired and dry by using a metal log basket. You will be able to make this useful basket by welding some flat bars of metal. Though U- shape log baskets are relatively famous, you can shape one according to your imaginations and welding expertise.
Wheelchair ramp
Wheelchair ramps are extremely handy objects for physically disabled people. This amazing thing will help them to make easy access to houses and vehicles using a wheelchair. You need some metal sheets and tubing to make a ramp. Weld and join the metal tubes first to make the frame and attach the metal sheet.
Make sure that you have made its surface smooth enough for the wheelchair to run flawlessly.
Metal Clock
A Metal clock will look gorgeous on your drawing room's wall. Everyone will surely love to have an exotic wall clock in the house. The great thing is that you can effortlessly make a metal clock for your sweet home using 0.25 inches steel for circular sections and 0.31 inches rods for numbers and hands. Don't worry, you can use any welding machine for this task.
Coffee/tea table
If you are looking for a simple but handy project to start your welding career, you can give some effort to craft a coffee table. It requires a basic frame and a polished piece of timbers for its top surface.
You can use your self-crafted tea/ coffee table for different purposes in your home, office, and shops too.
Fire pit
Igniting a fire fit is an excellent way to tackle the shivering cold winter night. Also, family or friend's night parties become further special when the pit is full of fire. You can construct a fire pit with 2.1 mm thick steel sheets and metal pipes.  A fire pit may seem significant in size, but you can make one with your basic welding skill and knowledge.
House number plate
This is another valuable DIY welding project idea that can be a handy addition to your house. Moreover, your home will get a unique vibe. You can use some flat metal sheets to make these metal number plates.
Kid's toy
You will start enjoying the most when you make some stunning toy for kids with your welding skill. With some imagination and creativity, you are able to craft hundreds of toys by having some basic welding skills. Some welding toy ideas could be metal fish, animals, small toy cars, and so on.
Make sure that you have polished these toys with a grinder before handling them to your kids. Also, you may paint them with different colors to make them appear catchy in the eye.
Wine/juice glass holder
This DIY project is a simple and straightforward job that requires no particular welding skill. Get any TIG, MIG, or Stick welding machine to do this. Take some curly metal rods and weld some of them properly to make a nice wine glass holder. The heart-shaped glass holder looks pretty. You can try this if you want.
Bookshelf
This is another fantastic addition to your reading room. Creating a metal bookshelf requires no advanced welding skills, but you have to work with a lot of metal. However, if you don't want to add any fancy design to your bookshelf, you won't have to give much effort to do this.
Make sure that there is no sharp edge left on the finished weld as it could tear your precious books.
Simple bucket
Buckets are very commonly used in our daily life. From watering the garden to kitchen works, we need many types and sizes of buckets to accomplish these tasks effortlessly. The great thing is that you can practice or hone your welding skills by making some spectacular buckets. Weld it thoroughly and add some rust-resistant coatings to the bucket to make it durable.
Tv stand
The tv stand is a classic piece of furniture that is very popular in developing nations of the world. No matter if it is still trendy in your region or not, no one is stopping you from making a wonderful Tv stand for your tv. You need some metal sheets, metal tubes and a welding machine to craft it. Also, weld it heavily so that it does not break down when you put your TV on top of it.
Ladder
Metal ladders are far more robust than wood or bamboo-made ladders, and these ladders offer long-lasting performance. Most beginners find this project super easy as you only have to add some sturdy steel sheets together. If you make a giant metal ladder, ensure that you have welded every joint securely, as an improper ladder joint can lead to high risk.
Large household drum
Big water drams have various usage. You can plant trees on them, store water, and do many other household tasks with them. Why not craft a large drum by welding some thin metal sheets. It isn't a complicated thing to do, but you need to have the utmost concentration to make an error-free finish.
Moreover, you can add some innovative features to the drum to further comfort you while using the drum.
Mobile holder
A mobile holder is an innovative metal equipment that can firmly hold your mobile. When you are busy doing other household and official works, a mobile holder can help you a lot by keeping your mobile and let you talk, read, watch and do necessary stuff on your mobile.
You can easily make a holder using a TIG welder. Just make sure that your cell phone fits inside the holder properly.
Stairs' Railing
This becomes mandatory when you have kids in your house, as you need to secure your stairs from an accident. With a welding machine and some rods or metal tubes, you can easily update your existing stair railing or make new railings. Your stair's railing will seem gorgeous.
Flower vase
Everyone likes decorating their bedrooms and guest rooms with charming and exotic flower vase, right? The exciting matter is that crafting a metal flower vase can be a fantastic and inspiring way to practice your welding skills. You only require some welding skills with any kind of welding machine to make a flower vase.
Bench
Metal benches are very sturdy, and they are durable too. Making a bench doesn't need any complicated welding tasks. You have to create the branch's frame first and add a metal sheet over the frame by using a welder.
Doorbell
A piece of decoration looks pretty cool on your door. Yes, you can easily make doorbells using some scrap metal and small argon cylinders. Weld them properly, and your doorbell would be ready in no time.
Ice bucket
This is another excellent idea of honing your welding skills. Use some rod and steel sheet to make a handy ice bucket for summer parties. It would be great if you use a TIG welder for this task.
Windchime
Windchime creates a charming environment in your home with its sweet sound and attractive appearance. You can make different types and shapes of wind chime with a wide range of metals. Not every wind chime is made by welding its ingredients but welded wind chimes last much longer.
Hammock chair
After spending an exhausting office day, you can enjoy some relaxed moments while sitting on your self-made hammock chair. Just grab your stick or TIG welding machine and make one within a few hours. Beginners will enjoy this project a lot.
Stylish outdoor table
The outdoor table is trendy among houses that incorporate a garden or yard in front of it. It enhances the beauty of the garden. You can craft a fabulous outdoor table easily with your basic welding skills.
Tool rack
You can keep your hand and power tools in an organized manner if you construct a tool rack. Get a Tig welder, some metal sheet, metal tube, or pipe to make a tool rack without any issue. Ensure that the rack can hold as many tools as possible.
Garden fence
Making metal garden fences is a pretty good idea to practice welding as a beginner welder. Though it requires basic welding skill, you are going to do a lot of welding to finish fencing a garden surrounding
Carts
Metal carts are simple to construct, and you need a TIG welder and some metal sheets, tubes, and nets to do this project.
Gym equipment
You can also create some basic Gym equipment like pull-up bars, squat rack, monkey bars using metal pipes and bars. Make sure that you've to weld them properly as weak welding may break during the workout, and you may get seriously injured.
Fishing rod
If you love fishing and catching big fishes, you can make your own fancy fishing rod that could be much stronger than the typical fishing rods found in the marketplace.
Last words
I'm sure you are now mentally prepared to try some of these above-mentioned easy welding project ideas for beginners. Here, I have provided these ideas briefly to let you know how exciting learning welding could be.
Therefore, now, it's your turn to do more research and learn details about the projects you want to try so that you can finish them smoothly. Happy welding!!