Companies that offer welding equipment rentals don't usually disclose their pricing without a request for a quote. The problem with this solicited approach is that most of them can succeed in getting you to rent a machine you don't really need. So, any idea about the cost prior to a decision comes handy.
Rental companies usually charge $5/hour for a basic unit. Multiple arc systems with high amp output come at $10/hour or more. Multi-process advanced welders cost up to $30/hour or $5,000/month. Around 50%-60% of utilization rate is ideal for those looking for a rental.
I know my answer can be too brief for you to comprehend. So, I've presented a relevant discussion to explain why rental costs may vary and how you can settle for something suitable for your welding tasks.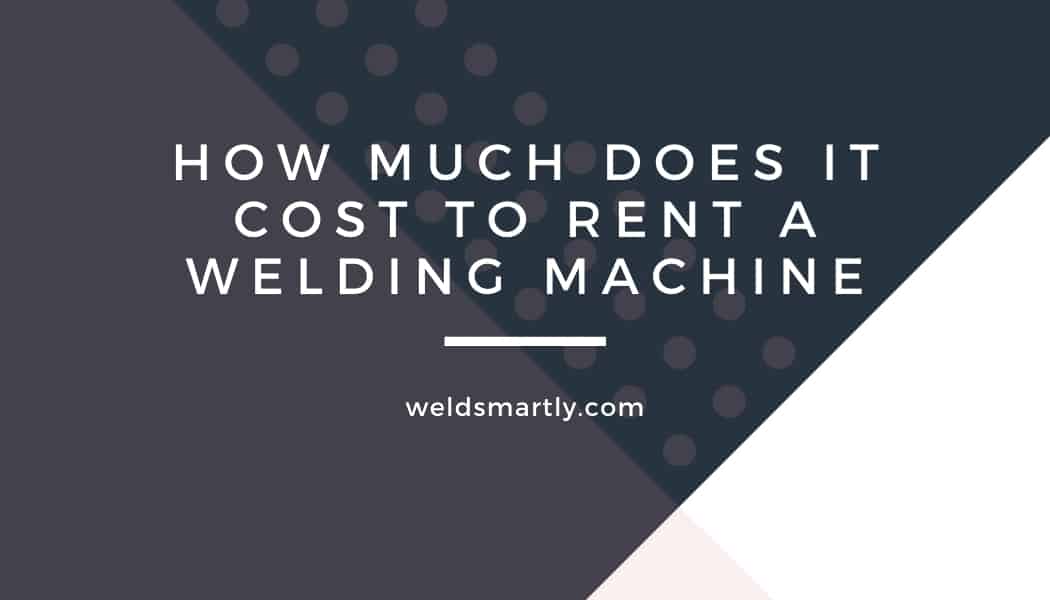 Factors Effecting The Cost to Rent a Welding Machine
Bellow are the factors and variables that effect rental cost for a welding machine –
1. Duration
You may get to use a welder on rent spending as low as $20 a day. A discount can be expected in case the duration extends up to a week. The cost can be even lower for a month or more.
Before contacting any rental provider, you should estimate the duration and identify the scope of your project. Any wrong assessment of the duration may lead to the cost for additional days/weeks of usage.
2. Power Supply
For job sites with an easy access to the primary power supply, an electric welder should be fine. But you need an engine-driven welder generator for other places like equipment yards, highways, or outdoor construction sites where electricity may not be easy to find.
I've talked about the available choices below (see gas or diesel welders). In addition to providing the primary output, these machines create auxiliary power. Rental costs of some machines may increase with higher auxiliary output.
3. Arc System
Both single-arc and multi-arc welding machines are in use. You should find out if you need a lot of arcs or just the minimum. Multi-arc welders like an eight-arc system may cost you up to $15 per hour, and a single-arc welder is available at $3-$5 per hour. The location of your site or any special demand for delivery/pickup may drive the cost too.
4. Amperage and Duty Cycle
Heavy-duty welding applications require an output of 350 – 600 amps, and light-duty applications can be handled with an output of 50 to 300 amps. The duty cycle at which a machine operates also matters. If you want a welding machine with a high amperage output and duty cycle, the rental provider might ask at least $10/hour.
5. Noise
I haven't seen or heard of any welder that operates without what we call noise. But some hi-tech units are equipped with sound-deadening components to create a low level of noise during the operation. You may need to increase the rate of pay by $2-$3 per hour for such an advanced unit.
Additional Read: Why is my mig welder popping?
6. Familiarity with the Machine
For you to be good at using a welder without any significant downtime, strong familiarity with the machine is a must. If you rent a model with an interface that doesn't make life easy, you'll lose valuable hours just to get yourself comfortable with the operation, which will eventually impact the cost.
7. Brands and Line of Welders
A decent unit from Miller or Lincoln can be purchased at a price under $1,500. But for a Hypertherm model, you need to add at least $500-$1,000 to that number. I am not leading you to a purchase decision, but rental prices may vary by brand. Again, a basic welder comes cheaper than an advanced unit. The same applies to rental units too.
Available Welding Machines And Their Rents

You don't have to pick up anything at random where rental service companies offer all types of welders. I'm giving you a short note on each type in this section.
1. MIG Welder
Demands for higher production rates are the reason for many to choose MIG welders. This type of process requires less of your skill and more of your passion for better weld quality.
You can rent an all-in-one MIG welder with a wire feeder, power source, torch, regulator, drive roll kit, flow-meter, and ground cables. Getting these essentials in a single rental package saves additional costs because most of these items cannot be rented but purchased separately.
2. Aluminum MIG Welder
Although a standard MIG welder can be chosen to weld aluminum, you can rent a machine that is specifically built for the purpose. Ask the rental service provider if the MIG torch is designed to ensure smooth wire feeding.
Get a spool gun with the machine when you don't need a large amount of weld deposition. A push-pull gun is preferable for a large volume of deposition. The cost of rental won't vary for this choice, but you shouldn't ignore this.
Additional Read: Millermatic 350P Review
3. TIG Welder
Since TIG welding is more about precision than about volumes, these welders are built accordingly. The cost of a rental package may be slightly higher than that of a MIG welder, but the difference is not much of a concern.
4. Stick Welder
Small welding shops use these welders for many of their projects due to their versatility. Different types of steels and varying thicknesses can be handled with ease. Affordability of these machines is attractive whether you rent or buy one.
5. Multi-Process Welder
Unless the job you're getting a welder for involves very specific requirements, renting a multi-process machine is a smart choice in terms of both productivity and affordability. You can use MIG, TIG, stick, or even flux core process using a single unit.
6. Advanced Process Welder
I hope you have the right purpose in mind as you want to rent an advanced welding unit that ensures the highest weld quality through a pulsed MIG/TIG process. Some of these high-end machines are suitable for submerged welding projects too. If you can tag the word "expensive" to a machine that can be used by one person, these are the units to look at.
7. Stud Welder
People choose stud welding as a reliable process as they need to weld several posts or fasteners quickly onto a piece of metal. A stud welder makes the job faster, often half the time required by other types to make a circumferential weld. You may need a single gun or dual gun which determines the cost of rental.
8. Gas Welder
You can use a flame or the welding generator equipped with one of these units. Besides providing the supply of power required for welding, a gas engine machine usually has a few outlets that accept some pieces of auxiliary equipment including light fixtures or grinders. Unless you're planning on working on a remote site, you can think about other options.
9. LPG Welder
Like a gas engine model, an LPG welder relies on gas too, except only LPG is the choice in this case. Some of these machines allow for multi-process tasks. Be sure to check this with the rental company before taking one to your jobsite.
10. Diesel Welder or Welder Generator

These welders use diesel as their primary fuel, and most of the units come with a generator system. Multiple arcs, dual welding outputs, and variable RPMs are some of the specialties to help professionals achieve the desired weld quality and productivity while maintaining safety around the workplace.
11. Sub Arc Welder
Tower builders and pipe fabricators use these machines more frequently than others. A typical set-up comes equipped with automatic wirefeeders, turning rolls, manipulators, monitoring systems, and other components. Rental prices of these units are often higher than those of TIG/MIG welders.
12. Multi-Operator Welders
You don't need these machines for a regular welding project. Higher production rates within a strict deadline are the reason many welding and fabrication shops require these large set-ups.
13. Multi-Process Pipe Welder
This type serves a very particular purpose which you know as pipe welding. Both multi-process and single-purpose models are offered by rental companies.
14. Custom-Built Equipment
Only a few rental shops rent welders with each aspect of the machine tailored to the demands of customers. The cost may vary depending on your choice of the specifications and technical features. In my opinion, a custom welding set-up is the last thing you need if you are not capable of differentiating among all the numbers on a machine.
After all these talks about the cost, I would like you to consider two factors that will help you decide if you want to rent a welder in the first place.
Final Thoughts: Should You Rent or Buy A Welder

Now that I've discussed the rental costs and associated factors, I would like you to consider one specific matter which may cause you to wonder whether you should rent a welder in the first place or buy one.
What is your utilization rate? I meant to ask how much of the machine's productive use you have in mind. Let me simplify the term. Calculate the number of hours you would need a welding machine for throughout the weekly limit which is 40 hours as a general rule. Divide that number of hours by 40 and multiply the result by 100. The final result is your utilization rate.
If you want to use a welder for 20 hours a week, the rate is 50%. According to fabricators, renting a machine makes sense for less than 60% of utilization rate. Again, you know if it is an ongoing demand or just a temporary necessity. So make your move accordingly.
Feel free to ask more questions regarding this topic and beyond. I am here to help. Safe welding!