We know how difficult it can be to find a welding machine that will fulfill all your needs.
The Millermatic 350P is forever the favorite welder for professionals. Though it's not that good on heavy industrial welding, however, professional welders and DIY enthusiasts will definitely find this useful.
In this article we represent our millermatic 350p review. The Miler Electric 350P comes with tons of innovative features to make all your welding jobs easy as a breeze. It's capable of doing a variety of welding works. Before we talk about the features, let's have a quick look at the factors that you should consider before buying a welder.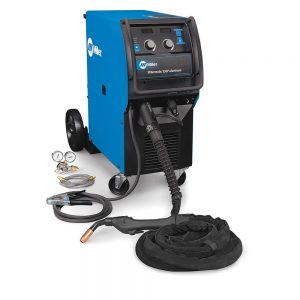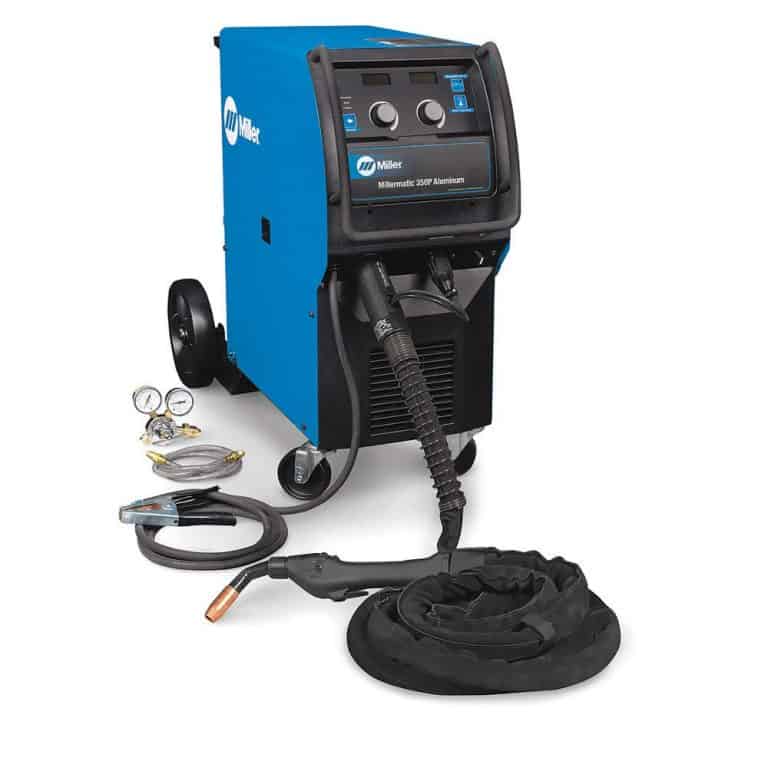 Things to consider before buying a welder
Power
The first thing to consider is the power means the voltage needed whether it's 120 or 240 to complete the task. Higher voltage welders require special power supplies to perform a heavy task. On the other hand, a lower voltage welder can be operated from any socket but won't be able to perform many heavy work.
Material thickness
The next thing to consider is the material thickness on which you're going to be working on. The thick the metal is, the more power will the welder needs. This will determine amperage needs. You have to have the right amperage output of the machine.
Space
The amount of space is also an important thing to consider before buying a welder. The site where you'd be performing the welding will also determine the suitable welding machine for you. If your garage is huge then you can have a bigger machine as well.
Duty cycle
The duty cycle means the amount of time a welder can run before it needs to be shut off to cool down. The more expensive welders are most likely to have longer duty cycles, while the cheaper welders have short duty cycles. Some welders can even work continuously with a 100 percent duty cycle.
However, a work cycle may not be important for home and hobby welders, as they aren't going to be welding for long time work. When welding thicker metal it's important to have longer duty cycles as it requires more time for machining.
Presenting the Millermatic 350P Aluminum MIG Welder
As an Amazon Associate I earn from qualifying purchases
The miller 350P MIG Welder is perfect for the professional and DIY enthusiast to get the job done and get it done right. Since 1929, the company started building arc welders. The founder makes sure his company made products that offered the long-lasting value and superior quality.
It has an owner's manual to help you the most out of your Miller products. The installation is super easy with the quick operation. You can easily count on years of reliable service with proper maintenance.
You'll definitely have a superior aluminum performance. It comes with a 10ft power cord, 10ft work cable with clamp, factory-installed gas solenoid, low mounted cylinder rack, and many more!
Pros
The input voltage of 208/240/480VAC
Lots of attachments
Durable
Easy to use
Material thickness of ½ inch
Cons
Quite heavy
Pricier
Not good for heavy-duty works
millermatic 350p review: The Features of Miler Electric 350P
Size
The dimension of this machine is 34 x 19 x 41 inches with a net weight of 82 kg, which makes it pretty heavy compared to the other welding machines out there. However, it's portable so you can carry it from one place to another without any hassles.
Design
The Miller 350P is a reliable robust welding machine with a synergic welding system that's optimized for simplicity, productivity, and real-time control for aluminum welding applications.
In fact, the new Miller Matic 350P aluminum combined with max aluminum wire is the best all in one system on the market for feeding, starting, and welding aluminum.
Installation
It comes with a simplified setup to make your welding job easy as a breeze. It makes it easier than ever for any operator to set up and runs any job. All you have to do just select the gun, the process, pick the wire diameter, and then type and you're off running.
The benefits continue with improvements in wire feed and arc performance. You'll find it possible to run longer welds with improved control and consistency.
Power
It has a new true torque feed motor that provides continuous push force the wire. On the other hand, the gun motor controls the speed at the gun. The motor helps to work together so that it can deliver accurate and positive wire feed speed with wire shaving or deformation.
The rated output of this machine is 300 A at 32 VDC. It has a 60 percent duty cycle with 60 Hz, 1- or 3- phase input power to work for a longer time.
Accessories
 With the box, you'll get a power source, a 25 ft. 300 A gun with a hose, a 10 ft. work cable with clamp, factory-installed solenoid, flow gauge with a hose, factory-installed low mount cylinder rack, and an U-groove drive rolls for aluminum welding. Moreover, to operate all these attachments properly you'll get a setup and operation CD.
Additional features
It has an electronic wire spool brake feature. This feature allows wire spool to free spool while welding that provides optimum wire feed delivery. The synergic pulsed welding modes offer the simplicity of single-knob control so that the machine can select the accurate pulse power based on the wire feed speed set by you.
Warranty
All the Miller welders come with Miller's True-Blue warranty. You'll get a 3-years warranty from the manufacturer.
To be very honest the machine is robust and durable so you won't have to worry about it. However, if you still face any issues during the given warranty period, you can claim for your money back or a replacement.
Final Thoughts
The Mille Matic 350P is loaded with advanced features that benefit the aluminum welder by improving efficiency and saving significant time running back to the machine.
This machine is a great choice for professionals who are looking for a versatile welder. Lastly, make sure you buy it from an authorized seller and you can buy it from here.