Welding is an intricate science and a meticulous craft, where materials are fused together using high heat to form a robust joint. A report from the American Welding Society illuminates the importance of welding in our world, revealing that over 50% of all man-made products require welding. From automobiles to aerospace, the essence of welding stands firm.
However, the process is not always seamless, often marred by defects and inconsistencies leading to a "bad weld." A bad weld, as defined by the International Institute of Welding, is one that contains flaws such as cracks, porosity, and undercutting, which compromises the joint's structural integrity and performance.
In this comprehensive guide, we unpack the complex subject of bad welds, their common indicators, causes, and remedial measures, offering practical and scientific insights. This article aims to equip welders with the necessary knowledge to diagnose and fix bad welds effectively, ensuring structural soundness and longevity.
What are the Common Indicators of a Bad Weld?
Just as a seasoned artist recognizes a misplaced brush stroke, a skilled welder knows a bad weld by its distinct characteristics. The most common indicators include porosity, cracking, undercutting, incomplete penetration, and overlapping.
1. Porosity: Why Are There Unwanted Holes in the Weld?
Porosity is marked by the presence of gas pockets or voids, creating a sponge-like structure within the weld bead. A study by the American Welding Society pinpoints gas entrapment during the solidification process as the leading cause. High porosity means less weld metal bearing the load, resulting in diminished weld strength and potential failure.
2. Cracking: What Causes Welds to Break or Fracture?
Cracking manifests as splits within or adjacent to the weld, often due to thermal stresses, inappropriate welding procedures, or material incompatibility. Rapid cooling post-welding is another common factor leading to cracking, as explained in a study published in the Journal of Materials Engineering and Performance. Cracks, especially those undetected, can catastrophically fail under stress.
3. Undercutting: Why is the Base Metal Eroding Next to the Weld?
Undercutting, a groove melting into the base metal alongside the weld bead without being filled, leaves the weld joint vulnerable. It not only weakens the joint but also acts as a stress raiser, causing premature failure. According to research in the Journal of Materials Processing Technology, incorrect electrode angle, high current, or high travel speed can lead to undercutting.
What Causes Bad Welds?
A myriad of factors, from improper welding parameters to inadequate materials and techniques, contribute to bad welds. Understanding these helps in troubleshooting and repairing defective welds, enhancing overall weld quality.
Misjudged Welding Parameters: How Do Power, Speed, and Electrode Angle Influence Weld Quality?
Small changes in welding parameters can have a significant impact on the end result. Power, speed, and electrode angle must be adjusted according to the type of weld and the materials being welded. Mismatched parameters can lead to defects like poor fusion, cracking, and porosity, as stated in the Welding Journal.
Contaminated Base Metal: What is the Impact of Dust, Rust, and Grease on Welding?
Welding is not just about the action of fusing metals together; it also involves the careful preparation of the base metal. Contaminants like dust, rust, and grease can significantly impair the quality of the weld, leading to a plethora of welding defects such as porosity, inclusion, and undercuts.
Unskilled Welding Technique: How Does Welder Proficiency Affect the Outcome?
There's no substitute for skill and experience in welding. A welder's skill level directly influences the weld's quality. A study from the Journal of Constructional Steel Research found a strong correlation between welder proficiency and defect occurrence. Unskilled techniques can lead to numerous weld defects, emphasizing the need for proper training and practice.
In the following section, we'll explore how to assess weld failures and discuss various techniques to address these issues.
How to Properly Assess a Weld Failure?
A weld failure can be a serious issue, especially in structures where weld integrity is paramount. Accurate assessment is critical in ensuring proper rectification.
Visual Inspection
Visual inspection is often the first step in identifying a weld defect. The American Welding Society describes it as an effective method for detecting irregularities such as cracks, porosity, undercutting, and more. It helps in understanding the severity and type of weld failure, guiding the repair process.
Destructive Testing
Destructive testing, as the name suggests, involves breaking the weld to assess its integrity. It's an essential process in industries where weld quality cannot be compromised. Despite its destructive nature, it provides comprehensive insights into the weld's strength and durability, helping to pinpoint the failure cause.
Non-Destructive Testing
Non-destructive testing, like ultrasonic and radiographic testing, helps detect internal defects while preserving the component. A report by the Non-Destructive Testing Society asserts that these techniques offer accurate, in-depth analysis of weld quality without affecting its functionality, aiding in an informed repair strategy.
Next, we delve into the detailed process of repairing a bad weld, including necessary safety measures, removal techniques, and best practices for rewelding.
What are the Steps to Fix a Bad Weld?
Fixing a bad weld involves a systematic approach that ensures the integrity and strength of the repaired joint. Let's walk through the process step by step.
Preparing for the Repair: Safety Measures
Safety is paramount in welding. Ensuring proper protective gear, including a welding helmet, gloves, and flame-resistant clothing, is crucial. Additionally, securing the work environment by removing flammable materials and ensuring adequate ventilation reduces the risk of accidents.
Removing the Defective Weld: What is the Best Method for Grinding or Cutting Out a Bad Weld?
Bad weld removal requires precision and patience. Tools like angle grinders or plasma cutters are commonly used, though the choice depends on the weld type and location. It's important to remove the entire defective weld to avoid potential weaknesses in the repair.
Cleaning the Base Metal: How to Ensure a Clean Surface for Rewelding?
After removing the defective weld, the base metal should be thoroughly cleaned to remove contaminants. Wire brushes, grinding discs, or cleaning solutions can be employed to create a clean, conducive surface for rewelding.
Rewelding: How to Apply Proper Techniques for a Strong, Durable Weld?
Rewelding should be done with precision and care, following proper welding techniques. Selection of the right welding parameters, filler materials, and shielding gas, based on the base material, can yield a strong and durable weld.
In the following section, we'll provide insights into the prevention of welding defects, equipping you with knowledge to avoid future weld failures.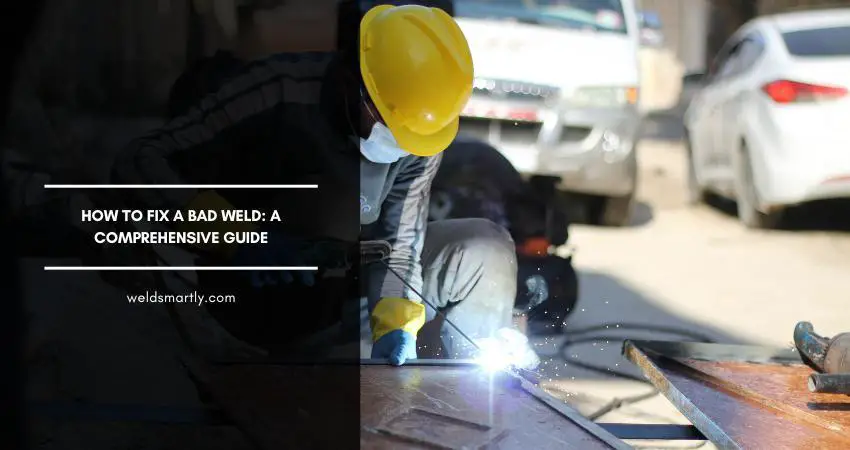 How to Prevent Welding Defects in the Future?
Avoiding bad welds in the first place saves significant time, effort, and resources. Here are some practical tips to maintain high weld quality.
Proper Machine Setup
Proper machine setup is vital to successful welding. Correct amperage, voltage, and wire feed speed are key to producing a good weld. Regular calibration of welding machines ensures accuracy and consistency in weld output.
Regular Maintenance
Regular maintenance of welding equipment prolongs its lifespan and ensures consistent performance. This includes periodic checks and replacement of worn-out components like contact tips, liners, and nozzles.
Continuous Learning
Welding is a craft where continuous learning can significantly improve results. Regular practice, staying updated with new techniques and technologies, and learning from each weld are steps towards mastery.
Conclusion
Welding is an art that combines skill, knowledge, and experience. Understanding the common indicators of a bad weld, the reasons they occur, and how to fix them is essential for any welder. Armed with this knowledge, you're well on your way to perfecting the art of welding and creating stronger, more durable joints.