The plasma cutter, an invaluable tool in metal fabrication, is lauded for its precision and versatility in cutting various types of metal, including steel, aluminum, and copper. Its utility extends across many sectors, from automotive repair and industrial construction to artwork creation and DIY projects.
However, the utility of a plasma cutter comes with an array of operational costs. The financial outlay goes beyond the initial investment in the machine and its necessary safety gear. According to a study in the Journal of Cleaner Production, the operational costs are multi-faceted, encompassing consumables like electrodes and nozzles, the energy consumption directly linked to the plasma cutter's power rating, and routine maintenance requirements.
Moreover, the size and sophistication of the plasma cutter, environmental considerations, and hidden costs can significantly influence the expense profile of operating this equipment. So, while a plasma cutter is a transformative tool for metalworking, understanding its comprehensive cost structure is vital for optimizing its economic efficiency. This piece aims to demystify the true cost of operating a plasma cutter, providing insights for both seasoned metalworkers and beginners in the field.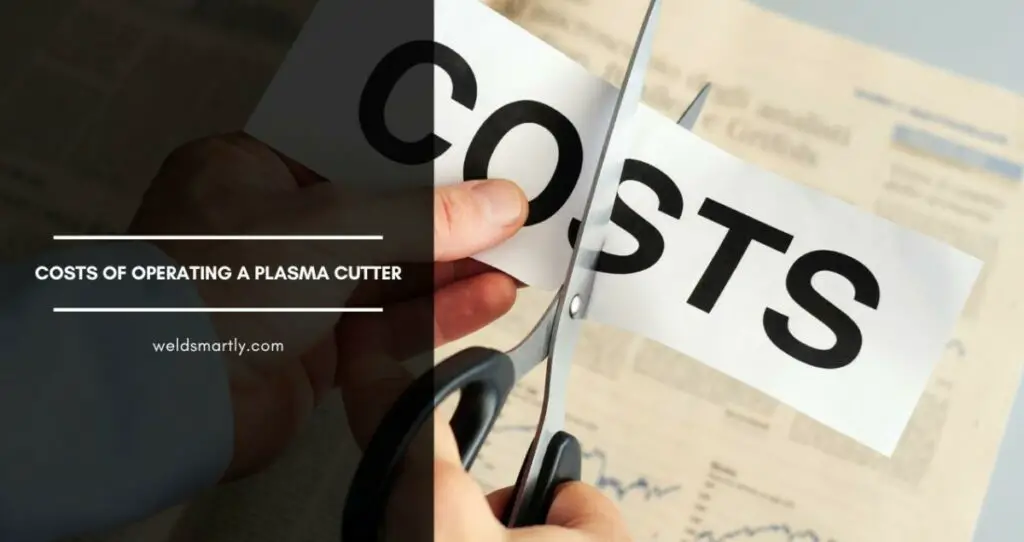 What are the Core Components of a Plasma Cutter?
At the heart of a plasma cutter are a handful of components that make the magic happen. These include the power supply, the arc starting console (ASC), and the torch. The power supply regulates voltage to maintain a steady arc. The ASC generates a high-frequency, high-voltage circuit to create a spark inside the torch, and the torch itself channels the ionized gas and focuses the energy into a narrow path.
In order to comprehend the plasma cutter's operating cost, we need to understand the role and lifespan of these components, and how they interact with other variables, like power consumption and consumable costs.
What is the Initial Investment for a Plasma Cutter?
Embarking on the plasma cutting journey begins with the initial investment, which includes the cost of the cutter itself and any necessary accessories.
Plasma Cutter Cost
Prices for plasma cutters vary widely, from a few hundred dollars for a basic hobbyist machine to tens of thousands of dollars for industrial-grade equipment. A mid-range professional machine could set you back anywhere between $1,500 and $3,000. This fluctuation is a function of the machine's size, cutting capacity, features, brand, and other specifications.
Necessary Accessories Cost
Accessories, such as safety equipment (welding helmet, gloves, aprons, etc.), air compressors, and others, can add a few more hundreds to your initial investment. This addition underscores the fact that a plasma cutter's operating cost is more than just the machine's sticker price.
| Component | Price Range | Examples |
| --- | --- | --- |
| Entry-Level Plasma Cutter | $300 – $500 | Lotos LTP5000D, Hobart Airforce 12ci |
| Mid-Range Plasma Cutter | $1,500 – $3,000 | Hypertherm Powermax 45 XP, Miller Spectrum 625 X-TREME |
| High-End Industrial Plasma Cutter | $10,000 – $30,000 | ESAB Sabre DX, Hypertherm HPR400XD |
| Safety Equipment (Helmet, Gloves, Apron, etc.) | $50 – $300 | Miller Classic Series Welding Helmet, Lincoln Electric Traditional Welding Gear Ready-Pak |
What are the Consumables in Plasma Cutting and Their Associated Costs?
Plasma cutting isn't a one-and-done cost. A key ongoing expense is consumables — the components of the plasma torch that wear out over time due to the intense heat of the plasma arc.
Definition, Function, and Cost of Consumables
Consumables consist of parts like the electrode, nozzle, swirl ring, retaining cap, and shield. They direct the plasma arc and maintain a stable, focused cutting stream. Over time, they degrade and need replacing. Depending on the specific machine and how often it's used, these parts can cost from $2 to $20 each, and need replacing after about every 1 to 4 hours of cutting time.
Frequency of Replacing Consumables and Cost Impact
The frequency of consumable replacement can significantly influence operating costs. Skilled operation can maximize consumable life, while misuse or aggressive cutting parameters can shorten it. Thus, operator training becomes an integral part of managing operating costs.
| Consumable | Price Range | Examples |
| --- | --- | --- |
| Electrode | $2 – $10 | Hypertherm 220842 Electrode, Miller 249926 Electrode |
| Nozzle | $2 – $10 | Hobart 770496 Nozzle, Forney 85393 Nozzle |
| Swirl Ring | $5 – $15 | Hypertherm 220857 Swirl Ring, Miller 256026 Swirl Ring |
| Retaining Cap | $10 – $20 | Hypertherm 220854 Retaining Cap, Lincoln KP2844-2 Retaining Cap |
| Shield | $10 – $20 | Hypertherm 220818 Shield, Miller 249932 Shield |
What is the Power Consumption of a Plasma Cutter?
Electricity is another critical variable in plasma cutter operating costs. The machine's power consumption, coupled with your local energy prices, plays a significant role in your bottom line.
Energy Requirement of a Plasma Cutter
The power a plasma cutter requires depends on the machine's cutting capacity. Smaller machines that run on 110V circuits may consume around 2-3 kW, while larger machines on 220V circuits can consume 5-6 kW or more. The difference is substantial when you consider that these machines often run for several hours a day.
Calculating Electricity Costs
Assuming a cost of $0.10 per kWh (a rough average for the U.S.), a smaller machine might cost $0.20 to $0.30 per hour to operate, while a larger one could cost $0.50 to $0.60 per hour. This calculation doesn't include the cost of running an air compressor, which is necessary for most plasma cutters and can add substantially to the power cost.
Calculating the power consumption of a plasma cutter is straightforward. You need to know the power rating of the cutter (in kilowatts, kW) and the number of hours it is operated. The formula for power consumption is:
Power Consumption (kWh) = Power Rating (kW) x Operating Hours
This means that the plasma cutter would consume 6 kilowatt-hours (kWh) of electricity during 2 hours of operation.
To calculate the cost of this power consumption, you would need to know the cost per kWh charged by your electricity provider. Let's say your electricity cost is $0.12 per kWh. The cost of operating the plasma cutter for 2 hours would be:
Cost = Power Consumption x Cost per kWh = 6 kWh x $0.12/kWh = $0.72
What is the Impact of the Plasma Cutter's Size on Operating Cost?
The adage "bigger is better" doesn't necessarily apply when it comes to the cost of operating a plasma cutter. The size of the machine impacts not just the initial investment but also the ongoing costs.
Cost Comparison Between Different Sizes
Generally, smaller plasma cutters are less expensive initially and consume less power, reducing their operating costs. However, they also have less cutting capacity, which can limit their usefulness for certain jobs. Conversely, larger machines have higher initial costs and consume more power, but offer greater cutting capacity and speed, which can increase productivity and potentially offset their higher cost.
Role of Cutting Capacity in Cost Determination
The choice of cutter size should be guided by the types of jobs you typically undertake. If your work mostly involves thin sheet metal, a smaller machine might be the most cost-effective choice. But if you frequently cut thicker materials, the improved efficiency of a larger machine could be worth the extra cost.
| Size/Capacity | Initial Cost | Power Consumption | Example Models |
| --- | --- | --- | --- |
| Small (up to 1/4″ steel) | $300 – $500 | 2-3 kW | Lotos LTP5000D, Hobart Airforce 12ci |
| Medium (up to 1/2″ steel) | $1,500 – $3,000 | 3-5 kW | Hypertherm Powermax 45 XP, Miller Spectrum 625 X-TREME |
| Large (1″ steel and above) | $10,000 – $30,000 | 5-6 kW and above | ESAB Sabre DX, Hypertherm HPR400XD |
How does the Maintenance of a Plasma Cutter Affect its Operating Cost?
Like any piece of machinery, a plasma cutter requires regular maintenance to keep it running smoothly. However, neglecting this important step can lead to unexpected costs and downtime.
Regular Maintenance Needs and Associated Costs
Regular maintenance tasks include cleaning and inspecting the torch and consumables, checking electrical connections, cleaning air filters, and more. These tasks don't necessarily have a direct cost (unless you count your time), but they do require consumables to be replaced more frequently, which adds to the operating cost.
Cost Implications of Unexpected Repairs or Replacements
On the other hand, failing to maintain your machine properly can lead to unexpected repairs or even the need to replace the entire machine. This failure is an extreme case, but it highlights the importance of preventive maintenance as a cost-saving measure.
How does Operator Skill Affect the Cost of Operating a Plasma Cutter?
The plasma cutting process is as much an art as it is a science. An experienced operator can significantly reduce the cost of operating a plasma cutter.
Impact on Consumable Use and Machine Wear
Experienced operators can reduce consumable wear by using the correct cutting parameters, maintaining a proper standoff distance, and following the correct cutting techniques. They can also reduce machine wear by carrying out proper maintenance and troubleshooting minor issues before they become major problems.
Cost of Training for Operators
The downside is that training operators can be costly, both in terms of the direct cost of the training and the lost productivity while the operator is learning. However, the long-term benefits usually outweigh these costs, making operator training a smart investment.
How does the Quality of Materials Cut Impact the Operating Cost?
Not all metals are created equal. The quality of the material you're cutting can have a significant impact on your operating costs.
Effect on Consumable Life and Machine Wear
High-quality materials, free from impurities and surface coatings, cut more easily and cleanly, which can extend consumable life and reduce machine wear. On the other hand, poor-quality materials can cause the plasma arc to become unstable, leading to increased consumable wear and potential damage to the machine.
Cost Implications of Cutting Different Materials
Cost implications also come into play when considering different types of materials. For example, cutting stainless steel requires more energy and consumable wear than cutting mild steel, which can increase operating costs.
What Role does Cutting Speed Play in Determining Operating Cost?
One of the key advantages of plasma cutting is its speed, but pushing your machine to its limits can have cost implications.
Impact on Energy Use and Consumable Life
Cutting at a high speed can increase energy use and shorten consumable life. However, it also allows you to complete jobs faster, which can increase productivity and offset the higher operating cost.
Balancing Speed and Quality for Cost Efficiency
The key is to find the right balance between speed and quality. Cutting too fast can result in poor cut quality, which may require additional time and effort to clean up or even rework the piece, adding to the cost.
What are the Environmental Considerations that Affect Operating Costs?
Operating a plasma cutter has environmental implications, both in terms of waste disposal and safety compliance. These factors can also add to the overall cost.
Cost Implications of Waste Disposal
The plasma cutting process produces metal slag and dust, both of which need to be disposed of properly. Depending on the type and quantity of waste and local regulations, disposal costs can be significant.
Costs Related to Safety and Environmental Compliance
Compliance with safety and environmental regulations can also add to operating costs. These regulations can include the use of fume extraction systems, proper disposal of waste, and regular safety inspections. Non-compliance can result in fines and penalties, adding to the cost.
How do Advanced Features Impact the Cost of Operating a Plasma Cutter?
Advanced features can add to the initial cost of a plasma cutter, but they can also improve efficiency and reduce operating costs.
Explanation of Advanced Features
Some plasma cutters come equipped with features like auto-voltage, which allows the machine to automatically adjust to different power supplies, and pilot arc, which allows the machine to start cutting without touching the workpiece. These features can improve cut quality and extend consumable life, potentially reducing operating costs.
Cost-Benefit Analysis of Advanced Features
However, these advanced features often come at a higher initial cost. Therefore, it's essential to perform a cost-benefit analysis to determine if these features are worth the extra investment.
Are there Any Hidden Costs in Operating a Plasma Cutter?
Like an iceberg, the visible costs of operating a plasma cutter are just the tip. Hidden costs can lurk beneath the surface, threatening to sink your profitability.
Unforeseen Costs that Might Arise in Operation
These hidden costs can include things like downtime due to machine failures or maintenance, lost productivity due to operator training, and the cost of financing the machine if you didn't pay for it upfront.
Tips for Minimizing Hidden Costs
Minimizing these hidden costs involves planning and preventive measures. Regular maintenance can reduce downtime, while proper operator training can improve efficiency and minimize mistakes. If you're financing your machine, try to get the best possible terms to reduce your financing cost.
How to Reduce the Cost of Operating a Plasma Cutter?
While some operating costs are unavoidable, there are strategies to keep them as low as possible.
Strategies for Efficient Operation
Efficient operation involves maximizing productivity while minimizing consumable wear and energy use. This efficiency can be achieved through proper training, regular maintenance, and the use of quality materials.
Long-Term Cost-Saving Measures
Long-term cost-saving measures include investing in a machine that is the right size for your needs, considering advanced features that can reduce operating costs, and establishing a preventive maintenance schedule to catch issues before they become expensive problems.
Conclusion
Operating a plasma cutter involves a complex interplay of costs, from the initial investment to consumables, power consumption, maintenance, and more. Understanding these costs is crucial for managing your bottom line and ensuring the economic sustainability of your operations. But with proper planning, training, and maintenance, the cost of operating a plasma cutter can be a manageable part of doing business.