Whatever price a plasma cutter sells at, it always has a lot to do with its build quality, cut capacities, durability, and portability. Some want to get past 'you-get-what-you-pay-for' belief, and fix their eyes on some premium models.
Does that sound like you? Well then, here's a suggestion – Miller Electric 907579 Plasma Cutter. Bringing automation into every phase of your plasma project, the machine includes an advanced torch and a bunch of automated functions that reduce the likelihood of your exhaustion and vulnerability during the operations.
This Miller Spectrum 625 review will discuss all the features and specs that matter for a buyer who wants to know about its value as much as its limitations.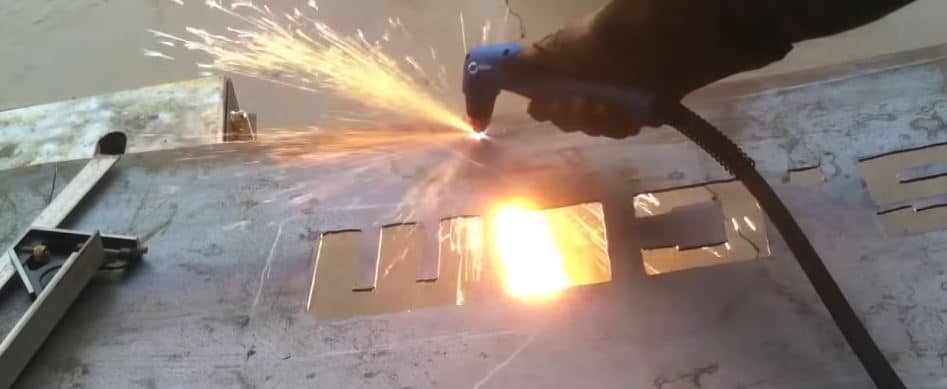 Check Price & Reviews on Amazon
Additional Read: Miller Plasma Cutter Reviews: Top 3 Models Compared
Introducing Miller Spectrum 625 Plasma Cutter
Product Features
Occupational Health & Safety
Country of Manifacturer: United States
Manufacturer: Miller Electric
As an Amazon Associate I earn from qualifying purchases
Miller 907579 is a premium 40-amp plasma cutter claiming to cut through up to max 5/8-inch thick mild steel, and metal at 15 inches per minute. It facilitates plasma cutting through Auto-Refire™, Automatic Air Regulation, and other advanced systems to let the user carry out plasma cutting with enhanced precision and consistency throughout projects.
Spectrum 625 is a more compact and smaller variant of Spectrum 625 X-TREME™ Plasma Cutter which offers the same cut thickness and precision along with the torch and technologies.
Who Is This Product for?
The Spectrum 625 is designed for a wide variety of people who are involved in metalworking industry and other activities that require fabrication, customization, and restoration works. Here's a list of users who will find the unit suitable.
Construction workers
Home/ DIY hobbyists
Owners of ranch and farms
Infrastructure workers
Metal manufacturing workers
Artists engaged in metal artworks/ building sculptures
Shipbuilding workers
Boat/ yacht makers
It's a great upgrade from the Miller Spectrum 375.
Check Price & Reviews on Amazon
Problems You Might Face
No doubt, the unit comes with fewer shortcomings than others. Yet, you need to be careful about the couple of factors below.
Using Spectrum 625 with a CNC
It's a good thing that the machine has been made to be compatible with CNC applications. But you can't rely on the handheld tool. You want to have a different torch for the purpose.
Knowing About the Consumable Life
There have been reports that the consumables whether new or old don't do much longer, and it's mostly because of the machine. A recommended consumable kit contains 5 Tips, 5 Electrodes, 1 Retaining Cup, 1 Swirl Ring, 1 Silicone Grease Tube, and 1 O-Ring. The kit should be good for 800-1000 pierces depending on the intensity of your applications.
Pros
Impressive cut thickness and speed
Auto-Refire system for an automatic control of the pilot arc while cutting multiple pieces and expanded metal
Automatic Air Regulation for consistent flow of air during cutting and gouging operations
Protective X-CASE™ housing for added protection to the unit and additional space for consumables, safety equipment, and plug adapters
XT40 Torch with finger contours, no-slip grip, and thumb guide to allow the user feel minimal fatigue and maneuver the torch with enhanced flexibility
Cons
Very expensive with no extras included
Having no air compressor, inline moisture filter, and essential accessories can be okay for many. But for a price as high as this one's, those items are only desirable.
Check Price & Reviews on Amazon
Let's get a little deeper into the details which explain the product thoroughly.
Miller Spectrum 625 Review: Features and Benefits
When you want to check out all the standard features of a plasma cutter, this product won't disappoint you. However, you can use an explanatory overview of them before making a purchase.
Cut Thickness and Capacities
If the cutting thickness requirements of your project is anywhere between 3/16″ and 1/2″, the unit should be good enough to yield clean cuts because its max rated thickness is 5/8″. Speaking of the materials, you can choose either mild steel/ stainless steel or think plate.
Whenever the cut capacities of a plasma machine are in question, there's barely anything straightforward. Most manufacturers advertise a typical number which is around 10 inches per minute to 20 inches per minute.
Anything in between should be enough for most home users and professionals as well unless they're working to cope up with a production target like that at a factory. This Miller plasma cutter cuts 12-15 inches per minute.
Pilot Arc, Torch, and Auto-Refire
Using the pilot arc becomes a breeze, thanks to the Auto-Refire that causes the pilot arc to switch in/out quite as fast as you need while cutting anything like expanded metal. Also, the technology provides as much power required for cutting through thicker metal.
When all of these are done automatically, you need not re-trigger anything manually. Guess what? You won't have hand fatigue. The ergonomically designed torch stays easy and comfortable with your fingers wrapped around its contours. In addition, the cable doesn't resist your movement, allowing you to maneuver with flexibility.
Duty Cycle
Before trying to figure out anything about this factor, please take a look at the list below.
60% at 20 A using 88 VDC (120 V)
35% at 27 A using 91 VDC (120 V)
60% at 40 A using 140 VDC (240 V)
Don't you think it's enough for your individual purposes? Well, most experts see this as a good mark on the duty cycle.
Airflow Regulation
Both beginners and seasoned plasma operators find this feature a plus because it takes the concerns about the variable gas pressure requirements off the user's head.
When there're changes to the air input pressure, the unit compensates for them automatically so that you can get the required torch pressure which is the key to optimum plasma cutting performance and gouging activities.
Check Price & Reviews on Amazon
Final Words
The Spectrum 625 can't add much value to those who aren't ready to pay top dollars for a plasma system because a lot of choices are out there at a fraction of its price.
For those who worry more about the performance than the budget, it can be a different story. It's capable of doing you a solid when a robust yet compact design and heavy-duty performance are in your mind plus you can't accept anything less than decent duty cycles. Hopefully, you've got a head start by now.
Follow this link to check the latest price and deals on the product!