We all understand that one of the most reliable ways to judge a plasma cutter is by its ability to cut in terms of accuracy, thickness, and speed. What if you just wanted to focus on something as subtle as the comfort from using the torch or assured quality of the consumables?
If these matters really interest you, here's a nearly perfect recommendation for you – Spectrum 375 X-TREME Plasma System. The XT30 Torch stays steady allowing ergonomic maneuvers while being held. The consumables are above the average quality with regards to their design and durability.
But there's more to it, and this Miller Spectrum 375 review discusses everything you need to know about the machine.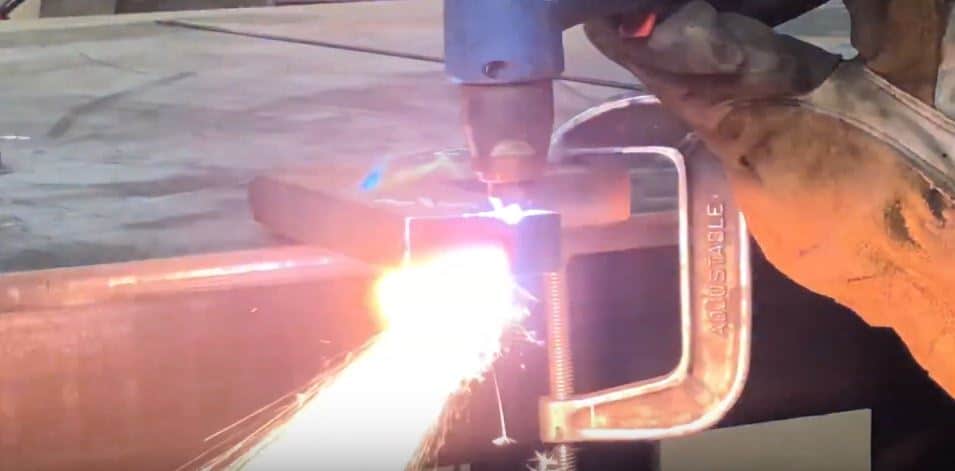 Check Price & Reviews on Amazon
Additional Read: Miller Plasma Cutter Reviews: Top 3 Models Compared
Introducing Miller Spectrum 375 X-TREME
Product Features
Occupational Health & Safety
Country of Manifacturer: United States
Manufacturer: Miller Electric
As an Amazon Associate I earn from qualifying purchases
Spectrum 375 X-TREME is one of those top-of-the-range models which you wouldn't purchase without giving some serious thoughts first. This 30 A plasma cutter offers a wide range of cut thickness for steel and aluminum with mild steel being the ideal choice for best results (clean cut up to 9.5 mm and severance up to 15.9 mm).
The complete package includes a hand-held torch with a cable (12 ft.), a work clamp with a cable (12 ft.) and quick connect, a protective case, an MVP™ power cord (10 ft.), MVP plugs, a shoulder strap, consumables (2 tips, 2 electrodes, air fitting, and deflector).
Spectrum 375 is the first model of Miller's Spectrum series followed by two more expensive units, Spectrum 625 and Spectrum 875 which boast improved performance in terms of cutting ability and power efficiency.
Check Price & Reviews on Amazon
Who Is Spectrum 375 for?
Miller Electric 907529 Plasma Cutter has been built to serve those who are interested in maintenance works, light construction tasks, prototyping, and fabrication. People working at auto body shops or on HVAC ductwork projects can also benefit from it.
You can also enjoy great flexibility doing intricate tasks like sculpturing, boatbuilding, or very small infrastructures. For more demanding plasma cutting jobs, you want to have something more capable like Spectrum 875.
Problems You Might Face
If you want to move without worrying much about maintenance, it's the right plasma cutter. However, you still want to keep the following things in mind.
Keeping the Drag Tip Okay
Wrong uses of the drag tip may lead to clogging. Overexposure to the inappropriate uses may also affect the consumable life. Here's what you have to do. Don't forget to use the drag shield provided. It'll let you rest your torch on the metal keeping a 1/8-in standoff which is an optimal distance to prevent the tip from touching the metal.
In case you can't have a drag shield while working, use your other hand (which is not in use) to keep the tip 1/16 inch to 1/8 inch apart from the metal. Thus, you can move the torch in all directions and maintaining an optimal standoff while steadying the hand that is holding the torch.
Using the Unit with a CNC Table
You'll have a hand-held torch with the machine which may not work very well unless you bring changes to it. After all, the machine hasn't been designed to be ready for CNC applications. Therefore, you cannot use CNC programs to control the system.
Check Price & Reviews on Amazon
Pros
Lightweight design inspiring great portability and beginner-friendly applications
Auto-Refire™ technology for controlling the use of pilot arc while cutting multiple workpieces and expanded metal
Voltage compensation system for ensuring the required power supply under variable circumstances
Automatic air regulation system for controlling input pressure variation for optimum plasma cutting performance
XT30 torch equipped with an ergonomic handle and flexible cable for allowing the user to keep holding and moving it without being fatigued
Wind Tunnel technology for controlling internal airflow to protect the internal PC and electrical components from dirt and debris
The on-demand cooling system for operation only when needed
Multi-voltage plug for tool-free connection
LED diagnostic indicators for saving guesswork and allowing quick troubleshooting
X-CASE™ for the protection of the unit during transportation and additional space for keeping the consumables and other extras
Cons
Mediocre performance on stainless steel
Short power cord and other cables (difficulty may arise while working up 15 ft. to 20 ft. or higher distances)
Check Price & Reviews on Amazon
Miller Spectrum 375 Review: Features and Benefits
By the look of it, you won't hesitate to call it a stylish plasma cutter. Let's understand its main features and technical specifications in details.
Cut Thickness and Capacities
Let's look at the following numbers before analyzing anything about the cutting ability of this unit.
Recommended Clean Cut: 3/8″ at 18 ipm at 30 amps and 1/4″ at 17 ipm at 20 amps
Recommended Piercing Capacity: 3/16″ at 63 ipm at 30 amps and 1/8″ at 50 ipm at 20 amps
Maximum Clean Cut: 5/8″ at 6 ipm at 30 amps and 3/8″ at 6 ipm at 20 amps
Maximum Severance: 5/8″ at 6 ipm at 30 amps and 3/8″ at 6 ipm at 20 amps
If you have to work with aluminum, expect up to 30% lower capacity, which means you're likely to have around 12 ipm following the recommended thickness. The same low output can be common for metals that feature high thermal conductivity.
Torch and Consumables
The XT30 Hand-Held torch consists of an 80° handle that lets you position the arm and elbow almost effortlessly while cutting. Its no-slip grip lessens your effort to keep it steady. The finger grip contour and thumb guide allow for further ease holding the ergonomically designed torch. There's a trigger guard for protection against unintended arc initiation.
The laser-etched 30 A torch tip gives you easy reading. Its robust design affects the arc performance positively contributing to the tip's longer life. The design of the retaining cup is convenient enough to increase visibility and quick changes of consumables. The drag shield provides protection for the tip while making it easy for you to handle template cutting.
Duty Cycle and Power Efficiency
The duty cycle of this unit has been rated at 40% at 30 amps and up to 60% at 20 amps. While there has been a belief that the unit performs much better on 240 V than it does on 120 V, truth is that you need not worry about any of them because the machine has been built to connect to both 120 and 240 V receptacles and work fine. The machine's power fluctuations may reach up to ±15%.
Smart Control and Safety Features
Several features have been incorporated with the users' comfort, freedom, and safety in mind.
The unit offers its peak performance in terms of cutting capacities when it's connected to an engine-driven 4 kW generator with a 240 V receptacle.
The automatic air regulation system makes it up to the input pressure variations to ensure that the torch pressure remains constant and adequate for desired cutting performance.
The Line Voltage Compensation (LVC) system provides power as required by variable conditions so that you needn't have concerns for clean and steady cuts.
Auto-Refire function allows for the pilot arc to switch in/out as quickly as required when you cut several pieces or expanded metal. So, no shortage of power occurs while cutting thicker materials. The 'Auto' system dictates that no manual retriggering is required.
The unit includes the 'Auto-Line' circuitry which allows it to connect to 120 – 240 V, 1-Phase Power without requiring the covers to be removed for relinking the source of power.
The Wind Tunnel protects the machine's electrical components against dust and the on-demand cooling system starts functioning when required.
Check Price & Reviews on Amazon
Final Words
By now, you might have discovered that the model isn't all about its torch and consumables only. The manufacturer has put great efforts into another significant area – automation in the control and operation!
Think about the Auto-Refire™, Air Regulation, Wind Tunnel Technology™, and On-Demand Fan System! You don't have to enthuse about the technical particulars to understand their actions. It's easy to agree that manual interventions are barely required.
On the minus side, cutting stainless steel and aluminum may result in something unbecoming for a plasma cutter that doesn't come cheap. But, you'll have some wonderful time cutting mild steel and metals with low thermal conductivity. All things considered, that's the bargain you may want to hold onto.
Click here to check the latest price!