A lot of projects involving plasma cutting don't meet a very impressive outcome, and most of them happen due to the limitation of the machine being used in the process.
When your project requires some detailing like flush/extended and drag cuts with a little subtlety, you know half of the plasma machines in the market won't be good enough.
Then again, you've one more thing to consider – the right amount of air pressure to be used. Should all of these factors be taken care of without demanding much from your part, you would expect a plasma cutter that features several cutting variations at speed and the correct air pressure all the time.
If all of these sound right for you, here's a Hypertherm Powermax 45 XP review to lay out the full details of such a plasma system.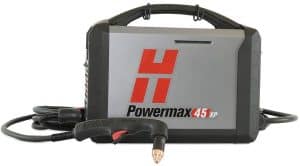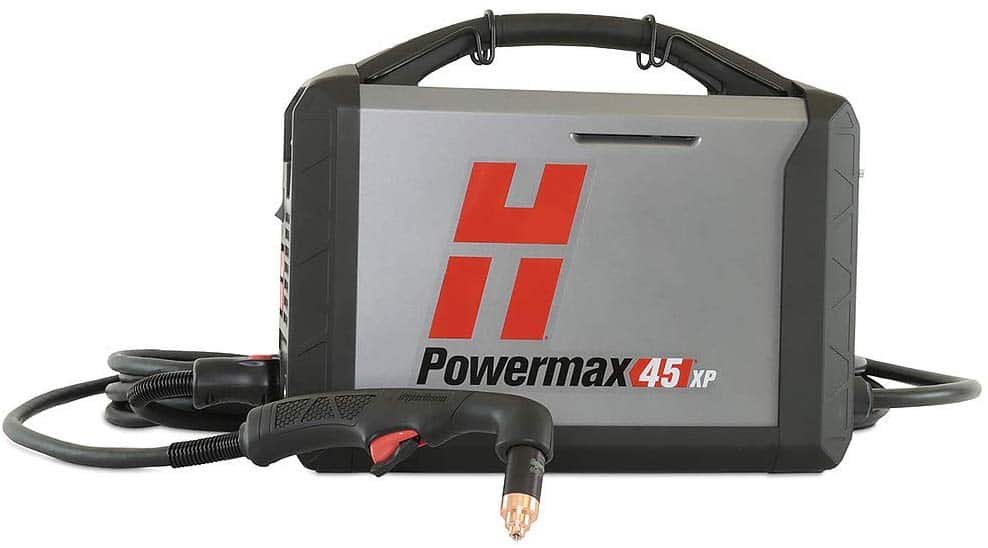 Additional Read: Hypertherm Plasma Cutter Reviews
Introducing Hypertherm Powermax 45 XP
As an Amazon Associate I earn from qualifying purchases
You can cut, gouge, and mark steel (mild and stainless), aluminum, and other similar materials with a maximum of 5/8″ thickness in a variety of ways, and it's perhaps the most attractive selling point of this plasma system.
If cutting and gouging are to be done with maximum efficiency and the least of flaws, few choices are able to outperform the Powermax45 XP.
As far as the claims go, you can commit to different aspects of plasma operations, such as,
Drag Cutting allows you to drag the torch comfortably and directly across your workpiece.
Fine Feature lets you achieve very narrow kerfs without producing a lot of dross and creating much of the heat-affected zone.
Extended Reach Cutting brings the ease of accessibility and visibility required for cutting through confined/tight spaces.
Flush Cutting adds to the machine's versatility by enabling the user to cut very close to the base material maintaining a 45° angle.
Mechanized Cutting allows you to bring your plasma cutting endeavors on a mechanized table and enjoy portable automation.
Extended Reach Gouging can be useful for those trying to do some gouging in spaces nearly inaccessible.
Max Control Gouging is meant to be in use when you undertake light metal removal and washing. For your gouge profile to be shallow, this control works wonder.
Precision Gouging is the desired way to go when a low current output (<25 A) is required to remove tack and spot weld.
Marking is a common task in metalworking, and you can do it to indicate different parts of your workpiece, help identify the locations of weld or holes.
The Hypertherm Certified™ label tagged with the unit is meant to suggest that the unit stands reliable when heavy-duty performance under demanding environments is expected.
The Powermax45 XP is an innovated and improved version of the original Powermax45®. Here's how it's way better than its predecessor.
17% faster cut speeds
11% higher efficiency
17% less gas consumption
14% lighter
26% higher 'power to weight ratio'
10% greater energy efficiency
70%-140% longer expected life of consumable parts
13% less impact on the environment (carbon footprint, impact on water, ecosystem, and other resources)
Check Price & Reviews on Amazon
Problems of the Unit: Things You Need to Be Aware of
While having the unit in possession, you have to keep a couple of things in mind.
Instant Ignition!!!
As you pull the trigger of the torch, the arc ignites immediately, which could be a good thing but not always, given the fact that you may always be doing it with eyes on the torch. Although it's not essentially a downside to the machine, a slight delay wouldn't hurt.
Frequent Need for Maintenance
The unit requires maintenance frequently, meaning that you need to inspect the torch, cord, plug, consumable, air filter bowl, and other removable parts at least once in a couple of months for safety and proper functioning.
Who Can Use Hypertherm Powermax 45 XP?
The enhanced usability of the product makes it ideal for virtually everyone, such as
Metal fabrication shops
Welding workshops
DIY workshops
It's equally suitable for both professional and household applications. However, the price can be a little higher than what an occasional or new user would expect. You can choose a more affordable option if plasma cutting is the job you do on an 'off and on' basis.
At this point, it makes sense for you to want to know what benefits and specialties are in order and what you may not find very appropriate for your needs.
Pros
Versatile plasma cutting operations (up to 9) with adequate cut thickness
Lightweight design with durable build material and carry handles for portable operation in different circumstances
A wide selection of consumables and torch for both automated and handheld cutting processes
Thoroughly tested technologies to ensure great efficiency without minimum errors
Inverter – IGBT power supply for electrical efficiency up to 88%
Cons
The unit costs more than most competitors with similar specs.
Check Price & Reviews on Amazon
Hypertherm Powermax 45 XP Review: Features and Benefits
Combining some patented technologies, this Hypertherm plasma system has been designed with the convenience of users in mind. Let's take a look at each of them.
Patented Drag-Cutting Feature
It's common that a plasma cutter allows for drag cutting. What's special about this particular machine is that you don't have to hold up the torch tip off your workpiece. No distance between the material and cutting tip ensures more accurate cuts.
Use the shielded consumables and drag the torch comfortably. The nozzle is isolated electrically to help avoid double arcing. It makes the torch user-friendly for both experienced and new operators.
Production and Operational Capability
As you're thinking about a plasma cutter that costs a couple of thousand bucks, you surely won't appreciate an average production capacity. Here's a quick overview of your information.
A maximum of 16 inches per minute, 13 inches per minute, and 14 inches per minute on 5/8″ 10-gauge mild steel and stainless steel and aluminum respectively
A maximum of 400mm/minute, 320mm/minute, and 340mm/minute on 16mm mild steel and stainless steel and aluminum respectively
Production rates vary depending on the specific applications like drag or fine feature cutting or and the thickness of the material, e.g. 1/4″, 3/8″, or 1/2″ and 3mm, 6mm, 10mm, or 12mm; needless to say that you'll enjoy 1.5 times greater the performance in terms of cut speeds.
Torch System
One of the key components of a plasma system is its torch, and the details that it comes with determine whether or not it's going to bring you convenience and flexibility.
The 'FastConnect™ Torch' system lets you connect the torch quickly and adopt either mechanized or handheld operations. The 'Torch Disable Switch' allows you to change the consumables as you need them. The 'Duramax® Lock' ensures a robustness of the torch's design making it resistant to heat and high impacts.
Duty Cycle
This particular feature varies depending on the electrical and mechanical usage. The unit provides 50% @ 45 A using 230 V/ 400 V and 100% @ 32 A using 230 V/ 400 V. You may expect 60% @ 41 A using 230 V/ 400 V.
Smart Features
The smart features of this machine are as useful as they come. The CNC interface provides a sophisticated way to monitor and evaluate the functions. It means both new operators and experienced professionals can work without being least susceptible to operational errors.
Settings the correct air pressure is always tricky, even for experts. What happens to the cut quality when the air pressure isn't properly set is quite familiar to every machine operator. With 'Smart Sense™ Technology', you need not rely on mere assumptions because it's going to manage the required pressure automatically leaving you free of worries.
Consumable Kit
The starter consumable kit includes a swirl ring, electrode, a nozzle, a retaining cap, and a shield cap. Their lifespan depends on the number of hours used or pierces performed with them.
For this machine, the durability of these parts is the least of your concern; thanks to the drag-cutting technology that reduces the likelihood of blowbacks and production of spatter to enhance the expected life of those parts.
Each part of the consumable kit along with others used in the machine is recyclable up to 99.9%, meaning that it's a safe choice for those who are conscious about the environment.
Check Price & Reviews on Amazon
Final Verdict
Speaking of a concluding remark on the product's 'price to value' ratio, you can easily count on the plasma system when your project demands a variety of cutting styles. If you want to spend less idle time and see that the operation is ongoing, you'll love the extended duty cycle.
Finally, you can't go wrong with the air pressure management, and the failproof air pressure system integrated into the unit is one very special perk to enjoy as air pressure is always crucial to getting quality cuts. Except the price, there're not many things that may frustrate your plasma operations.
Click here to check the availability and latest price of Hypertherm Powermax 45 XP.