Plasma cutting is more than just cutting through steel or aluminum. There are things like precision, shape of the kerf, portability, power output, and other features. Finding a unit that does well in all areas may not be feasible for everyone.
However, if your demands are as typical as precise cuts and portability, a good solution isn't far away. Here we got Hobart Airforce 12ci Plasma Cutter that specifically addresses these two issues compromising on the amperage and duty cycle.
Should your justification end here? A plasma system isn't one of your daily purchases. So, a thorough Hobart Airforce 12ci review can be just what you could use before making a decision. Keep reading!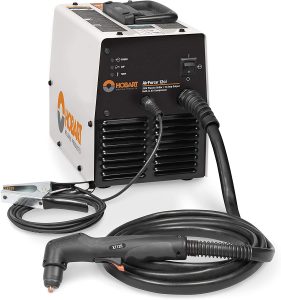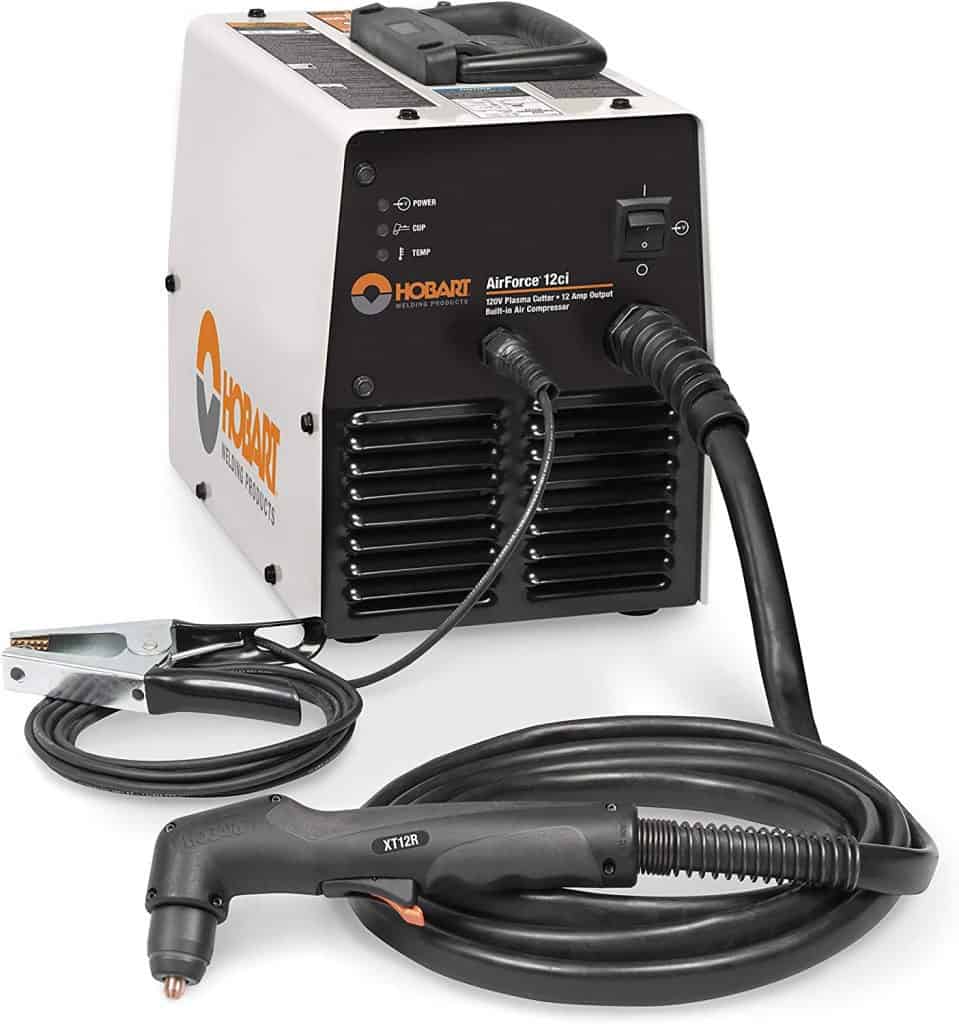 Check Price & Reviews on Amazon
Additional Read: Top 3 Hobart Plasma Cutter Reviews
Introducing Hobart 500564 AirForce 12ci Plasma Cutter
Hobart 500564 is a 12-amp plasma cutter with rated cut thickness up to 1/8″ and severance up to 1/4″ through mild steel and stainless steel. The integral air compressor unit along with the inverter design makes it a lightweight unit to be used at home and small workshop where metal cutting isn't done very intensively.
Hobart 12ci is comparable to its immediate release AirForce 27i Plasma Cutter which is more compact yet powerful and expensive with greater cut thickness, dual voltage and improvements in other areas. However, it doesn't have an air compressor like the 12ci model.
Who Is This Product for?
The 12ci Plasma Cutter has very particular features to draw anyone's attention, but unfortunately, it's designed to satisfy those who aren't into heavy metalworks. Instead, the machine can be a fantastic choice for individuals with light to moderate metal cutting needs in mind and no desire to carry an air compressor around the workplace.
Save $93.18
Product Features
Built in Air Compressor
Cuts faster than oxy fuel
Smaller heat-affected zone for less warping
No gas pressure settings for flame tuning needed
More precise cut, thinner kerf, less slag to clean up
As an Amazon Associate I earn from qualifying purchases
Problems You Might Face
You need to accept a few limitations which aren't essentially the deal breakers, but you're better off knowing about them prior to buying Hobart 12ci Plasma Cutter.
Not Compatible with a CNC Plasma Cutting Table
You might be interested in getting a CNC plasma machine to do metal cutting and artwork. However, this machine can't be used with a CNC plasma cutting table.
Not Suitable for Using with an External Air Compressor
Knowing that the internal compressor isn't capable of meeting your need, you may want to have an external unit, but there're no such arrangements.
No Consumables Included
You may expect to have a few consumables with this plasma cutter, but it includes none. Rather, the manufacturer provides electrodes, swirl ring, shield cup, O-Ring Kit, Tip Kit, and Standoff Guide separately.
Pros
An inverter design resulting in reduced size and weight for a lightweight plasma cutter
An affordable machine with integral air compressor (piston-driven) to inspire greater mobility across workplaces
Very small heat-affected zone to ensure minimal warping of metal being cut
Pilot arc for consistent arc starts every time and minimize the burnout of the torch tip
No manual efforts required for gas pressure management
Thermal overload protection for optimal duty cycle
Fan-On-Demand™ to allow the functioning of the fan only when it's required
Postflow cooling circuit to enhance the lifespans of the torch and consumables
Several LED lights to inform the users of the torch's readiness, temperature, and power distribution
Cons
Higher amperage and duty cycle would be better.
Check Price & Reviews on Amazon
Now, let's get some more details about the product's many features and functions.
Hobart AirForce 12ci Review: Features and Benefits
Despite all the limitations, the product comes with a few cool features which add to its usability making it an ideal plasma cutter for DIY metalworking professionals.
Cut Thickness and Capacities
Rated cut thickness is 1/8″ and max severance is 1/4″. That's what the label says. In line with the manufacturer's words, you can accept that there's no way to cut 1/2-inch thick metal.
But the reality says otherwise, at least for some users who want clean cuts through 1/4-inch metal. To gain such a purpose, you want something with higher amperage; 30 should be okay.
After all, you'll like the fact that the cuts are precise if they're through 1/8-inch metal, and the kerf is seriously thin, which gives you an edge in plasma cutting.
Inverter and Air Compressor
No wonder, you would love this plasma machine if an internal air compressor is one of the first things you expect. Models with the same feature can be heavier losing the ideal, compact shape. An exception has been brought to the 12ci, thanks to the inverter technology.
You won't ask for an external compressor and more importantly, worry about the portability because the unit weighs only 31 pounds. It's definitely lighter than many units with no air compressors, isn't it?
Pilot Arc
Pilot arc has been an indispensable arc starting method for most of today's plasma machines. It ensures that the arc starts consistently as you attempt to cut anything. Also, the tip burnout can be significantly minimized.
Thermal Overload Protection and Duty Cycle
You might say the duty cycle could be a little greater. Well, that's reasonable. But, its 35% is what exactly you'll have during real-time arc running.
The thermal protection system does its job wonderfully by cutting the power when the machine exceeds its duty cycle (starts drawing a large amount of current for an extended duration). After the system gets cooled off, everything gets back to a working state again. That's the beauty!
Fan and Cooling Circuit
The overload protection system involves the use of the fan that runs only as per the need. It efficiently reduces the debris/dust accumulated into the machine.  The job of the 'Postflow Cooling' circuit is to enhance the lifespan of the torch and consumables by cooling each of them with its postflow air as the trigger gets released.
Conclusion
Finally, here's a quick take on the positive and not-so-good aspects of the plasma machine to let you decide efficiently.
Choose this if you're eager to do some precise cuts once a while seeing extremely thin kerf. But then, you have to discard the urge to use a plasma system with higher amperage for an extended period of time.
The appeal of the unit is even stronger when you have to move your appliances every day and hate to carry multiple around your workplace.
Click this link to check the latest price and shipping information.