As soon as anyone from the metal manufacturing and fabrication community thinks of buying some equipment, a few names are sure to come along. Both Miller and Lincoln are two of those brands pronounced in the same breath.
Today, I'm going to discuss two Multi-process welders from these two esteemed companies. Miller 215 Vs Lincoln 210 – they seem similar in ways, but they are considerably different if you know what matters. Not only shall I bring the truth about these machines to your attention, I'll help you pick the one that adds value to your welding skills and suits your preferences. Let's get right to my review.
Miller 215 Vs. Lincoln 210: Quick Comparison
Before I start the discussion, I think you could use this table as a guide to all the numbers and technical details when you are willing to take a comprehensive read or make a purchase.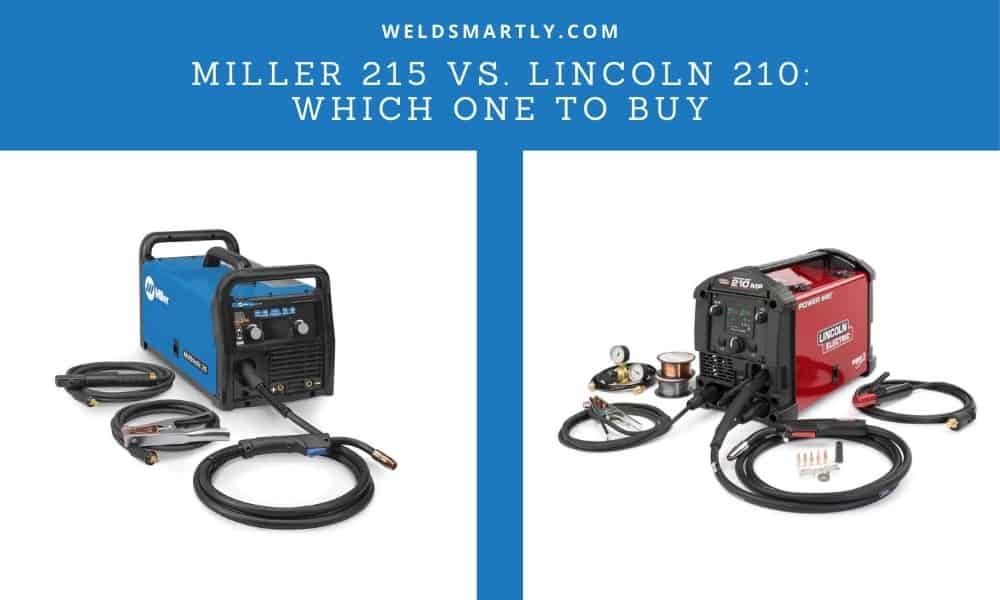 Features and Specs
Miller Multimatic 215
Lincoln Power MIG 210
Input Power
120 V/ 240 V
120 V/ 230 V
Input Current (Rated Output)
24.6 A (120 V), 27 (240 V)
20 A
Range (Output Current)
30-230 A
30-140 A
Output Current, Voltage, Duty Cycle
90 A, 23.6 V, 40%

110 A, 19.5 V, 60%

140 A, 15.6 V, 40%

150 A, 21.5 V, 40%

190 A, 17.6 V/ 27.6 V, 20%

200 A, 24 V, 20%

100A, 19.0 V, 40% (120 V)

200A, 24 V, 25% (230 V)

Open-Circuit Voltage (OCV) (Max.)
58 VDC
56 V
Wire Feed Speed (WFS) Range
60 – 600 ipm or 1.5 – 15.2 m/min. @ zero load
50 – 500 ipm or 1.3 – 12.7 m/min. @ zero load
Thermal Overload Protection
Yes
Yes
Processes
MIG (GMAW), DC TIG (GTAW), Flux-Cored (FCAW), DC Stick (SMAW)
MIG (GMAW), DC TIG (GTAW), Flux-Cored (FCAW), DC Stick (SMAW)
Materials
Stainless Steel, Steel, Aluminum
Stainless Steel, Steel, Aluminum
Metal Thickness
MIG: 3/8 inch, 24 gauge steel and 18 gauge aluminum)

TIG: 1/4 inch, 24 gauge steel

Stick: 3/8 inch, 16 gauge steel

12 (.105″), 14 (.075″), 16 (.060″), 18 (.048″), 20 (.036″), 22 (.030″), 24 Gauge (.024″); 1/8″, 3/16″, 1/4″, 5/16″, 3/8″
Applications
DIY, hobbyist, home projects; ranch and farm; maintenance, repair, and restoration; art and sculptures
Fabrication, repair, maintenance, auto body, farm, and light industrial work
Weight and Dimensions (H x W x D)
38 lbs., (318 x 286 x 521 mm)
40 lbs., (356 x 273 x 483 mm)
Warranty
3 Years (True Blue®)
3 Years (Limited)
This is the part where my review gets lengthy. Don't worry. I'll provide you with clear suggestions once I'm done explaining the features, so you can reach a useful conclusion.
Miller Multimatic 215 Multi-Process Welder
Product Features
Leading Manufacturer Of High-Quality Products
International Renown For Our Diverse Range Of Award-Winning Products
Fully Equipped With State-Of-The-Art Technology
All Products Have Been Designed With The Professional In Mind
Constantly Modernizing Our Powerful Devices To Meet The Demands Of The Modern User
As an Amazon Associate I earn from qualifying purchases
They say it is a versatile welder which I wouldn't argue because versatility is rather conventional when we're talking about a multiprocessor unit. Let's see what this machine has got inside its stylish blue housing.
Build, Ease of Use, and Safety
Miller has been using inverter technology for quite a long period not just because of its ability to ensure energy efficiency through smart voltage regulation but also its overall effects on the arc characteristics and improved portability (low weight) of the unit.
This unit uses this technology to ensure that the arc created in the process goes well with the project-specific variations in travel speeds and arc length. Moving the unit across different spots or workplaces should not be a challenge because it weighs 38 pounds, thanks to the three carry handles including one for single-hand use.
Whether you have 120 V or 240 V power receptacles in your home, the multi-voltage plug makes it easy for setting up the connection requiring you to use no special tools. Look at the receptacle and choose the right plug to connect to your power cord.
The 'Auto-Set Elite' paired with color LCD user panel is a fine example of Miller's craftsmanship to inspire everyone who needs to use the machine on various materials for different processes as it enables them to adjust or fine-tune the parameters/ settings as required.
Another thing I cannot help mentioning is the 'Auto Spool Gun Detect' that automatically detects if you connect a spool gun or a MIG gun. You don't have to rely on a physical switch for switching between those components. Now you have got yourself familiar with a few bells and whistles of this machine, we can move to the other parts (mechanisms/ systems).
Drive System
The drive system built with cast aluminum is a robust, angled one with a drive roll that uses Miller's patented 'Quick Select' technology. The two grooves for solid wire and one for flux-cored wire facilitate the feeding process and wire changes during the operation.
Overload Protection and Cooling System
Even the entry-level models these days come with what can deal with thermal overloads. The protection system automatically starts working on both of the two occasions such as the duty cycle being exceeded or the airflow getting blocked. In this case, the system shuts the machine's power source down.
The unit has a cooling system installed inside its casing, which is actually a fan that works on demand. It helps reduce the noise, use of energy, and the likelihood of various contaminants allowed through the unit while it is in the operational mode.
Gas Connections
I wouldn't expect any surprise about the way gas connections are on this welder. You'll see two connections mounted on the machine's back. Use one for MIG and another for TIG. Pretty straightforward, right?
Power and Performance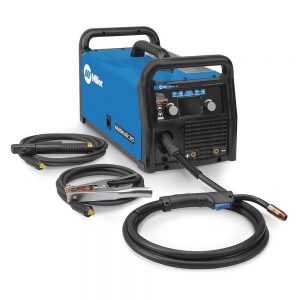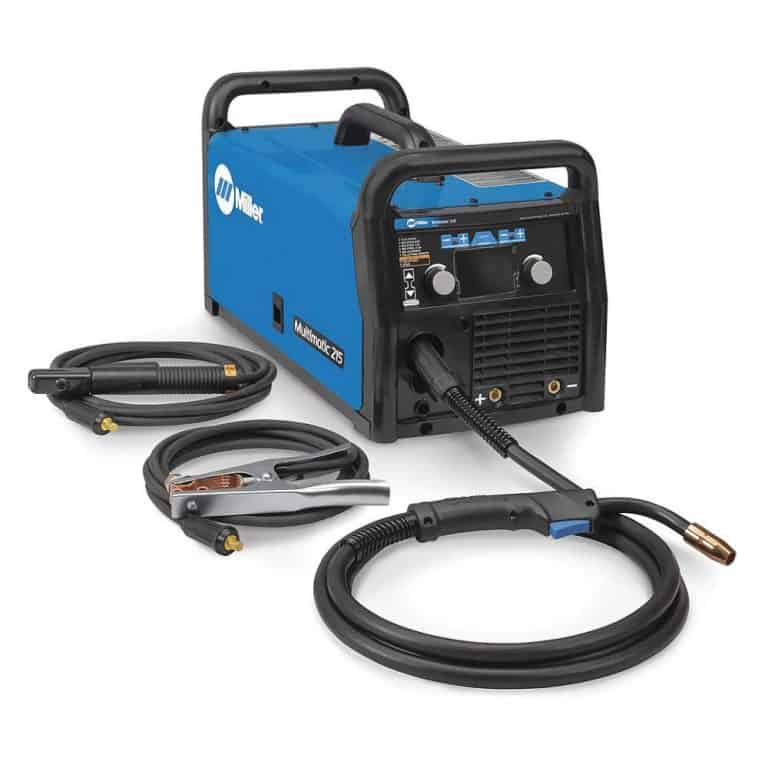 Designed to use either 120 V or 240 V input power, Miller 215 allows users to build their skills around the most common processes such as MIG, TIG, stick, and flux-cored welding. Maximum rated duty cycle can be up to 60% while the output can be up to 200 A.
Although you might want to get the most of its multi-process capabilities, the unit serves best when you use smooth-start functionality as it provides a smooth MIG start with little to no spatter. You won't find many people complaining about its MIG welding capability.
For TIG welding, lift start is the only way which poses critical challenges for beginners. Unlike many of its competitors, the Multimatic model comes with no HF or pulse start. However, I can tell you about some pals who have done their practice to know the right technique and make a perfect start.
Material Thickness
It always gets a little tricky when you bring a multiprocess welding machine to use on materials in a wide range of measures in terms of gauge (thickness). With this model, MIG welding can be performed on metals not thicker than 3/8 inch. On the thinner side, choose either 18 or 24 gauge for quality welds.
TIG welding can be done on steel as thin as 24 gauge or not thicker than 1/4 inch. Choose 16 gauge steel or 3/8 inch for stick welding and avoid 6010 electrodes for this process.
However, you need to buy a TIG contractor kit separately because the complete package doesn't include the essentials to start TIG welding. The kit includes a TIG torch with connector, a foot control, a flow gauge regulator, a gas hose, and a torch accessory kit.
Applications
You cannot entertain yourself by the thoughts of putting this machine to highly demanding fabrication work (serious industrial applications). The price of the unit might cause you to think it is ready to take any kind of load imaginable for a welding machine. All your expectations can be met if it's only used for light fabrication along with different maintenance and repair tasks.
Warranty
Customers get three years' limited warranty upon certain conditions as specified in Miller's document. I guess you already know how warranty works. But I would like to inform you of the 'rebate' offer which, according to many customers, is not handled quite the way Miller claims. Except this, the 'True Blue Warranty' is not completely useless.
>>>Check the latest price here<<<
Lincoln Power MIG 210 MP Multi-Process Welder
Product Features
Dual Voltage Inputs (120V or 230V) means you can plug into any common power supply
Lightweight and portable–just 40 lbs.
Intuitive push-and-turn digital controls make setup a breeze
Large color display guides you through the setup process
Advanced options and settings are simple to access
As an Amazon Associate I earn from qualifying purchases
This multiprocess welder doesn't come short of anything that you would expect from a decent unit. With all the accessories, the package has the specs to make it worth your while to use the machine. Now, you'll learn where it stands in terms of usability and value for the money.
Build, Ease of Use, and Safety
The same inverter technology has been put to use to reduce power consumption and the weight of the unit, making it a fairly compact unit. There is little doubt about this one's efficiency compared to the ones that use silicon controlled rectifiers (SCRs) to control high power and voltage.
Although the machine doesn't feel as lightweight as Miller 215, the extruded aluminum carry handle makes it a breeze for operators to move it around their workplaces. The case comes with an IP21S rating which means that you need not worry about light dripping of liquid or other substances specific to a typical welding environment.
The control/operation panel is the result of a thoughtful design being implemented through push-and-turn components. The 3.5-Inch LCD Display allows the user to have a proper view (visualization) of the operational parameters along with ongoing weld processes. The screen shield on the screen protects it from dirt and dust and is replaceable when necessary.
One of the signs of Lincoln's integrity to serve customers is that all welding machines including this one come with a complete collection of accessories. Unboxing the package, you'll see a stinger with a standard cable, MIG gun, work clamp, cable, spools, tips, gas hose, gas regulator, and spindle adapters. There is also a small storage compartment to let you keep items like drive rolls, tips, etc.
Here is a list of some features that make the welder easy for beginners as well as advanced professionals to operate.
The adjustable 'Hot Start' facilitates the establishment of an arc during stick welding.
You can also adjust the arc force and inductance to fine tune the arc during MIG or stick welding.
While working with thin materials, you might want to adjust the run-in speed (anywhere between half and full) which is very much possible with Lincoln 210.
Use the 'Spot Timer' to get clean, precise, and short spot or tack welds. The feature also works in FCAW and GMAW modes.
I've got a few more technical aspects to discuss; otherwise the whole point of 'usability' will remain vague to you. So, keep reading, pal!
Drive System
Cast aluminum has been a no-brainer when it comes to the material for a welder's wire drive system. The drive roll is replaceable. You only need to select the right one according to the diameter and properties of your wire.
It is possible to adjust (increase or decrease) the tension pressure that the wire drive might possibly have while at work. The spindle supports standard 4-/8-inch spools and includes a wing nut to let operators adjust the tension on their wires.
For you to be able to configure your wire drive to either negative or positive polarity, there is a polarity lead that permits the insertion into the required stud. You may need to rotate the connector clockwise to ensure that it stays locked tightly into its place.
Overload Protection
The 25 A thermal breaker is resettable and comes useful as the current through the circuit breaker exceeds 25 A for longer than a few minutes. The breaker automatically opens on such an occasion, and you'll have to reset it manually.
To protect the motor of the wire drive system, overload protection is in place. Upon the motor getting overloaded, the relevant circuitry automatically shuts down the wire feed system. A simple pull of the trigger is required for the machine to start working again.
However, you must be careful about the size of the tip, drive rolls, and the liner. Also, inspect the gun cable thoroughly to see and remove if bends or other obstructions are there. Any defect or fault in any of these components affects the process of wire feeding.
Power and Performance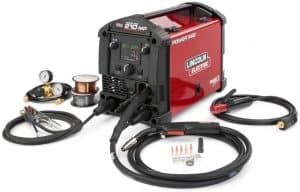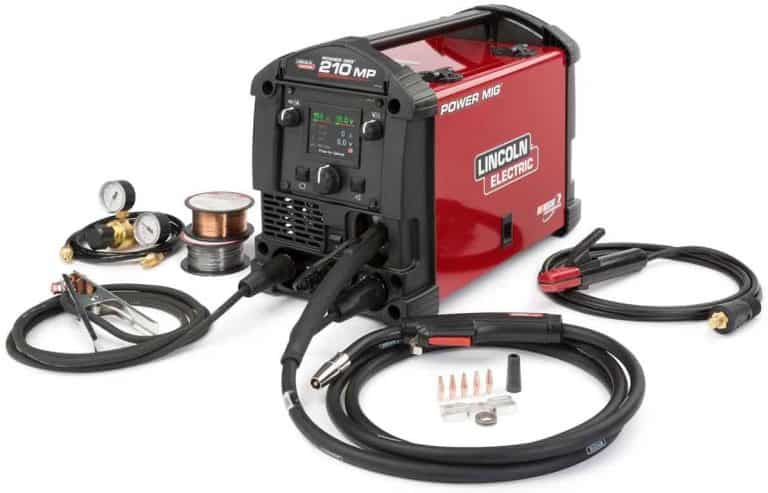 The input power receptacle is compliant with codes set by the National Electrical Manufacturers Association (NEMA). Two separate cords are provided for both 120 V and 240 V power. You can connect the machine to 120 V for most of your regular tasks. If you need higher loads, use the 240 V input.
Compared to Miller 215, Lincoln 210 MP operates at lower duty cycles which can be up to 40% using 120 V at 100A. You can expect 25% at 200 A while handling more demanding applications that require 230 V.
Material Thickness
As I studied countless reviews, I came to understand that Lincoln's welders are liked for a few reasons among which a wide range of material thicknesses is noteworthy. Where the Multimatic welder limits your options to only 3/8 or 1/4 inch, and 16, 18, or 24 gauges, this machine works on a greater range, from 12 to 24 gauges. You can also work with metals that are 1/8, 3/16, or 5/16 inch. So, that is an upper hand you could have with this one.
Applications
If you have something of an industrial application in mind, you should think again. Consider using the unit only when the task is not very demanding. However, this machine packs enough power and useful features to meet the variable needs of a hobbyist, farm worker, DIY expert, and metal fabrication shops.
Warranty
The manufacturer offers a 3-year limited warranty on parts, which is subject to the Welding, Cutting, Tools & Accessories (WCTA) terms that the warranty might be void upon any instance of abnormal or inadvisable operations and handling, improper installations, and care.
>>>Check the latest price here<<<
What Is Special About Power MIG 210 MP Aluminum One-Pak – K4195-1?
Lincoln has brought two packages which include the same multiprocess welder, labeled as K3963-1. The Aluminum One Pak – K4195-1 makes this package somewhat special in a way, welding projects that involve mostly aluminum.
The big difference here is that you won't need to buy a spool gun separately because the Magnum PRO 100SG Spool Gun (K3269-1) comes included at an extra cost. A spool gun is almost an essential tool to some welding projects as it prevents birdnesting, an annoying issue that many people face, and helps improve the feeding of wire, particularly the ones made of aluminum and the softer types.
Lincoln Electric POWER MIG 210 MP Multi-Process Welder Aluminum One-Pak - K4195-1
Lightweight and portable–just 40 lbs.
Dual Voltage Inputs (120V or 230V) means you can plug into any common power supply
Intuitive push-and-turn digital controls make setup a breeze
Large color display guides you through the setup process. Advanced options and settings are simple to access
Includes Magnum PRO 100SG Spool Gun (K3269-1)
As an Amazon Associate I earn from qualifying purchases
Final Verdict: Power MIG 210 MP Vs. Multimatic 215
At this end, I believe you would be interested in getting to the point where you know which welding machine is good for what. Well, bear with me a little longer.
I would prefer it to the Lincoln model if I had to tackle a project that requires higher duty cycle, precision, and almost 'perfect' welds. Don't get me wrong. I'm talking about 'perfection' specifically for the metal thicknesses mentioned on the comparison table.
Lincoln 210 MP is not an average multi-process welder either. Its versatility can be associated with the assortment of features and accessories one can enjoy using both as a beginner or a pro. It is safe to say you can be better off with this machine when aluminum is the metal in use.
Miller Multimatic 215 is, by far, the costlier of the two units in question. So, you want to keep the Miller model on your Wish list, should you stay focused on the budget.
I know I might have missed some details that you could find useful. Don't hesitate to ask me, my friend.
Happy shopping!