Even a beginner knows that argon is a must for MIG welding a non-ferrous metal like aluminum. Simultaneously, the idea of a gasless procedure has a fair share of appeal to the industry. Does it mean that one can MIG weld aluminum and a shielding gas is optional?
You can choose aluminum to MIG weld with "Self-Shielded Flux-Cored Arc Welding (FCAW-S)" wires. You should adjust the settings and use wires with "low crack sensitivity" to minimize porosity, cracking, and other defects. Apply the push method and fix wire feed issues as well.
Although it is not the best course of action, you can still exert yourself to the job and satisfy your needs with relevant information and guidance. Let's get directly to the point.
The Truth about Aluminum FCAW-S
According to theories and laboratory demonstrations, flux-cored wires can be produced for aluminum. Then, why hasn't the American Welding Society (AWS) provided any filler specification for these FCAW wires?
Since the sole task of a flux is to protect the metal being welded, it has to be chemically more active than that metal (aluminum in this context). Few chemicals are good enough to make suitable fluxes for aluminum because of the metal's high electromotive force potential.
You may wonder why fluxes for stainless or carbon steels are not much of a choice. A lot of experiments have already been conducted, but aluminum itself is not a good candidate for an FCAW process for two reasons:
It is very corrosive.
Its hygroscopic substance absorbs or attracts water from the surrounding air.
Despite these limitations, you'll see a small number of fluxes advertised as "effective for welding aluminum". None of those products can be what we call "perfect". The chemicals used to produce those fluxes are not ideal from an environmental consideration. More importantly, the amount of porosity will be too significant to ignore.
So, it seems you cannot really MIG weld aluminum absent shielding gases. I have a positive suggestion here. You can remove much of the porosity if not all, and the project should only be intended for personal objectives, I mean DIY purposes. Don't make it commercial for it'll be next to impossible to meet the welding code requirements.
Before telling you how to reduce porosity, I should let you be familiar with the difficulties which may hinder your efforts.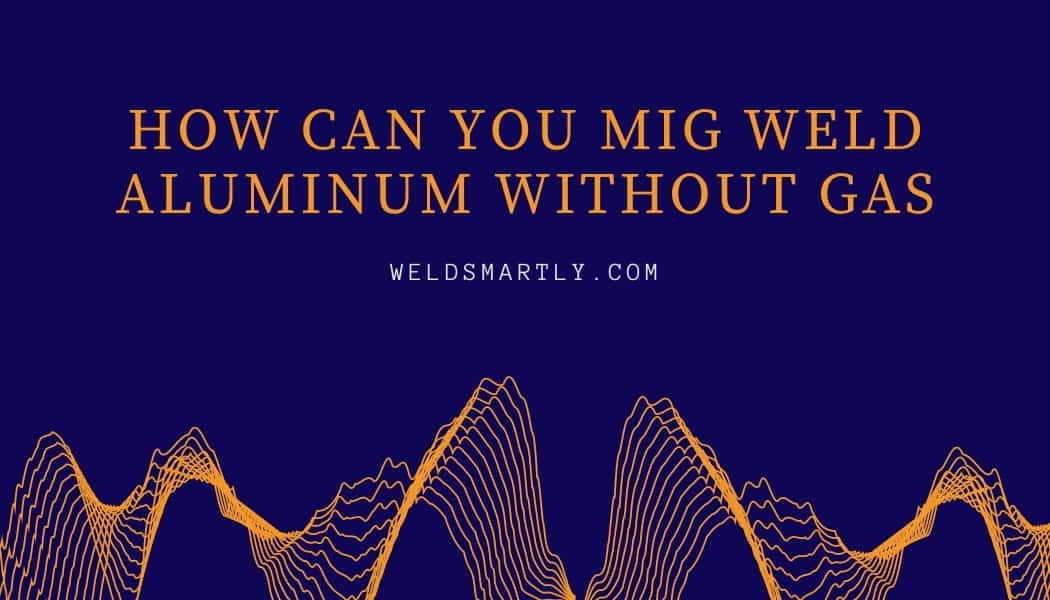 Common Challenges With Welding Aluminum

Whether you weld aluminum or steel, you should be prepared to deal with some defects such as burn-through, craters, poor fusion, and porosity. With aluminum, the job only gets trickier due to certain properties of the metal at higher/lower levels than those of steel.
Heat conductivity (six times faster)
Melting point (approximately 50% lower)
Thermal conductivity (approximately four times higher)
All these make aluminum unusually susceptible to warping. Its chemical composition may lead to hot cracking. Furthermore, excessive shrinkage during the solidification and cooling of the weld often results in stress cracking.
There is one more side to this particular job. MIG welding requires the continuous feeding of a wire electrode through a spool gun. So, chances are the wire feed/deliver system will not work properly owing to incorrect machine settings, wrong technique, lack of maintenance, or low-quality wire.
I might sound like a person who is too afraid to weld, much less handle aluminum. But my friend, I was just making you aware of the problems that most people face and end up rendering the weld useless.
In another article I talked about MIG welding stainless steel without gas – you may find it interesting!
Mig Weld Aluminum Without Gas: Tips For Success

You sure want to avoid circumstances like the ones I mentioned above. Well, go along with the rest of my discussion so that you can make something of it.
Keep the Metal Clean to Minimize the Risk of Porosity
Examine the piece of aluminum or sheet. If you notice the presence of any lubricant or dirt, clean it thoroughly. Being extremely corrosive, aluminum has a hard oxidation layer, and you must remove every bit of it during each weld pass.
A common method for oxidation removal is to wire brush the aluminum using a stainless steel cup or hand wire brush. Only steel brushes may contain impurities only to foil your attempts to keep the metal clean while welding. Both brushes involve manual actions which will take a lot of labor and time.
Using a power wire can be a good idea. Be careful about adjusting the pressures and RPMs appropriately because incorrect settings may lead to a smeared metal surface which could deteriorate the situation by entrapping impurities and oxides under the surface. Some wire brushes are specifically designed to clean aluminum only. You can get one of those products.
Choose the Wire Wisely to Prevent Hot Cracking
As long as the flux-cored wire you choose comes with low heat and crack sensitivity, you shouldn't think much about the issue. The lower the sensitivity, the easier it is to maintain the metal chemistry.
Adjust the Settings of Your Welding Machine
Being able to set everything correctly helps you work without being bothered about burn through, craters, and lack of fusion.
Solution to Fusion and Burn-Through Problem
Too low wire feed speed or too fast travel speed (your movement around the weld zone) is the reason you'll have insufficient fusion. Higher heat conductivity of aluminum causes the lack of fusion as the process starts unless the machine doesn't supply enough energy into the weld.
How can you ensure that the energy requirement is fulfilled? Some MIG welding machines feature advanced technologies to ramp up the energy (current) at the beginning and decrease the flow automatically to prevent too much heat from building up. Get one of those welders if you cannot set the voltage yourself or maintain consistent travel speed.
Anything opposing the above conditions (wire feed, voltage, and travel speed) leads to excessive heat input which causes "burn through" or warping on the thinner gauges. You can increase the travel speed a little bit.
Key to Avoiding Craters
Stress cracking is not as frequent as hot cracking. Look at the end of your weld to discover craters. It is easy to ignore them as they may start off very small. These cracks spread throughout the weld quickly, and once they do, you have little to save the weld from a major failure.
Consult the welder manual to know about the crater fill function. Once deployed, the function automatically fills the crater as you weld. Increasing your travel speed helps by narrowing the heat-affected zone and reducing the melting point of aluminum. But you want to avoid this step for it may cause fusion problems.
You can also preheat aluminum to reduce the residual stress levels throughout the process. The only risk in this operation is that you may overheat the metal. Some alloys, particularly the 6xxx series, don't do very well upon getting excessively heated. Overexposure may reduce the tensile strength of those alloys severely.
Even though you can master the rules of heating, I have one more suggestion. Don't choose too cold a base metal. For most alloys, the safe temperature is 150 °F.
Follow the Right Technique: Forehand/Push for Aluminum
Keep the nozzle and the tip pointed in the travel direction using a 10° to 15° push angle. Don't use a drag angle or a backhand technique because it'll cause dirty welds and serious porosity.
Troubleshoot a Malfunctioning Wire Feed System
Wire feeding problems may occur not because you're adopting a gasless method but for the lack of attention to where (the equipment) it is due. You can sense when the wire fails to feed smoothly. You'll also hear a chattering noise. Look at the table below to know more.
| | | | |
| --- | --- | --- | --- |
| Problems | Causes | Effects/Signs | Remedies |
| Contact Tip Issues | Oversized Tips, Improper Tip-to-Work Distance | Inconsistent Arc, Porosity, Unacceptable Bead Shape | Choosing the size of the contact tip matching the diameter of the wire |
| Faulty Gun Liner | Dirty or Oversized Liner | Contact Tip Burnback, Loss of Amperage | Cleaning the liner and sizing it in accordance with the wire diameter |
| Malfunctioning Gun | Regular Wear | Broken Strands of Copper Wire (inside the gun) | Replacing the gun |
| Damaged Drive Roll | Regular Wear, Wrong Size, Improper Tension, Use of V-Groove Drive | Inconsistent Wire Feeding | Choosing the size of the drive roll following the wire diameter and Using the right drive (V-knurled or U-groove) type |
| Birdnesting | Wire Reel Inertia, Dirty Liner, Imprecise Wire Tension | Coasting Wire Reel, Loose/Tangled Wire | Adjusting the brake tension |
All I've tried to do through this entire discussion is help you understand what MIG welding aluminum with no gas is going to be like. I would also like you to embrace the reality that the ability to utilize good techniques is as important as the knowledge about eliminating the possible setbacks.
Check this article if you are interested about TIG welding Aluminum.
Final Words
One of the reasons why this gasless method is a choice for many welders is the flexibility to do it outside, especially in windy conditions. I won't advise against it.
However, don't err on the side of caution! Wind is okay but not absolutely forgiving. Gasless wires require the gases and the slug system created during the chemical reactions from the arc.
When the wind grows very strong, it may affect the shielding capability of the wire leaving the molten metal unprotected against atmospheric factors. So, consider if it is worth risking cleanness of the weld that welding aluminum is all about.
Now, I can say you'll give it a go. Don't forget to share your experiences. Safe welding!