Most people in the welding community know what happens when one attempts to MIG weld metals without shielding gases. You'll see spatters, popping, and more importantly bad welds. Is it really impossible to MIG weld stainless steel using no active/inert gases? My answer is here:
You can MIG weld 20 gauge stainless steel, but you need self-shielding flux-cored wires which don't require external gases. The diameter of the wire should be between 0.25″ and 0.35″. Also, the welder should be able to use the wire, and the torch has to be negative.
The brief answer above indicates that you need to decide on certain things which determine if you'll be successful in the endeavor. Don't worry as I'm going to help you simplify the process.
But for the clarification of things that will occur as you start, I'll throw light on every detail about MIG welding without gas. I hope you won't mind bearing with me till the end.
Is MIG Welding Possible Without Gas?
Assuming that you know the basics of MIG welding and shielding gas, I won't put an in-depth discussion. But as MIG welding without gas is what we're talking about here, I would like to rephrase a few things.
First off, you need to accept that MIG welding cannot happen without the presence of any shielding gas. To understand why, you need to look at these questions:
Can your workplace ever be without oxygen?
Is it possible to alter the fact that oxygen affects the weld pool badly?
What can you do to protect your weld pool?
My answer to the first question is "NO". I got another "NO" for the second. I know you can't agree more! Then, what do we do about the third? You must protect the weld pool from the oxygen, and you can do this by displacing the oxygen in the air with a shielding gas.
Since we don't want to use gas, which is not practically happening, we can bring the MIG wire into our consideration. You probably have heard that people who are into MIG welding have to choose between solid and flux-cored wires.
Considering factors like penetration profiles, spatter levels, and fusion, you can count neither of the wires out. But our purpose in this article is not to identify the better of the two in particular cases. Rather, we have to find out the way to MIG weld stainless steel using no gases.
There comes flux-cored wire into thoughts. You're wondering how, aren't you? Well, flux-cored welding can be put into real-life applications where you won't bother about controlling the amount of any inert or reactive gas in the process.
Such a wire is actually a metal tube having a flux core. You'll find two types such as gas-shielded and self-shielding wires. The gas-shielded type can't work without an external gas. But the self-shielding ones don't rely on an external gas. So, this is the type we're looking for.
Then, why do we hear that MIG weld without gas is not practically possible? Let me explain the ideal type of wire which turns it into a possibility.
Self-shielded wires work much like covered electrodes and are solely dependent on the slag system. As you start using them, chemical reactions occur in the arc which produce gases.
Those gases help protect the molten weld metal just the way a shielding gas does. The wire contains flux ingredients in its core, which facilitate these functions:
Deoxidization and denitrification of the molten material
Formation of a protective slag (which helps shape the weld bead and hold the molten material out-of-position)
Mixing of alloying elements with the metal being welded for the production of certain mechanical properties
Modification of welding characteristics in terms of penetration profile and deposition rates
At this point, I hope there is little left for you to understand why a shielding gas is a must for MIG welding. Now, let's get the actual topic – welding stainless steel using no gas.
For a welder to be able to do this, there are three requirements such as the MIG equipment, material thickness, and wire selection. All of these choices have to be made following the correlations among them.
Choosing any of them, say the machine, without caring about its capability to use certain wires or weld thicknesses, in particular, may lead to unwanted results like mediocre welding performance, waste of time and money, etc.
Checkout another interesting piece of article about MIG welding Aluminum without gas!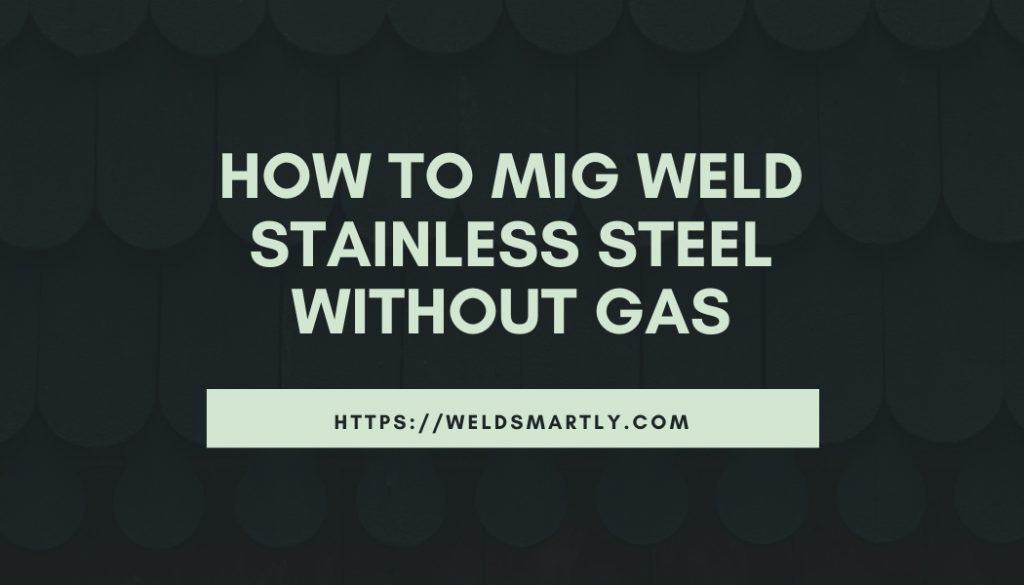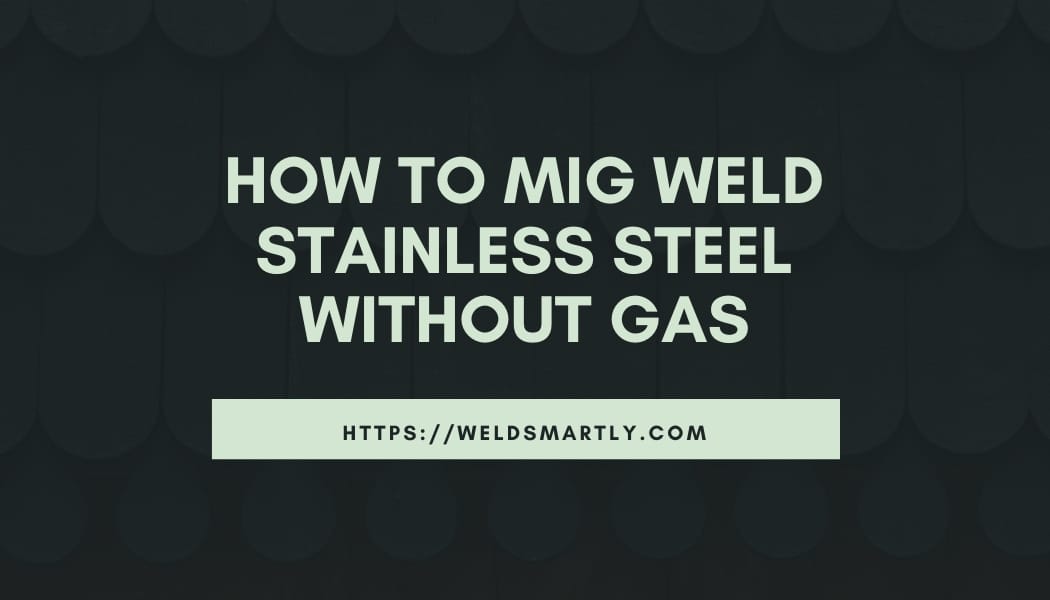 Equipment, Metal Thickness, and Flux-Cored Wire
If you are already knowledgeable about the relational factor between material thickness and MIG welding machine, the next few paragraphs may not be of much use to you. However, most beginners struggle while choosing the right combination. So, I think this particular discussion is worth reading.
Try to figure out the voltage and other specifications of your appliance. Unless you've bought it after being particularly informed, it is a 115V or 230V machine, and it is a wire feeder welder. With such a tool, you need new stainless steel, and its thickness can be anywhere between 24 and 12 gauge.
So, how do you know which size of the wire is ideal for a particular thickness? You can get help from the following list:
Wires with the smallest diameter like 0.24″ are good for thinnest material like 24, 22, 20, and 18 gauge.
Thicker materials like 3/8″, 5/16″, or 1/4″ are best welded by wires with a larger diameter like 0.45″.
MIG wires with a diameter of 0.35 inches are known for their versatility in terms of thicknesses.
When the deposition rate matters too much, 0.30″ wires are your ideal choice.
Whatever the underlying factors between the capacity of your MIG welding equipment and metal thickness, it applies to stainless steel too. So, don't ignore these descriptions or take them for granted.
The thicker your chosen material is, the higher voltage input is required, and that means you need a more powerful machine. Similar is the case with the amperage requirements because higher amperage allows you to meet all your needs faster, more specifically in a single pass. So, no second or third passes will be required.
The diameter of your wire is also associated with the voltage input. For example, a 230V MIG welder can run wires up to .035″ in diameter. Let's return to our original query. The reason why I recommend a self-shielding flux-cored wire is that it contains just enough of the flux to offer positive shielding to the molten metal even in outdoor conditions.
In addition, you won't need an external source of shielding gas. It makes the process simple and fast. But then, you'll have to be cautious about the thickness of your stainless steel plate. I'm giving you a useful example here.
A 115V MIG welder that can use 0.035″ welds steel well, but the thickness can't exceed 1/4 inch. For thicker metal like 1/2 inch, you'll want a machine with 230V input and a 0.45″ wire. So, I hope you've understood that we're talking about welding stainless steel with flux-cored wires.
This process requires a constant-voltage or CV power source that uses straight or reverse polarity, which mostly depends on the formulation of the wire you're using. I suggest you check to ensure if the polarity is right on the power supply. Most wires operate on direct-current electrode negative or DCEN. Ask the manufacturer to be sure.
These wires often come paired with a wire feeder designed to sense voltage. The voltage is set at the power supply, and the control of the amperage and the wire feed speed can be handled at the feeder. This way, you can have the advantage of faster welding for you won't go to the power source too frequently.
Which MIG Welder Should You Choose for Stainless Steel?
The facts I've stated so far might make you believe that you can get any MIG machine and start welding because you know what may go wrong and how to deal with the issues. Truth is you cannot use just any machine. It must be able to handle self-shielding wires.
Some machines accept either of the two wires while some accept both. You know that the flux in the wire produces a slag on top of your weld bead to protect the puddle from atmospheric gases. However, I would like you to understand a few more things about a welder that comes labeled as a "no gas" MIG.
Although clean material is always desirable, you can try welding the metal with a little dirt on it. A "no gas" MIG machine works better in this case than the one that uses gases. The flux plays its role in this too.
As you've got all the information about welding stainless steel, I guess I can share a few more insights to assist you further.
Final Thoughts
The only drawback that might affect your usability of the recommended wire is that it produces a lot of smoke from the process. At times, you may have difficulty seeing the weld pool properly. However, in windy conditions, the smoke shouldn't be a big deal.
The polarity of your torch determines whether you can use your existing MIG welder or another machine will be required. Welding machines designed to work with both flux-cored and solid wires are pretty efficient in changing the polarity as required.
You can identify a machine by checking its manual or packaging. The ones built for both purposes come with a "Gas/No Gas" label. Finally, before starting, make sure your torch hose has been connected to the machine's negative terminal. That is it, my friend!
Let me know if you got any more ideas to add to my discussion. Happy welding!