People who work in the automotive industry have to apply several welding techniques on the auto body with an aim to complete repairs, maintenance, and restoration. In doing so, they work on fenders, frames, exhausts, car panels, and wheels which are made with a variety of metals, each requiring technicians to use welders with different specialties.
It means it is hard to choose one welder for all of the auto body repair jobs. At the same time, you cannot spend hundreds of dollars on a machine that fails to meet your automotive welding demands. So, I'm about to review a bunch of welders designed to help you tackle the day-to-day auto bodywork at home and a repair shop.
Best Welders For Auto Body Work: Quick Comparisons
Choosing a welder involves a lot of numbers and factors. But some of those figures are always more important than others. Look at this table where you'll get all essential data in one go.
| | | | | | |
| --- | --- | --- | --- | --- | --- |
| Welders | Amperage | Rated Output | Warranty | Weight | Dimensions (H X W X D) |
| Millermatic 211 (120 V/ 240 V) | 30 A to 230 A | 115 A at 19.8 DC, Duty Cycle: 20%   150 A at 21.5 DC, Duty Cycle: 40% | 3 Years | 38 lbs./ 42 lbs. Including the gun | 12.5 X 11.25 X 20.5 (Inches) |
| PRIMEWELD TIG225X | 10 A to 225 A | 108 A, Duty Cycle: 100% | 3 Years | 90 lbs. | 24 x 19 x 12 (Inches) |
| Weldpro Inverter Multi Process Welder | 40 A to 200 A | 200 A, Duty Cycle: 40% | 2 Years | 30.4 lbs. | 17.72 x 8.66 x 14.96 (Inches) |
| Hobart Handler 140 (115 V) | 25 A to 140 A | 90 A at 18.5 DC, Duty Cycle: 20% | 5/3/1 | 57 lbs. | 12.375 X 10.625 X 19.5 (Inches) |
| Lincoln K2185-1 MIG Welder (115 V) | 35 A to 88 A | 70 A @ 17 V, Duty Cycle: 40% | 1 Year | 46 lbs. | 12.8 X 8.8 X 18 (Inches) |
| Forney Easy Weld 261 (120 V) | 140 A | 90 A, Duty Cycle: 30% | 1 Year | 19 lbs. | 16.75 X 8.125 X 12 (Inches) |
| Miller Electric Multimatic 220  (120 V/ 240 V) | 20 A to 230 A | 105 A @ 19.2 V, Duty Cycle: 60%   200 A @ 24.5 V, Duty Cycle: 20% 170 A @ 21.5 V, Duty Cycle: 40% 130 A @ 15.2 V, Duty Cycle: 40% 210 A @ 18.4 V, Duty Cycle: 20% 90 A @ 23.6 V, Duty Cycle: 40% 200 A @ 28.4 V, Duty Cycle: 15% | 3 Years | 56 lbs. | 17.5 X 11.25 X 21.5 (Inches) |
| Hobart Handler 210 MVP | 25 A to 210 A | 90 A @ 19 V, Duty Cycle: 20%   150 A @ 23 V, Duty Cycle: 30% | 5/3/1 | 79 lbs. | 12.375 X 10.625 X 19.5 (Inches) |
| Goplus MIG 130 Welder | 50 A to 120A | 105 A, Duty Cycle: 15% | 3 Months | 35 lbs. | 14 X 8 X 12 (Inches) |
With the quick details in mind, you can now explore more in-depth discussions which will guide you along the process of buying a welder for auto body projects.
What Is The Best MIG Welder For Auto Body Work?
There is little doubt that MIG welders are the units you want to look at, especially when auto body repair or maintenance work is in your mind. Considering the power, build quality, and technical features, I've found one great name to share with you.
1. Miller Electric Millermatic 211 120/240 VAC – Overall Best Welder For Auto Body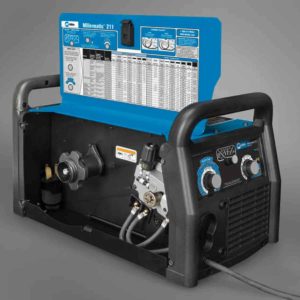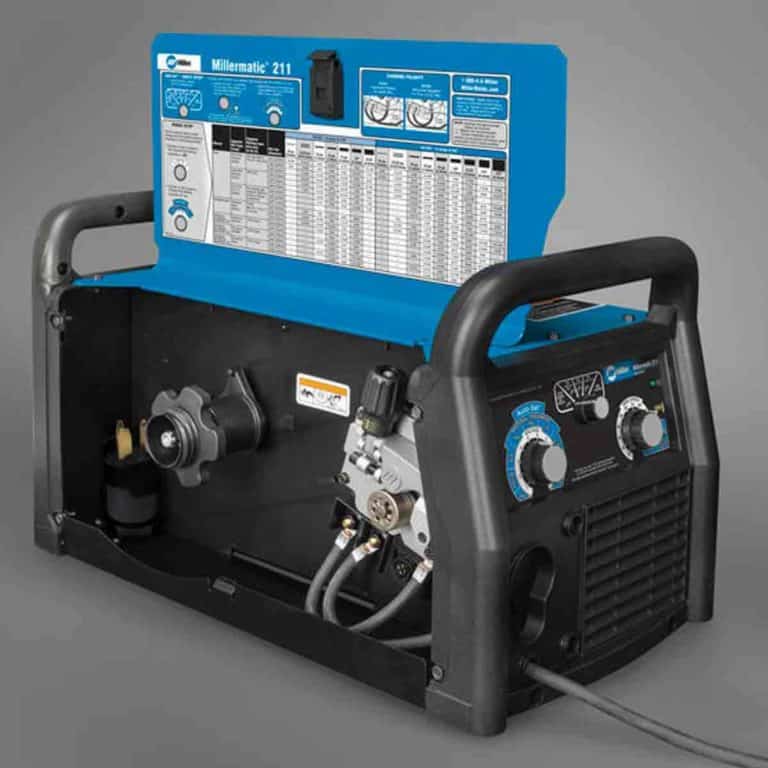 What makes Millermatic 211 better than dozens of other welders? Is the Auto-Set function, or the inverter technology, or its usability as a whole unit?
This model may not have the most advanced set of features. Still, it is definitely worth your consideration as it comes equipped with the technical capabilities required by an auto body workshop. I guess that reasons enough for you to read what I am about to tell.
Build And Usability
Auto-Set provides you the convenience of pre-set controls for the combination of gas and wire. Inside the unit's access door is a chart full of custom parameters which becomes useful if you need to work in the manual mode.
Its Multi-voltage plug allows you to use 120- or 240- volt receptacles. Just choose whatever plug fits the power receptacle. The Smooth-Start feature delivers a start that is smooth and free of spatter.
Upon the duty cycle exceeding or the airflow getting blocked, the unit is set to shut down, activating a specific light to indicate the temperature going beyond the limit of safety. The 'thermal overload protection' resets itself automatically as the machine cools.
To complement the safety system, a cooling system is in place, which gets to work on demand to reduce energy consumption, noise, and the presence of contaminants.
The drive system has a cast-aluminum body with a tension knob that is calibrated to permit consistent feeding. Labeled as Quick Select, the drive roll has three grooves for both solid and flux-cored wire having different sizes.
The unit has a smart system to detect the connection of a regular MIG gun or a spool gun. The MDX-100 gun includes a consumable system named AccuLock MDX which features a front-loading liner with a dual-lock system to optimize MIG wire feed ability.
Power And Performance
This MIG welder requires 120 V at 24.3 A to deliver 115 Amps at 19.8 V with 20% of duty cycle. Using 240 V at 16.6 A in input power, it delivers 150 Amps at 21.5 V with 40% of duty cycle. The wire feed runs at 60–600 inches per minute, and the OCV stays at 54.
Applications And Material Thickness
With this MIG unit, you can weld three types of metals and their variants, such as aluminum, steel, and stainless steel, for the following purposes.
Light Fabrication: DIY and Metal art objects, sculptures
Repair and Maintenance: Home, farm, auto body, and racing workshop (customization or restoration)
Other Activities: Welding education and training centers
Using 120 V, thickness ranges from 24 gauge to 3/16-inch for steel and 18 gauge to 1/8-inch for aluminum. Using 240 V, thickness ranges from 24 gauge to 3/8-inch for steel and 18 gauge to 3/8-inch for aluminum.
Pros
Ideal for both the beginners and experienced alike
Inverter technology for smooth arc regardless of variable travel speeds and arc lengths
Effective control and safety features
Easy setup, use, and maintenance
Two-way carry handles to inspire portability
Cons
Not the most affordable choice in the category of small welding machines
>>>Hobart 210 Vs Miller 211<<<
2. Hobart Handler 140 – Best MIG Welder For Auto Body Repair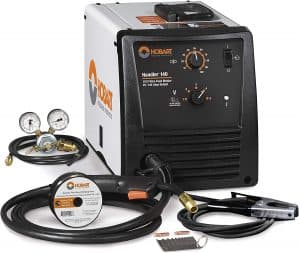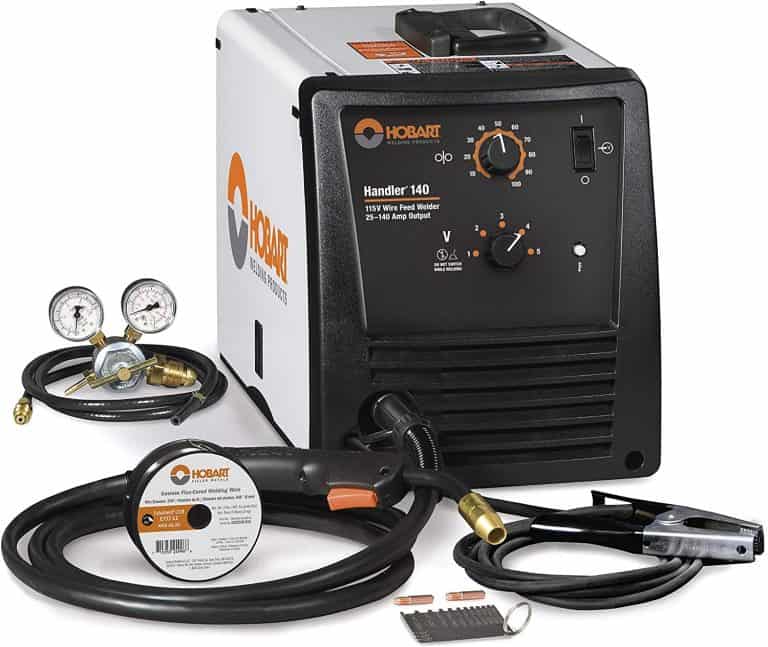 Weighing 57 lbs., the Handler is neither much of a compact nor a bulky unit. While I wouldn't compare Hobart 500559 to a high-end MIG welder, certain aspects of its build quality and service are worth a bit of explanation.
Build And Usability
The sloped and visible control panel presents an easy-to-use interface for users to make the necessary adjustments almost effortlessly.
The more control you can have over the voltage output, the higher your chances are to get a stable arc. With this machine, you can use five different positions.
The aluminum wire drive is not only corrosion-resistant but also thermally conductive. The three groves in its drive roll are designed to accept both flux-cored and solid wire. As you attempt to use either flux-cored or solid wire, you'll need to choose DCEP or DCEN, where the polarity settings come in handy.
The self-resetting 'thermal overload protection' function helps protect the unit's transformer by cutting down the power supply in the event of overloads. The gas regulator does its job of managing gas distribution as it should. That is all I could tell you about the model's construction.
Power And Performance
This 115 V welder operates at welding amperes ranging from 25 A to 140 A and delivers an output of 90 Amps at 18.5 VDC. You can get 2 minutes of operational duration, I mean 20% duty cycle, out of 10 minutes. Open-circuit voltage reaches 28 V at most.
Applications And Material Thickness
Common uses of the welder include small maintenance tasks, auto body repair, applications at ranches or farms, metal art, sculptures, etc., in which you can weld mild, stainless steel, and aluminum having a thickness range from 24 gauge to 1/4 inch.
Pros
Affordable and good for first-time buyers
Multiple positions for voltage control to ensure stable arc
Easy setup with polarity changeover
Moderately compact and lightweight
Reliable warranty support
Cons
Not very good at welding stainless steel
>>>Hobart 140 Vs Lincoln 140<<<
>>>Hobart Handler 140 Review<<<
3. Lincoln K2185-1 MIG Welder – Best Lincoln Welder For Auto Body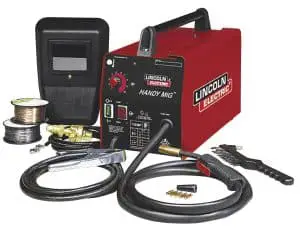 This MIG welder allows you to work with mild steel only. Despite this serious limitation, I find the model quite useful due to its build quality and convenience for beginners and professionals who don't need a heavy-duty welding machine.
Build And Usability
For this unit to start working, a 115 V, 20 A power outlet is required. You know that is pretty common in our households. You can use any of the 4 voltage adjustment settings. You can adjust the speed of the wire feed system too.
The 'cold contactor' keeps your wire electrically safe and cold until you press the trigger. The unit has a cooling fan to keep itself under the required temperature and last long.
Power And Performance
Lincoln K2185-1 delivers an output ranging from 35 A to 88 A, and the rated output is 70A at 17V. Like most other welders at this price, this one delivers 20% of the duty cycle. The wire feed runs at 0-300 inches/ minute.
Applications And Material Thickness
As long as your preference includes small repair or DIY projects at home and the choice of metal is mild steel, you can weld 24-gauge sheet metal and go all the way up to 1/4 inch. However, you must use the proper shielding gas and combinations for the best outputs.
Pros
Budget-friendly MIG welder for light fabrication work
A compact, space-saving unit with a lightweight design
Adjustable voltage ranges and wire-speed
All components and accessories included in a highly affordable package
Effective safety arrangements
Cons
Not capable of welding aluminum and stainless steel
4. Hobart Handler 210 MVP – Best Welder For Car Panels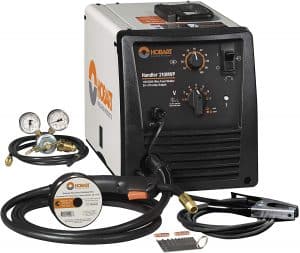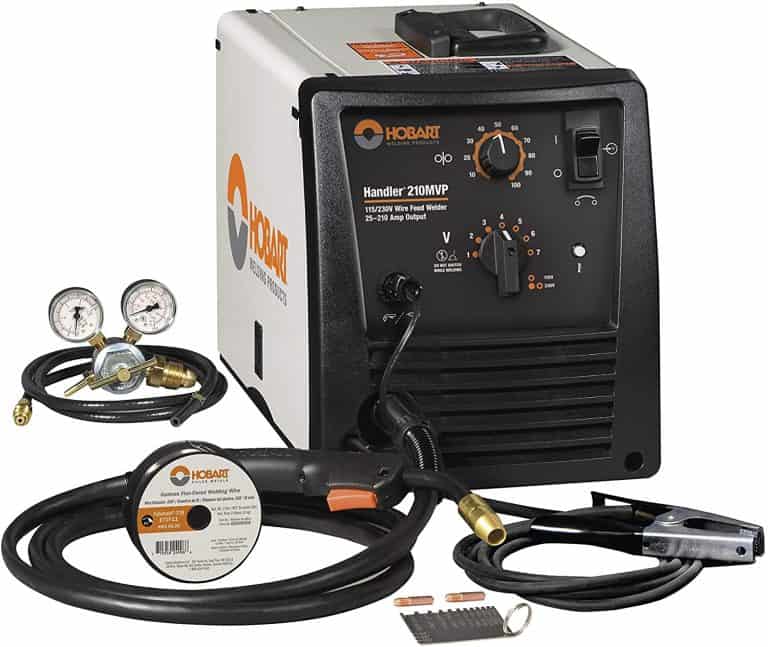 Except for a few MIG welders, I cannot say that there are many products that bring a balance between value and price. Fortunately, I have an excellent recommendation to make here, and that is Hobart 210 MVP.
Build And Usability
The unit's dual-voltage capability is delivered through the multi-voltage plug, which is compatible with a common 115 V or 230 V receptacle.
You can use 11 voltage settings (7 for 230 V and 4 for 115 V) to have great control over the input parameters, so the weld quality is up to the mark with less spatter. Then, there are infinite speed settings for the wire feed to prevent Birdnesting or burnback and poor penetration.
A built-in wire feed system with a drive roll lever that releases quickly allows you to adjust the tension and thread new welding wire. The wire drive, made of cast aluminum, is durable. A safety contactor keeps the wire cold (electrically, not literally) up to a point you pull the trigger.
The drive roll consists of three grooves for both types of wire. Even when you need to change the polarity for either tubular or solid wire, the changeover has been made easy. You can use the tip holder to accommodate your spare tips.
A standard circuitry comes integrated to allow for an easy connection to the spool gun, offering complete control over its functionality. The spool hub accepts spools having a diameter from 4 inches to 8 inches, so you can choose the spool as the job requires.
Power And Performance
Based on the input power, Handler 210 delivers different amperage, power outputs, and duty cycles such as,
At 115 V, the amperage ranges from 25 A to 140 A, delivering 90 Amps at 19 VDC rated output with 2 out of 10 minutes of duty cycle where the OCV is 28 VDC.
At 230 V, the amperage ranges from 25 A to 210 A, delivering 150 Amps at 23 VDC rated output with 3 out of 10 minutes of duty cycle where the OCV is 34 VDC.
The wire feed goes at 40–680 inches/minute and 60–770 inches/minute at zero load.
Application And Material Thickness
Unlike a few of the above models, this one works well for those engaged in construction, repair, maintenance, restoration, farm, and home projects. This unit handles any metal you choose, and I mean the ones used in MIG welding.
Mild Steel – (230 V): 24 gauge to 3/8 inch; (115 V): 24 gauge to 11 gauge (using 75% Argon and 25% CO2)
Mild Steel – (230 V): 18 gauge to 3/8 inch; (115 V): 18 gauge to 11 gauge (using 100% CO2)
Mild Steel – (230 V): 18 gauge to 3/8 inch; (115 V): 18 gauge to 1/4 inch (using Flux Core)
Stainless Steel – (230 V): 18 gauge to 1/4 inch; (115 V): 18 gauge to 11 gauge (using 90% Helium, 7.5% Argon, and 2.5% CO2)
Aluminum – (230 V): 18 gauge to 1/4 inch; (115 V): 18 gauge to 11 gauge (using 100% Argon)
Pros
Good value for the money, especially for both hobbyists and fabrication specialists
A wide selection of voltage and wire speed settings for controlled and smooth welding operations
Adequate power output for most projects that involve light-duty applications
Effective, self-resetting function for overload protection
Excellent warranty support
Cons
Not a lightweight machine
Multiple passes required to ensure proper penetration into stainless steel
5. Goplus MIG 130 Welder – Best Cheap Welder For Auto Body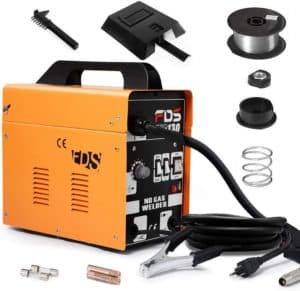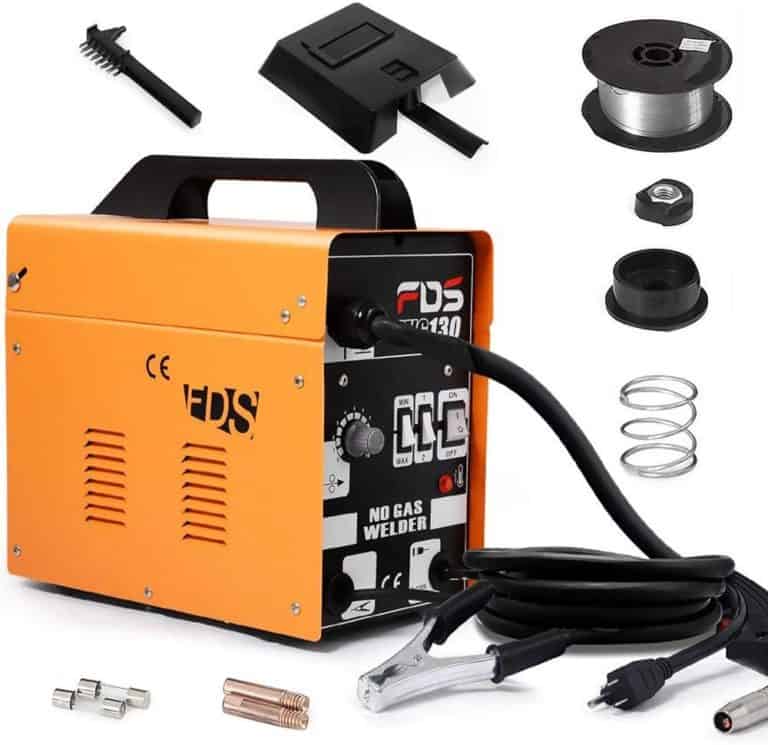 Goplus 130 is the cheapest of all MIG, TIG, and multiprocess welders on my list. But don't take it for a useless pile of junk right away. I must admit that this unit is not ready to serve you at a fabrication shop, let alone in an industrial environment. Look at the price tag! I know you won't blame the manufacturer.
As I talked about every kind of welder for hobbyists and regular professionals (excluding the guys who work underwater), I think you should know about at least one MIG welder that best suits a learner's needs or an absolute beginner.
Build And Usability
I think you wouldn't disagree with me on the fact that it is not wrong to settle for less than a stainless-steel body at such an affordable price. Then, there is the nice yellow paint which I believe has little effect on its usability.
You'll have four buttons to set the current flow to minimum and maximum. A rotary knob is mounted on the control panel to let you adjust the speed of wire feeding up to 10 different levels.
The torch includes a safety control component, and there is a thermal safety system. A couple of air vents have been positioned conveniently to help with heat dissipation keeping the overall temperature at a tolerable, low level. The storage compartment at the unit's top is useful for those who need to carry small accessories.
Power And Performance
At 110 V of input power, the machine delivers a maximum output of 105 Amps with 15% in the duty cycle. The 10 A circuit breaker and the 13 A fuse are all parts of its electrical operation. Oh, the power cord extends up to 72.5 inches.
Application And Material Thickness
As you see how much this machine delivers, you shouldn't choose anything other than thin iron and steel. So, you can use this machine to handle home or DIY projects where the repairing work is not demanding.
Goplus 130 uses a flux-cored wire which is actually a self-shielding component (metal inert gas) that helps prevent the welded metal from catching oxidation. You can weld sheet metal from 1/16″ to 1/8″. Some people reported that they could handle a 1″ thin square tube too.
Pros
A good entry-level machine for beginners who choose the flux-cored process
Ideal for DIY and hobbyists too
Long-lasting housing with durable paints
Suitable for sheet metal
Compact and lightweight
Power cord with extended length
Cons
Susceptibility to accidental zaps due to the constantly charging electrode upon the start of the machine
Very limited welding capabilities (both metals and processes)
What Is The Best TIG Welder For Auto Body Work?
TIG welding requires more effort and skills than most other welding processes. It means the unit you choose for an auto body has to be designed to deliver the most precise welds, allowing the operator to work with as much ease as possible. Here is my review of one of those machines.
6. PRIMEWELD TIG225X – Best Welder For Automotive Sheet Metal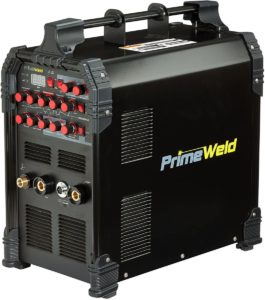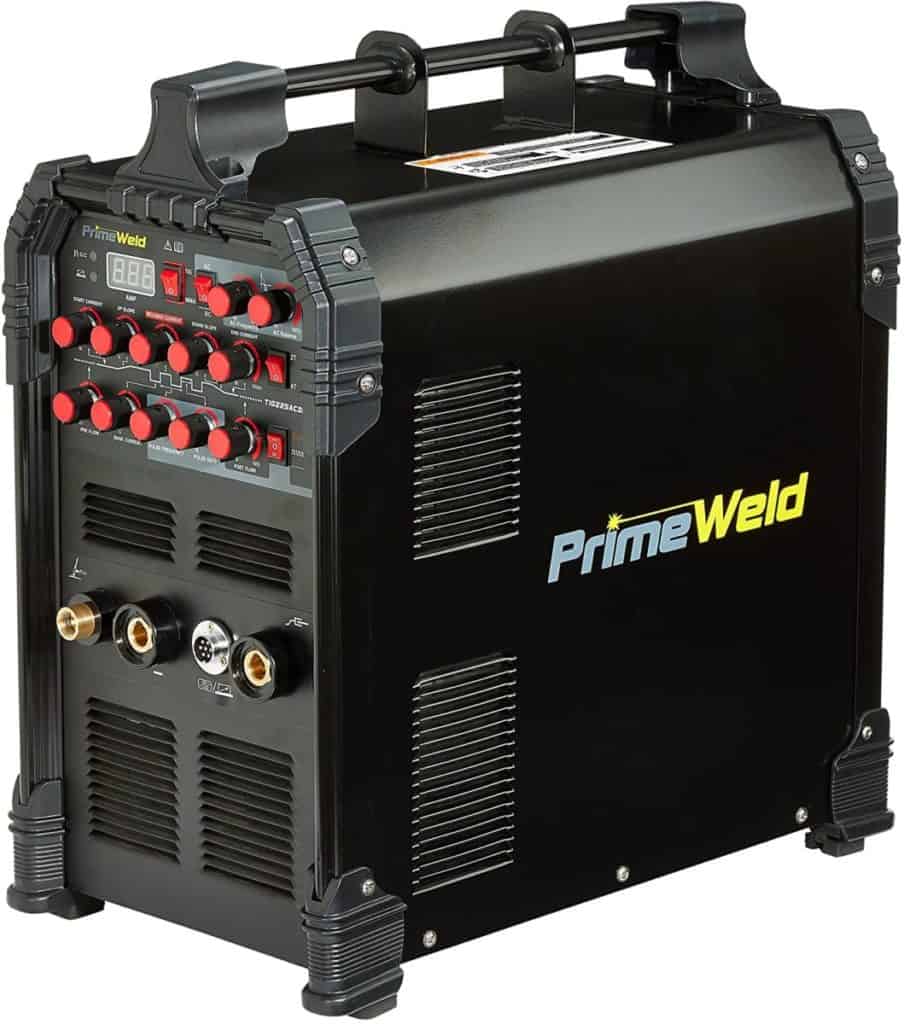 By far, this machine appears to be a workhorse in an ideal environment where metal fabrication is one of the regular and principal activities. However, one might feel like getting the shorter end of the stick if the following details are not explored before a buying decision.
Build And Usability
Should you have to ensure that the weld quality is higher than the average, you want to get control over all aspects of both the operation and the machine. The 'Pulse Width Modulation' technology manages the width and depth of penetration efficiently as you strike the arc and look forward to tuning arc characteristics according to the desired specifications.
Being able to control how long to spend on any side of the unit's AC cycle is a good thing. Moreover, the 'AC Balance' function allows you to get the surface of your weld puddle free of impurities and oxidation, which is a sure thing to look for.
The other side, I mean the DC mode, provides control with low-temperature settings to handle sheet metal and auto bodies. This DC TIG lets you work on metal sculptures, bicycle frames, and other framework joints.
As long as you are in the welding business, you cannot go on ignoring stick welding because of its low-cost output, thanks to the gasless operation. So, the Stick Mode is a huge plus.
Power And Performance
This machine uses the standard 'Inverter' technology and features a high frequency (HF) start, complemented with 'pulse width modulation' to deliver a pulse ratio (10/90) from 10 amps to 225 amps. Don't you think it is a very wide range of amperage settings?
The 200 Hz pulse frequency is what accounts for its smooth operation as a TIG welder. At 108 A, you'll get the full duty cycle (100%). On reaching its rated power, it delivers a 40% duty cycle.
Applications And Material Thickness
Although hobbyists are the target group of users, professionals can benefit from it too if the applications are limited to water tanks, fences, street rods, bicycle frames, sculptures, sheet metal, and virtually any type of exposed joint.
If you're about to weld, the thickness should be 1/4″ for aluminum and 3/8″ for mild steel. Welding 1/2″ metal sheets are also possible under certain circumstances, especially if you can use clean and prepped metal.
Pros
Great value for the price
Excellent power factor and duty cycle
Specifically designed for sheet metal
Stick mode for cost-saving welding without shielding gas
Durable, rugged housing
Cons
Not much of a lightweight unit despite its compact build
Not very useful when it comes to welding stainless steel
What Is the Best Multiprocess Welder For Auto Body?
Is it not better to have a welding machine that allows for TIG, MIG, and Stick welding, all in a single space-saving housing? Now, I'll be talking about one such model.
7. Weldpro 200 Amp Inverter Multi Process Welder – Best Welder For Sheet Metal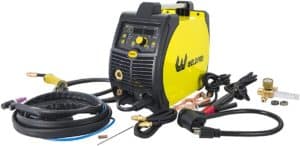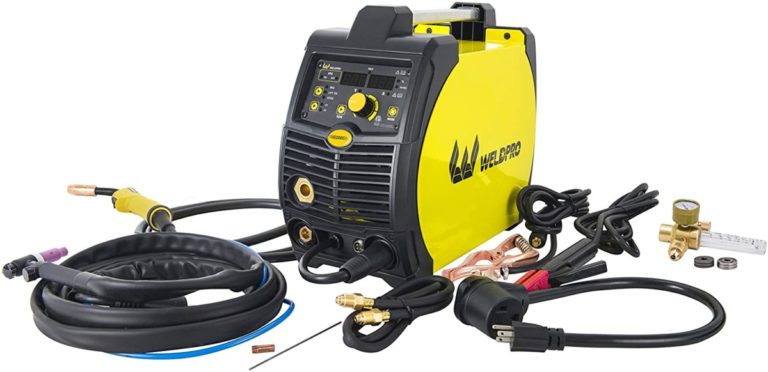 Weldpro calls it their 'flagship' model. Well, that may be valid, but the price of the unit makes me feel a little inquisitive about its specifications which are well above those of a basic welder.
Build And Usability
The TIG system incorporates a 'true lift' mechanism in which you don't need a foot pedal and a tool considered an essential addition to a TIG setup. The spool gun makes aluminum welding and stick welding easy for beginners. The MIG gun is designed to allow both MIG and flux-cored applications.
On many occasions, you may need to create welds over and over again where the 'dual digital display' lets you see and adjust the wire speed and amperage correctly. With an indicator, the Voltage Regulator-Down (VRD) system and the overload protection feature get to action when the temperature rises too high. You can also set the inductance as well.
Additional Read: Best 110V Stick Welders
Power And Performance
Since the machine allows three different types of welding operations, the amperage ranges are also variable depending on your application. Remember that the unit delivers up to 30% of the duty cycle at 200 A.
230 V: 40 A to 200 A (MIG Welding), 15 A to 200 A (TIG Welding), and 40 A to 200 A (Stick Welding)
115 V: 40 A to 120 A (MIG Welding), 15 A to 120 A (TIG Welding), and 40 A to 120 A (Stick Welding)
Applications And Material Thickness
As the unit's power and performance vary by the process being undertaken, material thickness also varies for the same reason, plus the wire diameters.
MIG Welding: 19 gauge to 0.197 inch (Thickness); 0.024, 0.031, and 0.039 (Wire Diameter)
TIG Welding: 25 gauge to 0.25 inch (Thickness); 0.063 and 0.094 (Tungsten Needle)
Stick Welding: 14 gauge to 0.315 inches (Thickness); 0.063 to 0.157 (Alkaline or Acid Electrode Diameter)
Pros
An excellent choice for hobbyists, DIY enthusiasts, and professionals with the need for light fabrication work
Affordable and easy to switch from one process to another
Responsive wire speed and amperage settings with useful features like inductance adjustments
Capable of TIG welding without requiring a foot pedal
Incredibly compact and lightweight for a multiprocess unit
Cons
Not capable of handling some of the most common ranges of the metal thickness (available at an auto body repair shop)
What Is The Best Budget-Friendly Welder For Auto Body Work?
Some welding enthusiasts love to think that a budget-friendly welder is essentially a cheap one. My findings lead me to believe that doesn't have to be the case. Now, I would like you to know about one such model that comes at an incredibly affordable price but is better than a typical, low-cost machine.
8. Forney Easy Weld 261 – Best Welder For Car Frames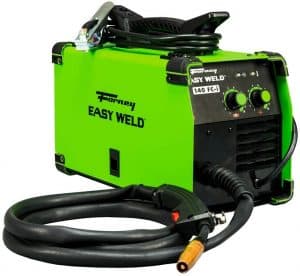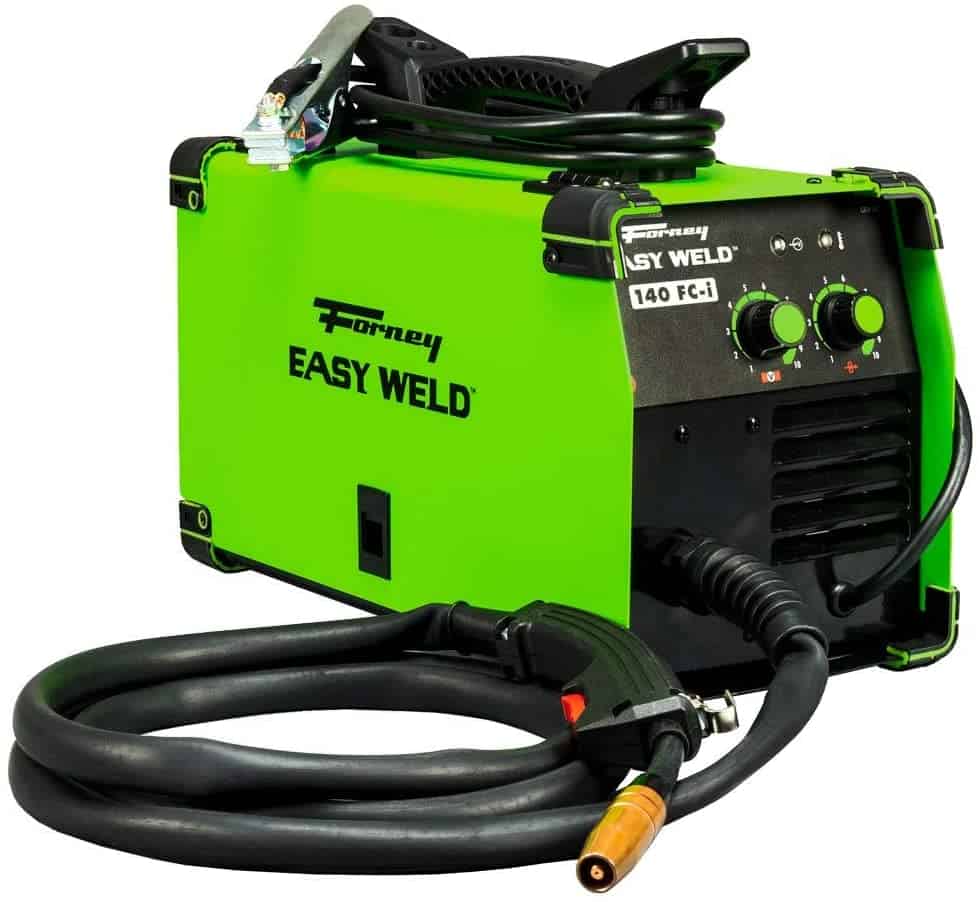 You might take that nothing about this welder looks perfect. But in a practical sense, where your budget is of utmost importance, and your demands are not very high, this MIG unit shouldn't be ignored.
Build And Usability
With any welding machine, you want to get some sort of control, particularly for the wire speed and voltage. This unit has an infinite control function for the voltage and the wire speed to let you try and lay a high-quality weld. You don't have to pay for a foot pedal because the package includes one.
The metallic case comes in a rugged design to serve you much longer than a few months. Forney 261 can handle '2 and 10 lbs.' rolls of welding wire.
The MIG gun and ground clamp, both measuring 8 feet long, come included, but I guess you would expect them to be 10 feet. An integrated handle allows you to carry the lightweight machine easily. Also, you'll find the torch cable wrap useful while moving a lot around your jobsite.
Power And Performance
Easy Weld 261 requires 120 V of input power and delivers 140 Amps as output power. At 90 A, it provides a duty cycle of 3 minutes or 30%. Could you want more from an entry-level welder?
Application And Material Thickness
Needless to say, MIG welders like this one cannot be used everywhere. But basic repair and maintenance, hobby, and DIY projects can be handled with this unit.
Though the machine is ready to use either .030" or .035", I suggest that .030" be the preferred one for certain benefits such as an extended duty cycle and high-quality results on mild steel with thickness ranging from 24 gauge to 1/4″.
Pros
The perfect companion for learners and hobbyists
Super compact build for enhanced portability
Infinite control system for wire speed and voltage
Cost-effective welding operations (no shielding gas required)
Quick setup and easy maintenance
Cons
Extremely strict capability (only flux-cored process allowed)
What Is the Best AC Aluminum Welder for Auto Body Work?
AC current provides a positive half-cycle to aid in the cleaning action. It also provides a negative half-cycle to ensure penetration. So, a TIG welder with AC balance control is desirable. I've put reviews of a few of those machines here.
9. Miller Electric Multimatic 220 – Best Welder For Auto Framework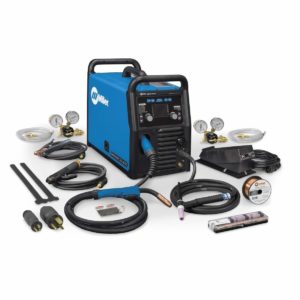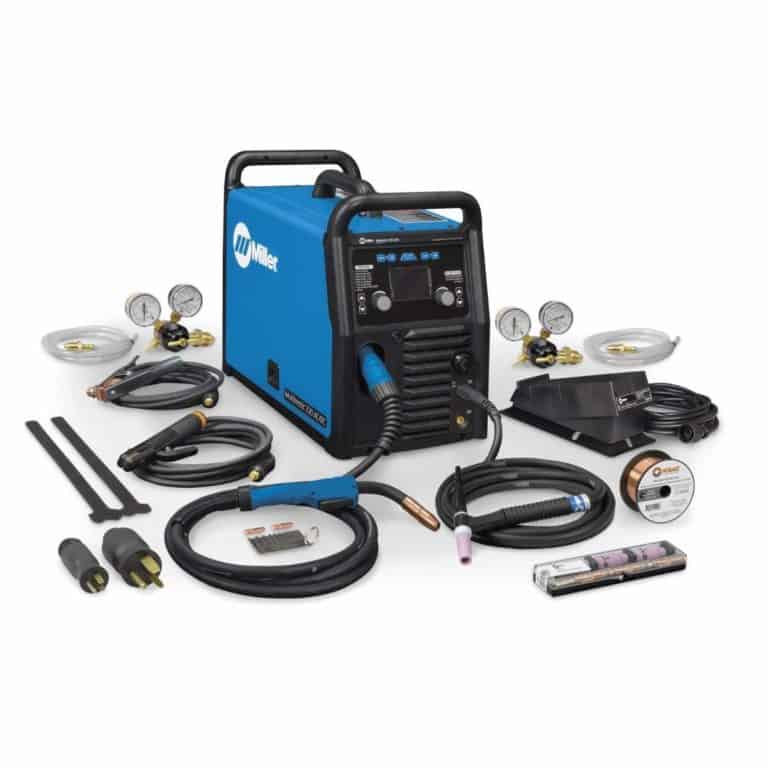 Multimatic 220 is not just any multiprocess welder. If you asked me to find an all-in-one welding machine without much concern about the budget, this would probably be the one I would recommend.
I know the 'all-in-one' thing sounds a little bold. It shouldn't be so because this machine has more than an LCD display with an easily accessible interface or the Lift-Arc or High-Frequency (HF) start.
Build And Usability
A multi-voltage plug or MVP connects to any standard power outlets, which is 120 V or 240 V. The unit has a 14-pin connector to allow the operator to choose whatever control is required among the wireless foot or foot control or even fingertip control.
A special technology named QuickTech makes the setup easy. The foot control or the trigger allows for quick changes between two processes. The unit determines the required polarity automatically.
You can have both the TIG torch and the MIG gun connected simultaneously.
If you need to use the settings or adjustments from the last welding process, you don't need to recall anything because the machine does it for you.
The handle incorporates a 'Ball-and-socket' design having a rear swivel, so you can maneuver the MIG gun and reduce the likelihood of fatigue on your hands.
The Auto-Set Elite function lets you use some predefined settings when your job involves multiple processes and materials. In addition, you can adjust those settings for each process (MIG, DC Stick, or AC/DC TIG) separately.
Those who love to use the manual mode can benefit from the Pro-Set function for Stick or TIG welding. You just need to adjust the settings until you see the Pro-Set on the digital display with the number in the blue color.
For AC TIG, you can control your cleaning action using Pro-Set by up to 75% and arc cone width on 120 Hz.
For DC TIG, you should use Pro-Set 100 Hz.
For DC Stick, you need to use Pro-Set at 30%, and the electrode for this purpose should be 7018.
I have a few points to explain how you can adjust the settings for TIG welding.
The AC Balance is adjustable up to 80%, starting from 60%.
The frequency can be adjusted up to 150 Hz, starting from 60 Hz.
The unit lets you adjust the DC Pulse from 'Off–150' PPS (Pulses/Second).
You can adjust the Post-Flow for TIG welding from 'Auto–25 seconds'.
The 'angled wire drive' is a robust one. The drive roll (called Quick Select) lets you change the wire diameter or type (flux-core or solid) appropriately, thanks to the three specified grooves. Two separate gas connections are in place for both TIG and MIG shielding gases.
The MIG gun has a patented AccuLock MDX system with a dual-locked liner that loads on the front to make a flawless path for the wire feed and optimize feed ability.
Power And Performance
Using constant voltage in MIG welding or Flux-cored process where the input power is 120 V, this unit delivers amperage in the range of 30 A to 125 A, and the rated output stays 105 Amps at 19.2 V with a 60% duty cycle.
At 240 V, the amperage ranges from 30 A to 230 A, with the rated output being 200 Amps at 24.5 V and 20% in the duty cycle. As the rated output gets down to 170 Amps at 21.5 V, the duty cycle becomes twice as much. The wire feed runs at 60–600 inches/ minute, and OCV rises up to 45 VDC.
Using constant current in TIG welding, where the input power is 120 V, it delivers amperage in the range of 20 A to 140 A, and the rated output stays 130 Amps at 15.2 V with a 40% duty cycle. At 240 V, the amperage ranges from 20 A to 210 A, with the rated output being 210 Amps at 23.6 V with 2 out of 10 minutes in the duty cycle.
Using constant current in Stick welding, where the input power is 120 V, it delivers amperage in the range of 30 A to 90 A, and the rated output stays 90 Amps at 23.6 V with a 40% duty cycle. At 240 V, the amperage ranges from 30 A to 200 A, with the rated output being 200 Amps at 28.4 V with 15% in duty cycle. For both TIG and Stick welding, the OCV rises up to 46 VDC.
Application And Material Thickness
Auto body restoration, repair, and maintenance are the most typical applications. But you'll have flexibility and ease in other areas, including light fabrication, farm, and home projects.
MIG Welding: 24 gauge to 3/8 inch (steel) and 18 gauge to 3/8 inch (aluminum)
TIG Welding: 24 gauge to 1/4 inch (aluminum and steel)
DC Stick Welding: 16 gauge to 3/8 inch (steel)
Pros
Capable of allowing five welding processes and delivering high amperage ranges with up to 60% duty cycle
Ideal for metal fabrication and welding professionals with the need for versatility in applications
Not the lightest of all welders, but the ergonomic, over-molded carry handle ensures excellent grip and portability.
Extended support for TIG adjustability
QuickTech and Auto-Set Elite for great convenience in different welding applications
A complete package that includes all high-quality components and accessories
Cons
Way too expensive for hobbyists and DIY people
Buyer's Guide: Things To consider
Since a welding machine is not like some small accessories, you want to do your homework and learn as much as you can before buying any model finally.
So, I think the above reviews will make perfect sense for you if you understand the following factors clearly. Guess what? Well, here is my buying guide to the best welder for auto bodywork.
Amperage
Amperage measures how much electricity flows past a certain/given point in an electrical conductor each second. Some guys call it 'current'.
As I go on discussing this significant factor, I want you to know that we'll explore a good number of details that will help you understand how much amperage you need to weld metals with certain thicknesses.
A 115 V MIG welder that delivers 140 A can weld up to 1/4-inch steel. A 220 V welder that delivers around 200 A can handle up to 1/2-inch steel. I know these numbers seem to solve the puzzle for you, but you need to know more if you want to succeed in an ideal world.
When it comes to TIG welding, I can present you with a rule. Try to remember this: 1 Amp for 0.001 or every thousandth of the metal thickness. For example, you need around 125 Amps to weld 1/8-inch material. With thicker material, you may need to make some deviation like 280 Amps for 3/8-inch.
For Stick Welding, the calculation is pretty straightforward. Most of the applications can be handled with a maximum of 200 Amps, which means any model that delivers between 225 A and 300 A is good enough.
Keeping these numbers in mind, you can handle up to 3/8-inch metal with multiple passes. Experience and skills in the job may enable you to weld up to 1-inch. I promise that is not a joke.
Heat Transfer Mechanism
The metal drops, transferred during welding, contain heat content that determines how weld penetration occurs. Those drops also have an impact on the weld pool, which is liquid metal. That impact tells us how deep the penetration is.
This particular mechanism impacts the area of the weld bead and its solidification rate. It is also associated with the metallurgical structure, distortion, and properties of the resulting product.
It is okay if you don't find it as interesting as some of the other parts of my discussion. I put it here, in case you would ask like many do.
Additional Features
Choosing a welding machine for an auto body project is not only about the amperage or the power of the unit. Certain features are important for any MIG/TIG/Stick or multiprocess welder to be suitable for common automotive or fabrication purposes.
I like to start with safety features which include thermal overload, cooling system, safety contactor, etc. Speaking of convenience in operation, I can remember a few features such as voltage settings, 'wire feed speed' adjustments, spool gun assembly, gas connector, etc.
No matter which brand or model you settle for, some smart features always come useful. Automatic or manual mode selection for welding parameters, digital display for an accurate reading, LED indicators, etc., are quite common these days.
What Type Of Welder Is Used For Auto Body?
A MIG welder outperforms the other types in many ways. Ease of use, clean weld, and speed of operation are the key benefits while you might accept some compromise on precision.
A MIG welder is specifically ideal for most of your auto bodywork due to its capability of handling a wide variety of metals and thickness ranges. Whether you do some quick repairs or maintenance, you won't have to sacrifice the welds' clean appearance or strength.
What Is The Best Welder For Auto Sheet Metal?
Both TIG and MIG welders are used for sheet metal, but the former is better than the latter, particularly for stainless steel and relatively thin aluminum sheets. With a TIG welder, you can lower the power to completely prevent the welder from penetrating through the sheet metal. This control makes a TIG welder a preferable machine.
Frequently Asked Questions (FAQs)
Now is the time for some common questions that I've seen many people ask as they start looking for a welder for auto bodywork.
Is A Flux Core Welder Good For Body Work?
Using a flux core welder means you're not relying on any external shielding gas for your work because the flux-cored wire provides for that. Now, the problem with flux-cored wire is that the temperature during the process may become a little erratic, leading to unexpected burn-through in the auto body that often uses very thin materials.
The sheet metal that was once familiar in the automotive industry used to be 18 gauge or 0.0478 inches/ 1.214 millimeters. These days, we see more 20-gauge sheets than 18-gauge ones. So, the thickness is 0.0359-inch/ 0.91186 millimeters.
Auto body repair professionals agree that flux-cored welding works best for materials in the range of 3 to 5 mm. Is it not way too much for automotive sheet metals? I think you got my answer.
Can You Use A Stick Welder For Auto Body Work?
The challenging learning curve involved in TIG welding is perhaps the reason you want to pursue Stick welding in the first place. You have to put a wire stick between a couple of plates to provide a point where the metal touches.
This may seem a bit tricky, but acquiring skills in this process is fairly easy for those who have been into welding for a while. Stick welding allows you to complete auto bodywork with good chances of success. A car has several points where bends and joints are necessary. Stick welding proves useful in all those cases.
What Type Of Welding Is Used On Cars?
Automotive repair professionals use all three processes such as MIG, TIG, and Stick welding, for all of them have distinct advantages to offer. It is part of the reason why I've presented you reviews of these three types.
Are you wondering why MIG or TIG, or Stick welding is more suitable than the other? I suggest that you go through some of the above questions where I've given my explanations.
What Is The Best Welder For Car Restoration?
A MIG welder with the required power and technical specs is what you would wish to have for this purpose. While TIG welding is useful on some occasions, MIG welding offers flexibility in car restoration where out-of-position or overhead welding is required.
What Type Of Welder Is Best For Sheet Metal?
If you look back a little, you'll see that I've suggested TIG welding as the preferred method for auto sheet metal. The same applies to sheet metals in general. So, you can get a TIG welder and hone your skills in that area before working on sheet metal.
Is It Safe To Weld Near A Gas Tank?
Probably, you've seen many people weld with a gas tank nearby. Even some experienced fellows do it. But such a practice is not okay for everybody. Removing a gas tank or keeping your work away from the source of gas is recommended.
Alternatively, you can fill the tank with water and purge it with some inert gas prior to using a wet cover. It is the best thing you can do to keep welding while a gas tank is close by.
Can You Weld Exhaust On The Car?
Yes, you can do it, but you can afford to make mistakes like trying to lay a perfect weld with extremely restricted access or without removing the exhaust system correctly. It takes only half an hour for anyone with knowledge to remove the exhaust. Follow these tips to save yourself from further complications.
1. Use proper gear to protect yourself from toxic fumes coming from galvanized metals.
2. Use a high-quality heat shield (preferably a sturdy metal sheet) to protect various components.
3. Tack your metals together properly while removing the exhaust.
4. Use the right filler for stainless steel exhaust pipes.
5. Use heat-resistant paint to enhance the rust protection on steel pipes that use an aluminum coating.
Will Welding Damage Electronics?
As with any heavy appliance, there are chances that welders overload your home's electrical circuit. Also, the use of welding machines without recommended settings may have adverse effects on the entire electrical system at your home, only to cause damages to other electronics.
Similarly, automotive welding may interfere with your car's electronic components, including the Engine Control Unit (ECU). Even the airbags may catch fire. To avoid damaging the vital parts of the car, such as the ECU. The best practice is to choose a spot for welding that is conveniently away from car electronics.
How Many Amps Does It Take To Weld A Car Panel?
A car panel uses thin metal, which is why I recommend that you use exactly the same amperage settings as TIG welding (See the 'Amperage' section).
Final Verdict
Let me reiterate the top choices once again. Millermatic 211 stays at the top for good reasons, such as a wide range of material thicknesses and decent output power.
PRIMEWELD TIG225X is the best TIG welding machine on this list because of its affordable price and user-friendly features. I emphasize usability because you need a lot of that on a job as challenging as TIG welding.
You may have seen better multiprocess units than Weldpro 200 Amp Inverter Multi-Process Welder. You know what? I did too. But none of them could strike a nice balance between the value and the price quite like the way this one does.
I could consider the Goplus MIG 130 Welder the best budget-friendly unit, but you see, Forney Easy Weld 261, with its 140 Amps of output power, easily makes a stronger case.
Finally, I would like to focus on Multimatic 220 and Hobart 210 MVP because they pack the right amount of power and some really useful features. However, the prices of these units might divert your attention elsewhere.
I've tried to be thoughtful and honest about my reviews so you don't end up paying for a useless welder. I understand you might have more questions for me. Why don't you shoot me a message? It would be my pleasure to help you further.