Neither Hobart nor Miller can be crossed off the list of brands that made a name for themselves as the leading manufacturers of welding and fabrication machinery. As a result of endless competitiveness and the aim for standing out, welding enthusiasts often have more than one similar choice around and end up choosing the one they don't want.
Hobart 210 and Miller 211 make an excellent pair of those examples which I'm going to talk about today. Starting with a quick table, I'll present you an in-depth comparison between the two MIG welders, and by the end, you'll feel like it is pretty easy to identify the right model.
Hobart 210 MVP Vs Miller 211: Quick Comparison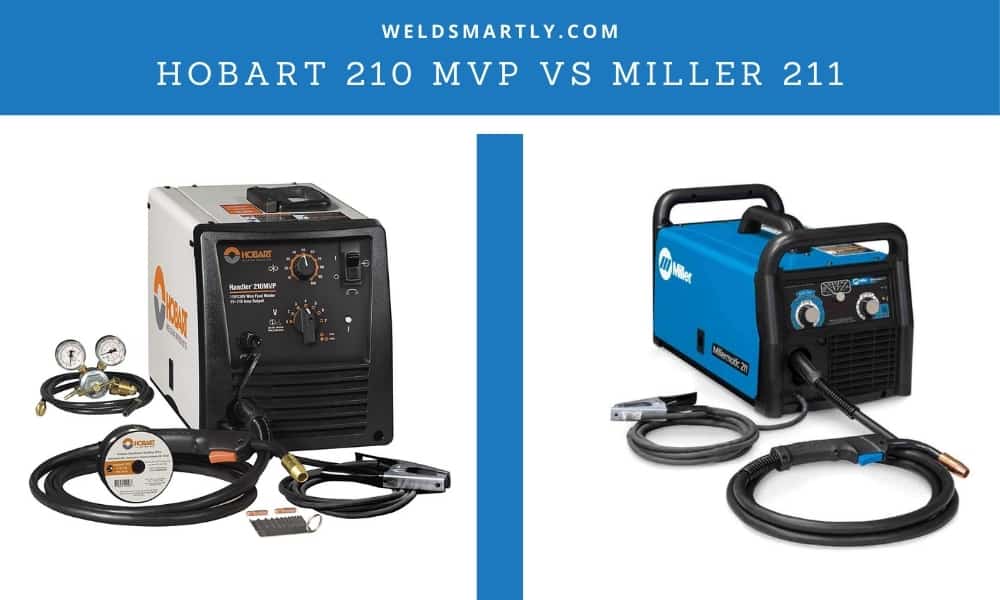 This section is intended for someone who believes it helps them to have all the specs in one place and make a choice. The following table is also useful for the rest of us who love to roll our eyeballs a little more.
Features and Specs
Hobart 210 MVP
Miller 211
Input Power
115 V, 230 V
120 V or 240 V
Input Current at Rated Output
20 (115 V), 24 (230 V)
24.3 A (120 V), 16.6 A (240 V)
Output Current Range
115 V: 25-140 A, 230 V: 25-210 A
120 V: 30-130 A & 240 V: 30-230 A
Output Current, Voltage, Duty Cycle
115 V: 90 A, 19 VDC,  20%

230 V: 150 A, 23 VDC,  30%

120 V: 115 A, 19.8 VDC, 20%

240 V: 150 A, 21 VDC, 40%

Open-Circuit Voltage (OCV) (Max.)
115 V: 28; 230 V: 34
54
Wire Feed Speed (WFS) Range
115 V: 40 – 680 ipm

230 V: 60– 770 ipm

60 – 600 ipm or 1.5 to 15.2 m/min.
Thermal Overload Protection
Yes
Yes
Processes
GMAW and FCAW
GMAW and FCAW
Materials
Mild Steel, Stainless Steel, Aluminum
Steel and Aluminum
Metal Thickness
24 Gauge – 3/8 Inch
120 V: 24 Gauge – 3/16 Inch (Steel), 18 Gauge – 1/8 Inch (Aluminum)

240 V: 24 Gauge – 3/8 Inch (Steel), 18 Gauge – 3/8 Inch (Aluminum)

Applications
Repair or maintenance, auto body, boat, DIY, metal art, fabrication, and marine
Light fabrication and maintenance, farm, and autobody
Weight and Dimensions (H x W x D)
79 lbs./ 35.8 kg., (315 x 270 x 495 mm)
38 lbs./ 17.2 kg., (318 x 286 x 521 mm)

42 lbs. including gun

Warranty
5/3/1 Years
3 Years
The above details are just numbers and words if you cannot compare them for the two models in discussion. But don't worry as I'll inform you of everything that affects a buying decision.
Hobart 210 MVP MIG Welder Review

Product Features
Versatile Performance: The Hobart 500553 Handler 210 MVP welder boasts 210 amps of welding power, catering to both light tasks and heavy-duty projects.
Plug & Play Flexibility: Thanks to the Multi-Voltage Plug (MVP) technology, this welder seamlessly adapts to 115V or 230V power sources, ensuring easy setup in any welding environment.
Perfect Aluminum Welds: With built-in spool gun circuitry, achieve smooth and accurate aluminum welds, elevating your welding projects to new heights.
Rugged Durability: Built with an all-metal drive system and sturdy construction, the Handler 210 MVP withstands tough conditions, guaranteeing long-lasting reliability.
User-Friendly Design: A simple interface and intuitive setup guide make using this welder a breeze, catering to both seasoned welders and beginners.
As an Amazon Associate I earn from qualifying purchases
Upon opening the package, you'll be able to access all the items including the HR-100 MIG gun, work cable plus clamp, gas valve, regulator, spool hub, drive rolls, power cord, owner's manual, and other accessories.
Build, Ease of Use, and Safety
Needless to say, the carry handle answers your question if you can really carry the unit using either of your hands. But I think the 79-lb. unit might just feel too heavy for you to enjoy the portability this Hobart model claims it offers.
The built-in contactor keeps the wire electrically safe and cold until you pull the trigger. The integrated circuitry that controls the spool gun is another aspect to the usability of this machine I would like you to notice. An additional adaptor or control box is not required to connect the spool gun. You can plug it in directly.
Should you switch between tubular and solid wires, there is the polarity changeover system. The door chart that shows all the initial settings, which I don't think makes a big difference, but it can assist beginners who need help with the right settings for their preferred material and thickness, and hence, the wires and gases.
Wire Drive and Drive Roll
One might wish the wire drive system came built-in with cast iron, but aluminum is pretty acceptable as long as you want a welding machine to be lightweight. Three grooves in the drive roll allow you to pick two for solid wire and one for flux-cored wire welding. That you needn't do the setup separately for different applications is why Hobart calls it a 'Quick Select' drive roll.
Voltage Control
Wouldn't you be glad to have three voltage settings for 230 V and four for 115 V in one machine? Also, you can choose from the infinite speed for the wire feed. All these are technically supposed to make it easy for the operator to control the unit's output parameters which might result in a stable arc and less spatter with improved bead appearance, saving you the hassles of post-weld cleanup.
Overload Protection
No questions about the protection or safety measures! There is a protection system for any occurrence of current overload. There is a self-resetting component to prevent the power transformer from having thermal overload. Again, the operator doesn't have to do anything about the circuit breaker when the wire feeder undergoes overload.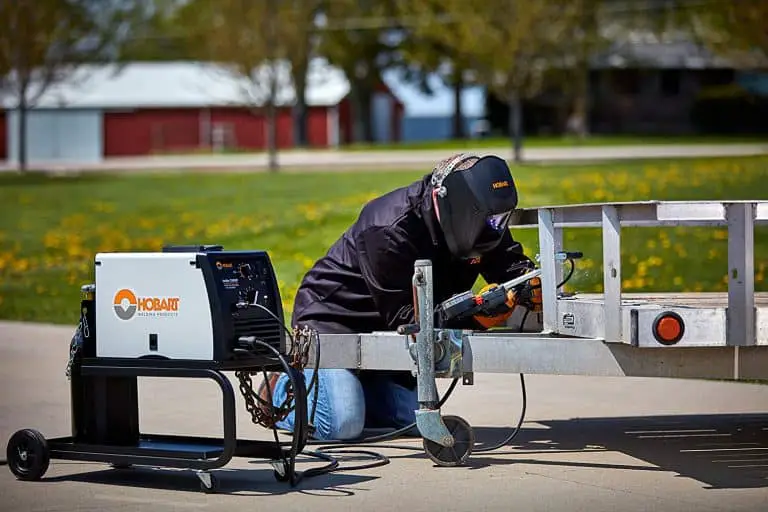 Power and Performance
Hobart 210 features dual-voltage input system and comes with a multi-voltage plug that allows you to connect it to 115 V and 230 V receptacles. Just choose the suitable power receptacle and you'll be good to start welding on 115 V or 230 V with welding amperage ranging from 25 – 140 A or 25 – 210 A respectively. OCV can be a maximum of 28 VDC or 34 VDC depending on the input power.
If you use 90 A at 19 VDC, the duty cycle should be 20%. Using 150 amps at 23 VDC, you'll get 30% of duty cycle. The wire feed runs at 40 – 680 inches per minute on 115 V and 60 – 770 inches per minute on 230 V.
Material Thickness
As with any decent MIG welder, the list of weldable materials you can handle using this one includes steel, mild steel, and aluminum. Ideal workpiece should be any mild or stainless steel having a thickness between 1/4 inch and 3/8 inch. You can try something slightly thicker or thinner, but for best results, you should follow the specs.
Seeing the thickness range (24 ga.– 3/8 in.) in the product literature, you might wish for a little more flexibility. Well, that is essentially meant for aluminum, and my findings over the years say 3/8 inch is thick enough for a project that uses aluminum.
However, this convenience comes at a cost. You need the SpoolRunner 100 gun to weld aluminum without much of the nagging 'bird-nesting' issue.
Applications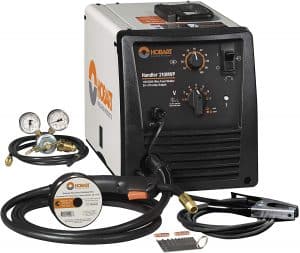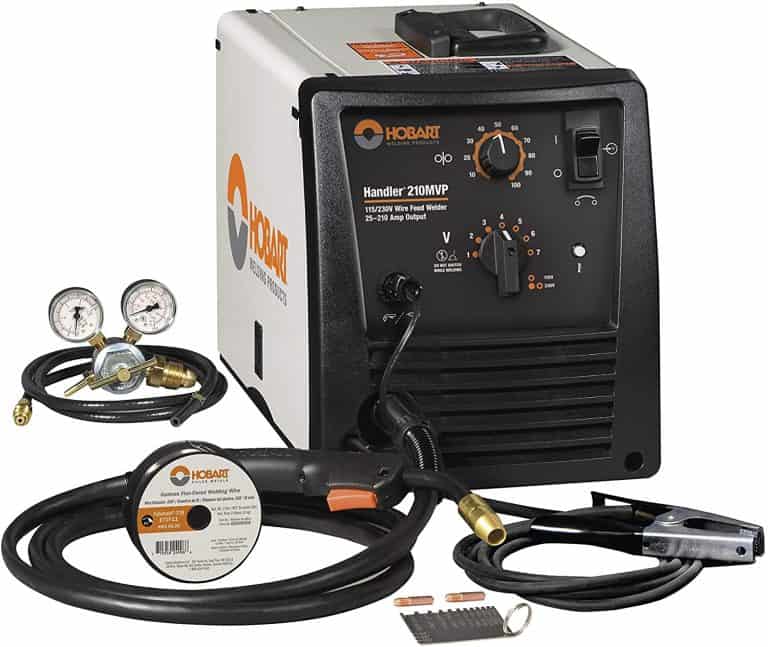 Hobart claims that this welder offers versatility. Well, professionals in manufacturing shops can use it. Even those engaged in racing and auto body customization and restoration can have it. Owners of farms or ranches or those who have some hobbies to pursue can rely on the machine only if doing some preps (cleaning or preparing the base metal) is not much of a problem.
If you are willing to pay a good price for a decent welding unit for your DIY endeavors, save yourself the trouble of looking at hundreds of cheaply built models. The 210 MVP MIG is also ideal for projects where the work can be as subtle as metal art or sculptures.
While the manual says applications specific to boats or marine vehicles are possible, I cannot explain this since I haven't heard from many people who already have used the 210 MIG for these purposes.
Warranty
Chances are this is the first machine from Hobart you're going through about. The manufacturer's '5/3/1' industrial warranty suggests five years on the main rectifiers, stabilizers, and transformers; three years on the drive systems, PC boards, and generators; just a year on the MIG guns.
Although I've seen mixed customer opinions of the way Hobart provides the warranty support, a fairly large portion of them doesn't have a complaint.
>>> Check The Latest Price Here <<<
Miller 211 MIG Welder Review

Product Features
Price For: Each Series: Millermatic 211 Aluminum - Material Thickness: 18 ga. to 3/8" Mild Steel - Material Thickness: 24 ga. to 3/8" Stainless Steel - Material Thickness: 20 ga. to 1/4" Hz: 60 Input Amps: 17
Millermatic 211 MIG Welder with Advanced Auto-Set - 907614
Includes: 10 ft. M-10 MIG Gun, 10 ft. Work Cable with Clamp, Built-In Gas Solenoid Valve, Dual Gauge Regulator with Gas Hose, Sample Spool of 0.030 in. Solid Wire, (2) 0.030 in. Contact Tips, (2) Hook-and-Loop Cord Wraps, Material Thickness Gauge Overall Width: 20-1/2 inch Standards: CSA Certified Overall Height: 12-1/2 inch
Features: Advanced Auto-SetTM, Auto Spoolgun Detect, Smooth-StartTM, Angled Cast-Aluminum Drive System, Quick SelectTM Drive Roll, Thermal Overload Protection, Fan-on-Demand Phase: 1 Input Voltage: 240VAC Welded Material: Aluminum, Steel Output Range: 30 to 230A DC Welding Processes: MIG/Flux Core Portability: Handheld Portable Application: Maintenance, Repair, Auto/Cycle Shops, Farm and Ranch Jobs, Hobby Welding
As an Amazon Associate I earn from qualifying purchases
Unless you are going to buy a welder for the first time, you already know what to expect after unboxing a package. You'll see exactly the same type of components and accessories (only subject to changes brought by the manufacturer) as the ones I mentioned in my Hobart 210 review above. Here is what I can tell you about the Miller 211 MIG Welder.
Build, Ease of Use, and Safety
The initial setup of this welder couldn't be easier! I mean this unit can be a boon to an absolute beginner who just knows how welding works but has a very little grasp of the actual settings that work, thanks to the Auto-Set feature!
This operational mode allows five different combinations of wire sizes (diameter) and gas (amount to be used) which include the use of wires having a diameter of .024/ .030/ .035 inch. You can use three types of wires across these sizes such as,
Steel: .024, .030, .035 inch
Stainless Steel: .024, .030, .035 inch
Flux-cored Wire: .030, .035 inch
4043 Aluminum: .030, .035 inch
The Auto-Set technology is all about convenience. How does it work? Let me explain in the next two paragraphs.
Locate the specific knob for wire selection and gas combination. Then, you need to turn the 'wire speed control' clockwise, so you can activate the Auto-Set mode. Look at the blue LED nearby. It tells you whether or not the mode is activated. After that, you'll choose the wire diameter. Finally, you have to select the thickness of the material being welded.
The best part of having the Auto-Set in use is that you need not worry about the parameters being set accurately. Make sure you have the Spoolmate 100 in place before welding aluminum. Also, note that the wire you'll use determines which shielding gas should be used in the process.
Look at the list below to learn which gas and wire type can be selected.
Steel C25, C100
Stainless Steel
Flux-Cored (or Self-Shielded)
Aluminum
If you are confident that you can get the right parameters without assistance from the Auto-Set feature, you can always choose to work with the manual mode that requires some understanding of the basics which I guess you already have. Let's get to it right away.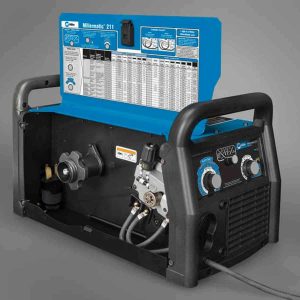 Apparently, Miller has left no stone unturned to make the operation easy and fun for operators, especially the beginners who want to avoid the Auto-Set and apply their own parameters. Locate the access door and find the settings chart on its inside section. This chart helps the user determine the wire speed and voltage settings.
As an optimal arc start is desirable, you can turn the 'wire selector knob' and get the gas and wire combination properly. While working with this mode, you might want to refer to the white areas specified on the unit's controls.
The inverter technology being applied brings excellent arc properties in terms of the variations in arc length and travel to this portable machine that weighs only 38 pounds. You can carry this one 2 ways, either by holding the handle mounted in the top-middle part of the casing or by holding the two handles mounted on both sides. Much better, right?
Despite all things considered, I have more features to explain, so you can justify the suitability of this MIG welder on your account.
Wire Drive and Drive Roll
The drive system uses cast aluminum, but its angled design lets you work with a longer MIG gun (up to 15 feet) and a calibrated knob facilitates the setup and feeding process.
The 'Quick Select' bearing drive rolls part #261157 accept .024, .030, and .035-inch solid wire. You can use a V-Knurled Drive Roll (part #202926) that has a dual groove system to accept .030, .035, .045-inch flux-cored wire.
Overload Protection
The 'thermal overload protection' system works on two occasions. It starts working as the airflow gets blocked by any means or you already have exceeded the duty cycle. It automatically shuts down the machine activating a light designed to signal excess temperature. After your welding machine cools off, the system resets itself without requiring your intervention.
Power and Performance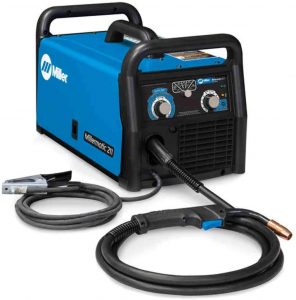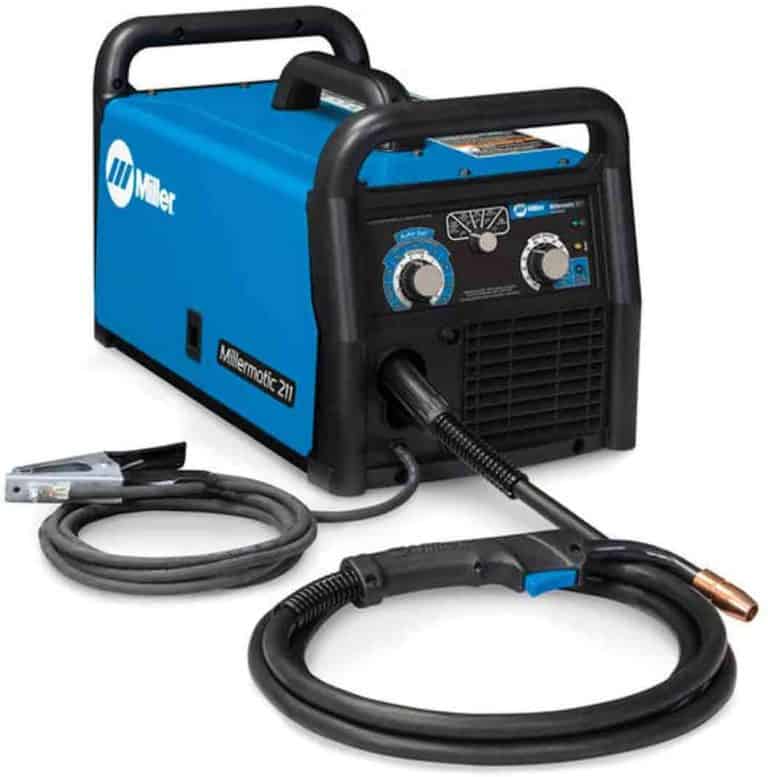 The Miller unit connects to 120 V or 240 V power receptacles using its multi-voltage plug (MVP). It delivers a rated output of 115 A at 19.8 VDC on 120 V where the duty cycle is 20%. On 240 V power, it delivers 150 A at 21.5 VDC, and the duty cycle is twice as much, 40%.
With a maximum OCV (open-circuit voltage) of 54, Millermatic 211 easily outperforms most of its competitors when it comes to the arc quality and characteristics, the reasons you would want to choose this one over a hundred models.
Don't you want to learn if the unit has any special feature to deliver a smooth arc start? Well, the 'Smooth-Start' is that particular innovation that offers a spatter-free arc start, making the welder one of the most sophisticated packages in the category of small welding machines, if not the 'best'.
Material Thickness
The voltage option you choose determines how thick your work material should be. Using 120 V or 240 V power, you can weld steel and mild steel plates that are not thinner than 24 gauge and thicker than 3/16 inch. Choose aluminum (18 gauge to 1/8 inch) for the same. On 240 V power, thicker (up to 3/8 inch) aluminum or steel plates can be welded.
Applications
The assortment of advanced features might just be too tempting for anyone to bring the Millermatic welder to a commercial or industrial site. In practice, you should only use it as long as there are needs for light fabrication or maintenance work.
Basic repair and auto body projects can also be handled. Perhaps, it is safer to say that farm owners and hobbyists are the people who can get the most out of this welder.
>>> Check The Latest Price Here <<<
Few More MIG Welders I Compared:
Final Verdict
I knew it would come down to a point where the final word is the only thing that might satisfy your curiosity. After reviewing the power, performance, customer reviews, and other factors carefully, I've found a few clues to help you reach a verdict.
Neither of these welders can be called more expensive or affordable because they come at nearly the same cost. So, I think you can look at the whole thing this way.
The Hobart 210 MVP comes with a sturdier build, better warranty, and a promise of improved productivity in terms of operational speed and versatility.
The Auto-Set and Manual Control modes along with extremely lightweight build make the Millermatic 211 the better of the two units.
As I've pointed out the factors that make either of the machines better or less desirable than the other, you should be able to form your own opinion based on your individual preferences.
But if you cannot move ahead, feel free to shoot a message, so I can make it even easier for you. Wishing you the 'best' buy!