Today, I'm going to talk about two popular MIG welding machines, both manufactured by Hobart. If you've been on this site for some time now, you may have seen that I usually pick products from different brands with about the same 'value for money'.
But in this article, I'll describe where Hobart 190 and 210 get better than each other. The point is I want to satisfy the curiosity of some of my pals who are set to buy one of these MIG units for their next welding projects. As you're reading this comparative review, you can use some insights too.
Hobart 190 vs 210 MVP MIG: Quick Comparison
This table is meant to let you have a quick take on each welding machine, so you can use this as a quick reference prior to buying one of them.
Features and Specs
Hobart Handler 190
Hobart 210 MVP
Input Power (Voltage)
230 V
115 V, 230 V
Input Current @ Rated Output
20.5 A
20 (115 V), 24 (230 V)
Output Current
25-190 A
115 V: 25-140 A, 230 V: 25-210 A
Output Current, Voltage (DC), Duty Cycle
130 A, 21.5 V @ 30%
90 A, 19 V @ 20% (115 V)

150 A, 23 V @  30% (230 V)

Maximum OCV
31 V
(115 V/ 230 V) 28/ 34
Wirefeed Speed
40 – 700/ 50 – 740 IPM @ Zero Load
40 – 680 IPM (115 V)

60– 770 IPM (230 V)

Overload Protection (Thermal)
Available
Available
Processes
FCAW, GMAW
FCAW, GMAW
Materials
Steel, Aluminum
Steel, Aluminum
Metal Thickness
11, 16, 18, 20, and 24 Gauge; 5/16, 3/16 and 1/4 Inch
24 Gauge to 3/8 Inch
Applications
Auto Body and Metal Fabrication, Maintenance, or Repair Sculptures, DIY
Metal Fabrication, Auto Body Repair or Maintenance, Marine Vehicles, and Sculptures
Weight and Dimensions (H x W x D)
68 lbs./ 31 kg., (315 x 270 x 495 mm)
79 lbs. and (315 x 270 x 495 mm)
Warranty (Industrial)
5/3/1 Years (Limited)
5/3/1 Years
The list of specifications may give you the reason to wonder why I'm about to review and compare two products with several points of similarity in between them. Read more to learn.
Hobart 190 MIG Welder Review

Save $89.27
Product Features
Your purchase includes – 10 ft. HR-100 gun | 10 ft. work cable with clamp | .030" contact tips | Power cord with plug | Welding guide and material thickness gauge | Owner's manual with installation, operation and maintenance guidelines
Specifications: Input voltage – 230V 60Hz | Amp range – 25-190 amps | Duty cycle – 30% at 130 amps | Mild Steel thickness range – 24 ga. 5-/16" | Spool radio diameter inner/outer – .62"/1.95" | Max spool capacity – 11 lbs. | Power cord length – 6 ft.
7 voltage selections, enhanced magnetics and infinite wire feed speed control offers easier fine control of the output parameters for improved arc performance with less spatter
You are able to quickly reference initial settings for different wires, gases, materials, and thicknesses. Provides you a quick starting point whether you are a novice or professional
Less of your time consumed in setup by offering three grooves – two for different size solid wire and a third for flux-cored wire | Protects power transformer from thermal overload to provide you maximum reliability
As an Amazon Associate I earn from qualifying purchases
Hobart 190 is definitely the more affordable of the two welding machines here but not essentially the modest one if you know what I mean. Let me put the truth about this unit in this matter-of-fact review.
Build, Ease of Use, and Safety
Both packages include a door chart to show the initial settings, which only confirms that Hobart is serious about making its products useful to all operators, by not just delivering beginner-friendly welding machines, but also by providing quick references.
You need not worry about a solid starting point because you have the right settings for the most common types of materials, wires, and shielding gases.
Most beginners have little idea about the need for the welding wire to be electrically cold while the trigger of the MIG gun is not pulled. The built-in contactor does its job by keeping the wire safe. That brings us to the other features of the machine.
Wire Drive and Drive Roll
The wire feeder inside the housing is no different from what you expect it to be. The same applies to the quick-release lever and adjustable tension settings.
Just set the specified knob to 3 at the beginning of your operation. Moving forward, you may need to set the tension. The wire remains accessible enough to let you thread a new wire.
The drive roll with its three grooves won't try your patience as you start the setup. Be careful about choosing wire diameter while matching the feed roll groove.
Voltage Control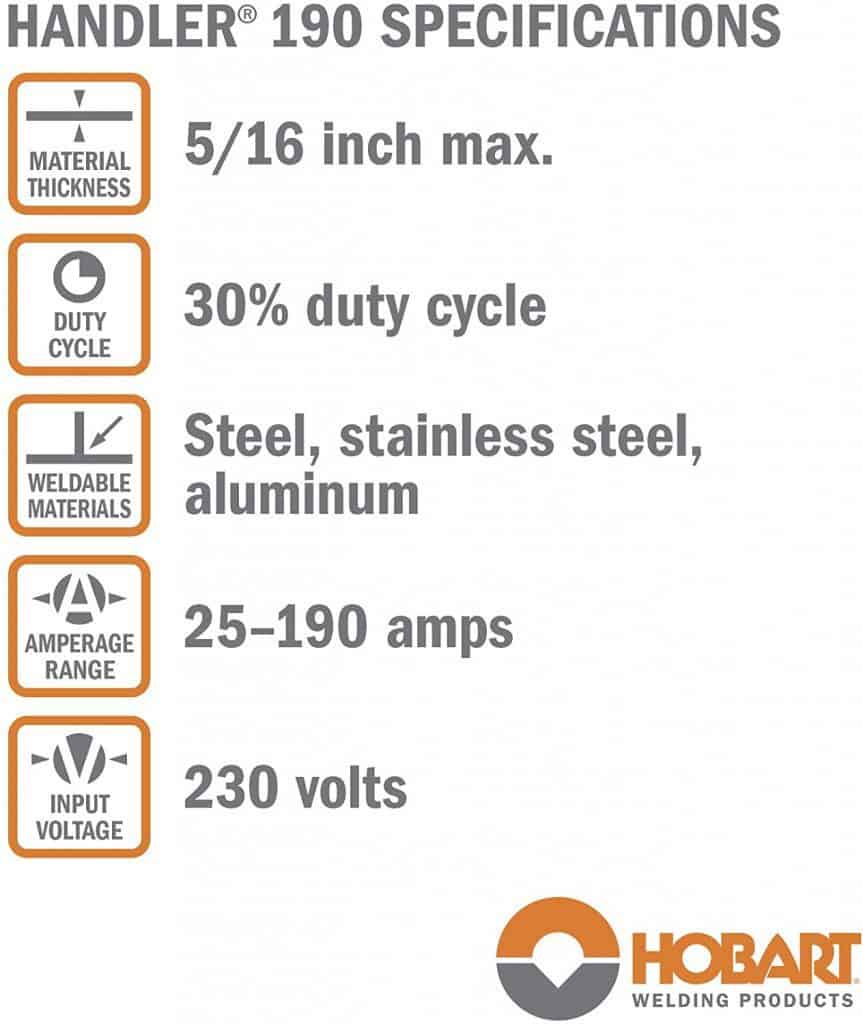 There are seven voltage selections along with improved magnetics and an "infinite control" function to adjust the wire feed speed. I am sure you want to avoid post-weld clean up as much as possible.
With this unit, you can have an optimal control of the output parameters that keep the arc stable and effective enough to result in less spatter and hence uncompromised bead appearance, minimizing the need for cleanup.
Polarity Changeover
If Hobart 190 is not the first welding machine you've come across, I guess you already know how polarity changeover works. DCEP is the choice if your work involves solid wire and DCEN is required for flux-cored wire.
Oh, I almost forgot to tell you about the storage holes and the tip holder. Sure, these little extras come handy when you're carrying the machine to your job site.
Overload Protection
I got three separate safety features here such as the "short circuit", thermal, and motor overload protection with the first one to work in the event of current overload, the second one to reset itself to provide the protection of the power transformer, and the third one to reset automatically as any instance of overload occurs.
Built-in Control Circuitry (Spool Gun)
The control circuitry that comes integrated makes it easy for you as well as any user to plug in the spool gun without looking for an extra adaptor, control box, or any tool.
You might be asking why a spool gun is required in the first place. You may want to use steel wire and/or aluminum at some point. You got the answer, I guess. Still confused?
Well, using soft wire might cause some annoying wirefeeding problems which can be dealt with the spool gun (SpoolRunner™100 in this case). Locate the selector switch and use it to pick up your desired mode from the spool gun and MIG modes.
Power and Performance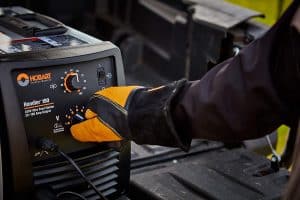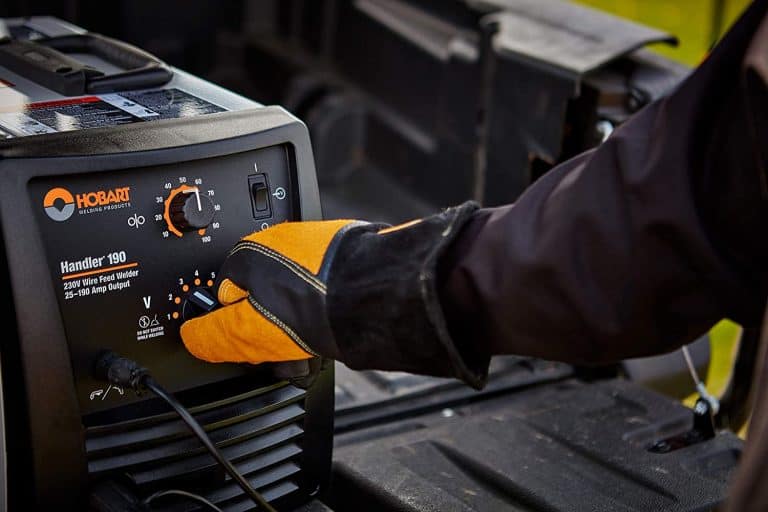 You don't need any special arrangement other than 230/240 V circuits. At 21.5 VDC, the rated output is 130 A and the duty cycle is 30%. The machine outputs at least 25 A and up to 190 A, and the open-circuit voltage is 31 V.
The speed of the wire feed is 40 to 700 inches/ minute. The wire feed can be sped up slightly (up to 740 inches/ minute) at zero load.
Take a look at factors like the condition of the metal in use, travel speed, welding angle, and stickout since they might affect how fast the wire feed goes. Use the operational manual if you have to fine-tune the speed for your work.
Material Thickness
I believe you know which metals to pick when you have Hobart 190 to use. So, let's look at the following list where I've put the required shielding gases, metal, and wire specifications.
Mild Steel
Thickness (24 Gauge to 5/16 Inch), Solid Wire, 75% Argon + 25% CO2 (Most Preferable)
Thickness (18 Gauge to 1/4 Inch) Solid Wire, 100% CO2
Thickness (20 Gauge to 1/4 Inch), Solid Wire, 90% Helium + 7.5% Argon + 2.5 CO2 (Most Preferable)
Thickness (20 Gauge to 5/16 Inch), Flux-Cored Wire (Ideal for Outdoor Projects and Windy Conditions)
Aluminum
Thickness (16 Gauge to 1/4 Inch), Spool Gun (SpoolRunner 100), 100% Argon (Most Preferable)
Applications
I wouldn't be wrong to take this unit as a perfect companion for hobbyists like me and my neighbors, but I guess there is more to its usability. Small repair, maintenance, and auto body shops can use the unit for most of their welding tasks.
If you value arc stability which you should do on most occasions, this machine can be a great addition to your collection of tools for metal art, fabrication, and DIY applications.
Warranty
Hobart has always seemed eager to advertise their products using certain selling points among which the "5/3/1" industrial warranty is important. Five years is only applicable to the transformer. Three years is applicable to rectifiers, drive motors, and some other electronic components. The MIG gun has only a year of coverage with it.
>>> Check the latest price here <<<
With the end of my Hobart 190 review, it is time for knowing about another welding machine. Is it the better one? I won't tell right away, not in a few words.
Hobart Handler 210

Product Features
Versatile Performance: The Hobart 500553 Handler 210 MVP welder boasts 210 amps of welding power, catering to both light tasks and heavy-duty projects.
Plug & Play Flexibility: Thanks to the Multi-Voltage Plug (MVP) technology, this welder seamlessly adapts to 115V or 230V power sources, ensuring easy setup in any welding environment.
Perfect Aluminum Welds: With built-in spool gun circuitry, achieve smooth and accurate aluminum welds, elevating your welding projects to new heights.
Rugged Durability: Built with an all-metal drive system and sturdy construction, the Handler 210 MVP withstands tough conditions, guaranteeing long-lasting reliability.
User-Friendly Design: A simple interface and intuitive setup guide make using this welder a breeze, catering to both seasoned welders and beginners.
As an Amazon Associate I earn from qualifying purchases
Inside the package are the HR-100 MIG gun, gas regulator and valve, work cable with work clamp, drive rolls, power cord, spool hub, and operator manual plus a few other accessories.
Build, Ease of Use, and Safety
If you want to be happy with a lightweight welding unit that can be carried anywhere, I think the 210 MVP cannot be the best choice around. But the carry handle makes up well for the weight which is 79 lbs. Also, this one is not the heaviest of welders because I've seen bulkier units than this.
Speaking of the common components that come with both models, I got the built-in contactor, circuitry control, polarity changeover system, and the chart of initial settings. As I discussed each of these components earlier, I'll jump straight to the other parts.
Wire Drive and Drive Roll
The aluminum wire drive system may not be as sturdy as a cast iron wire drive, but don't underestimate aluminum because it is strong enough. You'll see the same three grooves used in the unit's drive roll. That is pretty much what I could tell about Hobart's 'Quick Select' drive roll.
Voltage Control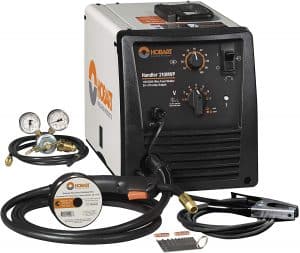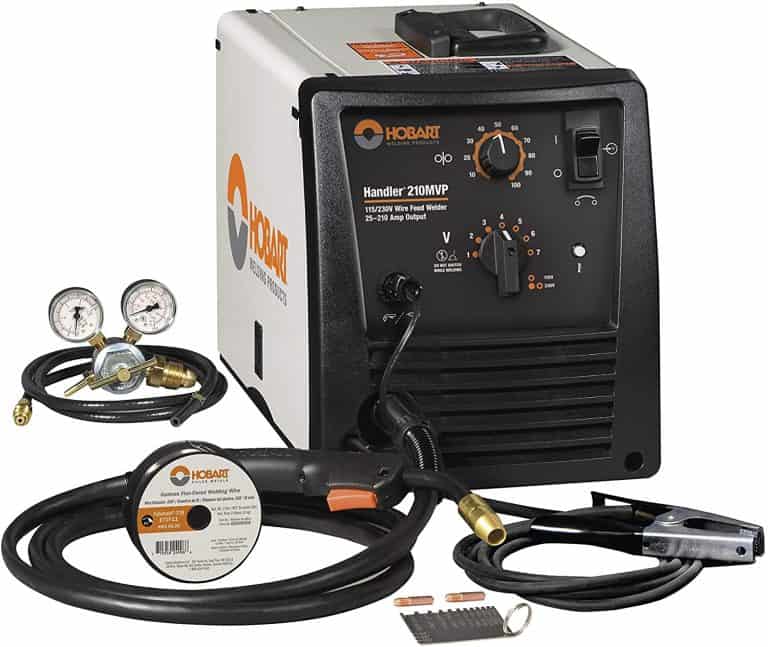 Seven voltage setting options including three for 230 V plus another four for 115 V. The wire feed can be controlled with the "infinite speed" system.
This machine allows for the same degree of flexibility and convenience as Hobart 190 does in terms of controlling the output parameters. No worries about arc stability, spatter, bead appearance, and post-weld cleaning.
I won't start another section to explain how Hobart goes about safety for this model since all the safety features of the 190 MIG welder are available in this MVP MIG welder. Let's get to the factors where the actual differences are.
Power and Performance
Did I mention anything about the meaning of MVP as in Hobart 210 MVP? Well, the machine features a dual-voltage input and has a multi-voltage plug for 115 V and/or 230 V receptacles which allow you to get welding amperes from 25 – 140 A with an OCV of 28 VDC and 25 – 210 A with an OCV of 34 VDC.
You'll have 2 minutes of welding operation out of 10 which accounts for 20% on 90 A at 19 VDC. An additional minute, I mean 30% can be achieved with 150 amps at 23 VDC. The speed of the wire feed can be 60 – 770 IPM on 230 V and 40 – 680 IPM on 115 V.
PS: Calculated with a 10-minute cycle, duty cycle in welding indicates how long a machine can be allowed to run at a given output power without pushing its components/ parts to exceed their temperature limits.
Material Thickness
You know which materials to work with. So, I'll only provide a list of ranges of material thickness for better understanding.
Mild and Stainless Steel: 1/4 to 3/8 Inch
Aluminum: 24 Gauge to 3/8 Inch
Practically speaking, you have the liberty to choose slightly thinner or thicker materials, but I think you want to keep the above recommendations in mind because the best output is all that matters in the end. One more thing to remember! You'll need the SpoolRunner 100 to work with aluminum.
Applications
Again, we've found something common about the two welding machines in discussion. Like Hobart 190, this 210 MVP model comes handy when you want to use something of a decent welder for small metal fabrication and autobody shops, DIY hobbyist projects, and metal art.
However, the higher degree of comfort and excellence that the 210 MVP MIG has to offer is experienced by those who engage themselves in metal art and sculptures.
With this unit, you can have an upper hand compared to others with the 190 model on projects involving repairs of marine vehicles like boats.
Warranty
Since both welders are from Hobart, you should have no difficulty imagining that the warranty support for this model is not different. Don't worry about Hobart's customer support for this machine because most customers who have had their own feedback to pass don't seem to question the manufacturer's integrity.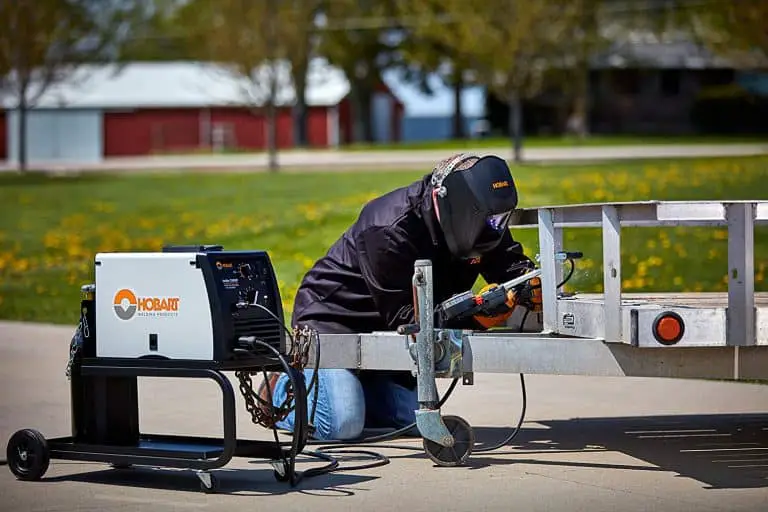 >>> Check the latest price here <<<
Few More MIG Welders I Compared:
Final Verdict
Knowing the differential between the prices of these two machines, you might reach a conclusion that Hobart 190 is better than the other one that costs nearly twice as much. That is easy and obvious.
But I think you should consider the points which make Hobart 210 a more desirable package than the 190 MIG welder. Dual-voltage input system is the one we can start with. Then, we may look at the duty cycles and wire feed speeds. You'll see the same for the current outputs as well.
Don't all these specs make a stronger case? Well, consider the material support, particularly the range of thickness. This one factor alone makes Hobart 210 a suitable pick for many professionals.
I hope you've got what it takes one to draw a fair comparison between the two of Hobart's MIG welding machines. But feel free to send a message if there is still something you need my help with. Stay safe and invest wisely.