Talking about the importance of soldering and welding is pointless if you already know about them. But, both of them have the drawback of emitting hazardous gases. Welding fumes contain considerable amounts of hydrogen fluoride gas, carbon monoxide, argon, and carbon dioxide.
Also, the gases are known to contain manganese, beryllium, lead, aluminum, and arsenic. All of these can cause severe illnesses like cancer, kidney failure, and lead poisoning. So, is it wise to breathe in those poisonous fumes?
No, we're not saying that you should stop working with metals. But, you can save yourself from these harmful gases just by getting a portable fume extractor. It can save your life by preventing you from contracting life-threatening infections.
That's why I've brought to you this detailed guide where you can find the best portable fume extractor among the 12 options that can save you from welding fumes.
Best Portable Weld Fume Extractors: Quick Comparison
Before we dive into the detailed reviews of the portable fume extractors, let's give you a short summary of the devices' specifications.
| | | | | | |
| --- | --- | --- | --- | --- | --- |
| Products | Input Power (V) | Air Flow (CFM) | Dimensions (inches) | Weight (lbs.) | Application |
| VentBoss S110/G110 | 110 | 750 | 35x22x36 | 445 | Stick Welding, GMAW, Gas Metal Arc Welding, MIG Welding |
| Lincoln X-Tractor Mini | 120 | 108 | 16.8×15.6×29 | 43 | Flux-Cored Welding, MIG Welding, TIG, and Stick Welding |
| PACE Arm-Evac | 120 | 155 | 12x12x17 | 20 | Benchtop soldering, Laser and Solvents |
| 150 cfm VentBoss S130/G130 | 110 | 150 | 16x14x18 | 50 | Stick Welding, GMAW, Gas Metal Arc Welding, MIG Welding |
| BAOSHISHAN Solder Fume Extractor | 110 | 106 | 20×17.5×16 | 24.9 | MIG Welding, Stick Welding, DIY Soldering |
| Maxx Air HVHF | 120 | 2000 | 28x15x17 | 1.02 | GMAW, TIG and MIG Welding, DIY Soldering |
| KNOKOO FES 150 | 110 | 150 | 22x15x14 | 26.4 | Gas and removal in any soldering and welding environment |
| KOTTO Fume Extractor | 120 | 52 | 13.07×11.89×5.87 | 3.89 | 3D Printing, DIY Soldering and Welding |
| Kulannder Handy Carry Fume Extractor | 120 | 0.07 | 8.8x6x2.4 | 1.3 | Soldering Fume Extraction |
| Valtcan Fume Extractor | 110 | 37.8 | 11×9.5×6.5 | 3 | Pyrography, Solder Flux, and Glasswork |
| Kulannder Adjustable Fume Extractor | 120 | 0.07 | 11.42×5.55×4.53 | 2.53 | Soldering Fume Extraction |
| Xytronic 426DLX | 230 | 115 | 8.5x8x6.4 | 5.4 | Soldering Station |
12 Best Portable Welding Fume Extractors Reviews
1. VentBoss S110/G110 – Best Professional Weld Fume Extractor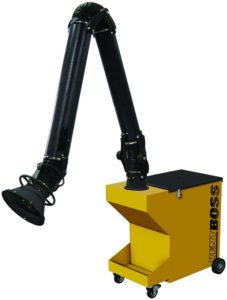 The 445 lbs. fume extractor might not be the easiest fume extractor to move around. But, the overall features and build quality compensates for what it lacks in mobility. You won't get a better deal within the price range it comes in.
Portable and 10-foot Long Arm
At first glance, it didn't appear to be a portable fume extractor to me. But, the wheels and the adjustable arm convinced me differently. This machine has a component that's 10-foot long. And it's designed to handle two or fewer solid wire coils per month.
750 CFM Airflow and 110V Voltage Power
The machine can generate 750 cubic feet of airflow per minute. It's a pretty decent amount considering the 0.75 HP motor it comes with. 110V input voltage is required to run the 0.75 HP motor. The horsepower and airflow are enough to clear out welding fumes generated from small projects at your home.
Reverse-Inclined Wheel and Flexible Light-Duty Performance
The VentBoss S110/G110 comes with a blower wheel that's reverse-inclined and performs better than you'd expect. It produces 67 dBA sounds which wouldn't cross the verge of endurance.
As a welder, I definitely appreciate the flexibility of this light-duty instrument. I found it quite useful for GMAW, MIG welding, stick welding, and gas metal arc welding.
Pros
Durable and sturdy build quality
Flexible to use and easy to install
High-quality Nanofiber filter
Suitable for a variety of welding tasks
Cons
A bit heavy to move.
Definitely not cheap!
2. Lincoln X-Tractor Mini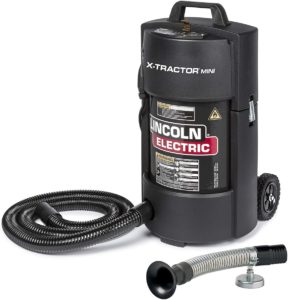 The X-Tractor from Lincoln has a "Mini" in it, which is self-explanatory. The machine isn't as heavy-duty as most welding fume extractors, but no other device can beat the X-Tractor Mini in terms of portability.
Lightweight and Efficient
The X-Tractor Mini is compact and extremely lightweight. You can just pick it up and set it anywhere you like, from your garage to a store. But, the lighter weight doesn't compromise efficiency.
2 Different Airflow Settings and 2.4 HP Motor
This portable weld fume extractor comes with 2 different settings to choose the preferred airflow. The lower one will generate 95 cubic feet per minute, and the higher one will generate 108 cubic feet of airflow per minute.
The amount of airflow seemed a little less to me, but you can't expect more from a 2.4 HP motor. Besides, the size of the machine speaks for itself that it's highly portable, which requires a bit of compromising on the power's end.
Efficient Purification and Versatile Uses
The Lincoln X-Tractor Mini weld fume extractor has a 99.7% efficiency in removing welding fumes. It's adequate for keeping your house or store fresh. 80 dBA sounds that it generates are close to nothing comparing with other fume extractors.
Despite being a mini portable fume extractor, the X-Tractor Mini has versatile usability. It can be used for flux-cored welding, MIG and TIG welding, and stick welding.
Pros
Highly portable and lightweight
Doesn't make much sound
Airflow can be adjusted based on the surrounding environment
It can be used for a variety of welding jobs
Cons
Not suitable for large area
3. PACE Arm-Evac 150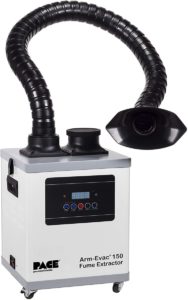 This portable weld fume extractor from PACE is ideal for benchtop soldering and electronic rework. The low-cost Arm-Evac 150 System includes everything you'd find in the best portable welding fume extractor. 3-stage filtration system adds immense value to its overall efficiency.
PACE Fume Extraction Systems provide effective odor reduction from the limited use of adhesives, solvents, and other compounds during handheld drilling, milling, or grinding operations. The filter cartridges are disposable, which makes them easier to use for fume extraction.
Sturdy Steel Case and Lightweight Build Quality
The Arm-Evac 150 comes with a steel case, which I found to be quite sturdy. It also has a dependable brushless motor that doesn't need expensive routine maintenance. The overall unit is built with 20-gauge steel, which is ESD-safe.
This tiny, low-profile machine will fit anywhere you need, and it comes with lockable casters for convenient mobility and transportation. The compact unit weighs only 20 pounds which makes it extremely lightweight.
120V Input Power and 155 CFM Airflow
The machine requires 120V input power to generate 155 CFM airflow. You can adjust the airflow from 20 different settings as you need. It can provide support to 2 other operators at a time if you just install a second arm.
3-stage Filter and Suitable for Benchtop Soldering
The machine can be operated with a remote wirelessly, which makes it extremely useful. The 3-stage filter comes with Carbon, HEPA, and pre-filter, which I found to be effective for any welding work. At 50% motor speed, it generates 53 dBA sounds and produces only 63 dBA sounds at 100% motor speed.
PACE Arm-Evac 150 can be used for any sort of benchtop soldering, industrial solvents, and lasers. It's the best portable weld fume extractor for medium-level welding tasks.
Pros
A compact and portable unit within the affordable price range
SteadyFlex arm with an assembled nozzle
Sturdy build quality and noiseless operation
Easy to use and set up even under any bench
Cons
It can't be used in a high-moisture environment
4. 150 cfm VentBoss S130/G130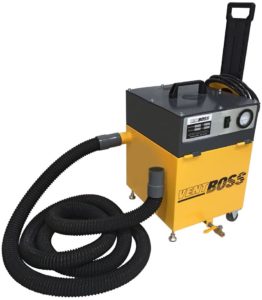 This portable weld fume extractor weighs 50 pounds only and features a 16-foot flexible wire. I've found the wheels to be extremely useful to move it around anywhere I need.
It's perfect for people who want something efficient but highly portable as well. The S130/G130 is an excellent option for manual welding around the house and store.
Adaptable and Durable
The S130/G130 is a highly adaptable and powerful welding fumes extraction system in a small size. This unit can be used at welding school training due to its compact build quality and efficient fume extraction system.
The 16-inch hose that it comes with is enough to cover any small to medium area. The machine is made with high-quality steel that makes it sturdy and durable.
Adjustable Extraction Tips and 150 CFM Airflow
With 110V power, the portable fume extractor can generate 150 CFM airflow with its 2.3 HP motor. You can adjust the tips of extraction as per your welding requirements.
Efficient Dust Collector and Suitable for Various Welding Tasks
I've found the dust collector in this weld fume extractor to be quite effective. You can even buy an additional hood for specialized uses. The S130/G130 generates 75 dB sounds when it runs on full power.
You can efficiently use this machine for MIG welding, GMAW, stick welding, and gas metal arc welding.
Pros
Easy to use and highly mobile
Made with solid steel material
Versatile usability and efficient dust collection feature
Suitable for home, school, and store uses
Cons
Can't cover medium to large areas
5. BAOSHISHAN Fume Extractor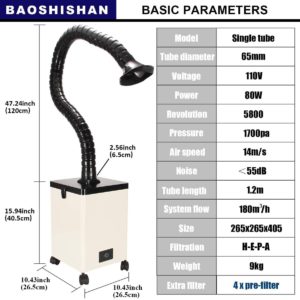 If you're looking for the best portable weld fume extractor that would be small but powerful and also would come within an affordable price range, then BAOSHISHAN has the perfect device for you!
This fume extractor absorbs all sorts of gases and dust generated by soldering and welding. The 1.2m smoking pipe is an added benefit to this fantastic device.
Compact Design and Convex Tips
This small and compact machine has a state-of-the-art build quality that ensures high performance. The filters come with metal latches that seal off the fumes and don't let any fume get out of the device.
The pipeline's sealing and stability are improved by fine convex tips. The machine comes with sturdy wheels that help to move the unit to anywhere you want. Its suction pipe is built with several small pipes which allow it to move around freely.
106 CFM Airflow and 5800 RPM Motor Revolution
BAOSHISHAN fume extractor can generate 106 CFM airflow with 110V power and generates 55 dBA sounds. The motor revolution is at 5800 rpm, which is more than adequate to produce a decent fume extraction system.
3-stage Filter and 99.97% Purification
The device comes with a carbon filter, central HEPA, and cotton filter that ensure 99.97% purification. Harmful gases like hydrocarbons, benzene, hydrogen compounds, formaldehyde, and ammonia are successfully extracted by the BAOSHISHAN fume extractor.
The machine can be categorized as the best portable weld fume extractor for DIY soldering, TIG and stick welding, and several other welding jobs.
Pros
Compact but powerful extraction system
Highly portable and easy to install
Flexible suction pipe and highly effective filter
Comes with metal latches to seal off the fumes
Cons
Not suitable for large areas
6. Maxx Air HVHF Cylinder Fan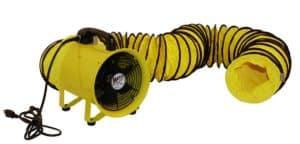 Maxx Air has been producing high-quality ventilation systems since 1948 for industrial and residential areas. This cylinder fan is one of their powerful and efficient fume extractors that you can use anywhere you want.
Extremely Lightweight and Industrial Finishing
This compact and lightweight machine weighs only 1.02 pounds despite its large size. It's built with high-quality steel material that makes it sturdy and robust. With painted finishing and buttoned control, the air cylinder fan gives a vintage and industrial look.
2000 CFM Airflow and 20-foot Long Vinyl Hose
Maxx Air HVHF can efficiently replace any ventilation system that your workplace or residence has. It can generate 2000 CFM airflow with 120V power. The vinyl hose is 20 feet long and adjusted to a high-velocity blower.
Successfully Prevents Toxic Gas and Can Replace Any Ventilation Fan
Maxx Air HVHF is more about preventing toxins from traveling around your home or workplace than it is about regulating temperature. This is the perfect fume extractor if you don't want ventilation fans installed around your property.
You can use it basically for any sort of welding and soldering job. As it produces massive 2000 CFM airflow, you don't have to worry about its performance!
Pros
Compact and extremely lightweight
Sturdy steel construction
12-inch ventilation fan with two-speed settings
Durable hose and powerful blower
7. KNOKOO FES 150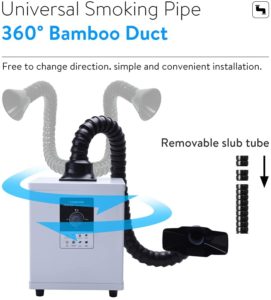 KNOKOO is famous for producing lightweight fume extractors within an affordable price range. The FES 150 is a worthy inclusion in their list of products. This portable weld fume extractor absorbs smoke and purifies the air as well with its 3-layered filter.
Sturdy Build and Fixed Wheels
The machine is built with precision and sturdiness. It comes with a bamboo duct that can move around freely in any direction. I've found alloy rivets with buckle and anti-corrosion features. The handles make it easier to carry the device anywhere you need. Fixed wheels on the bottom of the machine make it a mobile device.
DC Brushless Motor and 150 CFM Airflow
The KNOKOO welding fume extractor can generate 150 CFM airflow with 110V power. It comes with a shutter outlet for letting the air out. The DC brushless motor ensures thorough purification, and the power-failure protection saves the machine from sudden power failure.
3 Layers of Filter and Versatile Uses
The machine comes with 3 layers of filters for efficient fume extraction. I've found pre-filter cotton in the first layer that can remove large particles. The second layer can remove dust and tar, and the third layer can remove gas and smoke.
KNOKOO FES 150 is the best portable weld fume extractor suitable for use in laser and moxibustion.
Pros
Lightweight and compact device
Comes with a 360° bamboo duct
3-layer filter with brushless DC motor
Corrosion-proof and power-failure protection
Cons
Not the standard device if you need to remove formaldehyde
8. KOTTO Fume Extractor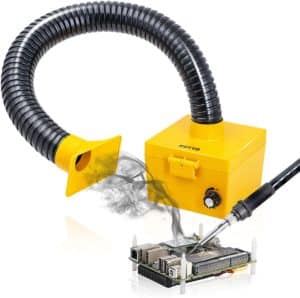 While listing down the best portable fume extractors, I looked for something dedicated to indoor DIY projects and 3D printing. KOTTO soldering and welding fume extractor is just the device I was looking for in this regard. The machine is simple and compact, with a powerful suction system.
ABS Material and Flexible Tube
This fume and smoke extractor are made with ABS material. It weighs only 3.89 pounds and comes with a 24-inch tube. The tube is highly flexible and can move around in any direction. There's a fume hood for added precision which can move around as well.
6000 RPM Revolution and 50,000 Hours of Life Expectancy
As it's not an industrial fume extractor, the device generates 52 CFM airflow with 110V power. But, the 6000 rpm revolution is more than adequate for small indoor projects. With 50,000 hours of life expectancy, the fume extractor will serve you a long time with efficiency.
Heat-Resistant and Perfect for Indoor Projects
KOTTO fume extractor is resistant to heat and comes with suctioning solid power. The filter is easily replaceable, and it comes with latches for sealing off fumes. A dial button is there to control the machine with ease.
As I already mentioned, this fume extractor is perfect for small indoor projects. You can use it for any DIY projects, including 3D printing tasks, without any worries.
Pros
Lightweight, compact, and doesn't make much noise
Copper-made strong motor
Gooseneck tube and fume hoods
Affordable price range
Cons
Build quality could be more durable
9. Kulannder Handy Carry Fume Extractor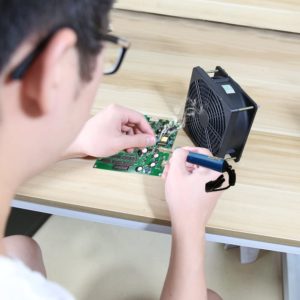 The Kulannder fume extractor works perfectly for any soldering projects at home. I don't think it'd be a good option for medium or large-range welding tasks, but it's unbeatable in terms of price and efficiency for small indoor soldering tasks.
Solid Aluminum Body and Active Carbon Filter
Kulannder extractor is made of solid aluminum alloy and will last a long time without displaying any wear indications. The fan has a 50,000-hour lifespan, which means it may run for a decade. The filter is made up of active carbon and foam, which ensures high-quality purification.
120V Input Power and 2000 ml/min Airflow
Kulannder fume absorber is a powerful chemical fume extractor that works reliably even when placed a little too far away. With 120V power, the motor generates 2000 ml/min airflow, ensuring that no fumes escape and pollute the clean air.
Straight Wire Connection and Good for Versatile Projects
The smoke absorber features a straight connection, ensuring that you will have no trouble connecting it. This extractor has a tiny form factor and weighs only 1.38 pounds.
The filter is easily replaceable and makes sure that no hazardous gas escapes the device. You can use the machine for crafts, electronic projects, arts, stained glass, and other light projects.
Pros
Lightweight and compact design
An effective carbon filter with an aluminum body
Easy to install and highly portable
Improved wire connection with ease of control
10. Valtcan Fume Extractor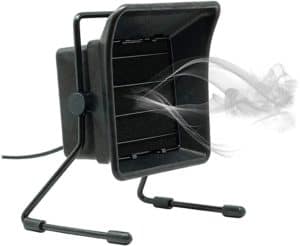 The days of inhaling fumes when soldering or welding should be behind you. Valtcan fume extractor is definitely one of the best fume extractors on the market for small indoor projects. I've found it to be an excellent pick for both experts and novices.
Robust Build Quality and Compact Design
Valtcan smoke absorber comes with a sturdy and robust build quality that ensures long endurance. The fan and the motor are well protected by the strong casing. It can also withstand abrasion, knocks, and falls, among other things. As the device is small and compact, it won't take much space.
Brushless Motor and 37.8 CFM Airflow
The device can generate 37.8 CFM airflow with 110V power. It has a 60Hz power supply to ensure electric connection. The smoke absorber has a brushless motor that is carbonless and provides efficient air purification.
ESD-safe and Perfect for Glasswork
When soldering up close, the complete tilt design allows for optimal smoke extraction. The device has smooth edges all around and is ESD safe.
It's suitable for glasswork, electronic works, and all other small soldering tasks. The Valtcan FA496 is a must-have for your soldering and electric workstation.
Pros
Lightweight and compact design
3-layer active carbon filter
Doesn't make much noise
Powerful motor and twist knob control
Cons
Not entirely useful for pyrography despite being advertised for it.
11. Kulannder Adjustable Fume Extractor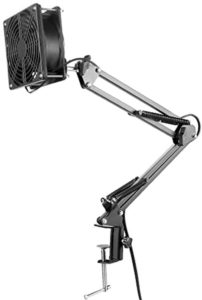 The Adjustable Smoke Absorber from Kulannder almost looks similar to the Handy Carry, but it's different in some ways, including the adjustable table clamp. Also, it's ideally suitable for ESD soldering.
Aluminum Alloy and 50,000 Hours of Lifespan
The device is made with high-quality aluminum alloy and comes with an activated carbon filter. Its sturdy build quality ensures endurance and efficiency. With a 50,000-hour lifespan, the adjustable smoke absorber will last for years.
High-powered Motor and Adjustable Table Clamp
The smoke absorber can generate 0.7 CFM airflow with 120V power. With a high-quality motor, the fume extractor basically sweeps off all the toxic pollutants generated through soldering. It's safe to use at ESD, and the adjustable table clamp makes it more useful for indoor soldering projects.
Easy to Use and Good for Benchtop Projects
Weighing only 2.53 pounds, the smoke absorber is highly portable that can be set anywhere you want. The clamp makes it perfect for benchtop projects, and the straight wire connection makes it easy to install.
The carbon filter can be replaced when requires, and it ensures maximum purification. The device can be used for ESD soldering, crafting, glasswork, and other indoor projects.
Pros
Compact and lightweight
Sturdy aluminum construction
Straight wire connection and easy to set up
Doesn't make much noise while running
Cons
Has to be installed near to workstation
12. Xytronic 426DLX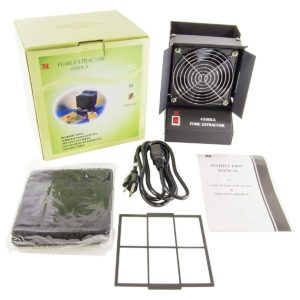 I came across Xytronic 426DLX when looking for the best lightweight portable weld fume extractor for mid-range soldering projects. It comes with removable filters, which saves you money and effort compared to searching for replacement filters.
Strong Build Quality and Brushless Motor
The portable fume extractor is made of high-quality metal, making it suitable for mid-range and even heavy projects. The fan is brushless which is built with precision and efficiency. The sturdy construction ensures that the machine will last for a long time.
115 CFM Airflow and Activated Carbon Filter
Xytronic 426DLX can generate 115 CFM airflow with 220V power. With its powerful motor, the device can get rid of both flux and lead fumes. It comes with an activated carbon filter that quickly removes toxic particles and gases from the air.
Long Power Cord and Good for Soldering Stations
The fume extractor comes with a long power cord, ensuring that you will not have to use a power extender. As it weighs only 4.5 lbs. excluding the package, you can quickly move the device to anywhere you need. The machine can be used at any soldering station to remove toxic and harmful gas.
Pros
Sturdy and durable build quality
Comes with 3 extra filters
High-powered suction
Lightweight and highly portable
Cons
Makes quite a bit of noise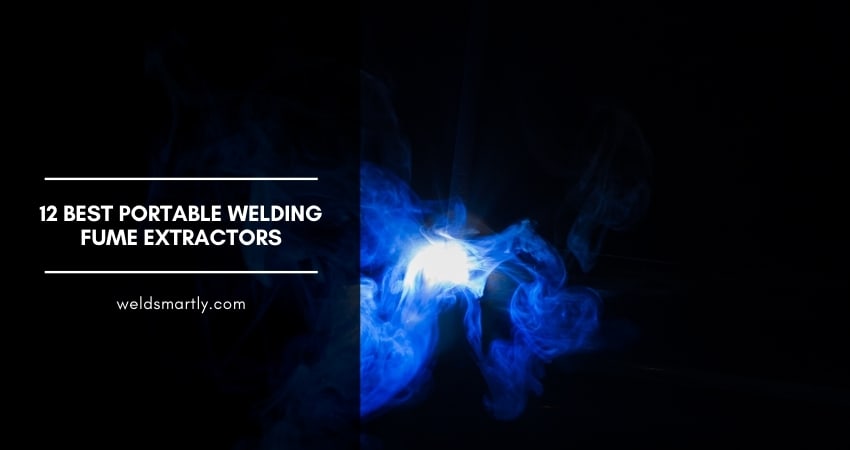 Buyer's Guide for Choosing the Best Portable Welding Fume Extractor
Naturally, there are numerous options available on the market, with a few well-known brands. Choosing the right welding fume extractor is especially tough for novices as they are unfamiliar with the features and layouts.
Before making any purchase, you must examine several elements to meet your project's objectives, including the size of the space and workstation.
You can't put your faith in all well-known fume extractors as not all of them operate admirably and protect you from dangerous fumes.
So, here are some key factors to help you find the best extractor:
Size of the Extractor
Before buying any fume extractor, it is critical to evaluate the machine's size. It should be determined by the size of the workstation as well as the available space. The size and portability of the extractor should be considered based on your trip frequency and workspace availability.
If you do most of your work in one location, you should invest in a heavy and sturdy fume extractor. When compared to portable models, static models are more economical and widely available. You'll need a small and portable extractor if you have to travel a lot for welding or soldering.
Durability and Build Quality
When purchasing a fume extractor, it is self-evident that it must be constructed of durable materials. It's a good idea to get an extractor made of heavy-duty materials to ensure that it lasts a long time. At an average pricing point, stainless steel is thought to be the best option.
Portable smoke extractors are frequently used on dusty and harsh construction sites. So, it's essential not to skimp on the build quality and durability.
Soldering or Welding
A large amount of poisonous gas is produced by both soldering and welding. But, welding produces far more amount of gas than soldering. So, if most of your work is related to welding, you have to buy a suitable welding fume extractor.
However, if you need to do soldering more than welding, then there's no point in buying a more expensive welding fume extractor. Instead, you could just get a soldering fume extractor which is much cheaper.
Overall Performance
Just because you are purchasing a compact and portable extractor does not imply that you must sacrifice performance. Looking at the machine's CFM rating and selecting a device with a high airflow rate is the best way to choose a system based on performance.
Making sure it's powered by a powerful motor with a high CFM rating will ensure that all of the fumes from the welder or solder are absorbed. You should determine how close you need to set the extractor to acquire the desired performance while checking its performance.
The performance may differ depending on the place. If you use it at a workshop, you will receive 100% performance. However, if you use it outside in windy situations, the machine will have issues as the wind will reduce the extractor's absorption and blowing power.
Filter Quality and Ease of Cleaning
Filter quality is crucial to assess while choosing a suitable portable fume extractor. The most popular filter types utilized by many manufacturers are charcoal and carbon filters.
Filters must be changed and cleaned regularly in fume extractors. The time spent replacing the filter should be minimal, and the task should be simple to complete. Activated carbon filters are highly efficient and also easy to clean.
Safety Issues
Your safety should be the utmost essential factor to you. If you're not careful, the welding sparks could ignite and can even cause a fire. So, choose a portable fume extraction system that has spark resistance technology built-in.
The Noise of the Device
When it's turned on, the smoke absorber starts to make noise. And the loudness of the device begins to increase as the machine generates more power.
Fume extractors that are of low quality usually make noise even when the machine's power is reduced. So, make sure to check the amount of noise the device makes before you buy it.
Frequently Asked Questions (FAQ)
What kind of filters is suitable for fume extractors?
The most popular filter types used in a fume extractor are charcoal and carbon filters. You can even select among the highest-rated filters in terms of filtration performance, MERV 15 and MERV 16.
On the other hand, HEPA filters are recommended by experts as they capture 99.97 percent of effective filtration outcomes.
How can I increase the efficiency of the fume extractors?
The easiest approach to get the most out of a fume extractor is to use it in a closed space and keep it close to the work area. To get the most satisfactory results from the extractor, make sure you use it in the right spots and with suitable welders.
How much CFM should I go for while buying a fume extractor?
According to experts, a minimum of 1000 CFM is required to extract all filthy air from the workstation to the exterior environment.
However, the requirements will vary depending on the area where the extractor will be used. If you're using it in confined spaces, the extractors that we reviewed should be more than adequate.
Why should I use a welding fume extractor device?
There are certain vapors produced by the welding and soldering flux burnings. Inhaling harmful residues in soldering and welding vapors is highly hazardous to human health.
If we inhale these fumes directly, we risk developing occupational asthma, skin issues, and congestion. The situation has become more complex due to the deployment of the lead-free technique, as the created fumes are higher in competition.
This is why it's crucial to use a welding fume extractor to not inhale the poisonous gases.
What harmful gases are present in soldering fumes?
The health consequences of soldering and welding fumes are determined mainly by the type of solder used and the chemical composition of the flux.
Rosin, silver, lead, and copper are primarily used as solders. Aluminum, iron, gold, brass alloys, and beryllium are also used as soldering materials. These metals are present in soldering fumes based on which one you use as solder.
So, if you don't use a soldering or welding fume extractor, you start to inhale the toxic fumes containing these metals.
Final Verdict
And that's it! We've come to an end of our detailed guide to find the best portable welding fume extractor. Keep in mind that the device you choose should meet your project's requirements.
If you're confused about what features your preferred extractor should have, you can assess the features of the extractor you're going to buy against the factors we discussed in the buying guide.
The 12 fume extractors that we reviewed in this article are excellent options based on their respective expertise.
If you're looking for something sturdy and heavy, then you can go for VentBoss S110/G110 or VentBoss S130/G130. If you need something to replace your store's ventilation system, then the Maxx Air cylinder fan would be the perfect choice for you.
Kulannder Handy Carry and Kulannder Adjustable fume extractors are in the affordable price range if that's what you need. And KOTTO fume extractor is best for both 3D printing and soldering projects.
Hope our detailed guide and review were helpful to you.
Happy welding!