The name pot metal may sound like something you would find in your kitchen, but believe me that's not what it is. Pot metal is a low melting point, zinc-rich hybrid metal that has unusual properties for its type.
Welding pot metal is a skill all welders will come across at some point in their careers. Yet not all welders are familiar with it, and even fewer can use it for casting because they might use too much temperature and ruin the peace.
The best way to melt pot metal is to use TIG welding. While doing so, the welder must keep in mind that they'll need to use low temperatures and move around slowly. Taking intervals is strongly advised.
Why don't you jump down below and see what I'm talking about? I'm confident you'll learn more than you know already…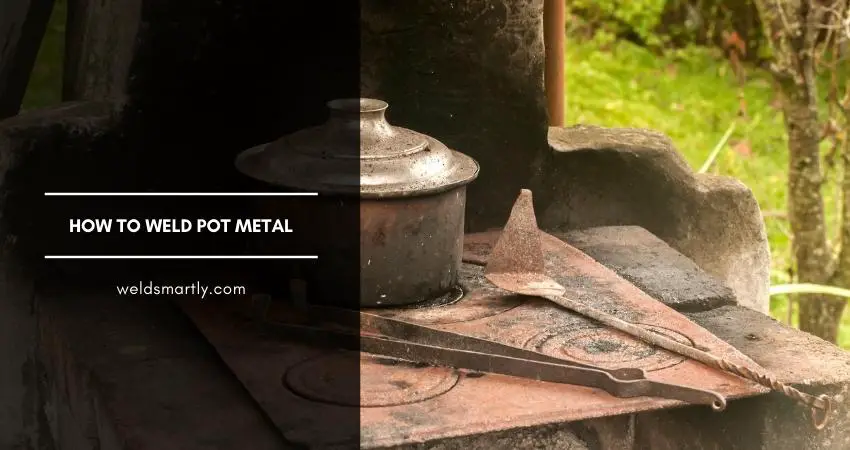 What Is Pot Metal And How Do You Weld It?
Often, "pot" refers to metals that are used in place of Cast Iron or other, more expensive options. This term is used for metals with low melting points and low quality.
This type of metal has a low melting point because all the metals are mixed together and altered by heat during production. Some say they like calling them 'monkey' (or white) metals due its low price tag.
The most common elements found within these substances are aluminum, tin, lead, or copper; some additional ingredients include zinc, iron, cadmium, magnesium, etc. But whatever you want to call them, I'm sure the welding industry would agree that these pieces have tremendous uses.
Frankly, being inexpensive as well as having a low melting point gives welders breathing space as they could use them in odd jobs as well as in minor fixes. But they are not a metal that can be welded by novices. Because it's a mixed metal, it behaves differently than a regular metal one might use in welding everyday.
And that's why, I'm here to show how to weld pot metal in your projects even if you're not a veteran:
How to Identify pot metal
Try to treat pot metal like its primary ingredient and you may not have much success. Welding pot metal is like russian roulette, because you're unaware of the components and the composition. It's hard to repair it using aluminum, and definitely scary using zinc. And one mistake can ruin the entire thing.
Testing a small piece of it with heat will be the best solution. This will give us an idea of how much heat and pressure to apply at any given time.
Here are a few tips:
If it gives off white smoke, you'll know that there is a high concentration of zinc in it.
Weighing it compared to aluminum could also give you some hints as pot metal is heavier.
Pot metal will also have patterns that don't emerge in aluminum.
If you notice dark areas in your finish, chances are you're using pot metal
Pot metal welding guide
What welders usually do with pot metal is that they fuse pot metals together. The very first thing you need to accomplish is TIG welding the pot metal.
TIG welding is a process where you use the heat generated by an electric arc. It requires some skills and the right equipment, but if you're experienced in welding aluminum then this won't be too challenging. Here's what you gotta do:
Setup your welding table and your tools
Gear up, use protective equipment- a helmet and pair of TIG gloves are a must
Prepare your tungsten super alloy rod. Make sure its tip is pointy enough to make an arc.
Place the electrode in. Select the right options, remember pot metal will melt faster than your usual batch.
Turn on the gas and slowly move the electrode around to weld the piece. Let the metal cool down afterwards.
Don't forget, pot metal has a low melting point, so you need to be careful with the temperature. Keeping the temperature low and welding at a slow pace will help you avoid melting pot metal quickly and ruin your work. Setting the power to 80 amps and the air to 5 seconds is a standard procedure.
If there isn't enough time for heat distribution during production welding processes, the weld metal can become irregularly shaped. Don't weld the metal non stop, rather weld in intervals. It's best to wait 10 seconds to let it cool down.
Importance Of Pot Metal in Welding
Using pot metal saves a welder from a few complicated situations. I think I've already over emphasized pot metal being inexpensive. But that's because it's one of its major benefits. Let me explain with a scenario:
You need to weld a very minor part of a metal. Now, are you gonna use an expensive metal which leaves a dent on your wallet and is also a hassle to melt, or do you settle for a budget option that will surely do the job? See, I already know your answer.
However, this is not the only reason why pot metal is so important. Pot metal casts pretty quickly, which is a major advantage in welding.
So you have a metal that melts easily, doesn't cost you much and works fine in casting, what more could you possibly want? Okay, just in case you're not convinced yet, I'll give you a few more reasons:
Since they have a low melting point, they oxidize faster
It's also lightweight and easily portable
You can use it to weld a variety of items
It serves as one of the best way to keep scrap metal
Uses of Pot Metal
There might be pot metal nearby you, you probably didn't notice. Due to being cheap and easily available, they're used in a lot of day to day appliances. Even I didn't know much about them until I saw my DIY guy fix a few things in my house.
Household uses
The uses for this metal are as diverse and versatile in the kitchen. Just an example- the majority of cookie cutters found in the US are made with pot metal. As it can be bent easily, it makes it an ideal material for cutting appliances. They're durable too!
Pot metal is usually found in toy boxes, guitars, and similar devices. Due to its low cost, your favorite toys will be more affordable and the manufacturing company can save some expenses, that's a win-win in my book.
Electronics
Before electronic windows became popular, pot metal was used to manufacture automotive window cranks. Low cost made it more appealing than other materials, such as stainless steel and aluminum, because it allowed for a cheaper price point.
If you search hard enough, you still might find them in one of those vintage cars.
Additionally, jewelry made from pot metal has been a popular tradition for centuries. Creating new pieces or restoring old ones alike requires this versatile material because it's easy to work with and can be shaped quickly. If I were in that business I'd use them a lot.
So, you see. Call it monkey metal, cheap metal or whatever, the fact of the matter is- it's a vital part of our day to day lives, and we don't even know that.
Problems of Using Pot Metal in Welding
I probably made using pot metal a bit easier than it is, my bad. Truth to be told, while pot metal is an amazing tool to work with, it comes with its set of difficulties.
Mixed Metals pose a challenge when welding because there is no way to know what metal will be in your weld. You should always consider the type of alloy before you start.
It's because some cannot be welded while others produce toxic fumes which can cause sickness and injury if inhaled or come in contact with your skin too long-term.
Zinc is one such culprit: its exposure will only get worse as time goes by due to corrosion effects from water absorption so avoid pot metals altogether where zinc is abundant.
Similarly, pots with an aluminum core make for really tough welding. High-aluminum pot metals will make welding difficult because it combines with oxygen to form a rocklike hard and adherent substance called Al2O3 which is hard for even powerful magnets to remove.
Can You Clean Pot Metal?
The welder's best friend is a material that can be ground or shaped into any form, but it has some outstanding properties when cleaned up. Pot Metal is one such item.
You can clean this material with light grinding, or if the dirt is hard to remove you can use steel wool balls. Please do not use an abrasive cleaner on this since it will dull and scratch your welding equipment.
Can You Solder Pot Metal?
Yes, it's possible to solder pot metal. When repairing pot metal items, you will need to use a flux and solder in order for the job being completed successfully.
First, both parts need to be heated so that they can be bent into place without breaking.
Before applying firm pressure onto each piece, you should use your solder and some flux (which will help clean up any corrosion) to ensure that everything bonds properly! The process is similar when using a hot glue gun.
It's not a hard method, but I'd still advise you to go ahead with the TIG welding procedure.
Signing out
And, that's all for today. I'm hopeful this has been an educational tour for you and now you are well versed in how to weld pot metal. Here's a tip: start small. Take small pieces and weld them first and iron out all the kinks. Later, you can take on ambitious projects.
I'm curious to see what amazing creations you can come up with.