All that use a plasma cutter may not want to use it the way professionals do. Similar is the case with those who love to do some welding. If either of these explains your situation, you're probably someone with needs for versatility in metalworking but a desire to maintain affordability and only a little learning curve.
A single plasma cutter doesn't help much. A TIG torch isn't enough either. You can buy both but not before considering the overall cost. Finding a combo system can end your search with a happy note.
Is that so easy? Here's our Amico CTS-200 review which will explain the particular product little by little and find out the truth for your benefits.
Introducing Amico CTS-200
Product Features
CTS-200 is the perfect choice for projects and repairs around the home and auto body shop.
Combo 3-in-1 multifunction plasma cutter/TIG Torch/stick arc professional welding machine.
Advanced IGBT technology, synergic controlled, very easy and simple operation.
Featured wave-form control system: perfect wave form of volts and Amps during, short circuits and arc burning cycles.
Automatic compensation for voltage fluctuation, over-voltage protection, under voltage protection, over current protection, over load protection.
As an Amazon Associate I earn from qualifying purchases
Amico CTS-200 comes as a multipurpose appliance with a Plasma Cutter, a TIG torch and a Stick Arc. Featuring 3/4″ in cut thickness and maximum 1″ in severance thickness, and a stable welding arc, the unit is meant for both home workplace and welding shop.
It's a costlier upgrade of CTS-180 but with higher cut and severance thickness, better duty cycles, slightly heavier, and a more power TIG Torch.
Who Should Use It?
The features and build quality of the machine pay off well for those who are
DIY hobbyists needing to tackle portable repair and plasma cutting works
Welding enthusiasts looking to fulfill simple repair needs
People who handle welding projects at home
Worker at a small auto body shop
If you're interested in combining some more detailing into your plasma cutting or welding project or using it under some highly demanding circumstances like those of a factory, you want to look elsewhere – a more expensive and feature-rich plasma system.
For a more budget friendly option check out the Amico CTS-160 review.
Pros
Multi-functional mechanisms with digital controls for smooth plasma cutting and proper welding
Lightweight for a plasma machine and a carry handle for portability
Optimized functions to avoid spatter and post-operation processing as much as possible
Good power factor (0.93) for efficient use of electricity
Fan air cooling system to comprise fewer components and have a relatively hotter cylinder wall for higher power output
Cons
Not recommended for cutting aluminum
Check Price & Reviews on Amazon
Problems of Amico CTS-200
While using the machine, there are two particular issues that you wish hadn't occurred. However, you can avert the unnecessary problems by taking the steps below.
Inconsistent Arc
An arc, if it's inconsistent, may be the result of poor air pressure or improper grounding. The consumables need to be checked frequently and replaced if necessary. Also, the regulator has to be adjusted with the correct PSI.
Poor Weld Quality
Should you need to use acetone for welding, make sure it's clean. You can do some practice to become comfortable with the technique. Make sure to get the right filler rod and tungsten.
Amico CTS-200 Review: Features and Benefits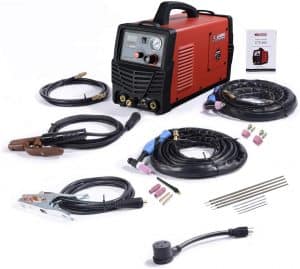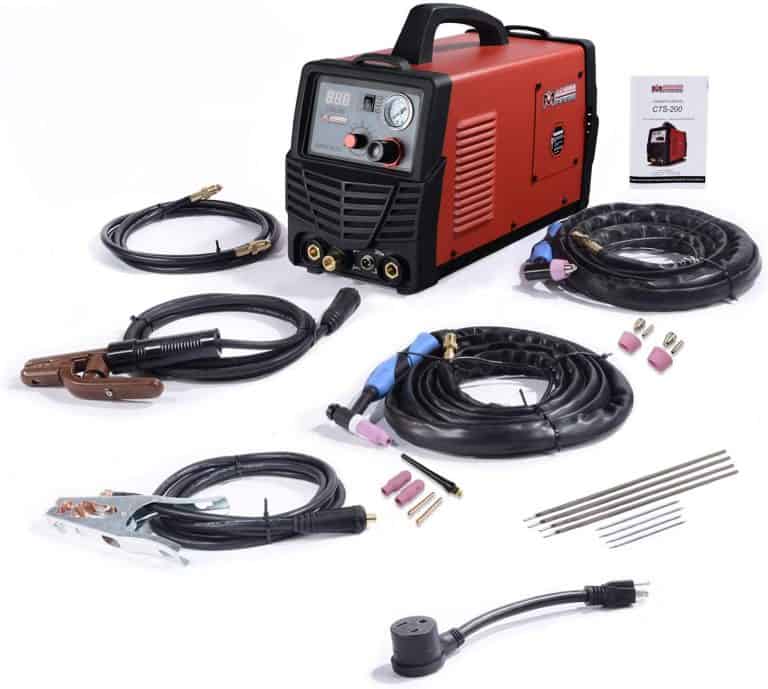 Check Price & Reviews on Amazon
Apart from the above limitations, the unit still has a lot to offer. Let's see how CTS-200 helps plasm and welding professionals and DIY people with their preferences.
3-in-1 Multifunction Unit
If a single point is to become the strength of a machine, this 3-in-1 combo gets the credit for the unit's being a good choice for individuals looking for a useful addition to their workshop.
Some metalworking projects demand a bit of welding work and require the person handling the task to have a TIG torch which makes the job easier while some prefer using their plasma system for the job. With CTS-200, you can stay cool with 'one less tool', meaning that the TIG torch that comes in the package saves you the effort and money.
The Stick Arc is another welding companion that enables the user to weld joints and alloys for indoor and outdoor uses, especially in drafty places. The Arc provides a cost-effective welding method for creating strong bonds between dirty/rusty metals.
You might be taking this Amico machine as more of a welding tool than a plasma system. But, in practice, the plasma cutter being in its core only makes it complete.
IGBT Technology
CTS-200 boasts a specially adopted IGBT technology which uses an exclusive method to start the plasma arc and initialize the process. Employing a high-frequency starting mechanism and relying on the high-voltage circuit, the plasma cutter can easily be considered an advanced unit built for professional environments where plasma cutting is required only at a basic level.
IGBT technology is an attractive choice itself when it comes to a variety of plasma cutting projects. For the specific duty cycles demanded by this machine, IGBT comes efficient with high voltage and heat tolerance capacities. So, you shouldn't worry as long as the unit is in place.
Check Price & Reviews on Amazon
Wave-Form Control System
It's one of Amico's many patented systems designed to ensure that the waveform of amps and volts comes in a perfect way, and no unexpected events occur during Arc burning cycles and short circuits.
The control system is critical to the safety of the unit as it doesn't require human intervention to take care of things during the operation.
Voltage Fluctuation Management
If there's anything so importantly considered besides the 'cut thickness' ability of a plasma system, that's got to be the automatic compensation system.
No matter how sophisticated a system you've; voltage fluctuations cannot be overlooked. The voltage can be super high. Similarly, it may go very low. Either way, a smart fluctuation control system proves useful. The same goes for the level and load of current. The unit has the right features to ensure that all voltage/power issues are automatically compensated.
Temperature Control
An automatic temperature control system adds convenience to the usability of the unit. Management of the fan dormancy is one of the key functions of this control. It means when and how (fast or slow) the fan will work or remain dormant should not be your concern.
Another core function is the amperage control which is a very crucial process when you're dealing with plasma activities. This feature provides precise current control during the cutting operations. Thus, it bears impacts on the cut quality and efficiency of the machine.
Duty Cycle
These cycles differ from torch to torch. For the plasma cutter, it's 100% at 32A and 40% at 50A. For the TIG torch, it's 100% at 126A and 40% at 200A. The Stick arc's duty cycle is 100% at 126A and 60% at 200A.
Check Price & Reviews on Amazon
Final Verdict
So, what do you want to keep in mind about this plasma cutting and welding combo? That it helps with personal and workshop needs? That it's more oriented toward welding than toward other functions? Perhaps, you'll love to accept that you're buying one to get three.
Truth be told, having CTS-200 indicates that you can benefit from the lightweight design, digital control, inverter technology, and essential accessories. So, you won't go wrong whether you expect diversity in uses or an affordable machine for home workshop, auto body workshop, and other applications.
Click here to check this product out for the best prices.