Plasma cutting and welding are two distinguished metalworking pursuits, and the market has tons of models to help enthusiasts with their projects. A plasma and welding combo is a blessing to those who want one single unit for all operations. The availability of such units isn't the problem, but finding a few specifics is.
If cut thickness or welding precision doesn't come on top of your choices, the other things like duty cycle, automatic adjustment, and price certainly matter. Does that sound like you? Well, Amico CTS-160 can be a considerable pick.
In this Amico CTS-160 review, you'll know how this combo performs on the areas mentioned above and if it's really worth the attention.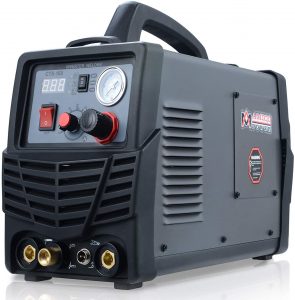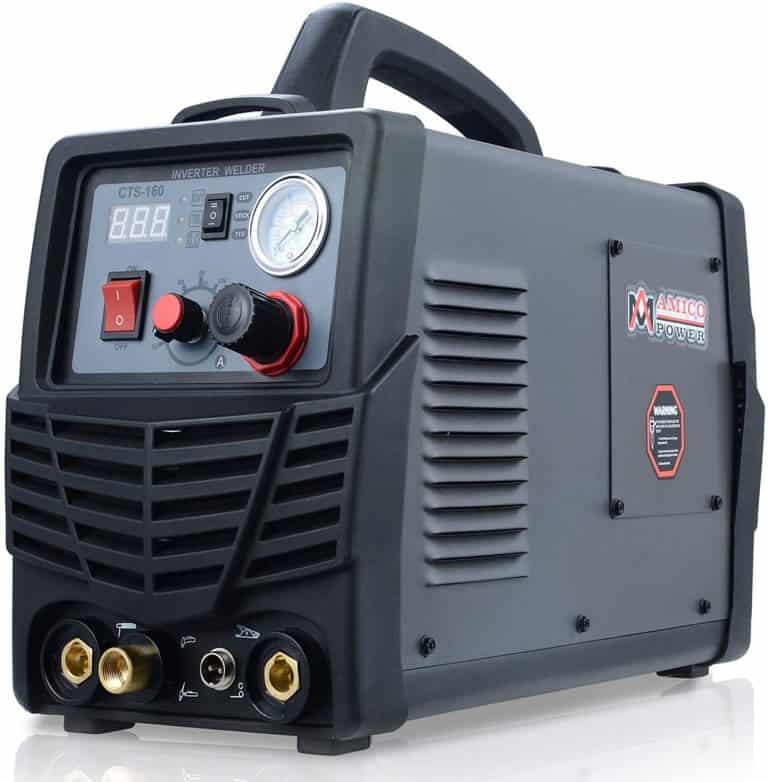 Introducing CTS-160 Plasma Cutter/TIG/Stick DC Welder
Powered with automated technologies, the CTS-160 is a plasma cutter and TIG/Stick welder combo with cutting thickness up to 2/5″ thick materials and severance thickness 1/2″; and welding capacities for chrome moly, steel, titanium, and stainless steel, and anything that goes well with DC output.
CTS-160 is followed by the slightly upgraded and costlier model called CTS-180 which has a 40A Plasma Cutter, a 160A Stick Arc Welder, and an 180A TIG-Torch with most of the specs and technological features remaining the same.
For a more powerful unit checkout our Amico CTS-200 review.
Who Is CTS-160 for?
Being a multifunction unit, enthusiasts will be able to think of a wide variety of applications having it in place. However, the best results can be achieved by those who
do repair works moving in and around workplaces
run projects with the demands of a small business, e.g. auto body repair shop
do basic repair jobs
light welding tasks
With anything more demanding than these tasks, you need a more powerful and not to mention a more expensive unit.
Problems You Might Face
At such an affordable price as this unit's, many won't consider the absence of a foot pedal or a pilot arc as a deal-breaker. But you should know something about these components.
Use of a Foot Pedal
As the manufacturer doesn't provide any foot pedal, you may want to get it, and it's going to be from a third party. Well, here's a piece of information on that.
The only pedal that may be compatible with this unit is a 2-pin model. Also, you won't be able to enjoy the perks of having a foot pedal because it'll work as a start/stop button on your torch. No amperage/voltage adjustment or control is possible.
No Pilot Arc
Sure, pilot arc is considered a must-have feature by many and they aren't wrong. Unfortunately, this machine doesn't include this useful feature. So, you need to use clean materials and avoid expanded metals.
Also, you want to avoid using the unit with a CNC machine. On the flip side, beginners should have a nice touch with a torch without pilot arc because there're almost no chances for them to get burned (a likely situation that involves the use of pilot arc and HF start).
Pros
3-in-1 multifunction, lightweight machine at a highly affordable price
IGBT technology combined with synergic control to simplify operation
Special wave-form control for maintaining appropriate waveform of amps and volts during Arc burning cycles and short circuits
Automatic management and protection for voltage fluctuation, excessive/inadequate voltage, and excessive current
Automated control systems for temperatures, steeples amperage, and fan dormancy
Ideal for use with a generator
All essential accessories and consumables included
Cons
Not ideal for welding aluminum
Note: Although this machine gives DC output only, and AC output is nearly the perfect choice for aluminum welding, you can have some luck trying DC for the job unless you're only interested in the cleanest weld.
Amico CTS-160 Review: Features and Benefits
The product comes in an inclusive package that contains cables, hose, needles, adaptors, electrodes, and other accessories. Its key features and benefits are discussed below.
Cutting and Welding Capacities
The rated cut thickness is 2/5 inch with the max severance thickness being 1/2 inch. Depending on the workplace settings, you can expect to cut around 15 inches per minute. Although the machine offers variable welding outputs in different circumstances, you can always rely on it if the needs are specific to small projects.
IGBT Technology
This technology is intended for yielding high efficiency in welding tasks. Combined with synergic control, it takes care of the voltage adjustment in line with the wire feed so that operation goes on smoothly and easily.
Wave-Form Control
It's more of a special feature than a conventional inclusion for a plasma and welding unit. Delivering an appropriate waveform of amps and volts during the arc burning cycles and short circuits, the unit ensures that you don't risk spoiling your welding/plasma operations just because of the unusual form of amperage and voltage.
The result that you might often see is flawless weld without much of spatter. Also, cleanup actions after the welding activity are very minimal.
Current, Temperature, and Voltage Protection
You might experience a lot of occurrences, such as fluctuation, an excess or inadequate flow of voltage and current. Anybody would like a control over these situations. What if you have something in place and needn't worry about them at all? This unit features an automatic adjustment and compensation for all these factors.
There's a temperature control system along with an amperage and fan dormancy control. Moreover, the unit can be run on generators.
Duty Cycle and Power Factor
The plasma part has a duty cycle rated at 60% using the full output and 100% using 23.2A. TIG welding can be expected up to 60% at 160A and the full cycle using 124A. Using the STICK ARC, the duty cycle is 60% at 140A and up to 100% at 108.4A. As far as duty cycle is concerned, Amico leaves you little to complain about. The power factor is 0.93 which should have been a little higher.
Final Words
This is where you'll find some concluding remarks about the usability, value, and performance of Amico CTS-160.
Speaking of the cutting and welding performance, you can obtain nothing extraordinary but almost standard results from recommended applications and settings.
The duty cycle, use of automation, and the price make the case of the combo unit quite interesting and noticeable. Try to look beyond the TIG welding part if you're engaged in working with aluminum. After all, the unit can bring greater potentials for DIY welders and hobbyists than for commercial workers.
Check the latest price by clicking here.