It was really hard for me to find out a powerful generator that would work as auxiliary support and equally provide welding power. But, none of the auxiliary supporting generators couldn't provide the power I needed to weld. So, I started researching the market to find a solution to that.
Not only I found a solution, but I could also say that I found the best solution to my issue. In this miller trailblazer 325 review, you will get the extensive idea of whether you should spend your money on this or not.
If you want, you could check out Miller's about section to know more about their company.
Things To Consider Before Buying A Welder Generator
As a reviewer, there are some pointers and characteristics that I look for in a generator to make sure that I'm buying the correct product among thousands available.
As a matter of fact, it's my duty to let you know about these as well. With these facts, you can make future choices and compare products without even reading reviews.
So, let's go through the things to consider before buying a welder generator –
Fuel tank capacity
Power requirements
Type of fuel
Size
Warranty
Let's discuss these factors extensively:
Fuel Tank Capacity
A generator should have the least fuel capacity so that you don't need to fuel it up on a regular basis. Your generator has to have a good amount of fuel capacity.
Also, the generator might have an RPM adjuster to make it fuel-efficient.
Power Requirements
Before buying any generator, you should think about how much power you need. Do you want to power all the appliances at home or only the emergency ones? According to your needs, you should buy a generator that can fulfill your power requirements.
Also, if you want to use the generator as a welder, think about how much welding would you do in a day and buy a generator that can provide you support for as long as it can for welding.
Type Of Fuel
Generators can run with different fuels such as diesel, propane, natural gas, and gasoline. The most common type of generator fuel is diesel.
But, the most efficient type of generator fuel type is gasoline. There's a little side effect to that.
Gasoline generators have less lifespan than diesel generators but are more efficient. So, if your concern is efficiency, go for gasoline generators.
Size
Apart from industrial generators, home generators can be small but need to provide enormous power to run everything at home and specially if you need to power up your welder. So for home use, it's not always necessary for us to buy big or large-sized generators.
Just judge the generator according to the power it can produce. Size doesn't matter for home generators. Specially for welders. If the size is smaller, it's better for you as you have to carry it around to different places for welding purposes.
Warranty
The minimum warranty you can get from a generator manufacturer is 1 year. But most of the manufacturers are providing around 2-3 years of warranty.
Just to be on the safe side, it's okay to have a long warranty period to get a solution for any issue from the manufacturers.
Presenting Miller Trailblazer 325
As an Amazon Associate I earn from qualifying purchases
The miller trailblazer 325 is one of the benchmarks of welding/auxiliary power. Miller is the manufacturing company and the engine inside this beast is a Kohler engine, the leading engine brand all over the world.

Performance level
The trailblazer generation has a reputation for providing unbeatable arc performance and the auto speed technology is superb. The 300-amp class engine delivers more power, less noise, and fuel efficiency.
What more can you ask from your generator which delivers enormous power and also saves you money?
What people have to say
People have reviewed this product after 2500 hours of usage. Repeatedly, all have said it's the perfect machine for them. They will buy the same model if the previous one goes down.
Pros
The size of the generator is small
Power deliverance is great
12,000 watts delivered
Auto-speed technology
Auto-adjustable torque
Multi-purpose
Multi-tasking
Automated auxiliary inverter
No chance of overloading
Fuel efficient
3 years of warranty
Cons: miller trailblazer 325 problems
Less lifespan than a diesel generator
Check Price & Reviews on Amazon
Miller trailblazer 325 review: Features And Benefits
Noise-free
The first idea that hits our mind while thinking about a generator is that it will make a lot of noise and create an unbearable situation. So, the consideration before buying a generator is to get the one that makes the least noise. In this case, the trailblazer 325 is the ideal choice.
For instance, if your project site is a noise regulated place where you have to get the job done with the minimum noise, the trailblazer will make sure that the job is of great efficiency and the noise is reduced to the minimum level.
Maximized Power
Better welding deposition rate with wide amperage output delivers fast and efficient welding. Thus, you get the job done with maximized power under the minimal engine deliverance.
Auto-Speed Technology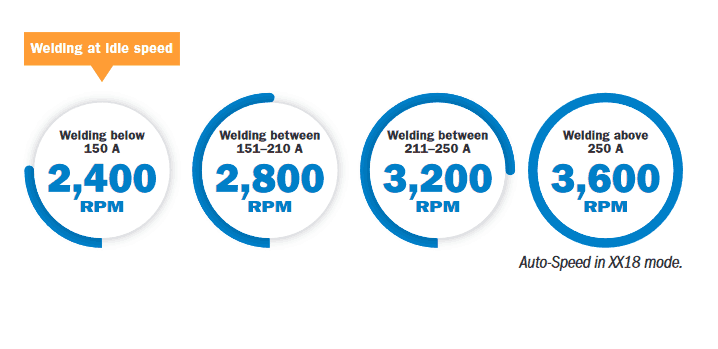 Most of the generators and welders work at a maximum of 3,600 RPM load where the trailblazer has auto-speed technology that auto-adjusts the torque required for welding. You don't have to manually adjust the torque-speed according to your need.
This machine understands how much RPM is required to complete the work and adjusts accordingly. It makes your job easier. All you have to do is to hold the welding end at the correct position.
Check Price & Reviews on Amazon
Multipurpose Machine
Usually, welders that are dedicated to welding jobs have such specifications as auto-speed, auto adjustable torque. But this one is a multi-purpose generator.
If you own this, you can not only use it for your welding needs but also you can use it as an auxiliary power when necessary. So, it's a multi-purpose machine that works great in both sectors.
Automated Auxiliary Inverter
There are many voltage issues when you run a generator at home. Usually, on auxiliary power, we don't use most of our appliances. We use only the important ones.
This makes the generator to get overloaded due to the lack of torque adjustability. But with the trailblazer, the machine knows how much ROM it has to put in to serve your needs. That's why unlike most generators, this one does not overload while using at home.
Fuel Efficiency
The generators that don't have torque adjustability tend to consume more fuel as they run at the same torque all the way. That means the less your torque, the less is your fuel consumption.
When you buy a generator that has auto-adjusting torque, you are automatically opting in for fuel-efficiency. The maximized arc in minimized torque applies here as well. It saves fuel when you're welding at maximum power.
12,000-Watt Delivery
The maximum watt you need to run all your home appliances is 6,500 watts at best. That's the maximum average electricity consumption at a regular home.
When you're buying the trailblazer, you're buying a powerhouse that delivers up to 12,000 watts on demand! That's a lot. You can almost power-up two homes with maximum electricity consumption with one generator.
Multitasking
Though the advisory says not to do two things at once, people did tests whether it can do the two said tasks at once or not.
So, welding and auxiliary power, people started both the tasks at once. The generator went a bit hotter than usual, but it did both of the works without breaking a sweat.
So, you can call this a multi-tasking generator. Though, the advice is not to do something like this. It was an experiment and the experiment proves that it can do two things at once.
Warranty
The trailblazer comes with 3 years manufacturer's warranty. It means if the device has a build problem or a problem in the machinery within 3 years of purchase, Miller will take all the responsibility and repair or replace the device.
Check Price & Reviews on Amazon
Alternates You May Consider
As an Amazon Associate I earn from qualifying purchases
Checkout our reviews of Lincoln Ranger 305G or Lincoln Ranger 250 GXT.
Wrapping Up
We have highlighted all the important features in this miller trailblazer 325 review that the machine packs. With this review, you can identify the benefits you will get from using this multi-purpose machine.
The basic problem that persists in every generator/welder is that of power. The power deliverance is limited and that can't mitigate the necessity of the machine fully.
Secondly, we all face power surge problems in our households that no normal generator can't solve. A generator that can work as an inverter itself having some torque adjustment or auto-speed system can help you manage the power surge.
Trailblazer can be the best solution here. As you can see that it loads the auto-adjustable torque and auto-speed technology that helps to control the torque automatically. The machine knows when you need how much power. Thus it delivers that.
Also, other generators will relentlessly maintain one torque and eat up all the fuel without delivering the exactly needed power. This machine will only produce the exact amount of power you need. In this way, there's no extra fuel consumption but maximized power.
So, it's a great generator to buy at an affordable price range.
Check Price & Reviews on Amazon