Welder generators are just the thing you need to ensure continuous efficiency in your work. They provide a continuous flow of electricity and make sure you don't get interrupted while working. These generators are really handy when you are working in a place where there is a scarcity of electric power sources.
While working with heavy materials or whenever I am working on a big project, I want a strong continuous flow of power. A powerful strong generator is not only beneficial for heavy works but for small tasks as well. But not all generators can provide with enough efficiency. A welder generator with low power is really annoying to work with. This is why I always felt the need for a stronger machine.
We're talking about a serious welder generator with a lot of engineered power.  Not all welding generators are strong enough. There are only a few that are seriously effective.  Today we'll be talking about such a welder generator, the Lincoln Ranger 250 GXT.
With a few additional items, this heavy machine can TIG (only DC), MIG, flux core and stick weld just as effective as a stand-alone welding machine. It's very natural that welders use a lot of electrical power while working.  Lincoln Ranger 250 GXT will surely satisfy you to meet your needs.
Today in this Lincoln ranger 250 gxt reviews, we'll give you enough information about this welder generator so that you can make the perfect choice for your needs.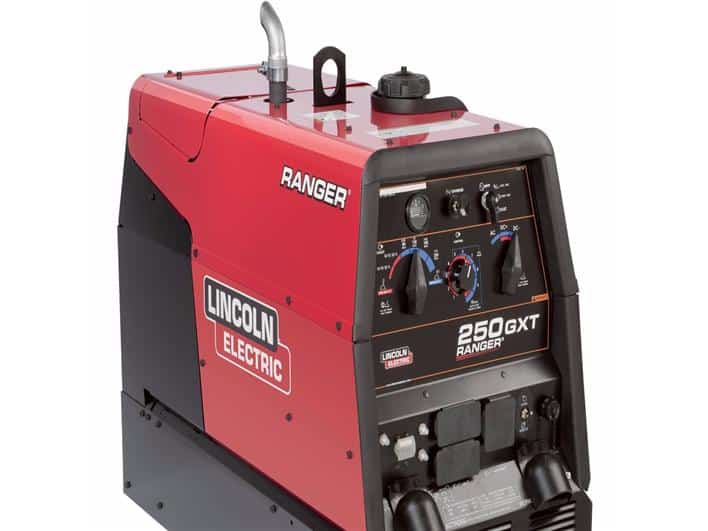 Things to Consider Before Buying a Welding Generator
First of all, while buying a welding generator, we should remember that it is the user's huge responsibility to buy the correct one to meet his needs. From our end, we will let you know which generator will meet your expected deliverance of efficiency.
We'll point out the things you need to look for before buying so that you don't need to read a lot of reviews to buy your preferred welding generator.
So, let's start:
Who is it for?
This machine is a serious one, strictly for the professionals. It can run reliably 24 x 7 while dealing with rough environments and fluctuating temperatures. So non-professionals should never get such a machine for their home-based light jobs.
It's definitely not the one you can buy to use for your home appliances. So, according to use, it's recommended for the professionals. But if you are an amateur and want to learn the skills of welding, Lincoln Ranger 250 GXT can be the perfect one for you.
Fuel capacity
As the professional welding machines need to run for a long time, it's necessary to have a big fuel tank for them. It's too much annoying to refuel now and then. So, you must consider the generator's fuel capacity and fuel type.
Generally, welding generators work on either gasoline or diesel. Gasoline generators are proven to be efficient workers, but diesel generators provide a good lifespan.
So, you must sacrifice lifespan to have the most efficiency.  And for a longer lifespan, you need to sacrifice efficiency.
Requirement of power
Different welding generators have different types of capacity.  They are either made for small welding jobs or heavy work.
If you are a professional welder, you need to consider your needs before buying a welding generator.
However, buying a welding generator that can do heavy works is always safe. As it's powerful, it can do both light and heavy work.
Buying a welding generator for light works won't allow heavy works, so it's good to be safe with a heavy working welding generator.
Warranty
You need at least 1 year manufacturer's warranty. But nowadays companies offer at least 3 years. So you can spend enough time to find an issue with the machine.
However, different electronic devices offer different build qualities. They might have some electrical defects in the build, so warranties will keep you safe.
Mobility
It's good to buy a welding machine that can be moved with ease. Unless you are working in your home or shop, you need a mobile device.
Especially for working in construction sites, if you need to move your machine to different places, you need a small yet powerful device. That should be mobile but able to deliver immense power to do heavy work.
Presenting The Lincoln Ranger 250 GXT
Product Features
Totally enclosed case, which ensures engine is fully protected
Use as an AC generator for high-capacity needs such as backup generator
Painted roof, case sides and engine doors
Series: Ranger
As an Amazon Associate I earn from qualifying purchases
What you can expect from a company that has been in business for more than 100 years and has delivered some of the best machines in the market? The Lincoln Ranger 250 GXT is considered one of the best welding generators of the market.
We have inspected many international construction companies using this machine at the biggest and most important welding points.
Machine Specifications

Performance level
The Lincoln 250 GXT can do the toughest job while providing the maximum efficiency.  The machine packs 600 pounds of electrical power and a huge AC generator. So it's truly awesome for the toughest jobs.
It has gone through a lot of tough jobs while testing. The welding generator has given the proof of its work-ability.
Who Needs To Buy This Device
Only the professional welders should buy this device. It's an ideal device for extreme level workers who need the maximum performance from a welding generator.
600lb power is not a joke, so only true professionals should get this machine for their work.
However, if you are not a professional but want the maximum performance even for your smallest job, you can get this machine.
What People Have To Say
People who have used the machine for their work are extremely satisfied. They never said a word against the Lincoln Ranger 250 GXT. They all agreed to the fact that it's one of the best gasoline-powered devices in the market that lasts even longer than diesel generators.
So people are satisfied with the power of Lincoln Ranger 250 GXT because of the longevity and performance of the machine.
Pros:
Total enclosed case
Versatile AC/DC welding
3 service access doors
Heavy-duty tasks
Easy maintenance
Rugged Reliability
11,000 Watts Peak AC Generator Power (Single-Phase)
3 years of warranty
Various models
Fuel efficiency
Great power deliverance
Cons:
Heavier than other gasoline generators
Lincoln Ranger 250 GXT Reviews: Features and Benefits
EGXTra Protection:
The machine has a totally enclosed case that will provide full protection. The engine is fully protected and it has 3 service access doors.
11,000 Watts Peak Single-Phase AC Generator Power
It's very normal for welders to use 10,000 watts at its peak time. Lincoln Ranger 250 GXT can supply that continuously. That is enough to run your equipment at full power.
23 HP Kohler® Gasoline Engine
The machine has 2 cylinders along with 4-cycle air-cooled design that will provide the power you need. You don't need to worry about vapor lock as it has a fuel pump that prevents vapor lock. It includes an oil drain extension facility for changing the oil easily.
Versatile AC/DC Welding
While most of the generators either provide AC or DC current only, you may need both during some circumstances. The Lincoln Ranger 250 GXT provides versatile AC/DC Welding, so you can use the one matching your needs.
Portability
The Lincoln Ranger 250 GXT has a manageable size for contractors to heave it into their truck bed and drive to a site. It's 600 pounds at a height of 29.9 inches, 21.5 inches wide and 42.3 inches deep.
Despite storing massive powers, the machine is very much portable if you have a truck to move it anywhere you want.
Meters and maintenance
Maintaining a generator is not an easy job, unless you have the Lincoln Ranger 250 GXT. Maintaining this machine is easy.
It has a combination of engine hour meter and electric fuel gauge located on the control panel so that you can easily check both hour operation and fuel level. The Fuel gauge aids you to eliminate running low on fuel during critical jobs because when you know if you are running low, you can easily refill.
If you need to refill, you can use the top fuel filler neck that can be easily accessed.
The hour meter helps plan for scheduled engine maintenance. Switch combines OFF, START, and IDLER functionalities into a compact, simple, as well as easy to use switch. The oil drain valve doesn't require other tools because it has a detachable extension tube.
Alternates You May Consider
As an Amazon Associate I earn from qualifying purchases
Check our reviews on Miller Bobcat 250 or Miller Trailblazer 325.
Wrapping Up
Every welder wants a powerful machine that can do various works while producing less noise and more efficiency.  But with the Lincoln Ranger 250 GXT, you don't need to worry about both of these.
From the Lincoln ranger 250 gxt reviews, we have learned that a versatile machine like this one can do a lot of work while generating less noise and great productivity. Also, the generator is very portable with a compact size.
So that's it. If you want to get the best outcome, spend money on something that provides the best.
Click here to know more about the Lincoln Ranger GXT 250 and buy it at the best price.