While welders are at work, we need a generator that we can depend on. In short, a dependable machine that will deliver the power we need.
Think about a scenario where you have some heavy work to do but your generator is turning off or getting overloaded every time you try to up the power. This is something many generators face, overloading.
But we're calling the bobcat 250 a dependable one because it can withstand quite a load. That's why many proclaim it to be one of the best welding generator in the market. We will provide proper information in this miller bobcat 250 engine driven welder review to make sure you can make the correct choice.
Things to Consider Before Buying a Welding Generator
As a user, it's a massive responsibility to buy the correct machine to make sure that we get the expected deliverance of efficiency.
That's why there are some pointers to look for before you can buy a welding generator for yourself.
As of from our end, it's our duty to let you know about those pointers so that you can make a choice of your preferred welding machine without having to read a lot of reviews.
So, let's point them out-
Who is it for?
Usually, non-professionals who require some home-based welding jobs should never buy this one. This is not for irregular welders. It's definitely a professional tool that only professional welders may use.
Though, many non-professional might buy the product to make use of it as a home generator, which they can by the way. But it's not the ideal generator that you can use for your home appliances.
So, according to our moderation, it's strictly for professionals.
Fuel capacity
For professional welding machines, it's a necessity to have a big fuel tank as they tend to run for a long time. Because professional welders will be working at big construction sites and the machine will be used for as long as the day.
It's very annoying if you have to out fuel every now and then. So, you have to consider the fuel capacity and also the fuel type.
Welding generators work on gasoline and diesel. While diesel generators are proven to have a better lifespan, gasoline generators are proven, efficient workers.
So, if you want efficiency you have to sacrifice some lifespan. And if you want a longer lifespan, you have to sacrifice some efficiency.
Requirement of power
Not all welding generators have the same power capacity. Some are meant for small welding jobs. Some are meant for heavy work.
If you're a professional welder you should consider the fact that all types of work might come before you.
So, it's always safe to buy a welding generator that can do heavy construction work.
Because if it's powerful, it can do both heavy work and light work.
Warranty
Expect a manufacturer's warranty of least 1 year. But companies like Miller offer a warranty of at least 3 years to make sure that you have enough time to find out if there's an issue with the build.
Mostly, not all electronic devices have the same build quality. As they are an electronic device, the might have some electrical defects in the build. So, the warranty is to keep you safe.
Mobility
Always buy a welding machine that you can move easily. There are two types of welding generators according to mobility.
If you want to work from your home or shop, usually the works are small, you don't need a mobile device.
But for taking the machine to different places, especially to construction sites, you need a small but powerful device that is mobile but can deliver immense power to do heavy work.
Presenting The Miller bobcat 250
Product Features
Start type: Electric
Great for Stick and Flux-Cored welding
Quieter and better sound significant improvements in sound level
Amperage range: 40 to 250
Provides a safer, more efficient working environment
As an Amazon Associate I earn from qualifying purchases
A company that has been in business for 90 years and has delivered some of the best machines that the market has ever seen, what more can you expect from Miller? The miller bobcat 250 is considered one of the finest welding generator of the market by many reviewers and users.
We have seen and inspected many international construction spaces having at least one of these devices working at the biggest and most important welding points of the building.
Performance level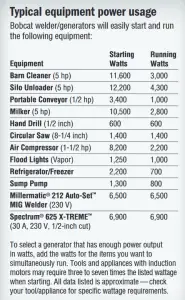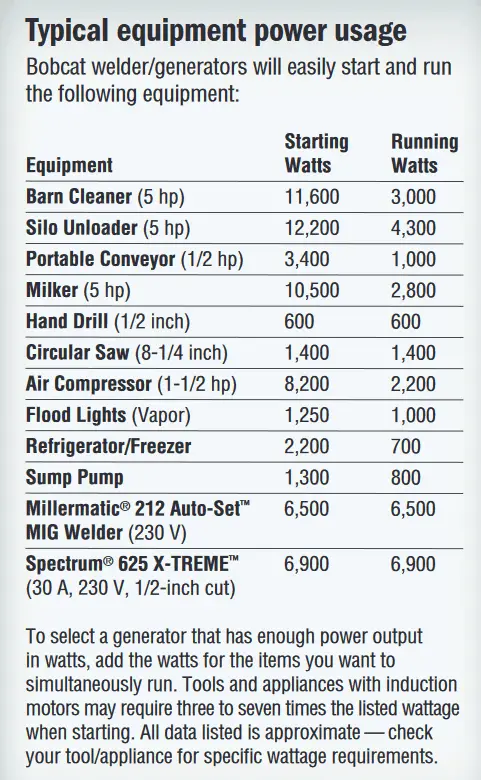 The bobcat 250 is considered one of the best because it can deal with the toughest job with maximum efficiency.
The performance level of any welding generator is decided according to the tasks it can do and job duration. The bobcat 250 has gone through many tough jobs in its testing period. It's has given proof of its work-ability and has worn the throne of the best in the market for quite a long time.
If you are interested check our review on Miller Bobcat 225.
Who needs to buy this device
Not every welder has this occupation as their primary one. Only those who take this profession as their main and only profession need a device like a bobcat 250. It's because it's an ideal device for working anywhere you can.
That's why only professionals should buy this. But if you think you need maximum performance even for the smallest of jobs, you can easily grab his for yourself as well.
What people have to say
People who have had their hands on one of these are immensely satisfied. They gave their word in favor of the bobcat 250. They have said that it's one of the best gasoline-powered devices to last longer than average diesel generators.


That's why people are so satisfied. Because most of the gasoline welding generators don't have the same capacity as diesel welding machines. But this has added a different level to the industry with its different features.


Pros:
Multitasking
Both AC and DC capability
Constant voltage and constant current
Heavy-duty tasks
Easy maintenance
Reverse airflow
Noise-free
Accu-rated power
Digital meter and easy control panel
3 years of warranty
Various models
Fuel efficiency
Great power deliverance
Cons:
A bit heavier than average gasoline generators
Miller Bobcat 250 Review: Features and benefits
Multitasking
According to these following tasks welding generators have been diversified-
Flux core welding
Stick welding
MIG welding
GC TIG welding
Gouging
Plasma Cutting
AC TIG welding
These are the works that you can do with 7 different welding generators. But, you can do all these with the miller bobcat 250. That's why it's multitasking.


It has a 23 HP Kohler engine with 12 gallons of gasoline capacity. That means it can do all these seamlessly for a long period of time.
Constant current and constant voltage
To do MIG welding and Flux Core welding you need a machine that can deliver constant voltage and constant current.
With them, you can't do MIG welding with any generator. But the bobcat 250 ensures proper flow of voltage and current so that you can do MIG welding with ease.
You can increase the fan speed but due to the constant current technology, you can ensure the same arc length all the way providing precise plasma cutting as well.
Faster cooling
The miller bobcat has a reverse generator airflow technology that can ensure the fast cooling of your generator. It can also cancel noise to an extent.
The generator has a quiet engine. But a quiet engine can also make some noise.
This feature helps to cancel that slight noise making the generator completely quiet.
AC/DC Capability
Mostly, generators either possess AC current or run on DC current. For that, if you need an AC current supply, you need a generator that delivers AC current. And vice versa for the DC option.
But during some circumstances, you might need both AC and DC current capability.
Miller has created the bobcat to do that. It has both AC and DC current capability to deliver the one you need at any time of the work.
Most of the welding generators are now on DC current. But as of now, still, the word is most not all. That's why you need AC current on some events.
To keep you on the safe side the miller bobcat 250 offers both AC and DC current capabilities.
Accu-rated power
Accu-rated power is the patent name for Miller to provide 11000 watts of peak power. Most of the generator manufacturers don't even know what the peak power is for their particular models. But Miller has broken down all that and set peak powers of all their generators.
And as they were the first to do that, they named the feature Accu-rated power. You need peak power while plasma cutting. It's really a drastic job and compels a lot of power.
This element is one of the reasons why miller is one of the most prominent names in the welding generator industry.
Digital meters and simple power panel
Maximum of the welding generators still have analog panels as nobody really cares about how much power they are using to do their designated task. But it's really important because you might be pushing your machine too much for doing absolutely nothing.
So, the idea of digital meter came to Miller's mind to keep the machine under moderation and giving it better health and better lifespan.
Also, the panel is simple. You can switch between modes very easily. Nothing is analog. Everything is digital and simple to handle.
Manageable Maintenance
The hard part about a generator is maintenance. Starting from cleaning and putting the fuel in, people usually hire people to maintain their welding machine. It's completely unnecessary.
You don't need someone else to maintain your machine if you have the miller bobcat 250.
The maintenance of the machine is extremely easy. Let's start with refueling. To refuel the machine all you have to do is unscrew the gas cap with a tool and start refueling.
Here's a piece of advice. Gasoline tends to create some gas inside while burning. So, open the gas cap and keep it open for 5-10 minutes to let the gas out.
Then you can refuel. This keeps your engine better and you can make the best use of the 12-gallon capacity. Unlike other devices, there's an indicator of how much fuel you have left or you have to put in. This helps a lot. You don't have to waste fuel or money.
Also, for cleaning, you don't need tools to open the machine. There are several levels and panels that you can simply press or pull and the upper cover opens. Then you can clean the machine easily.
Alternates You May Consider
As an Amazon Associate I earn from qualifying purchases
Checkout our review on Lincoln Ranger 250 GXT.
Wrapping Up
The biggest problem that every welder faces is doing various works and keeping their machine cool. It takes a lot of time for a generator to cool off after a long time of usage. But with the miller bobcat 250, you can have control over both of these things.
From the miller bobcat 250 review, we have learned so far that it can single-handedly do 7 types of welding works that you would need 7 machines for.
Then it has reverse generator airflow technology that enables you to keep your device cool and noise-free.
So there you have it. When you're spending your money to buy something, buy the best. Click here to know more about the miller bobcat 250 and buy it at the most affordable price.