Welding machine is the device that allows you to build up a structure in the easiest and effective way possible. But not all welders are most effective. There are many significant and trivial factors that can make a welding machine "not-so-good".
A prominent problem of using a welding machine is the boundary of the power source. I find this very annoying. It doesn't allow you to move freely or to choose a comfortable space. For this reason, I prefer engine driven welders over any other welding machine.
But if this device is not suitable for your usage then it will only cause more trouble. If it's hard to maintain or causes too much distraction then it's obviously not a very good device. Also, there is the factor of power. If it doesn't provide enough energy then you will get interrupted in your work.
For this reason, you need a welder that can give you enough power supply and at the same time is easy to handle and give a maximum result with a minimum amount of effort. Miller Bobcat 225 is an easily usable device. Not only are they efficient, they are also very much comfortable to work with.
From this article, you will get a thorough Miller Bobcat 225 review. Miller is a famous brand in the welding industry. From the discussion of this welder, you will get a basic idea of this product. This will allow you to decide if it's just the thing you need or not.
Things To Consider Before Buying An Engine Driven Welder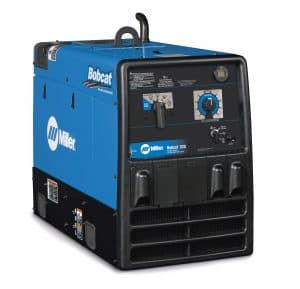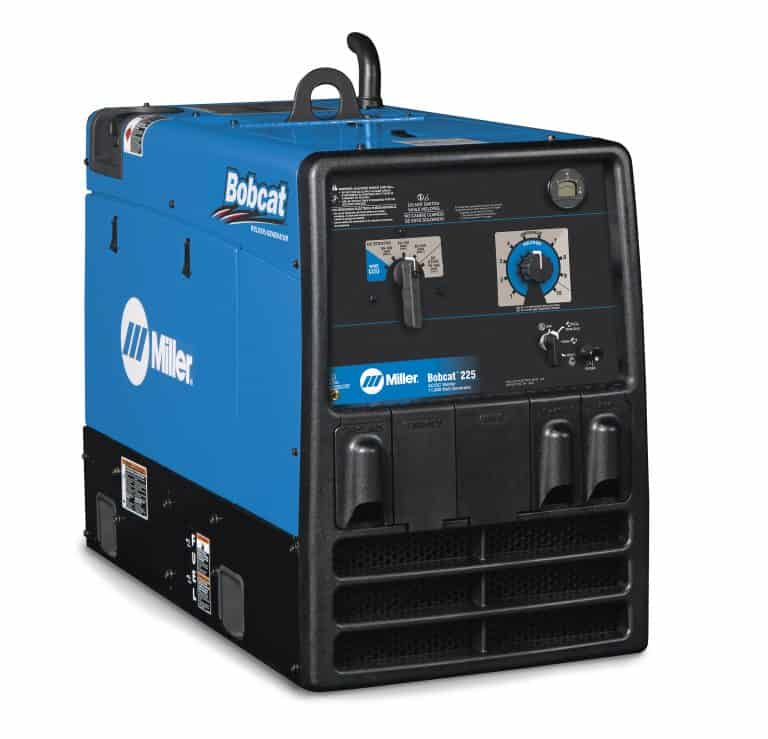 You can't work in every situation if you have to depend on a power source. Welding jobs require a high level of power supply. Not every power source can provide a continuous flow.  That's why engine driven welders are a smart choice. These welding machines can provide a continuous flow of electricity.
These are must buy to ensure fluent work. But if you are planning to buy a welder just away I am going to stop you for a bit. Before you choose a welder there are certain things you should consider.
The perfect welder for you depends on your purpose, affordability and work condition. But whatever your need may be, a constant supply of energy is a must.
Whether an engine driven welder is worth it or not depends on several major and minor factors. While choosing a perfect engine driven welder you should look for a combination of all essential factors.
If you are to choose a welder you should look out for the following features:
What Materials Do You Intend To Work On
Different kinds of welding jobs require a different level of power supply. It basically depends on the thickness of the material. Light material such as aluminum, steel, stainless steel, and sheet metals are generally 3/16 inch thick. A 130 amp unit with a 20% to 30% duty cycle is enough for welding on such objects. As for heavier materials, at least 200 amps with a 40% duty cycle is mandatory. So depending on the objects, you want to work you have to choose the most plausible welder.
There are different kinds of engine driven welders. Not all of them provide the same level of power. So, while choosing an engine driven welder, keep in mind the materials you are working with. The engine strength will determine the efficiency in work.
What Kind Of Welding You Intend To Perform
There are different kinds of welding job depending on what kind of welding they are used for. It ranges from fieldwork purpose to TIG welders. All the welding purposes have their own welders.
To get a good finishing you have to select the adequate welder. An engine driven welder basically serves almost all kinds of welding purposes. From stick welding to plasma cutting, all can be done with an engine driven welder.
What Kind Of Fuel Are You Comfortable With
There are basically two different types of fuel used to power the engine driven welders. They are LPG and gasoline.
You can start a gasoline engine without any additional starters. As gasoline engines get hot really fast, it's better if you use it outdoor.
Though LPG is not that much common, it works best if you are using it indoors.
How Much Fuel It Can Contain
You have to consider the fuel capacity of your welder. It's essential if you want to work in a continuous flow. The more the fuel capacity, the more the work time you get.
The Matter Of Portability
Portability is a major factor while choosing a welder. You may need to move around a bit with your welding tools. If your engine driven welder is not portable you will have to go through a lot of trouble. A portable welder such as Bobcat 225 is very much plausible for you if you intend to move around with it. It isn't heavy either. It weighs around only 200 kg. You can move it easily if it's compact and light enough.
Presenting the Miller Bobcat 225
Product Features
Continuous auxiliary power- 9500W
Peak auxiliary power- 11000W
Height- 33", width- 20" and depth 45.5"
Features- process DC stick/TIG, AC stick/non-critical TIG, FCAW/MIG
Application- structural steel work, general maintenance, farm/ranch applications, stand alone generator
As an Amazon Associate I earn from qualifying purchases
Welders are an important device for building up a structure. Its efficiency depends on its compatibility and maintenance.
Bobcat 225 is a welding generator that makes your welding job comfortable. An interesting fact about Bobcat 225 is it can also be used as a generator. It is able to power electrical devices such as battery chargers, air conditioners, lights, etc.


Bobcat 225 is a multiprocessor welder. It can be used for TIG, MIG and even gas welding. Though it can't do all the tasks with the same efficiency it's able to do all that.
This welding machine is really quiet. The large part of the engine rotates toward the front. It allows a more efficient airflow. This reduces sound to a greater level. You can work comfortably sitting next to it.
This welder is basically for the repair and maintenance job. It's a good choice for farm or ranch jobs as well. It can also be used if you want to do a construction project. Its 12 gallons of fuel capacity allows it to run for a longer time.
This is an easily usable machine. You can operate it even if you are a professional or an amateur. Its multipurpose usage allows you to use it for various tasks. And you can use it for a long time. This means that you can take your time to work with this device.
But this welder comes with its own benefits and problems.
Pros:
Ideal for ranch or farm works
Easy maintenance
DC operates smoothly
Multipurpose
Long operating time
Cons: Miller Bobcat 225 Welder Problems
Welding leads are sold separately
Miller Bobcat 225 Review: Features & Benefits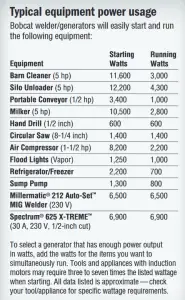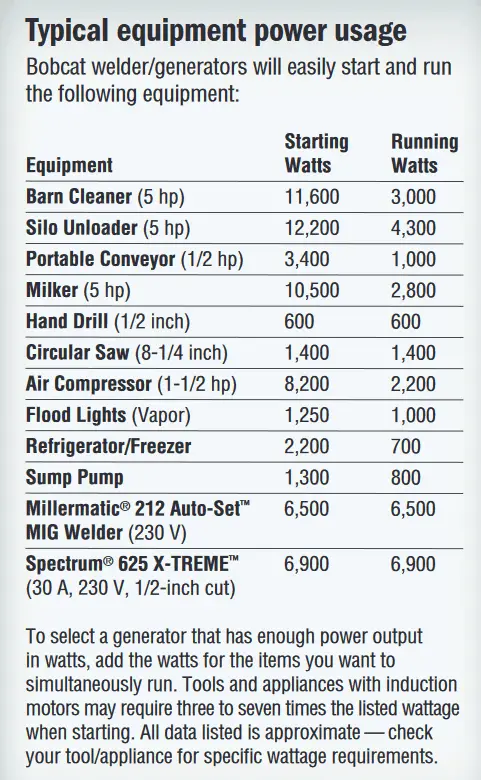 Bobcat 225 welder is popular for its wide usage. It can be applied for different tasks. It can be used in ranch and can be applied for construction jobs. It also can be used for various kinds of welding jobs such as MIG and TIG welding. It also has other benefits as well.
This welder provides –
Quieter Working Hour
The Bobcat 225 is designed in such a way that it doesn't make much sound while working. The engine is placed toward the front. This increases efficient airflow and decreases noise.
Smooth Power Supply
The "ten-degree skewed rotor design" of Bobcat 225 works to improve the working condition of the generator. It gives a smooth supply of power to ensure a better welding performance.
Compact Size
With the dimension of 22.5 x 41.4 x 33.3 inches and weight of only around 500 lbs, this machine is easily portable.
You can take it anywhere and you won't have to worry about making room for it as it doesn't take much space.
Easy Maintenance
For its simple design, Bobcat 225 is a popular device. The front panel display allows you to know about the inner condition of the device. You can also check the oil by the maintenance panel. It also provides some quick access to other tasks.
What People Say About Bobcat 225 Welder Generator
Lets take a look at couple of screenshots from all around the webs –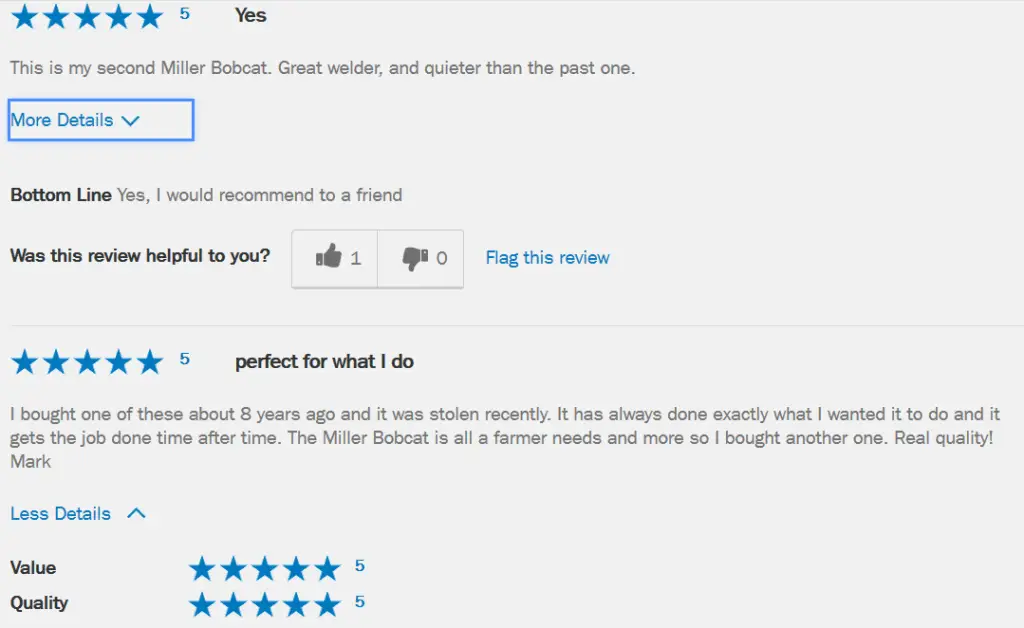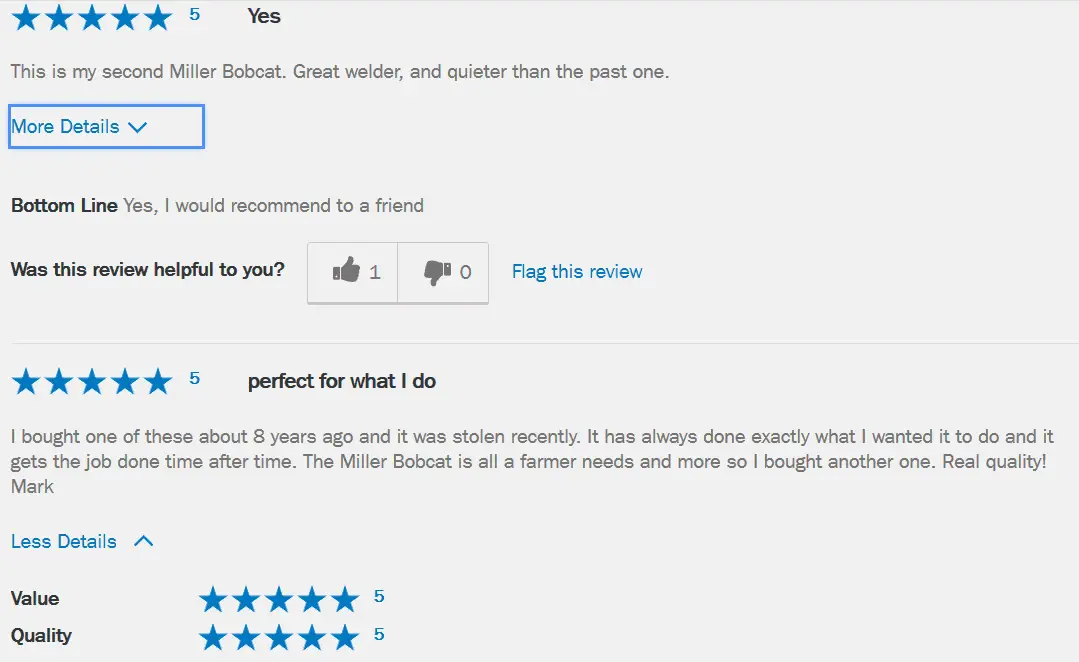 Bobcat 225 Vs Bobcat 250
There's not much of a difference, you better check out yourself below and decide which one is right for your purpose –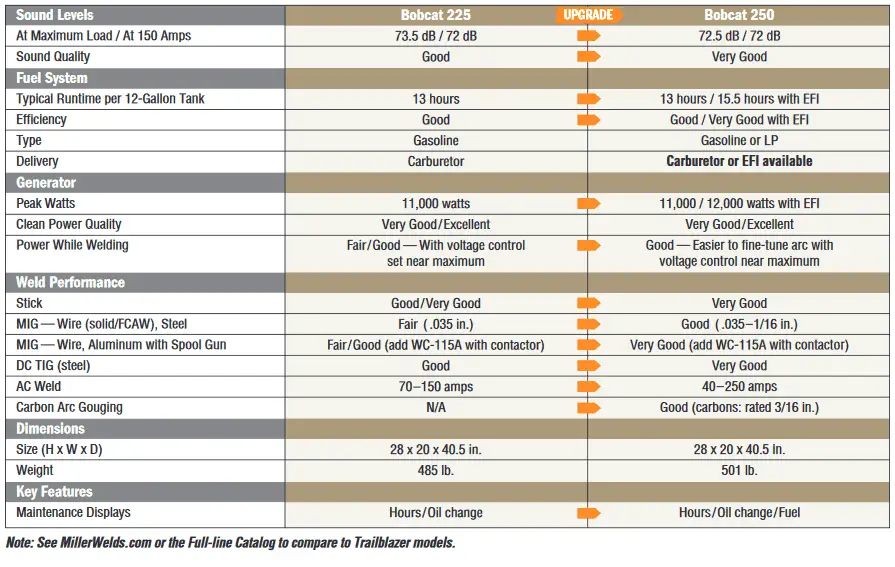 You can check our full review on Bobcat 250 here.
Alternates You May Consider
As an Amazon Associate I earn from qualifying purchases
Don't like the blue much? Well there is Lincoln Ranger 225 or Hobart Champion Elite for you to consider.
Unboxing and First Weld: Video Review of Miller Bobcat 225
Wrapping Up
Many welders out there are very hard to maintain. Many of them are limited to a single purpose only. But Miller Bobcat 225 is a bit different from others. It serves various purposes and carries out its prominent duty properly.
Most importantly, its easy maintenance and compatibility help even amateurs to handle the welder properly. And Bobcat provides you with all these benefits at a reasonable price. If you want to take a chance with Miller Bobcat 225, check out the price here.