Nowadays, to build a strong structure, welders are the only device you can rely on. They are extremely powerful tools. But they can be put to serious use if they are strong enough. Apart from the factor of power, there is also a matter of portability. A welder that requires a power source in order to work is not the best one.
This is a problem I faced when I started welding. It was a huge problem for me as I had to manage a power source in my work site. This was not always possible. But I was saved from this trouble when I got to know about engine driven welders.
Engine driven welders are required for professional and non-professional welding works. If you want to do some heavy work without worries, you need a powerful welder with extreme power. But in addition to providing a lot of power, it is portable too.
You can easily move the machine to where ever you need it. But not all the engine driven welders out there are equally good. There are some factors that create a huge difference between them.
If you want to make sure you get the best kind of welder out there, we are here to help. In this article, we are presenting the Lincoln Ranger 225 review where we'll dive deep and talk about every feature of this welder.
So, let's get started!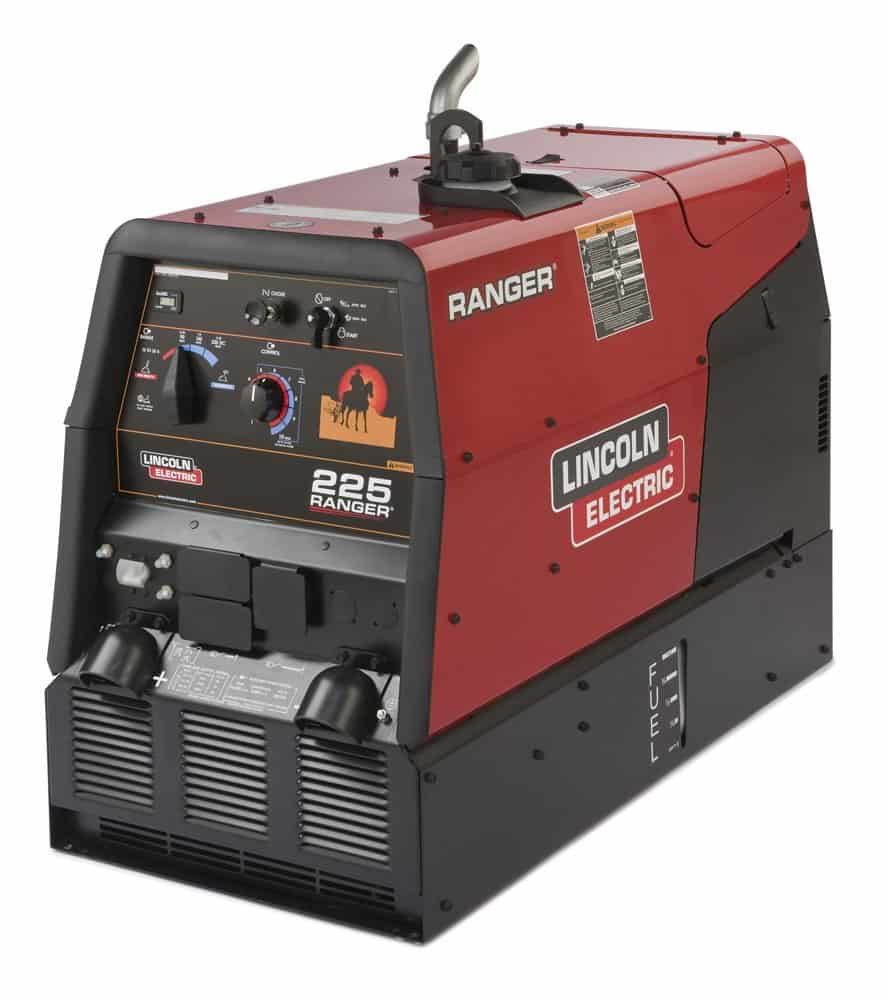 Things to Consider Before Buying an Engine Driven Welder
When you need heavy stuff to do, you need to buy the right machine that can satisfy you. Some pointers must be taken care of before buying a machine.
It's our responsibility to tell you about the pointers so that you don't need to read lots of reviews to get a perfect welding machine.
Let's see what you need to know before choosing an engine driven welder.
Who Should Use This Machine?
If you are looking for a small machine that suits perfectly for your heavy works, it is the machine you are looking for. It's cheap and able to do massive jobs for a professional welder.
Non-professionals might give it a try if they want maximum power even to do the smallest job. But it's never an ideal one for irregular welders.
So, only professionals should look for this.
What's The Fuel Capacity?
Professional or not, having a big fuel tank always helps in the long run. Especially for professional welders, as they work all day long.
It's a necessity to have a big fuel tank for a professional welding machine. It's because they are usually used for a long time at once. As professional welders will work on big work sites, it will need more fuel.
Refueling now and then is very annoying for users. So you should consider fuel capacity before buying.
Requirement of Power
You should not look for a machine with less power capacity because that will not be powerful enough to handle professional level work. Unless you are an irregular welder, you need a powerful welding machine. Regular or not, buying a powerful one helps because a powerful machine can do both light and heavy work.
So, buying a machine with a lower power capacity is not recommended.
Is There Any Warranty?
A year of warranty is always expected for a machine. But Lincoln provides 3 years of warranty with its machines. An electrical device can have some manufacturing defects in the build.
Therefore, having more warranty gives you more time to find issues.
How's The Mobility?
Buying a smaller and mobile device is necessary for professional welders. A homeowner won't need a mobile device because they don't need to move their device here and there.
But a professional welder needs mobility because they work on different construction sites. So you need a mobile device if you are a regular welder.
Presenting The Lincoln Ranger 225
One of the most popular names in the market, Lincoln provides only the best for customers. The Lincoln Ranger 225 is a very popular machine in the market for its performance and durability.
We saw many popular and known builders using this machine at the toughest and important welding points.
Specifications At A Glance
Check out the operators manual for more details.
Rated Output

225A DC CC/25V/40%
210A DC CC/25V/100%
200A DC CV/20V/100%

Output Range

Generator Output

10500 watts peak, 9000 watts continuous

Type of Engine

HP and speed

Cylinders

Dimensions (H x W x D)

29.9 in x 21.5 in x 42.3 in (759 mm x 546 mm x 1074 mm)

Net Weight

514.00 (233.15 kg)
Performance level
The Ranger 225 has a superior performance level than most of the machines in the market. Efficiency and performance are at the top level in this machine.
In the testing period, it has proved its workability and has been the best in the market for long.
Who needs to buy this machine?
If you are not a professional welder and do not need a small device with the highest portability, you do not need this machine. Whoever is serious about their welding profession and takes welding as their primary occupation needs this machine.
Only professional welders should look for this machine if they want maximum portability with performance. Even irregular welders can get this if they need the best for the least jobs. A good step up from Ranger 225 would be the Lincoln Ranger 250 GXT. Or if you like the Blue instead of Red, you may consider Miller Bobcat 225.
What other customers have to say?
People using this engine driven welder are extremely satisfied with the performance and portability of the machine. They stood for Lincoln Ranger 225. Among the gasoline-powered welding machines, it's the best according to their opinion.
Pros:
Compact design
Both AC and DC capability
Auto idle feature
Low sound
Easy maintenance
Fuel efficient engine
Heavy-duty tasks
Easy maintenance
Digital meter and easy control panel
3 years of warranty
Affordable price
Multi-tasking
Great power deliverance
Cons: Lincoln Ranger 225 Problems
No chopper technology
You might need to clean the brushes and that inside
Lincoln Ranger 225 Review: Features and Benefits
Multitasking:
This machine can perform these jobs:
Flux core welding
Stick welding
MIG welding
TIG welding
You may want to take four different welding machines for these tasks. But now you can do these 4 tasks in a single Lincoln Ranger 225.
The 23 HP Kohler engine of Lincoln Ranger 225 equipped with 12 gallons of gasoline can do heavy jobs for 16 hours without refueling.
Auto idle feature
Thanks to Lincoln Ranger 225, the machine has an auto-idle feature for you. Your engine will get longer life and less noise will be emitted with this feature. Also, you will be able to get a greater fuel economy with this machine.
AC/DC Capability
Though this machine primarily works with DC current, it is able to provide AC current for other power tools. If you want to do some stick or TIG welding, the Lincoln Ranger 225 is ready to serve you with AC power.
Not everyone needs DC current only. In some circumstances, you may need AC. This machine is ready to serve you with whatever you want.
3 years warranty
Electronic devices are meant to have issues. Engines that run using gasoline are more vulnerable to issues and longevity. But thanks to Lincoln, they have provided 3 years of warranty with this Ranger 225 which will keep you tension free.
If you get that much time to look for issues, chances are that you never find one.
Portability and lightweight
The Lincoln Ranger 225 is known to be one of the lightest machines in the market. If you want a small device with tons of power in the backside of your truck, Ranger 225 is here for you.
Though it's a small machine, it packs a lot of power in it. So no worries about it, you can always move this machine to wherever you want.
Easier control and maintenance
The machine is super easy to control for a single user. Never hire a man just to control the welding machine. You can do it yourself if you have Lincoln Ranger 225.
The machine has an electric start switch. The switch has three options:  OFF, START, and IDLER. So it's very easy to switch between options.
The engine doesn't need oil change again and again. You can change it after every 100 hours of usage. For changing the oil filter, 200 hours usage is a reasonable time. So it will not annoy you again and again.
The top fuel filler neck is large enough to be accessed in order to refuel. There are fuel indicators on both sides of the machine so it's very easy for you to take care of refueling.
Take our advice: refuel as soon as fuel comes under the "E" bar. The indicators can be seen from both sides so you can always recheck.
The battery cover is easily accessible. There are some holes in front and rear so that you can easily mount this machine on the backside of a truck or trailer.
Wrapping Up
The best kind of welder is the one that provides a sufficient amount of power and at the same time is very easy to use. Most welders are either weak or really hard to maintain. It's a very problematic issue for both amateurs and professionals.
These problems can badly interrupt your work. That's why to handle these problems you can consider Lincoln Ranger 225.
Firstly, this engine driven welder will provide you with enough portability to use it anywhere you want.
Secondly, its high engine power ensures maximum efficiency. This gives you a perfect finishing. Most importantly you can maintain this device easily even if you don't have any previous experience.
So, that's it. Know more and get this little monster at a very affordable price from here.