For all kinds of welding tasks, a welding generator is a mandatory device. Well, it is mandatory if you want your work to go fluently without any kind of interruption. If you are a heavy worker, you need a heavy welding generator that suits your work and delivers the power you need.
Imagine you are a professional welder who needs an extremely powerful machine for all day works. But you can't find something that doesn't face overloading problems. Whenever I take on a heavy work, the problem I face is inadequate power supply.
That's why we are presenting Lincoln Ranger 305G, which can withstand quite a load and a dependable one too.  Many people proclaim that it's one of the best welder generators available for its durability and performance.
In this Lincoln Ranger 305G reviews, we will provide you enough information about the machine to help you make the right choice.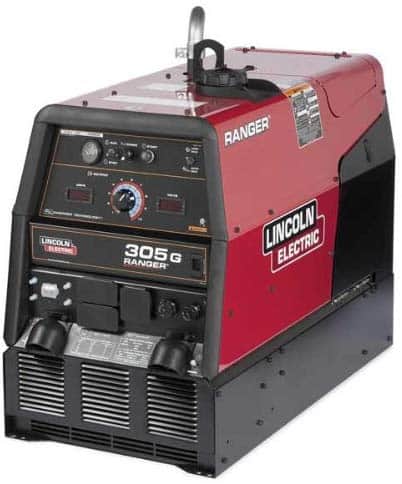 Things to Consider Before Buying a Welding Generator
If you want a welding generator that suits your needs, you need to look for some pointers. If you buy the wrong machine, it's pretty much normal that you will not receive expected performance.
It's our responsibility to let you know what you need to look for before buying the correct machine so that you don't need to read a bunch of reviews before buying.
Let's begin.
Who is it for?
Non-professionals should not look for this high-performance machine. This machine is not for fancy non-professional users. It's strictly a professional tool for extremely professional users.
A home generator is not what it is meant for and not for irregular welders. It's never an ideal generator for your home.
So we recommend it only for professional users.
Fuel Capacity
Unless you are an irregular welder, you need to have a large fuel tank in your welding generator as they will run for a long time. Professional welders work at big construction sites and the machine usually tends to work all day long.
It's very annoying for a user to refuel a machine now and then. Considering the fuel capacity before buying is a good decision for a professional worker.
Welding generators either use gasoline or diesel. It has been said that diesel generators have a better lifespan, while gasoline generators provide efficiency.
So you need to sacrifice either lifespan or efficiency to get the other.
Requirement of Power
Not every welding generator has a high power capacity. Unless you buy a professional one, you are going to have one with low power capacity.
So you should think about what you will need to do before buying a welding machine. As a professional welder, it's always safe to buy a welding generator that is able to take a heavy load.
A powerful welding generator can do both heavy and light work.
Warranty
An electronic device can have some electrical defects in the build. Therefore you should look for at least 1 year warranty to find the technical issues.
Nowadays companies provide at least 3 years of warranty. So you have got enough time to look for an issue in your machine.
Mobility
For professional welding, you need to buy a mobile device. Two types of welding generators exist according to mobility.
For irregular welders at home or shop, mobility is not necessary as works are small. But for moving the machine to different places, a mobile device is necessary.
Presenting The Lincoln Ranger 305G
Lincoln is well known for its state of the art welding machines for more than a century. The Lincoln Ranger 305G is famous too for its awesome set of features.
We have watched a lot of international construction spaces using this machine at important welding points.
Specifications
Rated Output

305A DC CC/29V/100%
300A DC CV/29V/100%

Output Range

20-305A DC
40-300A Pipe
20-250A DC TIG
14-29V CV

Generator Output

10500 watts peak, 9500 watts continuous

Type of Engine

Kohler® OHV Command® CH730 Gasoline Electric Fuel Pump

HP and speed

Cylinders

Dimensions (H x W x D)

36.2 in x 21.5 in x 42.3 in (920 mm x 546 mm x 1073 mm)

Net Weight

510.00 (231.34 kg)
Performance level
The Ranger 305G was made especially for welding. Therefore, its performance is excellent for welding purposes.  Besides welding, it can also handle other jobs as well because of its high power capacity.
We can consider the performance level of a welding generator by measuring the job duration and tasks it can do. The Ranger 305G has gone through a lot of tests and proven to be one of the best performers in the market.
Who Needs To Buy This Device
Welders who want something for light works should not get this device for their work.  This is a serious machine to do extreme level jobs, so non-professionals should avoid buying this device.
As it's a high profile machine and only professionals can handle it, we don't recommend this for irregular welders. But if you want to level up your welding game and want to try a professional welding machine, definitely try this one out!
What People Have To Say
People know this machine as a hard worker for extreme level jobs. It's well known for more than a decade for performing the best in the toughest situations.
This machine is a tough performer, which is why people are very satisfied with the machine. In spite of being a gasoline generator, it lasts even longer than diesel generators.
Pros:
Multitasking
High power output
Skewed rotor design
Heavy-duty tasks
Easy maintenance
AC and DC welding output
Noise-free
Superior Arc Performance
Digital weld meter and easy control panel
3 years of warranty
Durable and reliable
Great power deliverance
Cons: Lincoln Ranger 305G Problems
Bulky and heavier than average generators


Lincoln Ranger 305G Reviews: Features and Benefits
Multitasking:
The machine can do four tasks itself without the need for other equipment –
Wire welding
Stick welding
TIG welding
Flux-Cored Pipe welding
These works are something you need to manage with 4 different welding generators. Thanks to the Lincoln Ranger 305G, you can do all of them with this single machine. That's why we call it a multitasking machine.
It has got a 23 HP Kohler engine that can deliver maximum performance. With 12 gallons of gasoline, you can do heavy works for a long period of time.
High Power Output
This machine is able to give 9500 watts of power, which is almost double than the standard 5000 watts generator. This means you get enough power for your job, regardless of what you want to do.
It provides 10, 500 surge watts which should be enough to fulfill your needs. Therefore you don't need to worry about power supplies.
Heavy Duty Tasks
The machine was made for heavy duty tasks. It has an ampere range that goes even up to 300A, so you can use this for industrial and professional heavy duty tasks.  It is powerful enough to handle multiple welding processes. Also, it can run power equipment like lights and grinders with ease at a site.
Quality and Durability
The most beautiful thing about this welding generator that every reviewer love is the quality and the durability this machine offers. Despite being a gasoline-powered machine, it has offered great durability that makes the machine last longer than average welding generators.
Though the generator has not offered a tube frame, it has an enclosed design which offers a very optimal protection.
Digital Meters and Simple Power Panel
Most of the welding generator doesn't feature a digital power panel.  Though nobody cares about it, it's important to have a digital meter.  The Lincoln Ranger 305G has a digital weld meter and a simple power panel for you.
So you can track all of your tasks easily. Everything is digital so it's simple to handle.
Manageable Maintenance
Managing a generator is not easy for non-professionals. But you don't need to be a professional if you have Lincoln Ranger 305G. Maintaining, refueling, handling this machine is very easy.
Open the gas cap and refuel. 12 gallons of gas is not a joke, make the best use of it. A single refuel can last you a long time!
Alternates You May Consider
As an Amazon Associate I earn from qualifying purchases
Check our reviews on Miller Trailblazer 325 or Lincoln Vantage 300.
Wrapping Up
Professional welders always face a problem to find a machine for hard works.  It's not easy to find one that can handle massive jobs easily. Not all welders can provide a strong supply.
But a continuous flow of strong power is important for heavy works. From this review, we can see that the Lincoln Ranger 305G is definitely suitable for that.
We have learned about a machine that can do 4 jobs single-handedly that you need 4 machines for.
So, that's what you got. If you want precision, you need to spend money on the best. Click here to know more about the Lincoln Ranger 305G and get it at the least price.