For building a strong and efficient structure, there is no alternative to welders. But there are different types of welders suited for different purposes. Not all kinds of welders will suit your needs.
Imagine you have a construction team and you need a heavy machine for multiprocessing. You should never go for something light and unprofessional. What should you do then?
The problem I faced in these kinds of situations is low power supply. When I am doing any heavy work, I need a lot of energy. But at the same time, I need the welding machine in a place where I need it.
Portability and efficiency usually aren't something that is equally integrated into a device. But my problem was solved when I came to know about engine driven welders. Check this to know more about welder generators.
Engine driven welders are the machine that uses fuel to supply power for welding. They can supply a lot of energy and they are very easy to move around with. But you shouldn't just go out there and pick a random welder.
There are several factors to consider. And considering those factors and from my own experience, I can confidently recommend you Lincoln Vantage 300. This is a machine that will not disappoint you.
To help you choosing the right welder, we present the Lincoln Vantage 300 reviews. In this review, we'll talk about all the features that this engine driven welder has to offer along with a buying guide.
So, let's get started!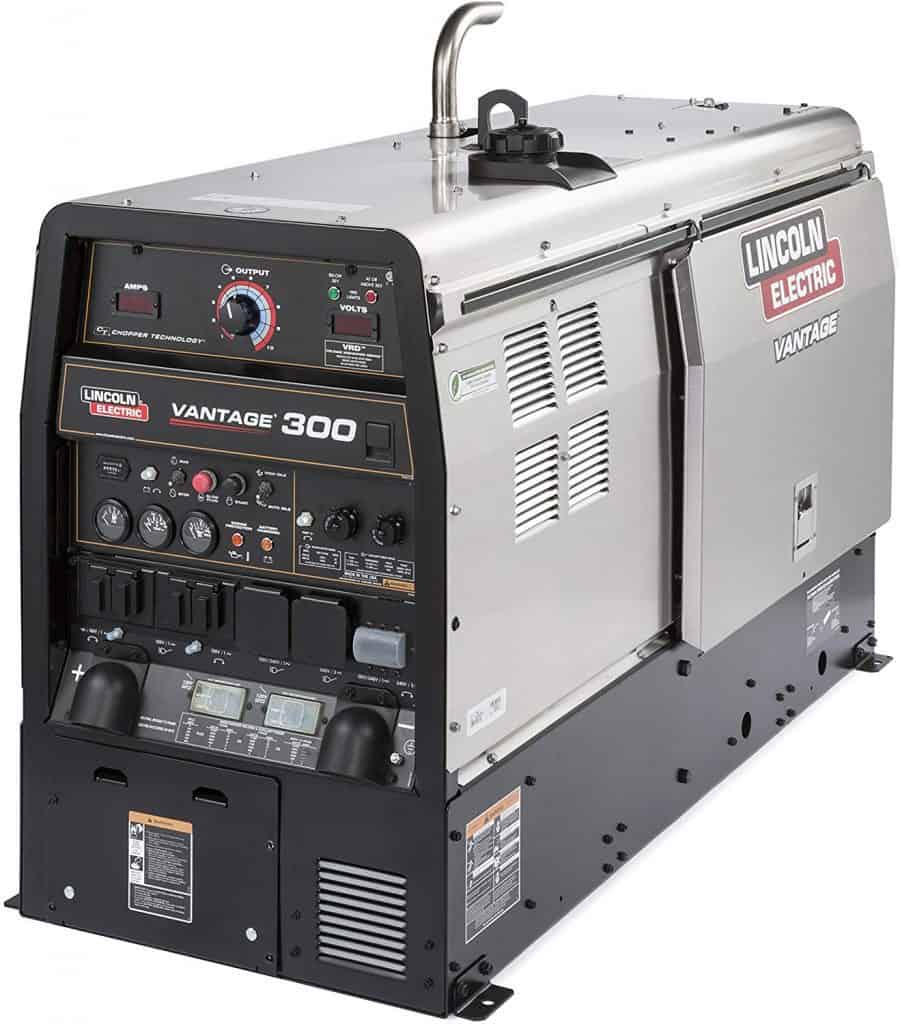 Things to Consider Before Buying an Engine Driven Welder
If you intend to put your welding machine to frequent use, you must take some factors into consideration. Otherwise, you won't get the result you expect.
So, to ensure efficiency and uninterrupted working hour there are a few things that you should keep in mind before choosing the perfect welder for you. This of course greatly depends on your purpose and need.
So let's see what to look for in an engine driven welder:
Who is it for?
Engine driven welders are very much compatible and easy to use. Yet they can give you enough supply of energy. So it doesn't matter whether you are an amateur or professional you can use engine driven welders for your work.
Fuel capacity
No matter what engine driven welder you choose, you should always check its fuel capacity. It's essential to know this because it puts a great impact on welding performance and longevity.
An engine driven welder must have a good fuel capacity in order to work properly throughout the process. If the fuel capacity is low, you will have to refill the fuel every now and then. It's really annoying to do this 5 to 6 times a day. That's why you must choose a device that has a big fuel capacity like Lincoln Vantage 300. This welder has a 20 gallon (76 liters) fuel tank. This will run for a really long time.
And about the fuel type, there is a catch.  Diesel engines have better longevity but gasoline generators provide a strong power supply.  You have to decide what feature you need and sacrifice the other.
But don't worry, it won't affect the productivity that much.
Requirement of power
For professional welders, a strong power supply is a must. As professional needs to do heavy works, a strong supply of energy is obviously what they need. The same goes for the amateurs. A strong supply of power is obviously easy to work with. But this is only the case if the device is easy to maintain like Lincoln Vantage 300.
As you can see despite your purpose you should always go for a welder the provides a strong supply of electricity. So always try to go for a device that can provide a sufficient amount of energy.
Warranty
Engine driven welders, like any other electric machinery, can easily get wreaked. So to ensure you can use the device for a long time you must choose one that comes with a warranty.
Various companies such as Lincoln provide 3 years of warranty for all of their electric devices. This means you can trust them without hesitation.
Portability
Always try to choose from the welders that are small in size and light in weight. This will make it easy for you to move around with your welding machine.
Whether you are a regular or an irregular worker, mobility is always beneficial.
Presenting The Lincoln Vantage 300
You don't expect an unworthy machine from a company like Lincoln who has been dominating the market for over 100 years. Lincoln Vantage 300 is something you will never regret buying.
A lot of international construction corporations have used this machine for their works. This machine is considered a gem in the market of welding generators.
Specifications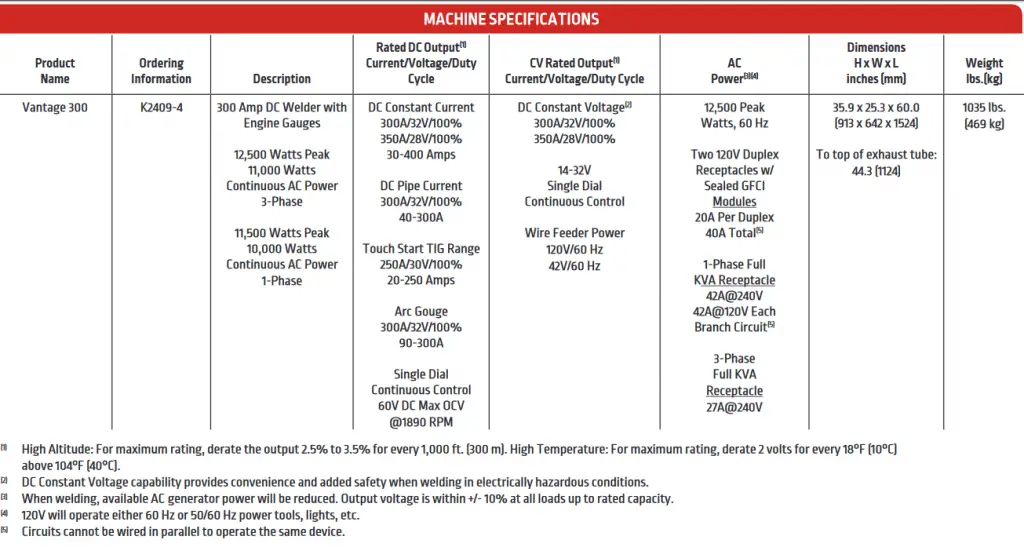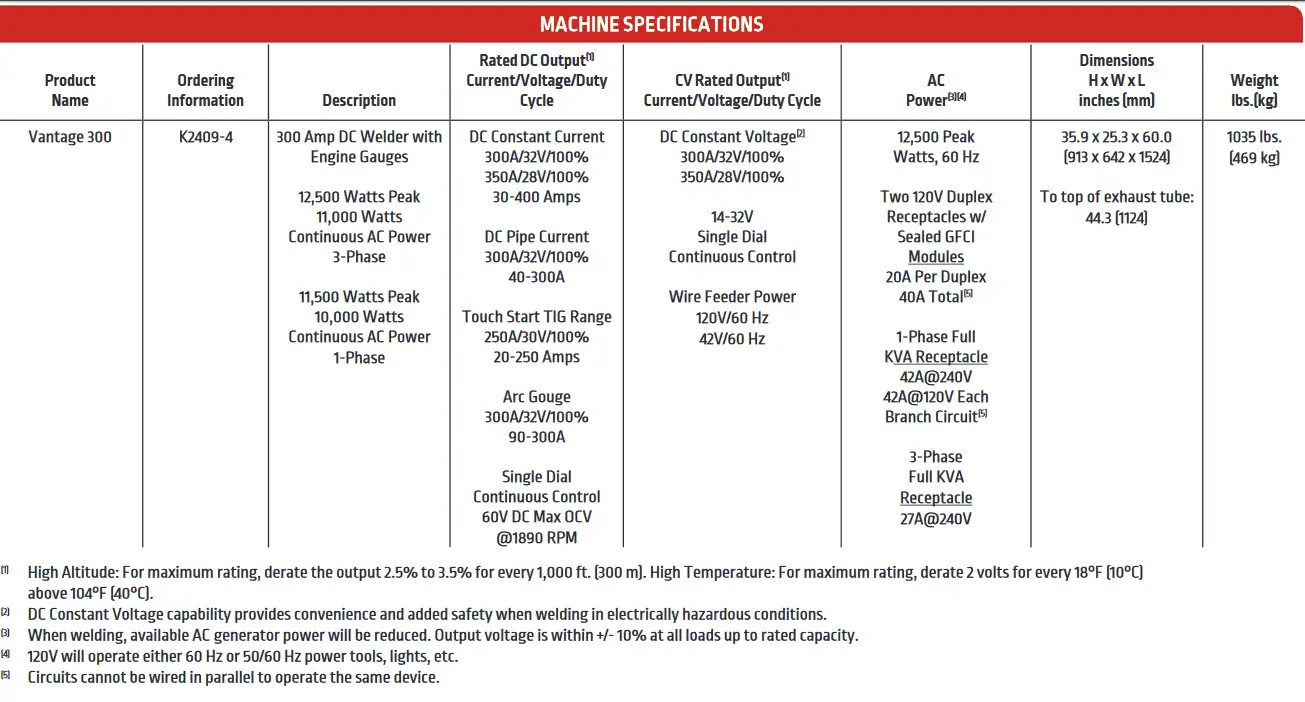 Performance level
When you get a machine from Lincoln, you don't need to worry about the performance level. They always provide the best to the users. Following their trend, the vantage 300 is one of the best machines in the market of diesel engines.
It has multiprocessing and so many features that only a few will be able to ignore. When you want the best, Lincoln is ready to serve it.
Who needs to buy this device
It doesn't matter whether you are a professional or a newbie, Lincoln Vantage is for you. But this device is actually intended for construction team, rental fleet managers and pipe rig owners (basically, it's for heavy jobs).
This doesn't mean you can't use it for home-usage. Even with a little experience, you can operate this machine smoothly.
That's why we suggest you get this engine driven welder.
What people have to say
Whoever used this machine is extremely satisfied. They have never ignored this machine while doing hard and extreme level works.
Despite being a diesel generator, it's one of the most efficient machines in the market as suggested by the people.
Pros:
Compact case
Efficient AC generator
Very compatible
Heavy usage
Easy to maintain
Multiple processors
Effective supply of power
Easy to use
3 years long warranty
Cons:
Can be a bit expensive compared to other engine driven welders
Lincoln Vantage 300 Reviews: Features and Benefits
Multiprocessing
Lincoln vantage 300 has 5 process modes. Working with multiple processes is made easier with this simple device. You can do 5 different kinds of jobs with this 1 single device. You don't need 5 different machines to do 5 different tasks. This saves money and trouble.
Also, with the big fuel capacity, you can work for a really long time with this.
Compact Case
For the small size and lightweight, this machine is suitable for moving it around in your pickup truck. The stainless steel provides protection to the engine and ensures durability.
User-Friendly Design
A good thing about this device is that you can directly access the engine by just sliding the engine access door. This allows you to quickly access the engine in case there is a trouble. And also it makes it easy to clean the machine.
The whole structure provides easy access to all the parts of this device. And the control panel is not a bit difficult to control.
Efficient Power Supply
This machine can serve 11kW continuous power flow with 3 Phase 240V AC generator energy. This means whatever the material may be, this will work smoothly with Lincoln Vantage 300.
Also, the 10kW 1 phase AC generator energy is for light usage such as tasks you may need to do at home.
Easy Maintenance
Maintaining an engine driven welder is usually not an easy job. But if you are using Lincoln Vantage 300, you don't have to worry about maintenance.
First of all, the control panel is really easy to understand. You won't have to study welding to understand how this one works.
Also, it's very easy to clean. You can easily access the main engine just by sliding the case. This way you will be able to clean off the dust and make sure it doesn't accumulate dirt. Because if it collects a lot of filth the device may not work properly.
Alternates You May Consider
As an Amazon Associate I earn from qualifying purchases
Checkout our reviews on Lincoln Ranger 305G and Miller Bobcat 250.
Wrapping Up
A construction firm always looks for the best option for their work. The same goes for you too if you are new to welding. If you don't choose wisely you may face various troubles that can halt your welding progress. That's why the right kind of welding machine is very much essential.
Lincoln Vintage 300 will be the best choice for you because it provides everything you may need and it all comes with an easy usage. Firstly, this one single machine can do 5 tasks. This means it's a 5-in-1 device.
Secondly, the simple design and control panel allows you to handle the device with maximum efficiency.
And most importantly, you can take this device anywhere you want and be sure to get the best result out of it.
To check the latest price of Lincoln Vantage 300 on Amazon, click here.