TIG welding makes sense when you need to craft delicate welded joints and seams. Jobs like these require precision just as much as tungsten electrodes. In addition, some metallic oxides in tungsten contribute to their non-consumable nature, making them staples where minimal erosion is expected even in extremely high temperatures.
Welding aluminum is challenging, but your skills and experience may create a difference. Conversely, a wrong choice of electrodes can bring about utter failure regardless of your expertise.
From facilitating the arc initiation and maintaining stability to reducing the occurrence of weld contamination, these accessories do a lot more than just improving the rod's capacity to carry the current.
How do you buy the right non-consumable for aluminum welding? It can be tricky, but not so much if you take a few minutes to know what I have to say.
Best Tungsten For Welding Aluminum: 10 Electrodes Compared
The following table only gives you the quick specs, which you'll find useful as you dig deep into my reviews of the products.
10 Best Tungsten For Aluminum Welding Reviews
I spent hours developing my understanding of tungsten and finally came up with a list of products that have earned customers' appreciation. Let's start with the ones that fare much better than the rest.
1. TIG Welding Tungsten Electrodes 2% Lanthanated (3/32″)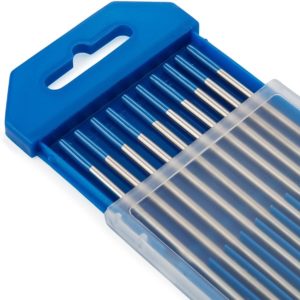 According to electrode classification, this tungsten is called EWLa-2 and comes with a blue band that indicates its class. Welding professionals choose to use lanthanated electrodes because they facilitate arc starting well, carry the current efficiently, and withstand quite a few arc cycles.
The blue electrodes require low amperage, which is another plus to those using entry-level welding machines. This particular electrode is suitable for general uses where you can use alternating current (AC) or direct current electrode negative (DCEN).
The diameter of these electrodes is 3/32 inch, meaning that they carry the current up to 250 amps. The diameter also indicates that you can grind its tip to make a sharp, conical point which is essential when you want to concentrate your arc.
A larger diameter may not always be the best choice, but in this case, you'll like it because those sharpened tips won't deteriorate quickly.
These blue electrodes contain 1.8-2.2% (of its weight) Lanthanum Oxide (La2O3), which adds to its overall toughness and resistance to high temperatures.
You're going through this write-up because you want to weld aluminum and need a high-quality tungsten electrode for that. These electrodes are indeed suitable, but they are also effective for many metals besides aluminum alloys.
You can weld alloys of copper, magnesium, nickel, titanium, and steel (low alloy and non-corroding variants). This versatility surely counts. Don't you think?
Pros
Suitable for stable arc starting
Low burn-off or consumption rate
Satisfactory performance on both AC and DC applications
Ideal for aluminum and a few other common alloys (as I mentioned above)
Compliant with the requirements of "ANSI/AWS A5.12M/A5.12:2009"
Cons
Not easy to break them cleanly and quickly if required (grinder needed to cut their ends off)
2. YESWELDER Tungsten Electrode 2% Lanthanated 5Pk 1/16″ & 5Pk 3/32″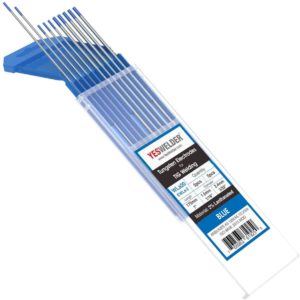 Although I cannot say this blue tungsten is what the best electrode for aluminum alloys looks like, you'll love to have it to add to your collection of all-around non-consumable.
I wouldn't recommend the product if not for its performance on DC, which is worth something. With a low rate of erosion, the electrode works well on high current output while providing a smooth start on DC and arc stability.
If you're only going to weld aluminum, you should focus on the right combination of shielding gas and the size (diameter) of the electrode. This pack contains two different sizes, such as 3/32″ and 1/16″, having five pieces of both.
When you need to weld various titanium and steel alloys, you should use 25% helium and 75% argon. This particular combination is suitable for welding projects where you're working with more than one type of metal or alloy.
Pros
Ideal for both aluminum and steel/titanium alloys
Safe and smooth arc-striking with stability
Reduced burn-off rate with no chances of splitting
Less gas and power consumption
Prolonged service and shelf life
Cons
Not much useful for AC applications
3. Tungsten Electrodes Pure Tungsten (Green, WP) 10-Pack (1/16″)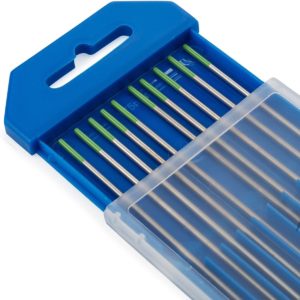 For those who need low-cost welding non-consumable, this pure tungsten can be a proper general-purpose solution. According to the materials certification, the green electrode contains 99.5% tungsten. So, we can expect all the properties that come with this much purity.
What are those characteristics? Sufficient conductivity, stable arc, and smooth arc starting are some of the positive qualities. However, argon is considered the best shielding gas for green electrodes.
But then, you cannot ignore the limitations associated with the product, which include its tendency to spit when the current is high. Moreover, you want to choose better electrodes for projects involving critical welds.
Despite all these issues, green tungsten serves well as long as your applications rely on AC and aluminum, and magnesium alloys. This pack contains one particular size that is 1/16″. You can choose from two more sizes, 1/8″ and 3/32″.
Pros
Built to reduce operating cost and ensure excellent conductivity
A stable arc with reliable high-frequency (HF) starting
Recommended for TIG welding aluminum alloys
Satisfactory performance on ACHF welding current
No worries about safety and compliance
Cons
Likely to ball up in a weird manner
A very high consumption rate
4. 2% Lanthanated TIG Welding Tungsten Electrodes 3/32" x 7" 10-Pack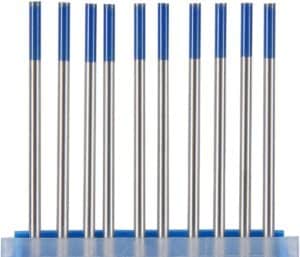 By now, you've learned nearly everything I wanted to tell you about the 'lanthanated' type. But I think you'll have more to read since this article is all about the best tungsten for aluminum.
Following the AWS and ANSI standards, Patriot Tungsten manufactured these non-radioactive electrodes to help people who need non-consumable to carry out both DC and AC applications with ease and safety.
Its resistance to thermal shock and enhanced conductivity, along with a reduced burn-off rate, are some of the common qualities provided by blue tungsten. You may wonder why this product is exceptional and not like the other WL20 electrodes.
Well, look at the price. You know 3/32″ electrodes usually cost higher than this pack. But the low cost doesn't make them cheap non-consumable items that burn pretty fast or ball up when you don't want them to. You got my point, didn't you?
Pros
Manufactured to last long while reducing the cost of fabrication per inch (of material)
Ready to carry a high range of current (up to 250 amps)
Low burn-off to ensure an extended service life
Good conductivity with resistance to thermal shock
Certificates of compliance and safety included
Cons
Not likely to bend easily
5. KINGQ TIG Welding Tungsten Electrodes 2% Lanthanated 3/32"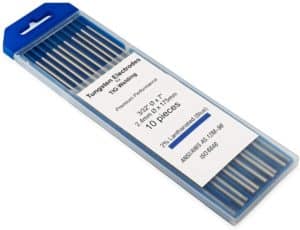 Let me mention the positive qualities of this tungsten. It droops or sags at a high temperature but not necessarily as much as most other lanthanated electrodes do. Its properties are in a tested combination that makes the emission of electrons easy enough to carry much of the current.
The pack contains ten pieces of 3/32″ blue electrodes for all variants of non-corrosive aluminum, copper, nickel, and steel alloys. These sticks provide a stable arc retaining all its characteristics. Its conductivity is as good as it gets.
Pros
Ideal for aluminum and a wide variety of metal alloys
Built to carry as much current as you need for demanding tasks
Ability to deliver a balanced and stable arc
Long service life
Compliant with AWS and ANSI standards
Cons
Difficulty bending or breaking with ease
6. GENSSI TIG Welding Tungsten Electrode (Blue WL20)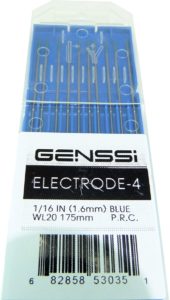 Before being critical of this product, I should make one thing clear. Don't get overwhelmed to see the green while the label says blue. Perhaps, the manufacturer likes to keep the greenish tip on blue electrodes.
Each stick is about 7 inches long with a diameter of 1/16″. As much as its efficiency in handling higher amperage settings is noticeable, you'll love the way these electrodes round off on alternating currents.
Should you use thoriated tungsten but not at the risk of getting exposed to radioactive material, you have the liberty to consider GENSSI electrodes as the perfect substitute for both AC and DC.
Pros
Smooth arc starting with good ignition properties
Effective for precision welding
Optimal consumption rate
Easily bendable yet not brittle
Absolute conformity to AWS/ANSI Specs for EWLa-2
Cons
Shorter service life compared to other blue tungsten products
7. Amplify Brand 2% Lanthanated Tungsten Electrodes – 3/32″
From the moment I had my eyes on Amplify Brand electrodes, I asked myself why this manufacturer didn't take the easy route (keeping the price low and competitive).
Be it about the quality or the marketing strategy, and this 3/32″ blue tungsten doesn't cost so much without giving customers some reasons to think about it.
Each stick has a dark blue cap that helps us identify the type. Apart from the typical aspects like conductivity or low burn-off, this pack comes with special packaging to keep the electrodes from moisture contamination, which pays off by prolonging the storage life of the content inside.
Pros
A solid replacement for non-radioactive tungsten (thoriated)
A better alternative to 1.5% lanthanated (EWLa-1.5)
No compromise on ignition or re-ignition properties
Longer shelf and service life than most other electrodes in the market
Compliant with AWS specifications and ISO 6848 standards
Cons
Costlier than most products of the same category
8. Pur. Tungsten 2% Ceriated 1/8″ x 7″ Tungsten Electrodes (Grey, WC20)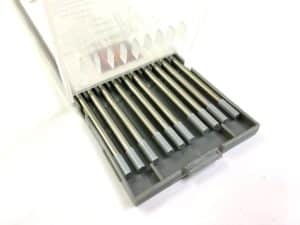 Few non-consumable products are as good as ceriated tungsten when it comes to DC applications being handled at low amperages. Pur. Tungsten has brought this electrode pack to make it convenient for professionals to fabricate pipe, orbital tubes, delicate parts, and sheet metals.
The 1/8″ electrodes carry as much current as you need to get the right amount of heat and arc stability for precision welding. If you've been welding aluminum for a while now, you know what 'precision' means.
I don't think the tungsten won't erode. But the rate is low and acceptable. You know, ceriated tungsten is valuable where DC applications are relevant. For this pack, you need to maintain straight polarity or DCSP.
Pros
Ideal for work that requires low amperage and a stable arc
Suitable for precision and delicate welding jobs
Low erosion with extended service life
Useful to those who work with nickel and copper alloys alongside aluminum
100% compliance with industry standards (ANSI/AWS A5, 12-98)
Cons
Susceptible to splitting upon a bit of deviation from the recommended welding frequency and current settings
9. Kamas Tungsten Electrodes Aluminum Solder Wire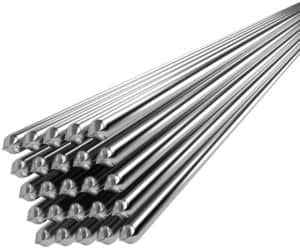 With more than 99.7% of aluminum content, these electrodes have the essential chemical properties to yield smooth arc start and weldability. Each electrode has a diameter of 2mm or 0.08 inches.
Kamas tungsten features corrosion resistance, forgeability, electric and thermal conductivity, all up to an optimal level. In addition, the melting point of the tungsten is low enough to allow for easy processing of the metal.
The tungsten contains internal powder that doesn't require you to use any other flux powder as the core of your base metal, aluminum alloy in this case. You don't need any special coating either, as you need a salt base.
As much as you find the affordability of this product important, its versatility is noticeable too. Manufactured for arc welding based on argon, these electrodes are ideal for applications specific to different industries.
You can use them for welding aluminum alloy and manganese in vehicles like bicycles, scooters, and locomotive carriages. Other areas include shipbuilding, military production, aviation facilities, vessels, etc.
Pros
Affordable and lightweight
Excellent conductivity and corrosion resistance
Easy to bend, carry, and use
Applicable to a wide variety of welding applications
No flux powder or coating required
10. RADNOR 3/32″ X 7″ 1.5% Lanthanated Tungsten Electrode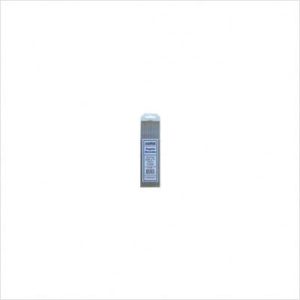 This tungsten electrode may be too costly for a few stick pieces, but I didn't have it on my list without reasons. Only recommended for TIG welding, these sticks can be a non-radioactive alternative to the 2% thoriated type.
You can expect satisfactory performance without making a lot of adjustments, which applies to other electrodes. So then, how is RADNOR tungsten any better?
Each stick has a diameter of 3/32 inches and contains 1.2% to 1.6% Lanthanum Oxide (LA2O3) of its total weight. In addition, the tungsten powder contains high-purity oxides produced from the use of APT or ammonium paratungstate, which adds to the electrode's strength and durability.
These electrodes come packed after the reliable "Eddy Current" testing, which assures you of proper conductivity and no surface detection.
Each stick passes through the 'annealing' process, a particular heat treatment procedure that makes the metal less brittle. So, you can size them without a problem. The ground finish brings smoothness to the surface.
Pros
Excellent arc stability and smooth start
Reduced erosion of the electrode tips
Built to handle an extended range of operating current
Ideal for both AC and DCEN applications
Useful for plasma operations
Cons
Not the most affordable tungsten electrodes in the market
Additional Read: Best Tungsten for TIG welding Mild Steel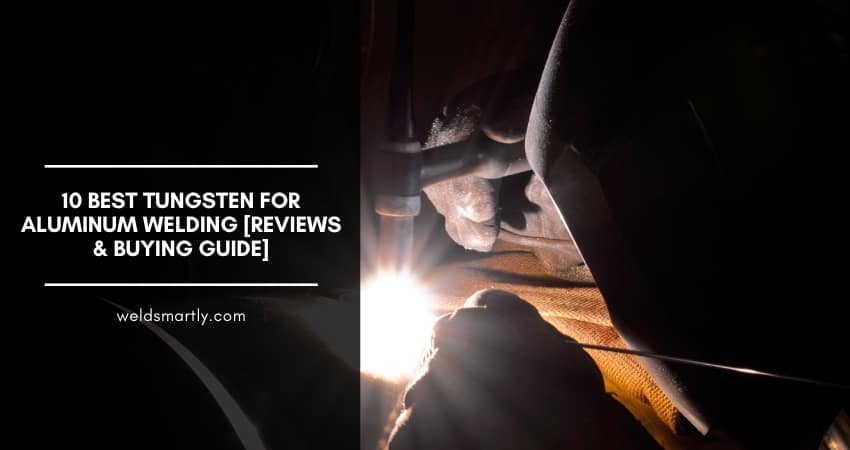 After reading my reviews of the above tungsten electrodes, you might be happy to think that you know which one to choose. I feel the same for you.
But then, I thought you could use a little more help because TIG welding is not an average type of procedure, and aluminum is not like steel or other alloys. So, I've presented a buying guide for you to know where to focus on as you're going to buy tungsten.
How To Buy The Best Tungsten For Aluminum Welding?
I won't try to fill you in on more products. Instead, I'll be discussing the very basics of tungsten and pretty much everything you need to choose the right non-consumable product.
TIG and plasma welding are the most popular processes in which you need non-consumable tungsten. These types of electrodes are available in a wide variety of alloys or compositions.
Pure Tungsten (99.50%)
2% Thoriated
2% Ceriated
5% Lanthanated
2% Lanthanated
8% Zirconiated (minimum 99.10% tungsten)
Rare Earth (LayZr)
Each of the above electrodes is engineered to serve at least one specific purpose, with the primary purpose (high-quality welds) being the same for all welding processes and professionals. Here, I'm putting a table to show you the key information and uses of each type.
| | | | | | |
| --- | --- | --- | --- | --- | --- |
| Tungsten | AWS Classification | Color Designation | Principal Oxide | Characteristics | Applications |
| Pure | EWP | Green | None | Balls fast Spits at higher current Non-critical tasks | Alternating Current (A/C) Aluminum/ Magnesium Alloys Low to Medium Amps |
| 2% Thoriated | EWTh-2 | Red | Thorium Oxide (1.7–2.2%) | Good Arc Start Arc Stability Moderate Erosion Rate Spits Moderately | Direct Current (D/C) Non-corroding copper, nickel, steel, and titanium alloys Only Medium Amp Range |
| 2% Ceriated | EWCe-2 | Grey | Cerium Oxide (1.8–2.2%) | Good Ignition or Re-Ignition Good Arc Stability Low Erosion Low Amp Range No Spitting Extended Service Life | A/C and D/C Low-Alloy, Non-Corroding Aluminum, Copper, Magnesium, Nickel, Steel, and Titanium Alloys |
| 1.5% Lanthanated | EWLa-1.5 | Gold | Lanthanum Oxide (1.3 –1.7%) | Excellent Arc Start Great Arc Stability Low Erosion Rate No Spitting | Direct Current (D/C) Non-corroding copper, nickel, steel, and titanium alloys Wide Amp Range |
| 2% Lanthanated | EWLa-2 | Blue | Lanthanum Oxide (1.8 – 2.2%) | Good Arc Starts with Stability Low Erosion Medium to High Amp Range | A/C and D/C Low-Alloy, Non-Corroding Aluminum, Copper, Magnesium, Nickel, Steel, and Titanium Alloys |
| 0.8% Zirconiated | EWZr-1 | White | Zirconium Oxide (0.7– 0.9%) | Good Arc Starts with Stability Low Erosion High Amp Range Spits a Little | A/C Aluminum and Magnesium Alloys |
| Rare Earth (LayZr) | EWG | Chartreuse | Lanthanum (1.5%), Zirconium (0.08%), Yttrium Oxides (0.08%) | Best Arc Starts at Low Amperage Stable Tip Low to Medium Amp Range Extended Service Life | A/C and D/C Robotic Applications Low-Alloy, Non-Corroding Aluminum, Copper, Magnesium, Nickel, Steel, and Titanium Alloys |
Looking at the table, you can quickly identify which tungsten stands out when it comes to TIG welding aluminum and steel alloys. I created the table with the same goal.
Do I need to tell you that I'm pointing at 2% lanthanated tungsten? Better, I continue to expand my thoughts on this particular type of electrode a little bit.
Classified by the American Welding Society (AWS) as EWLa-2.0/ EWLa-1.5, lanthanated contains a minimum of 97.80% tungsten with 1.30–2% lanthana/ lanthanum. These electrodes provide smooth arc starting, arc stability, reduced burn-off, and good re-ignition properties.
Ceriated tungsten shares some of these characteristics too. Again, thoriated tungsten has about the same level of conductivity as that of the lanthanated type. Therefore, welding tasks that rely on thoriated tungsten can be handled with the lanthanated variation without significant adjustments.
Lanthanated tungsten allows professionals to optimize their welding processes and capabilities. These electrodes work wonders on DCEN or AC with a carefully pointed end. You can also ball them if you need to use AC sine wave sources of power.
Lanthanated tungsten carries current quite effectively and works well at low voltages. You won't see this much versatility in ceriated or thoriated tungsten.
Now, I would like you to pay attention to a few relevant questions to form your understanding of why tungsten electrodes need to be chosen with care.
Frequently Asked Questions
The following questions are about the different situations you'll face while using tungsten electrodes. I hope my answers will be helpful to you, no matter the color or size of the tungsten you purchase.
Is The Size Of Tungsten Critical To The Arc?
You might have heard experts say that the stability of an arc has something to do with the size of the electrode in use. Take note of the following points for your references.
1. Too large a tungsten may cause the arc to rotate erratically around the tungsten's end.
2. Too small a tungsten may cause the current to melt an electrode and result in an erratic welding arc.
I know you don't want to allow these conditions to occur. So, you need to match the amperage range to the exact size of tungsten recommended by your seller/ manufacturer.
Another common cause of an unstable arc is contaminated tungsten. A tungsten electrode gets contaminated more often than not if your base metal has debris or oxidation from inadequate or impure shielding gas.
You can resolve the problem by cleaning the base metal. Moreover, grinding or replacing the tungsten may also help.
How Can I Protect Tungsten From Discoloration And/ Or Contamination?
Many DIY professionals and beginners allow their electrodes to contact their weld pool either by mistake or deliberation. Keep the torch a little farther apart from your workpiece. The action results in a lengthened arc too. Maybe you've already learned this technique.
But it is not easy to master. You should do more practice to adjust the distance between the torch and the workpiece correctly. If the distance is not the issue, you want to check the gas flow and the postflow timer.
Maintain about 1 second of postflow duration for 10 amps of current.
Sometimes, the scratch-start method of arc initiation can be the problem. An alternative to this method can be the high-frequency (HF) start.
How Do I Stop Excessive Consumption Of The Electrode?
Use of excessive current or too high amperage is the likely cause. If your job requires amperage in the higher ranges, you can choose a bigger size of the tungsten or get a different type that handles high temperatures well.
Check the polarity settings too. Higher electrode-positive current brings better cleaning action, and at the same time, the tungsten gets more current, thereby rendering faster consumption.
You should set your power source to electrode negative. Thus, you can reduce the time and amount of current on your electrode. Next, you want to check if the shielding gas in use is the right one or clean. Finally, check for any leak or crack in the fittings.
Do I Need Special Safety Gear While Balling Tungsten?
Having an electrode balled cannot be more dangerous than the job of welding itself. However, you cannot risk any level of exposure to harmful chemicals, especially radioactive dust, which is common in some tungsten. To stay protected, you can put on your typical welding gear.
How Do I Prepare The Tungsten For Welding?
Tungsten preparation ends with the electrode having three shapes such as pointed, balled, or truncated. Each of these shapes is associated with certain consequences.
Pure tungsten requires a balled tip and is ideal for AC welding processes.
A truncated or pointed tip is helpful for both DC and AC processes using an inverter power source.
While grinding your tungsten to the desired shape, you must prevent contamination, and grinding wheels built for this purpose are recommended. Use AC amperage that is required by your electrode size.
Make sure the balled end doesn't go any larger than 1.5 times the electrode's actual diameter. For example, the balled end should be 3/16 inch if the electrode itself has a diameter of 1/8 inch. Larger ends might result in reduced arc stability and contaminated weld.
What Can I Do To Prevent Tungsten From Splitting?
Splitting is a common problem with any color-coded electrode. So, you want to check the parameter settings, I mean the machine and the condition of the electrodes rather than replacing the existing ones.
Balance setting: 75% Minus and 25% Plus
Welding current: As suggested by the user manual (welding machine)
Welding frequency: 75 Hz
Shielding gas: As required by the metal
The shape of the polished electrode in comparison to the original piece: Top corner to be ground to 60 degrees (1.0 mm flattened)
I can write an entire article to explain this topic, which I'll do later. But, for now, I've only offered a few tips so that you can jump right into my concluding remark without any fuss.
Final Verdict
If you ask me to make only one choice that is better than others on my list, it is hard but not impossible. Midwest 2% Lanthanated (WL20) has to be that name. Please refer to my first product review.
I found Midwest Pure Tungsten to be the top choice when you need something perfect for AC welding applications. However, if your job requires that the electrodes carry more current than average tungsten, you can pick the 2% Lanthanated electrode from Patriot.
YESWELDER's tungsten is what I call a wonderful non-consumable for DC applications. Not all projects involve aluminum as the only metal. KINGQ's 2% lanthanated tungsten comes with excellent properties to support various metals besides aluminum.
Now you know exactly which product is better at what than the others. I only hope you'll be able to choose the best tungsten for aluminum. Feel free to let me know if you need additional information or insights.