If you have only started with TIG welding or plan to but are unsure about it, you may have already asked yourself if you will ever need it for mild steel. The answer is you will, yes. TIG gives precision, making the weld sticks better.
TIG or Tungsten Inert welding is a procedure where tungsten electrodes provide electricity for arc welding. Professionals use different tungsten electrodes for this procedure. It would help if you picked the best tungsten for TIG welding mild steel to get the most use of it.
And how exactly would you find one? That is another question you should ask yourself. The answer is: here. Go through all the reviews. By the time you finish, you will be halfway through the selection process, that's for sure.
Let's start!
9 Best Tungsten For TIG Welding Mild Steel Reviews
1. TIG Welding Tungsten Electrodes 2% Lanthanated (MTS)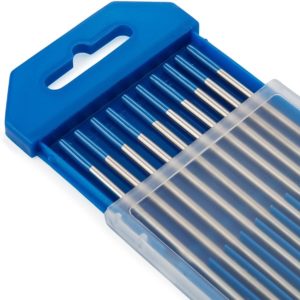 The first one from Midwest Tungsten Service is the perfect tungsten for TIG welding mild steel with topmost compatibility. You can work it with all power sources. It will spark whenever you initiate, even with balled-up tips.
It can perform at higher amps, which makes it an all-around electrode. However, according to some users, the electrodes tended to split when they sharpened them. But that might have been faulty batches. If that ever happens to you, you can contact the manufacturer. They have prompt technical support and friendly customer service.
Also, there will be a materials safety data sheet (MSDS) with the tungsten for free. The package includes ten premium-quality Lanthanated Tungsten. And for other concerns, the tungsten has a conformance certificate complying with American Welding Society standards.
Reasons to get
High-quality electrodes
A free MSDS
Good arc beginnings
Impressive after-sales service
2. Pre-Ground TIG Tungsten Electrodes 2% Lanthanated (MTS)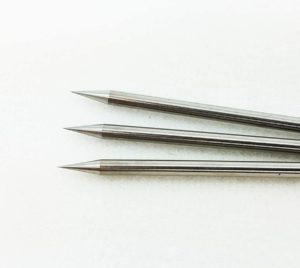 This one is another 2% Lanthanated tungsten from Midwest. It is similar to the previous one in many aspects. So I will only talk about the differences here.
The second and principal difference is that these are pre-sharpened at a twenty-degree angle taper on each side with a tip diameter of 0.010 inches. That is one thing to note when you are about to sharpen it. Forgetting this may cost you split tungsten. So be careful!
The price is not high at all. In fact, you could settle for it instead of an expensive electrode grinder. And by the way, do not forget to get the material certificate after making the purchase if you want to be sure about their authenticity.
Reasons to get
Pre-sharpened at a twenty-degree angle
Affordable price range
Free MSDS and material certificate
Friendly customer service
Reasons to avoid
The tip diameter is too short.
3. TIG Tungsten Electrodes 2% Ceriated (MTS)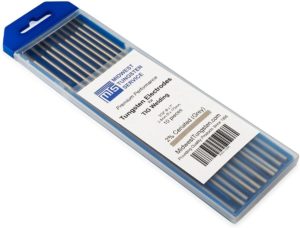 The third product is also from MTS. This brand has gone big with its electrodes lately. The 2% Ceriated electrodes come in a five-piece pack with grey tips.
You can use the electrodes for welding magnesium alloys, nickel alloys, copper alloys, etc. Low-alloyed steels are also suitable for welding with this tungsten. If you frequently work with AC and DC applications, this one can be the right tungsten for TIG welding mild steel.
The tungsten is becoming increasingly popular for its arc quality and reliable arc-striking. MTS engineered them with so much scrutiny that you can happily count on them to perform efficiently even during the challenging applications, over and over again.
MTS offers its other facilities and certifications with this product, too.
Reasons to get
Applicable for both AC and DC applications
Multiple uses
High-quality performance
Capable of managing challenging applications
Reasons to avoid
The tungsten has a thick grey painting on its back, which may create trouble when you try to fit it into the collet.
4. TIG Tungsten Electrodes 2% Lanthanated (Patriot Tungsten)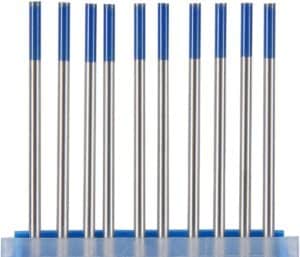 Okay, so I brought a new brand to you now, Patriot Tungsten. Many newcomers begin with this tungsten because of its ease to use.
The electrode grinds tactfully, something every beginner can use because they will have to resharpen it every time they fail. It ignites fast and keeps a stable arc for longer.
Well-made and dedicated to providing satisfactory service and value, the electrodes are outstanding during DC and AC applications. You can easily replace radioactive Thoriated tungsten with this one.
Reasons to get
Easy to operate
Affordable price
Efficient performance
Return policy available
Best for beginners
5. TIG Welding Tungsten Electrodes (MTS- Rare Earth Blend)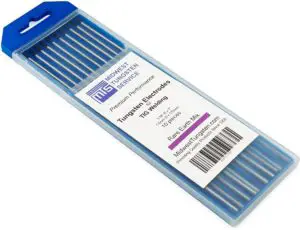 So I am back to MTS again. It includes ten packs of rare Earth blend rods containing 1.5% Lanthanum, 0.08% Yttrium, 0.08% Zirconium, and 98.34% Tungsten.
It keeps its purple tip sharp for a long time. It breaks and grinds smoothly. What more could you have wanted from an electrode?
You can buy it for both application types. If you often go for rough and tough projects and want something dependable, MTS could be that for you. On the other hand, the electrode comes at a surprisingly low price. It is as if not buying it would be your loss!
Reasons to get
Long-lasting performance
Quick braking and grinding
Suitable for AC and DC both
Super reasonable deal
Reasons to avoid
The blue painting may melt after some time.
6. TIG Welding Tungsten Electrode 2% Thoriated (Yeswelder)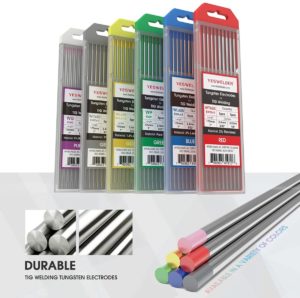 The tungsten electrodes proved to have great arc starting and steadiness. The tip is not fast at balling up, which is always desirable for TIG welding mild steels.
The company ships its products with utmost care in vacuum-sealed bags to avoid oxidation. You can preserve it for extended periods. Its current range is higher with a medium erosion level.
Yeswelder is still a new player in the industry. But they have already shown great promise in their products. They charge lower than other well-established brands without compromising with quality.
The 2% Thoriated product adheres to American welding standards while also associated with conformance certificates.
Reasons to get
Quality within a lower price
Steady arcs with great starts
Carefully packaged in vacuum-sealed bags
Storable for a long time
Reasons to avoid
The package may come twisted.
7. CK 2% Thoriated Tungsten Electrode

The 2% Thoriated Tungsten Electrode is radioactive. It gives the best output when used for DC applications. You can connect it with any transformer-based constant power source. This Tungsten will allow you to weld titanium alloys, copper alloys, nickel alloys, and non-corroding steels.
The electrode ensures good arc starts with steadiness, medium amps, medium erosion, and mid-level proneness to spitting.
This tungsten weighs almost 6 ounces and does not charge much for the quality service it provides.
Reasons to get
Perfect tungsten for TIG welding mild steel in DC applications
Steady performance within a reasonable price
Compatibility with all transformer-based power sources
Reasons to avoid
Not suitable for AC applications
8. Welding City Tungsten Electrode 2% Thoriated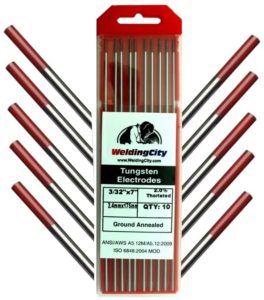 Welding City's 10-pack 2% Thoriated electrodes ignite and maintain a consistent arc. Because the tip does not immediately ball up, there is no need to sharpen very often. When you have to make it sharp, though, it is simple to do.
The company also offers excellent customer care and technical support, so you can be assured that Welding City is there for you if something goes wrong.
The current range is higher, and the spitting tendency is lower. The US-based company is currently offering a quantity discount with this product. See if you can take that opportunity!
Reasons to get
Quick ignition
Balling up of the tip takes time.
No need for regular sharpening
Topnotch customer service
Reasons to avoid
The price is slightly high.
9. TIG Welding Tungsten 2% Thoriated (MTS)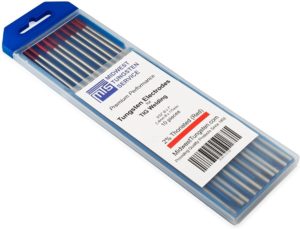 Here is another product from MTS to finish our reviews today. It comes with all the characteristics and benefits as the other MTS electrodes do. Then what unique thing has it got to have made it to my list?
That would be its exceptional performance during DC applications. The 2% Thoriated Red tungsten has shown fantastic reliability and toughness in its work and has deservingly become one of the most popular products of MTS. The arc stability and consistency will blow your mind when it starts doing its thing. This Tungsten is the most suitable for welding stainless steel and carbon.
Lastly, the product price is less than you could have reasonably guessed for what it offers, not to mention the standard compliance and after-sale services.
Reasons to get
Best for DC applications
High stability and consistency
Very budget-friendly price
Reasons to avoid
It does not support AC applications.
Additional Read: Best Tungsten for Aluminum Welding
How To Buy The Best Tungsten For TIG Welding Mild Steel?
Buying the tungsten for TIG welding mild steel is a simple thing. Of course, the word 'best' adds some tension to the process. That is why you should know one or two things before going ahead with it.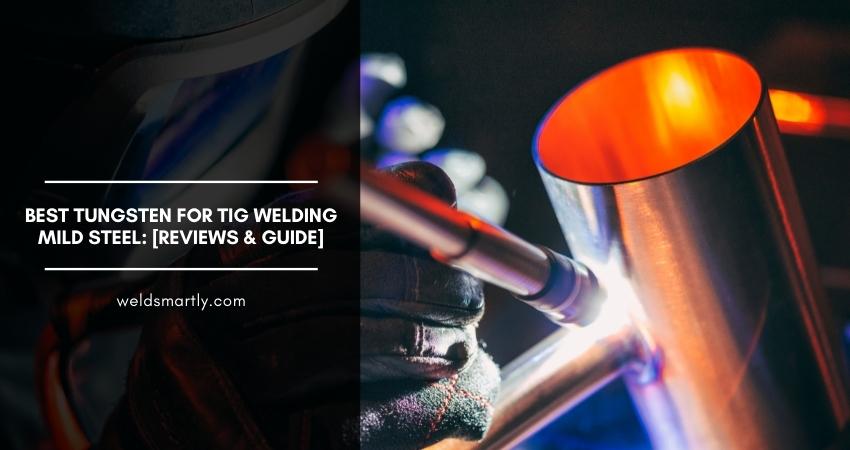 Experience
Consider your experience with high importance. With enough experience, your hands will not shake during welding. You will not drip the electrode in puddles very often, meaning you will not need to resharpen it soon. In that level of skill, you can go with expensive tungsten. Otherwise, it is better to get an affordable one and learn to upgrade your skill with it.
Work Diversity
Work diversity impacts your purchase decision significantly. If you perform different welding applications, you should pick one tungsten to meet your various purposes. It is wise to have at least two kinds of electrodes so you can switch when necessary.
Many welders commonly use Lanthanated as well as Thoriated tungsten electrodes since they both are applicable for AC and DC welding, best suited to weld magnesium alloys, nickel alloys, copper alloys, aluminum alloys, and other steel materials.
Materials
The tungsten for TIG welding mild steel should be two percent thoriated. But if not that, you should go with the trendy ones, 2% Lanthanated, an excellent option.
Reliability
Buy an electrode reliable enough. It should have the capability to put up with high heat and not get burn-off at the same time. Tungsten like that assures you to take on heavy projects because they are durable.
Output Frequency
Always remember to check the output frequency of the tungsten you buy. Some offer DC output, some AC, and others both. If you are not careful about it, you may purchase the wrong one. The safest option is to select one that offers both.
Frequently Asked Questions
What metals can green electrodes weld?
Green electrodes are perfect for Magnesium alloys and Aluminum alloys.
Where can I use orange electrodes?
You can use orange electrodes in DC applications. They have low work functions and provide high amperage and load capabilities.
Can I use purple electrodes as a substitute for red electrodes?
Yes, you can. Purple ones are the best replacement option for red electrodes. They work well for welding nickel alloys, stainless steel, titanium alloys, and copper alloys.
Which electrode will work for DC and AC applications both?
Blue, gold, purple, and grey electrodes are the best for both AC and DC applications.
Why does Tungsten split?
That mainly happens when you let the Tungsten end get too hot while sharpening it.
Final Verdict
Each of the electrodes reviewed here is the best tungsten for TIG welding mild steel, but the slight differences among them push them up and down in rankings.
The MTS 2% Thoriated Tungsten is my first pick because it maintains steady arcs. It will not ball up fast even when the amp levels are high.
For more professional and experienced welders, my suggestion would be the electrodes from CK. Their performance is flawless, which will apparently charge you more. But newbies should not try it in the beginning. They will have a hard time keeping the tungsten end from the puddle, thus breaking off and resharpening it more often.
If you ask me about the 2% Lanthanated ones, I will go with the Patriot Tungsten. It works fine for both applications, is easy to operate, and has a moderate price. Besides, it is ideal for beginners.
That is enough Tungsten talkie for today. Thanks for reading, and happy purchasing!