If you're looking for a heavy-duty welding machine then look no further, the Weld Pak 180 HD is your guy. We know how daunting it can be to find a welding machine at a budget-friendly price. This bad boy will take care of your welding needs without breaking the bank.
Today we represent out Lincoln 180 HD MIG welder Review. The Weld Pak 180 HD is loaded with innovative features to make all your welding tasks as easy as a breeze. Before we move onto the in-depth discussion about its features, let's take look at the factors that you need to consider before buying a welder.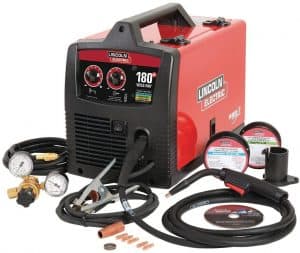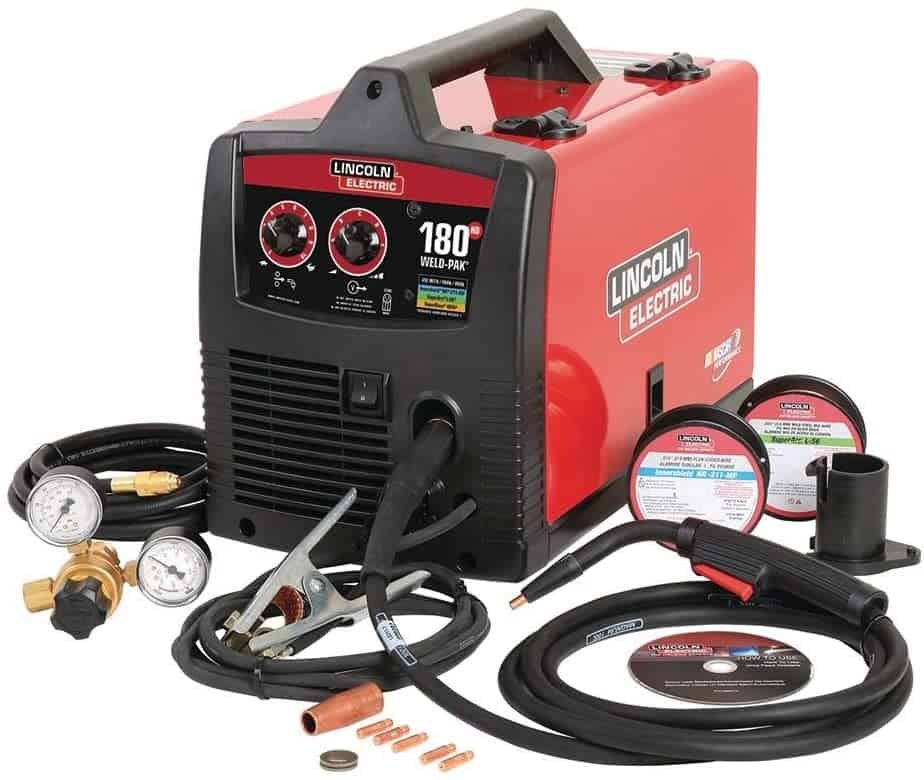 Check Price & Reviews on Amazon
Things to Consider before Buying a Welder
Sadly, one welder is not suitable for performing all kinds of welding tasks. This section will help you figure out to pick the best match for your welding needs. The Weld Pak 180 HD is a MIG welder that works like a charm on steel, aluminum, alloys, etc.
Also, the high welding speed of the MIG welder lets you work well on thinner material and have better control. You can also plug into any common power outlet to do your home, auto or DIY projects.
MIG welding is the easiest process to learn. If you're a novice welder or a beginner then this machine will be a perfect match to get started.
Welding Wire
MIG welders have a roll of wire instead of the welding rod. This wire will let you work continuously without any interruption. You'll have to use different types of wire depending on the weld.
Flux
The flux eliminates the need for shielding gas. The welding rods have a flux-coating that produces shielding gas when heated.
Duty Cycle
The duty cycle is a critical measure to consider while shopping for welders. Welders tend to get overheated when used for a long time. The duty cycle refers to the time until the welder can be used before it gets excessively hot.
Presenting The Lincoln Weld Pak 180 HD
Product Features
This refurbished product is tested and certified to look and work like new. The refurbishing process includes functionality testing, basic cleaning, inspection, and repackaging. The product ships with all relevant accessories, and may arrive in a generic box
As an Amazon Associate I earn from qualifying purchases
The Weld Pak 180 HD is a versatile device that will take care of many of your welding needs. It's a compact welder that has a rugged construction. The welder also features a numeric tension indicator for easy adjustment and changes.
It features a heavy-duty wire drive with a fully adjustable system. This reduces the chances of tangling and crushing in wires. Also, the durable cast aluminum provides excellent torque and whisper-quiet operation.
Pros
Budget-friendly
Suitable for a variety of welding works
Numeric tension indicator
Smooth arc provides less spatter
Welding output range of 30-180 amp
3-years warranty
Cons
Low duty cycle
Not suitable for exotic metals
Not compatible with 120V power outlets
Lincoln 180 HD Review: Features & Benefits

Size
The Lincoln Weld Pak 180 has a dimension of 4" x 18.6" x 10.15" with a weight of only 66lbs. If you're looking for a compact welder for heavy-duty welding works then this one is the right guy for you.
The device is designed to perform a variety of different tasks instead of one specific one. Therefore, it's portable to some extent. However, you may not be able to carry it around everywhere due to its weight.
Power
It offers a power output of 180A. The power output of this device is a bit lower compared to other 230V welders out there. However, for the price, there's not much room for complaint.
The power may not be suitable for all sorts of welding jobs. If you're looking for a machine for professional use then this may not be the right choice for you. However, it provides ample power for most DIY tasks.
Performance
Despite the budget-friendly price tag, it offers great performance. It comes with a wide welding output range. You can weld 4.8mm sheet metal in just a single pass.
Welding machines are generally very noisy. However, the Lincoln Weld Pak 180 comes with a highly durable cast aluminum gearbox that not only provides quite an operation but also generates added torque.
It also features an adjustable drive system that helps to reduce wire tangling as well as crushing.
Diamond-Core Technology
Lincoln is known for its innovative diamond-core technology that they use of their MIG welders. This technology helps you get better stability at holding the arc. It also enables to easily control the current flow.
Duty Cycle
The duty-cycle of the Weld Pak 180 is subpar considering the power it comes with. The machine tends to get hot after a few minutes of use. After that, you need to wait for 8-10 minutes for the machine to cool off.
This may become a problem if you're in a hurry and need to get done with the work quickly.
Power Input
This welder supports dual power input. You can either go for 208V or 230V power outlets. This gives you the flexibility to use the device for a variety of uses.
Attachments
Apart from the welding gloves and helmet, it contains all the necessary tools to get started with the welding right out of the box. It comes with gas and gasless nozzles, spindle adapted, different sized drive rolls, work cable and clamp, cable liner and many more accessories.
Warranty
You'll get three years manufacturer warranty with this device. Well, considering the durability, it'll last you a lot longer without any trouble.
The warranty starts from the date of purchase. So, if you face any trouble during the warranty period, you can claim a refund or replacement.
We recommend you to give a thorough read to the instruction manual here (https://www.lincolnelectric.com/assets/servicenavigator-public/lincoln3/im890.pdf) before you start using the device. This will help you get the most out of the welder and make better use of it.
Final Thoughts
The Lincoln Weld Pak 180HD is a superb choice for those looking for a versatile welder at an affordable price tag. The power provided by the welder may not be sufficient for heavy-duty welding tasks. However, you can perform all the home or DIY tasks easily.
The machine also works great with lighter metals such as aluminum, alloy, steel, etc. Do give it a try if you're not into heavier metals. Take a look at the device, here.