Forney Industries has earned its reputation as the brand that sells industry-standard equipment and tools focusing on a harmony between affordability and serviceability. As a manufacturer of welding machines and supplies, Forney has brought a small line of plasma cutters which aren't equally popular, but they've their appeals to certain groups of users.
Forney's plasma machines are ideal for automotive repairs, maintenance (farm, ranch, and home), HVAC, plumbing, and metal fabrication with requirements. In this article, we've selected 3 plasma models with the capability to help you fulfill light to medium requirements for any of these tasks.
One thing is important to note that none of these machines is compatible with CNC setups. Read our individual Forney plasma cutter review to understand what each model is all about.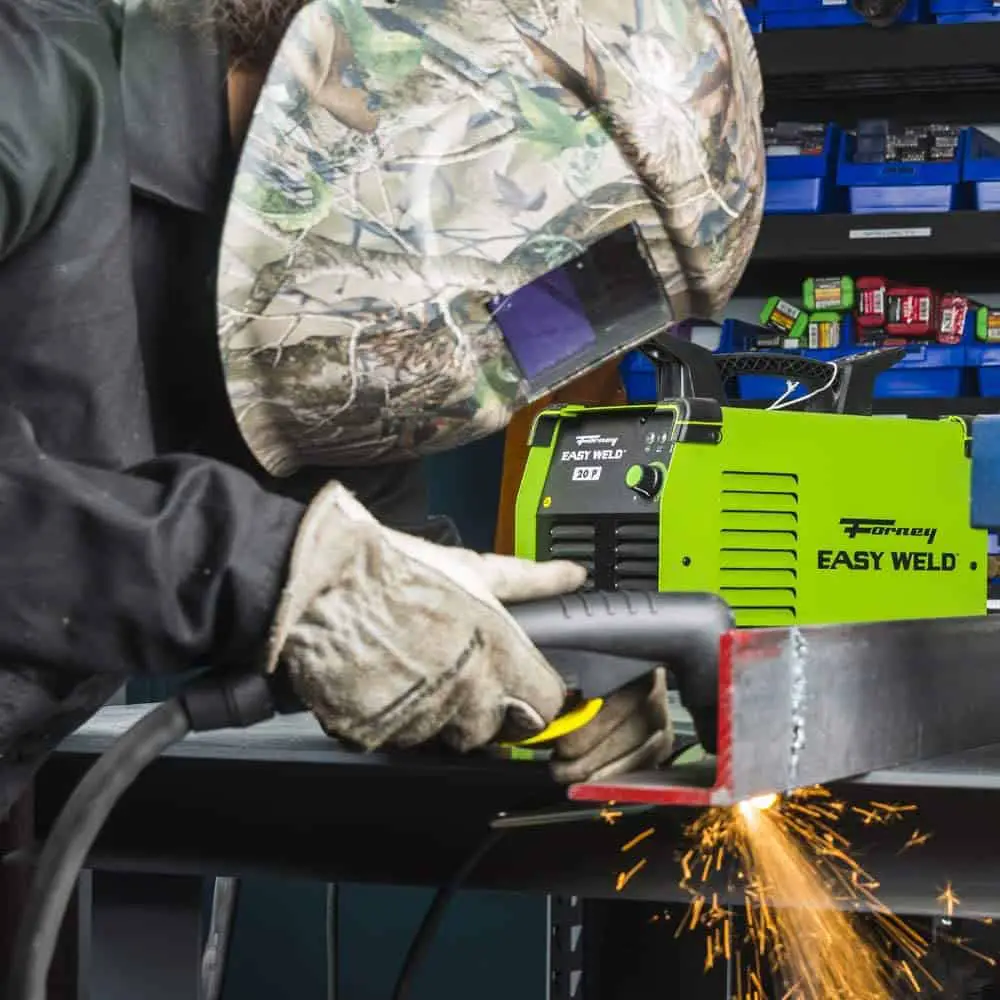 Additional Read: Best Plasma Cutters
Forney Plasma Cutter Review With Comparison
All these plasma machines differ from each other in terms of cutting abilities, electrical efficiency, and performance which make one particular model specifically suitable for a group of users. To start with, we've put a comparison table.
Duty Cycle
120V: 25% @ 30A, 100% @ 20A 230V: 30% @ 40A, 60% @ 25A, 100% @ 20A
Air Pressure Requirements
Air Pressure Requirements
Air Pressure Requirements
Duty Cycle
120V: 25% @ 30A, 100% @ 20A 230V: 30% @ 40A, 60% @ 25A, 100% @ 20A
Air Pressure Requirements
As an Amazon Associate I earn from qualifying purchases
1. Forney Easy Weld 251 20P Plasma Cutter
Product Features
CUTS- Mild steel, aluminum and stainless steel from thin material to 1/4"* (6.35 millimeters) with ease! *(Mild Steel)
EASY TO USE- All you need is 120 volt power source and 1.5 CFM of compressed air. Built in regulator and air dryer make operation a breeze
DRAG TORCH TECHNOLOGY- Allows you to drag cutting tip in direct contact with the metal you're cutting for smooth consistent clean cuts
LIGHT AND PORTABLE- Forney's 120-volt 20 P Plasma Cutter is generator friendly so on the go cutting and moving to different job sites is possible
RUGGED- All metal case. Built to take the day to day
As an Amazon Associate I earn from qualifying purchases
It's a good choice for absolute starters and experienced operators who look for cutting metals up to 1/4 inch thick on a regular basis and thicker on a few occasions. This thickness is applicable to brass, copper, mild, stainless, and galvanized steel.
For aluminum, recommended thickness shouldn't be higher than 3/16 inch. For certain materials like steel, you can expect a severance capacity up to 3/8 inch, but you may need to accept a compromise on the frequency of usage to ensure optimal performance and lifespan of the components and consumables.
Inclusion of the pilot arc with HF start is a good thing. You may have higher expectations about the duty cycle. But, it's typical of a budget model these days. Let's have a glimpse of the benefits and limitations of the machine.
Pros
Affordable, compact, and lightweight for easy usability across workplaces
Diverse cutting capacities and operating range for helping with different applications
Built-in air dryer for ensuring clean, dry air and pressure regulator for control the flow
Cooling fan for safe cooling of the machine
Thermal overload protection for stopping operations in case of undue pressure on the duty cycle
Post-flow system for increasing consumable life
Cons
More extended duty cycle expected (lower duration reported)
Check Price & Reviews on Amazon
>>>Forney 20P Plasma Cutter Reviews<<<
2. Forney 325P Plasma Cutter
Product Features
Integrated consumable storage area air pressure regulator and dryer
High duty cycle and cutting capacity and runs off standard 120V household power
15 ft. power cable ground cable and torch for large working envelope
Click on the (BY FORNEY) name above in blue under the title to view our full catalog of Welders, Abrasives, Chain/Wire Rope, Tools and more!
As an Amazon Associate I earn from qualifying purchases
This particular machine is slightly better than a typical entry-level unit, but not essentially a high-end appliance. That puts in the between the above one and the latter one in terms of specs and price.
If you're a big fan of flawless cuts, the unit delivers optimal performance as long as the thickness of your chosen metal remains within its recommended limit which is 1/4 inch for steel, brass, copper, and aluminum. Severance thickness is rated at 3/8 inch. So, what makes it better or different from the 20P?
Well, it's the cut quality and overall duty cycle which is rated at 50% at the maximum amp settings. Also, you may experience better operating controls. For the other areas except the dimensions, weight, and price, we see no significant distinctions.
Pros
A compact, generator-friendly plasma machine for light to moderate plasma cutting requirements
Easy setup and troubleshooting (using LED indicators) except for major physical damages
Drag torch to allow beginners to cut with ease and comfort
Good duty cycle and electrical efficiency for consistent operation
Built-in air dryer and pressure regulator for maintaining the flow of clean gas
Cons
Reported sluggishness while cutting expanded metals
Not-so-good performance while cutting aluminum
Check Price & Reviews on Amazon
>>>Forney 325P Plasma Cutter Review<<<
3. Forney 700P Plasma Cutter Review
Product Features
Dual voltage inputs along with removable torch and ground cable for convenience and versatility
Large storage area for cables consumables and tools
Integrated air pressure regulator and dryer
Click on the (BY FORNEY) name above in blue under the title to view our full catalog of Welders, Abrasives, Chain/Wire Rope, Tools and more!
As an Amazon Associate I earn from qualifying purchases
It may not be Forney's top-of-the-line plasma system, but it's definitely more capable than the other two options, and hence the cost goes up a lot higher. You can count on the 700P for cutting as thick as 1/2 inch or 12.7mm through steel, brass, and aluminum. Rated thickness for copper can be 3/8 inch. Severance capacity is up to 3/4 inch (19mm).
The unit offers a longer operating duration of up to 60% at 25A. Even better, you'll benefit from a few automated controls and safety features which add to its overall value. The torch comes with a solid build to let anyone with a little experience handle drag cutting without errors.
Pros
A generator-friendly plasma machine for moderate to heavy plasma cutting at home or personal repair shops (not essentially commercial tasks)
Quick setup (no tools required) and troubleshooting (LED indicators)
Drag torch for ease of cutting
Thermal overload protection and post-flow timer for ultimate safety and serviceability
High electrical efficiency (less power drawn but optimal performance ensured)
Built-in air dryer and pressure regulator for controlling and keeping up the flow of clean air
Cons
Poor duty cycle at maximum amperage
So much for a lightweight machine (when carried by one hand)
Check Price & Reviews on Amazon
With the end of the reviews, we're about to pass a final statement to help you proceed with an awareness of each unit's worth.
Final Verdict
Needless to say, the Forney 20P won't be of much use to those who look forward to taking their metal fabrication skills to the next level. Rather, it's an obvious choice for anything basic and a very reliable one at that.
It's easy to see where the 325P and 700P models are different. Even though you may want to forget about the price, you can't simply ignore the fact that they're useful only when chosen for the right job.
Frankly speaking, the 325P is an upgrade of the 20P and therefore capable of taking more workload (tough or rusty materials) saving you the time for preparing the workpiece. But the 700P is the real game-changer when you want no compromises on the cut thickness and reliability.
Did we leave anything that you think is essential? Don't forget to share your thoughts. Happy buying!