Nine out of ten plasma cutters come with the same claims that they can cut through thick metal and run for an extended duration. Other typical selling points include pilot arc, inverter design, portability, etc. Needless to say, choosing something that makes a difference is difficult.
Let's be more subtle about the common expectations. For example, you want a drag cutting beast. You may also look for positive performance while cutting some variety of metals. Again, you'll have several choices, but not like Forney 20 P Plasma Cutter.
Was the statement too bold? Read this Forney 20P Plasma Cutter review and see for yourself.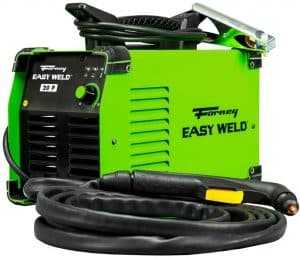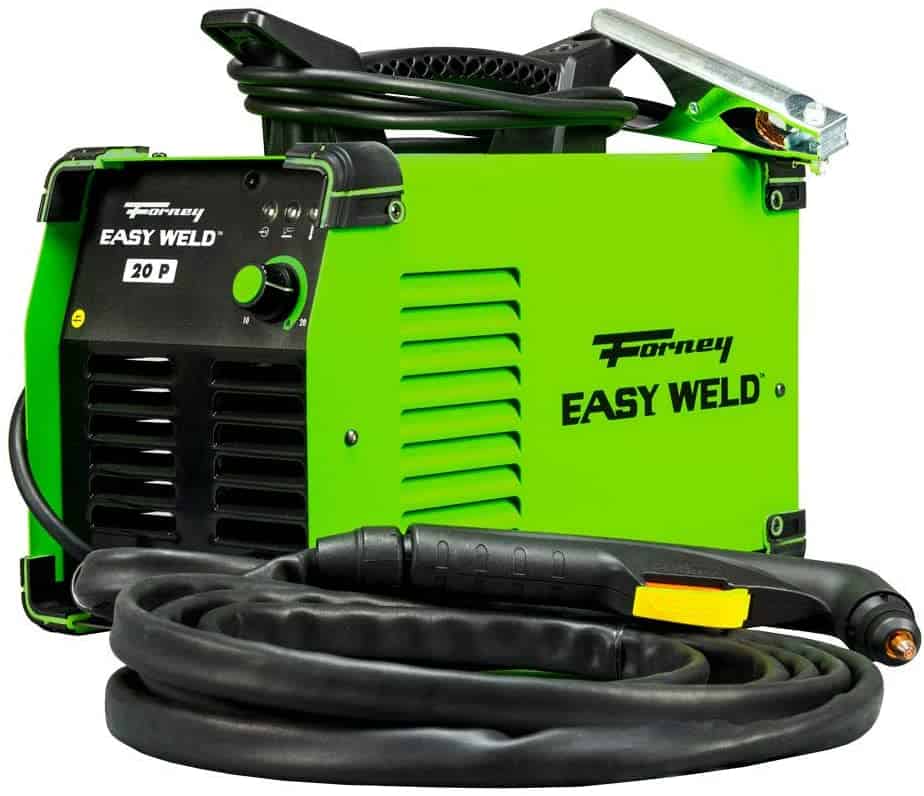 Check Price & Reviews on Amazon
Additional Read: Top 3 Forney Plasma Cutter Reviews
Introducing Forney 20 P Plasma Cutter
Product Features
CUTS- Mild steel, aluminum and stainless steel from thin material to 1/4"* (6.35 millimeters) with ease! *(Mild Steel)
EASY TO USE- All you need is 120 volt power source and 1.5 CFM of compressed air. Built in regulator and air dryer make operation a breeze
DRAG TORCH TECHNOLOGY- Allows you to drag cutting tip in direct contact with the metal you're cutting for smooth consistent clean cuts
LIGHT AND PORTABLE- Forney's 120-volt 20 P Plasma Cutter is generator friendly so on the go cutting and moving to different job sites is possible
RUGGED- All metal case. Built to take the day to day
As an Amazon Associate I earn from qualifying purchases
Forney Easy Weld (251) is a 20-amp plasma cutter with maximum cut thickness up to 1/4″ (6.35mm) using 120V power input having a duty cycle of 35% at maximum output. This super lightweight unit features a built-in air pressure regulator and a cooling fan integrating thermal overload protection for consistent and safe plasma cutting experience.
Both Forney 251 and Forney 250 P+ Plasma Cutter are similar to each other in terms of cutting capacities and applications except for the latter including a built-in air compressor that comes at a typically higher price.
Forney 325P is an upgrade of the 20P and therefore capable of taking more workload (tough or rusty materials) saving you the time for preparing the workpiece.
Who Is This Product for?
This plasma cutter is recommended for those who either own or work at
Auto body shops
Workshops where metal artworks and cutting sheet metal and thin plate are some daily jobs
It's also an ideal choice for independent contractors engaged in plumbing, HVAC and electrical works.
Check Price & Reviews on Amazon
Problems You Might Face
While the product has been found to deliver nearly up to its claims, certain things may go unexpectedly unless you know the way out. A couple of such situations have been explained.
Cutting Expanded Metal
The advertisement says it cuts through expanded metal, and the credit goes to the pilot arc function. However, you'll experience an inconvenience because the cut can't be expected to restart without the completion of a "cooling purge" of the airflow.
You might think a very brief duration of operation may be good to avoid that delay, but that won't happen because the purge cycle takes a certain amount of time to complete.
Using Forney 20 P with a Generator
No doubt, you can rely on its operation on a generator! Make sure the power source has at least 4,000 watts in continuous output including NO 'low idle off or low idle' settings.
Pros
Diverse operating range and cutting capacities for a wide variety of metal applications
Integrated air dryer and pressure regulator for enabling control over the flow of clean, dry air
Integrated cooling fan for quick cooling of the machine
Thermal overload protection system for automatic management of plasma cutting output in case of an exceeded duty cycle
Post-flow air cooling for increasing the lifespan of the consumables
Extremely compact and lightweight for hassle-free portability across workplaces
Cons
Higher duty cycle expected
Check Price & Reviews on Amazon
Forney 20P Plasma Cutter Review: Features and Benefits
You may be familiar with typical plasma cutter features, but still, there're areas where one unit differs from another. Let's understand what specialty this Forney plasma system has to offer.
Cutting Capacities
It allows you to cut through mild, stainless, and galvanized steel along with copper and brass maintaining a maximum of 1/4″ cut thickness. While cutting through aluminum, you can achieve as subtle as 3/16″. You can sever cut up to 3/8-inch sheet metal. Quite a marvel, isn't it?
You may not experience any exception to these claims, but the speed can be lower than you expect with additional cleanup of the edges required when you need to cut through any metal that is 3/8-inch thick
Attention!
Sometimes if not always, you may wish to cut through paint and thick rust. Consistent electrical continuity is required for the arc to burn through the rust and paint.
Pilot Arc and Drag Touch
Drag Torch technology lets the user drag the torch's tip directly on the material's surface. It means you can move the torch easily across the surface to get smooth, clean, and precise cuts. It also ensures that metalworkers with only a little amount of experience won't be out of luck while working with the torch.
The pilot arc ensures that you can move the plasma cutter over very small gaps and won't need to worry about the arc getting extinguished. The use of drag cutting and pilot arc may confuse some beginners, but their combination is what makes this machine worth a try.
Air Pressure Management
You can't actually see it without disassembling the housing, but there's an internal regulator to control air pressure and a dryer to keep the air free of moisture so that the machine receives as much of the clean gas as it requires to perform the various types of cuts at variable speeds under different circumstances.
Both beginners and experienced professionals have hard times coping with this very requirement and therefore, they should find this feature to be essential rather than optional.
Duty Cycle
If the duty cycle of a plasma cutter were the only performance indicator, Forney 20 P wouldn't gain much traction with anybody for its duty cycle is rated 35% at 20 amps. Then, why should it be in your thoughts?
Well, you need not wonder if it really works for 3.5 minutes requiring the next 6.5 minutes for cooling because the claim stays true even during rigorous applications. Maybe, it isn't just as poor as it looks.
Cooling System and Thermal Overload Protection
In the event of the duty cycle being exceeded, the thermal protection feature comes into play by shutting off the ongoing cutting operation. It automatically rests to resume the plasma cutting output as the cooling is finished. Since it's an automatic function, not a second of interaction from the user is required.
The cooling method employed by the machine through a cooling fan integrated inside the housing is a post-flow system which means that it becomes functional only after making sure that the airflow is finished properly. Such an action helps enhance the life of the consumables.
Final Words
After all, there's to say about Forney Plasma Cutter has been said, it can be fair for you to wonder why this one is better than others.
Well, look back and reiterate all that you wanted – a good drag cutting torch and satisfactory cutting performance regardless of the metal, steel or aluminum. Forney 20P rocks in these areas unless its 'duty cycle' doesn't bother you much!
Go to this link to see the latest price and shipping information!