One of the familiar issues that every plasma operator faces is the spatter or blow back that often comes from the cutting actions. Added to them is the lack of accuracy in cuts.
Those who know their way about the job may be able to avoid the annoyance, but for the rest, a machine with a solid drag cutting technology is the key.
Some people may be ready to pay top dollars for one such model, but that doesn't guarantee that the specific technology will come handy for everyone. If this one thing bothers you, you might want to check out Forney 325P which can get you started without much preparation and offer you the expected excellence in drag cutting.
This Forney 325P Plasma Cutter review will give you a quick yet relevant explanation of the features of the unit to help you understand whether it's a good solution to your problem or not.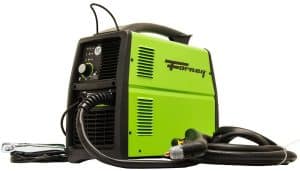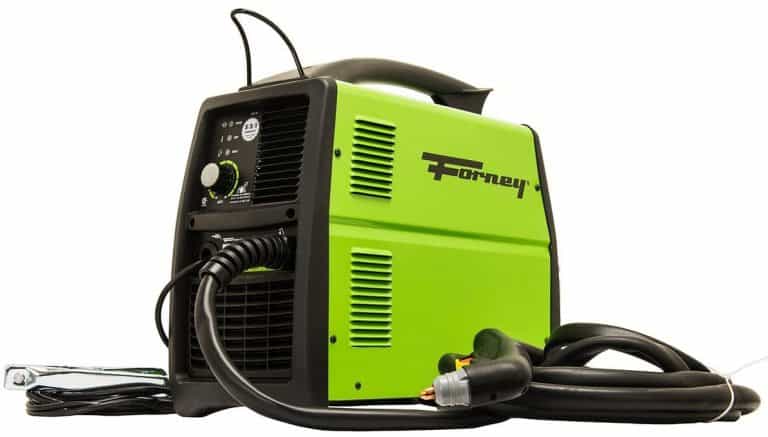 Check Price & Reviews on Amazon
Additional Read: Forney Plasma Cutter Reviews
Introducing Forney 325P Plasma Cutter
Product Features
Integrated consumable storage area air pressure regulator and dryer
High duty cycle and cutting capacity and runs off standard 120V household power
15 ft. power cable ground cable and torch for large working envelope
Click on the (BY FORNEY) name above in blue under the title to view our full catalog of Welders, Abrasives, Chain/Wire Rope, Tools and more!
As an Amazon Associate I earn from qualifying purchases
Forney 325P is a 20 A plasma cutter having the specialty of drag cutting and piercing through 1/4-inch-to-3/8-inch thick sheet metal and plates. With the rated output from 10A to 20A, the machine provides 50% in duty cycle at its peak output. The lightweight unit has been made to be generator friendly and able to use 120V power. A complete package includes a torch, a ground cable, a ground clamp, an adapter, an input power cable, and consumables.
Forney 325 P is a more powerful appliance than Forney Easy Weld 20 P Plasma Cutter which comes at half the price and a few understandable compromises in cut thickness and duty cycle.
Who Is Forney 325 P Plasma Cutter for?
Despite not being so much of an industrial-grade appliance, the Forney 325P can be used by people engaged in the following activities.
Sheet metal cutting
Plate cutting
Basic metal fabrication
Auto body repair and restoration
Farm and ranch maintenance
HVAC and plumbing works
For more demanding metalworking endeavors, you might need a machine with higher electrical power, cut thickness, and duty cycle.
Check Price & Reviews on Amazon
Problems You Might Face
Throughout your day-to-day experience using this plasma machine, you may have troubles with the hand piercing technique and consumable maintenance.
Using the Hand Torch for Piercing
You need to tip your torch slightly so that the blowback particles are blown away properly from the tip and your body instead of getting directly into the tip.
Pierce the workpiece off its cutting line. Then, cut onto that line. As the pierce is finished, keep the torch in a perpendicular position to the metal being cut.
Taking Care of the Consumable Parts
The most obvious factor that might cause you some inconvenience is the usability of the consumables which may wear faster than expected. Here're a few things you can do to stay good.
Tighten the shield cup using your hands and ensure its perfect fit with the torch head. While removing the electrode, you can use the wrench provided with the package.
Except for the first time, you should do some inspections on the air diffuser, electrode, nozzle, and shield cup for any sign of debris and wear prior to starting the cutting operation.
Just dry compressed air is good as you need to clean the parts.
Get rid of all the scale and spatter if trapped inside the tip and shield cup. You can use some anti-spatter compound to make the shield cup free of scale.
Make sure you have the electrode and nozzle in place while using the torch.
If you have to replace the consumable parts, make sure to replace both the nozzle and electrode at the same time.
Only Forney's consumables are recommended.
Pros
A lightweight generator-friendly unit which is ideal for all sorts of plasma cutting tasks at home or small workshop
Easy setup and indication for troubleshooting needs (3 LED Lights for Diagnostics included)
Drag torch technology for making the job easy and comfortable for beginners
High duty cycle and efficient torch for consistent operation
Built-in dryer and air pressure regulator for control flow of compressed dry air
Excellent documentation with standard warranty coverage
Cons
Low amperage and cutting speed
Average cutting performance for aluminum
Check Price & Reviews on Amazon
Forney 325P Plasma Cutter Review: Features and Benefits
This section explains the various aspects of this plasma cutting so that you get a thorough understanding of its usability before choosing to buy.
Cut Thickness and Capacities
The numbers assigned to the unit's cutting abilities may look small, but it does pretty much everything as the claims go. Recommended cut thickness is 1/4″, and you can go as thick as 3/8″. Ideal metals include steel (both mild and stainless) and plate, aluminum, etc.
The Drag Torch function gives you the chance to move the torch directly and comfortably across the surface to get precise cuts.
Duty Cycle and Power Efficiency
The duty cycle is rated at 50% when the amperage setting is at its peak. It runs on 120V using a 20A to 15A adapter and the rated output is 10A to 20A. To power this unit while working outside the home, you can rely on a standard home generator.
Control and Safety Features
An internal air pressure regulator allows for the proper control of air pressure depending on the needs. The air dryer ensures that the air remains dry and clean.
The thermal overload protection takes care of the unit's safety and efficiency when the unit draws current in excess. The post-flow air cooling function ensures longer life of the parts.
An internal cooling fan starts doing its job as the maximum duty cycle is reached. You can benefit from the LED lights that indicate any potential risk and malfunction.
Portable Design
You'll have a lightweight plasma cutter; thanks to the space-saving design along with the torch wrap which allows you to keep the consumables in the designated storage area to make the transportation of the unit and other essentials easy.
Check Price & Reviews on Amazon
Final Words
At this point, a final verdict is all you might be looking at. Well, that brings the relevance of drag cutting back to the table. It makes sense for both starters and experienced users due to easy cutting activities, accuracy, and precision in cuts, minimal spatter, minimized blow back, and reduced heat input.
A good thing about the plasma system is its ease of use, especially the setup and maintenance. It won't correct itself when something goes unexpected, but you can benefit from the LED indicators which excel in helping you find out what's wrong.
And the cutting ability is the part where you see the compromises: slow cutting speed and not-so-good results from cutting aluminum. You can't make it any faster, but some improvement can be achieved if the thickness of the metal (aluminum) is maintained at or below 1/4″. That's all the information you can use before buying.
Click here to check the latest price!