Welding without the essential safety gear in place only increases the odds of health injuries, needless to mention the unwanted compromises on the quality of welds. Is a helmet light an essential component of your gear?
Experts recommend that welding enthusiasts use a standard light kit when they put on a helmet and can't risk lifting their hoods every time they need to see and change the position of their torch or create a delicate, straight joint.
Are all lights equally powerful and safe? They are not. Some lights are definitely superior to others. Which lights fall into this category? Read my reviews of the best welding helmet lights and decide which one to go with.
Best Welding Helmet Lights: Quick Comparison
This table only provides you a few specs, so you can decide which review to start with. Get the details in the sections that follow this chart.
Lumens
Spotlight: 220L, 100L, 30L Floodlight: 100L, 50L, 15L
Spotlight: 1,000L, Floodlight: 800L
Beam Distance
Spotlight: 183, 120, 59 Meters
Runtime
Spotlight: 3.5 Hours to 33.5 Hours, Floodlight: 10 Hours to 60 Hours
As an Amazon Associate I earn from qualifying purchases
Since my goal is to inform you of the truth about these lights, I'll cover the important aspects of each model separately.
8 Best Welding Helmet Lights Reviews
1. Streamlight 69140 Vantage LED Tactical Flashlight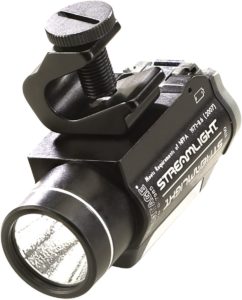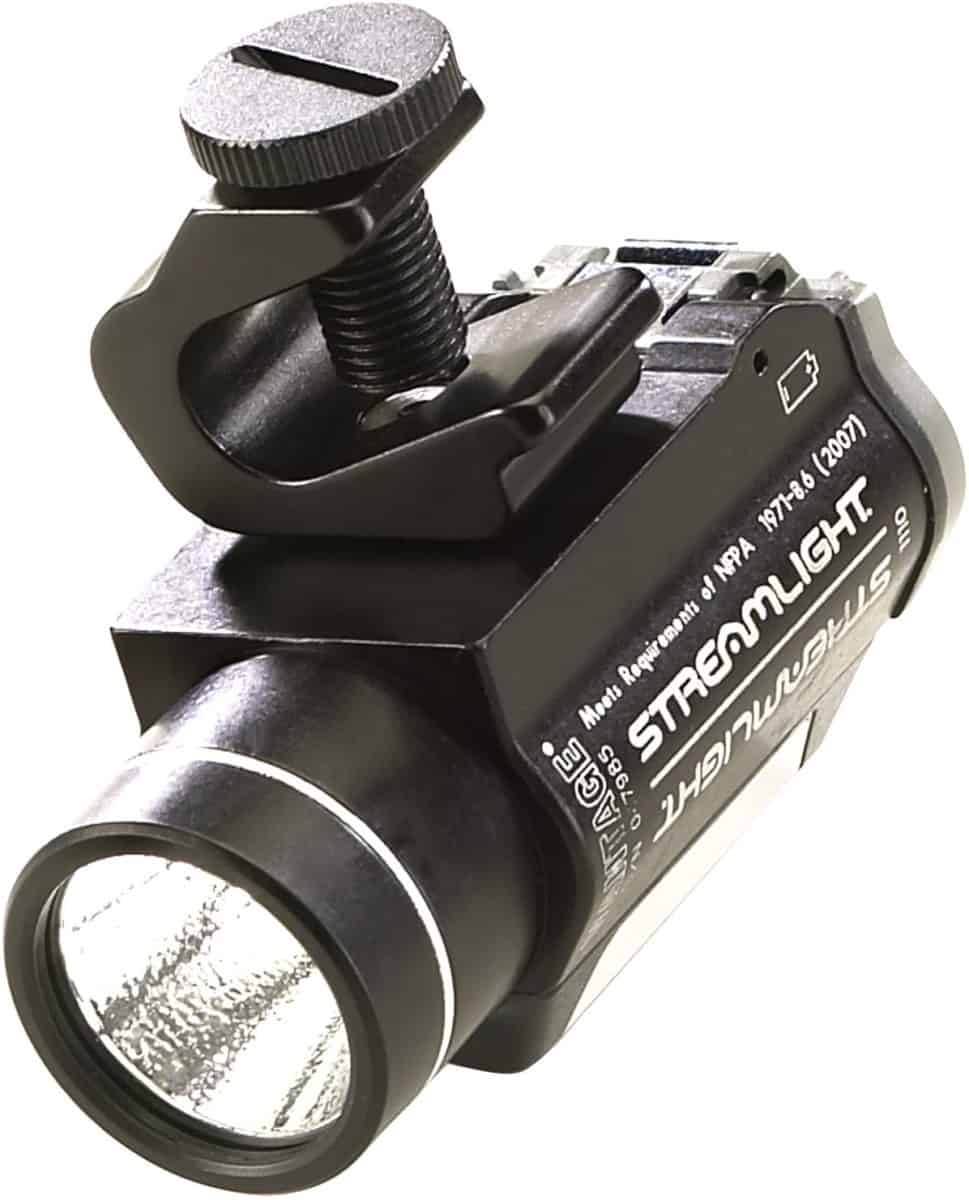 Each flashlight on my list is different from the others. But this one comes with an attention-grabbing label that says 'Tactical'. Yes, you've heard it right.
Streamlight 69140 emits more light and lasts longer despite being smaller than a traditional flashlight. As a matter of fact, all other products here are built to be and do the same.
So, I asked myself what else makes it special besides the 'tactical' thing, and here I am with a few things for you to know and act on.
Design And Durability
The design of this product only reminds buyers of a low-profile flashlight that attaches below or above the brim on welding and industrial helmets.
It uses a 6000 series aluminum housing which is typical for machined aircraft. The black anodized finish lends a classic look. The LED section uses a polymer housing that is chemically engineered to resist high impact.
To use this light, you don't always need a helmet. If you know you can handle your welding task safely without a helmet, you can use a hard hat and attach this light easily. Don't worry about the style of your hat or helmet. It is okay to use with both modern and traditional styles.
Its IPX7 waterproof rating means that you can risk submerging it in water, keeping the depth at one meter for half an hour. I don't question its safety because it meets all requirements of the National Fire Protection Association (NFPA) according to the 1971-8.6 (2013) guidelines.
I know you cannot help asking if the product is built to withstand high temperature, impact, and thermal shock. The Borofloat glass lens lasts long in demanding and extreme surroundings like a welding workshop.
Light Output And Illumination Quality
The parabolic reflector has a textured design to create an excellent beam hotspot. You can get an optimal level of peripheral illumination, which makes navigation easy. The electronic components are optimized to regulate the intensity of the light.
The LED uses C4 technology (controlled collapse chip connection) which, as I found, is unlike average LEDs. The manufacturer claims the light output is 2-3 times more than what regular LEDs produce.
This light produces 115 lumens. You can keep it switched on for six hours tops with 10% of the lumen output. It illuminates your target surface with a beam intensity of 7,000 candelas and a distance up to 167 meters.
A taillight is crucial to your safety, particularly when you have heavy smoke around. The tail light provides an ultra-bright blue vision to enable you to see through heavy smoke.
Setup And Usability
You need only a couple of minutes to finish the setup and an extra minute to clamp it to the brim. The dual-direction switch knob (On/Off switch) is accessible as it is on the rear part of the light. Use it to activate either the main or the tail light.
Should you optimize the location of the beam, you want to use the swivel clamp where you can insert an adjuster that turns 5 degrees side to side. It is a serialized flashlight, meaning that positive identification is not a problem.
Pros
Sufficient light output for all types of welding applications
Ideal for fire, industrial, shooting, and rescue applications too
Strong yet lightweight construction
Extended lifespan of the main (50,000 hours) and tail LEDs (100,000 hours)
Approvals from the NFPA and "European Community Directives"
Cons
Extra labor required for turning the swivel clamp in any direction
So much for the lifetime warranty (with some of the terms not explained properly)
2. Miller Electric Welding Helmet Light, Filter Shade 3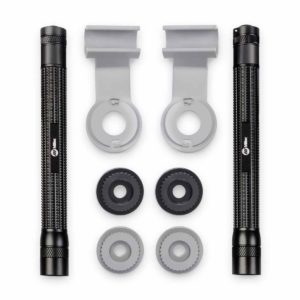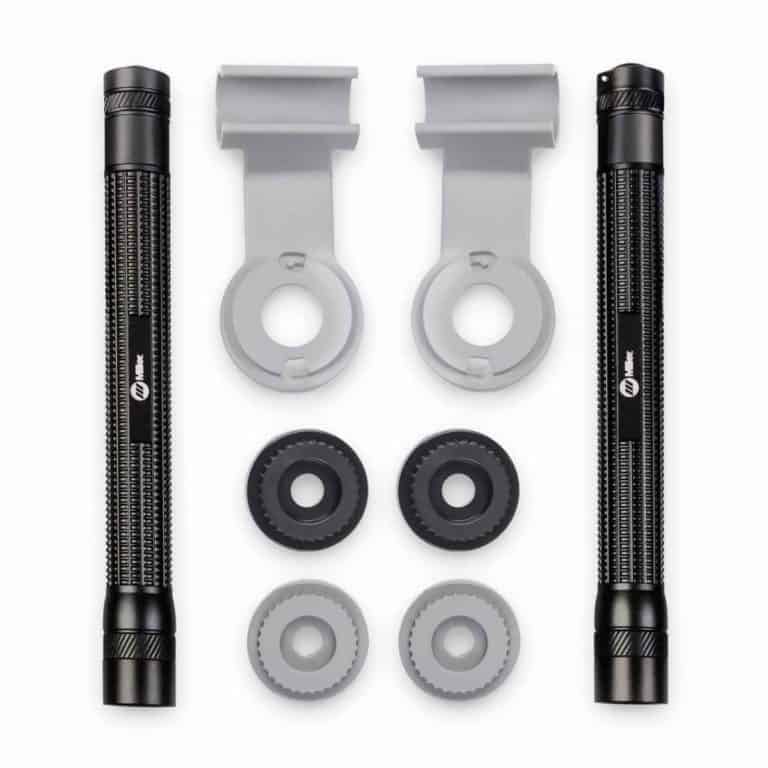 Maybe you are a great fan of Miller's welders. But then, you came to know about its helmet accessories. Will you attempt to buy instead of considering if this helmet light is really worth your money?
Miller is an esteemed manufacturer of welding tools, but you still have things to understand about this accessory kit.
Build And Durability
Unlike Streamlight 69140, the Miller lighting kit comprises two 5.5-inch lights, each of which is housed in a durable aluminum body. However, some users might not agree that the material in use is on par with the standard and properties of aircraft aluminum.
Inside the package, you'll see two mounting arms that attach directly and easily to a helmet's headgear knob. An attachment of this kind keeps the lights close to your helmet, so you can see while working in tight and dark spaces.
The lights are compact and lightweight. With them attached to both sides of your helmet, you'll only have 2.5 ounces or 0.16 lb. on each side because that is the weight of one light, including batteries.
Light Output And Illumination Quality
The rated light output of this helmet light is 140 lumens. I think it is sufficient for regular welding environments. Beam distance is acceptable too (somewhere between 100-120 meters). I couldn't find much about the beam intensity, though. Each light draws power from 2 AAA batteries and runs for 5 hours.
Setup And Usability
You won't face difficulty keeping the lights firmly in their place as you raise or lower the hood. The position of both lights is adjustable up to certain degrees. I cannot assure you that the adjustment can be done as much as you need to get perfect illumination, but you'll be able to see your workpieces in low-lit surroundings.
These lights are designed to work with filter shade #3, which means that you can use them while handling an oxygen cutting or gas welding project. Tasks such as torch soldering and brazing are also possible with some additional arrangements in place.
Miller has given the names of the helmets which fit well with this kit. Classic, Elite, FS#10, Infinity, MP-10, Performance, and Titanium are some of the Miller helmets you can use this product with. Hobart helmets include Discovery, Endeavor, Impact, and Pro.
Pros
Affordable for two lights with the same capabilities
Durable body and compact design
Easy setup with no maintenance required
Minimal impact (weight) on the helmet as well as head
Compatible with long-lasting rechargeable batteries
Cons
Only compatible with helmets from Miller and Hobart
Better adjustability expected
3. Streamlight 69331 Vantage II 350 Lumen Flashlight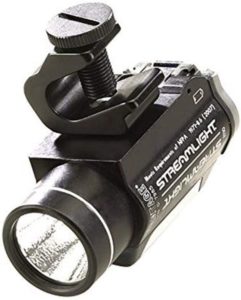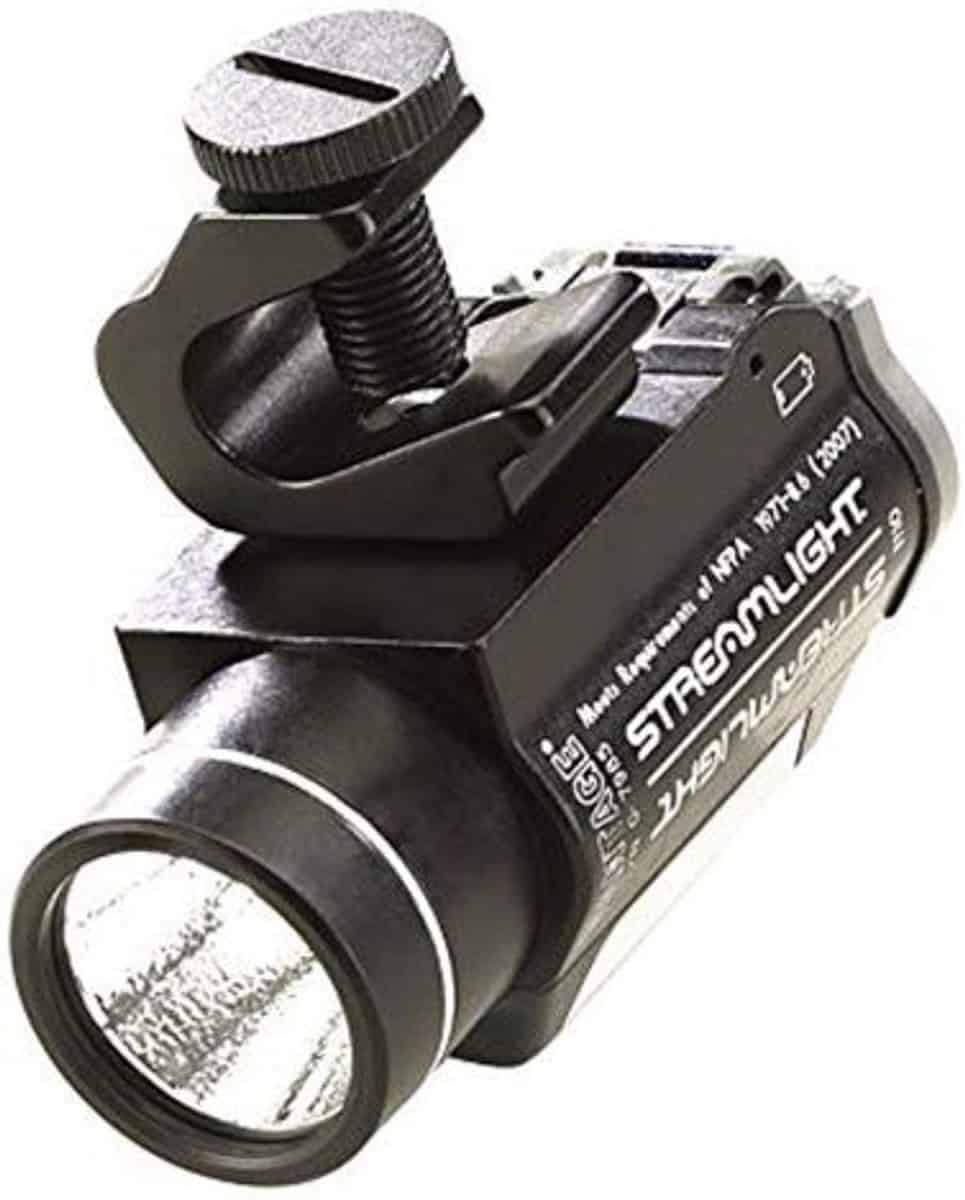 This flashlight is comparable to Streamlight 69140 except for brighter illumination and a few compromises. The manufacturer didn't label it as the tactical type. But the differences don't end here. Keep reading.
Build And Durability
A low-profile design with swivel clamps allows the user to attach or detach below or above the helmet brim without worrying about getting the flashlight snagged on dust or debris. This light is equally appropriate as an accessory whether you're using a standard welding or industrial helmet or even a hard hat.
Its housing comes built with 6000 series aluminum which we find in machined aircraft. The housing wears a black anodized look, lending itself an attractive finish.
Impact-resistant and durable, the LEDs have chemically treated polymer housing. The use of Borofloat glass enhances the properties of the lens to meet highly challenging applications.
All these materials add to the product's capability to remain undamaged by impact, thermal shock, and high temperature. It is exactly what you want, isn't it?
Does the place where you work have stagnant water here and there? The IPX7 waterproofing protection rating means something you want to know. Keep it under the water reaching as deep as 1 meter for half an hour. The light won't get damaged. It comes rigorously tested.
Light Output And Illumination Quality
The reflector that collects and then reflects light is a parabolic type and comes in a textured design. The beam hotspot and peripheral illumination produced in the process can be as good as you would receive from a high-tech flashlight.
Each of the electronic components comes optimized so that you can stay without the concerns about the light intensity. The C4 LEDs are definitely better than aftermarket upgrades. The Taillight LED enables you to see clearly from behind. If you want it to flash or stop working, just configure it accordingly.
I think the light output is its #1 selling point. Did you expect more than 350 lumens? Despite this much brightness, I can barely ignore the brief period of operation, which is only 2.25 hours with 10% of the initial output.
Speaking of the intensity and distance of the beam, you may not find me to be judgmental like LED light experts. So, I think 3,500 candela (peak intensity) and 118 meters (beam distance) are the numbers you can easily settle for.
Setup And Usability
Setup doesn't take longer than a few minutes. That applies to a new user too. The large (On/Off) push button on the rear is designed with the convenience of welders in mind, especially those with gloves on their hands.
Pros
Better illumination than what most other products at this price range deliver
Ideal for utility services, public work, fire, and industrial applications
Lightweight and compact (yet sturdy)
Extended lifespan of the C4 LEDs (50,000 hours) and safety taillight (100,000 hours)
Compliant with industry standards and NFPA requirements
Cons
Too brief operational time
Better customer and warranty support expected
4. Nightstick NSP-4650B Multi-Function LED Dual-Light Flashlight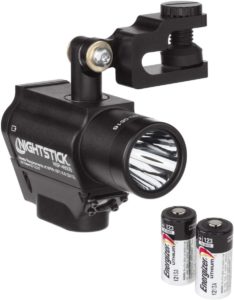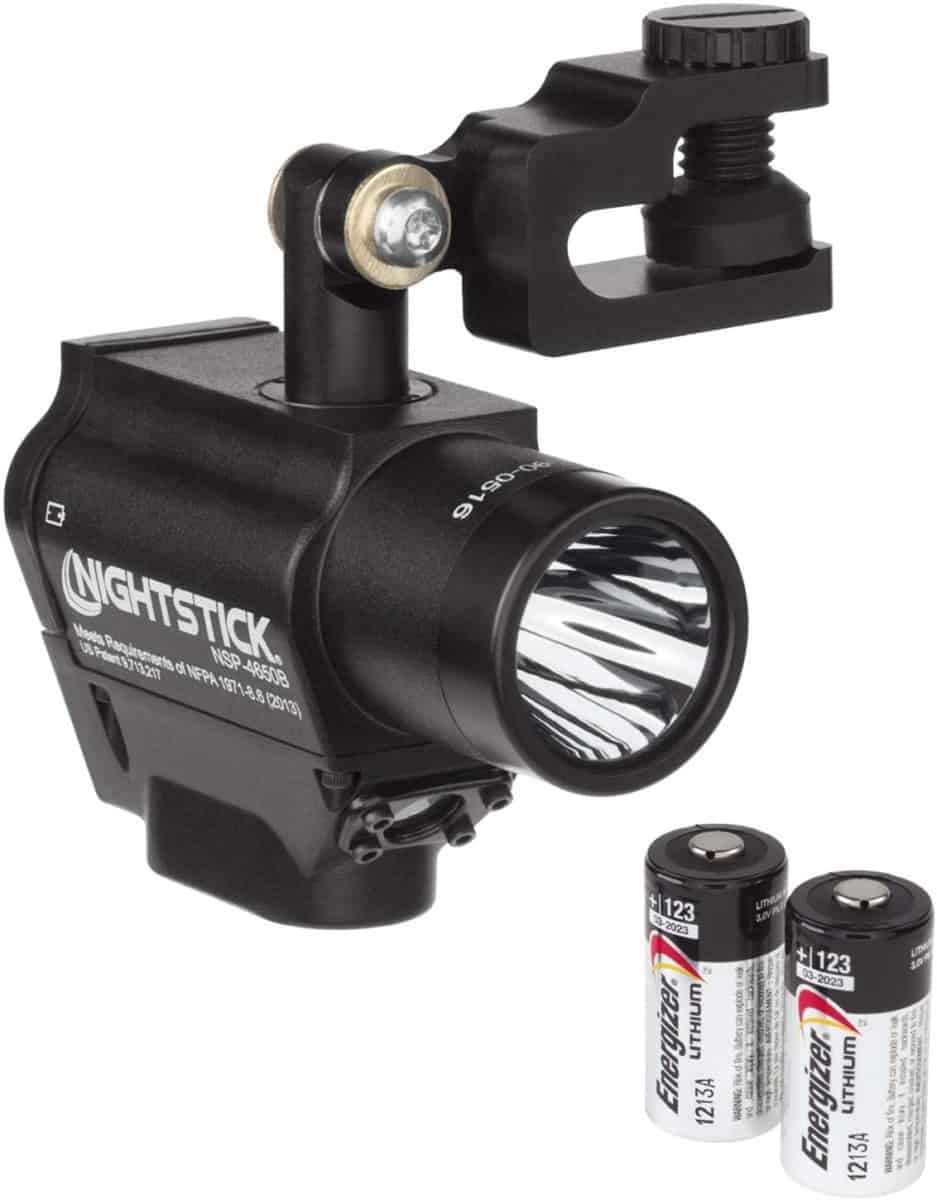 This helmet-mounted flashlight is not exactly what a budget-friendly model looks like, but it still offers a good value for the price. With a 360-degree clamp mount and a standard range of illumination capabilities, the NSP-4650B has more bells and whistles than some of the premium products do.
Build And Durability
Encased with 6061-T6 aluminum, the flashlight checks all boxes when it comes to durability. 6061 aluminum is known for its formidability, while T6 is a type of tamper aluminum aged artificially to yield maximum strength. The product comes with a reliable IP-X7 rating.
Its drop rating comes at 2 meters, and the level of resistance to shock is satisfactory as all of its corners and edges won't get damaged unless the specified rating is exceeded.
As the manufacturer suggests, the mount allows the user to position the light while aiming at any angle or alignment. This flexibility provides you with adequate clearance for any external goggles or shields.
The helmet clamp has an integrated brim that allows for an easy fit regardless of the design or surface of the helmet you want to use. It uses no-mar rubber to provide excellent grip. In addition, you can activate the buttons for both the floodlight and the spotlight easily with bare hands or gloves on them.
Light Output And Illumination Quality
There are two different lighting mechanisms at work here, such as the floodlight and the spotlight, with each delivering a variety of illumination capabilities in terms of modes, lumens, candela, and runtime.
The high, medium and low mode of the spotlight provides 220, 100, and 33.5 lumens with beam distance up to 180, 120, and 59 meters respectively. Understandably, you'll see differences in their runtime (3.5, 10, and 33.5 hours for high. Medium, and low intensity).
The floodlight delivers 100, 50, and 15 lumens and runs for 10, 21.5, and 60 hours in high, medium, and low modes, respectively. In fact, the hours I've just mentioned indicate how long you'll have before replacing the 2 CR123 batteries that came with the package.
Luminous intensity of the lights is 8,073 (high), 3,669 (medium), and 861 (low) candela. There is a rear-facing strobe or green safety LED light that flashes intermittently but brightly and runs for about 6 hours.
Setup And Usability
Maybe, you've already guessed how easy it will be for you to clamp the light to your helmet using the Allen wrench. Use either of the dual switches to activate the desired mode (floodlight/spotlight) and select the brightness level that suits you.
Pros
Three different types of lights for enhanced illumination experience
User-selectable modes for optimum brightness, intensity, and beam distance
Sturdy 360-degree no-slip mount clamps
Extended runtime and battery life
Compliant with RoHS Directive and NFPA-1971-8.6 (2013)
Cons
Capable of moving with the user's movements (I would say, shaky)
5. Life Mounts LED Helmet Mounted Light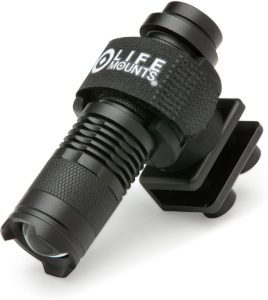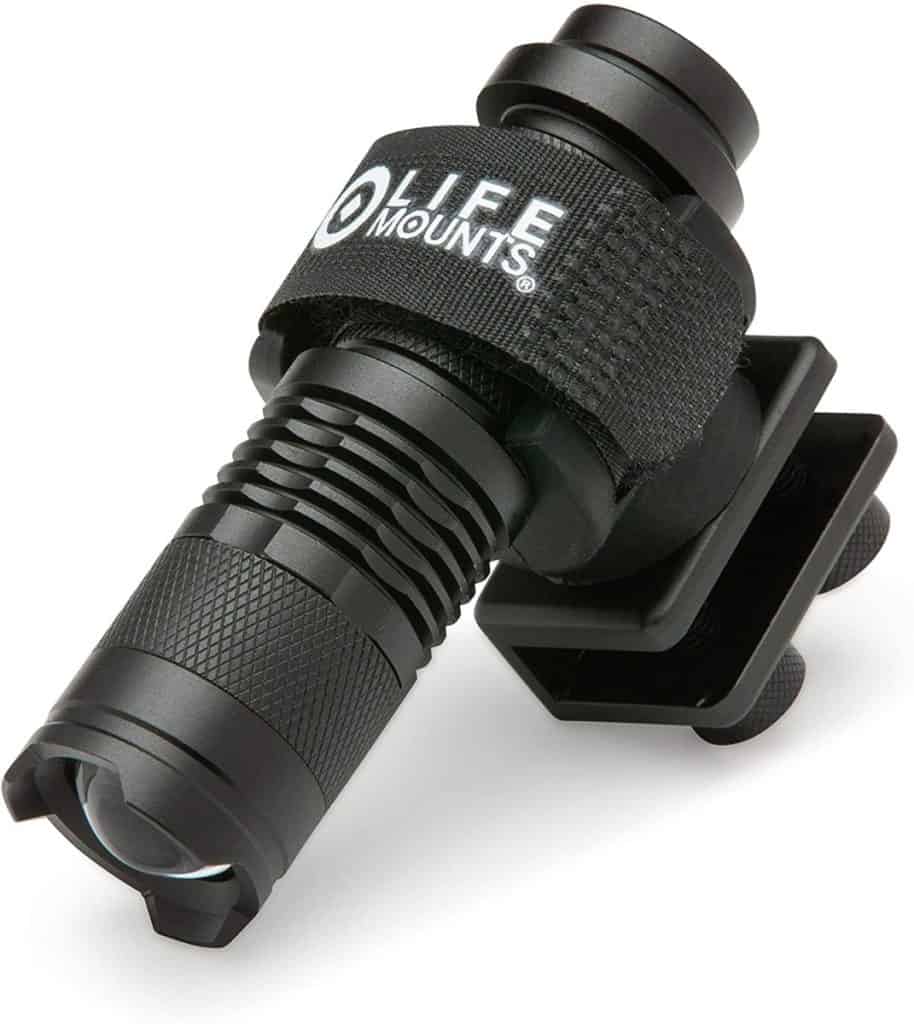 This helmet light may not outperform the ones from Streamlight or Nightstick. I've chosen to pick two Life Mounts products for my review because of their versatility and prices, not essentially the quality of output. I'll explain one of them here and the other in the next section.
Build And Durability
Few helmet-mounted flashlights are lighter than this one. Its housing uses aluminum. I am not sure which type. The mount is patented and comes built with silicone rubber and aluminum.
If you ask me if it is weatherproof or drop-proof, I would say it has to be. Otherwise, there is no point in using a fragile product. As I learned, it may serve you well with some care.
However, I cannot quite agree with the manufacturer on their claim that the flashlight is nearly indestructible. Its label doesn't say anything about its compliance with standards or any other certification, including drop and water ratings.
Light Output And Illumination Quality
CREE LED is not a bad choice for a product at this price as it delivers 300 lumens. You can get a decent vision characterized by the vibrant look of the target objects.
The beam reaches over a thousand feet, but you'll only get its finest output within a radius of 20 feet a little further. What else do you expect?
Setup And Usability
Although the manual says the light clamps onto virtually every style of industrial helmet imaginable, the most appropriate ones include the tactical, fire, welding, construction, recovery type, and hard hats.
Using the two thumbscrews that come in a knurled shape, you can secure the bracket easily. You can even make some adjustments to position your light below or above the brim. Do you want to use it by hand? Take the attachment strap, removing the light from its mount. Since it weighs only a quarter of a pound, it can be a convenient hand-held tool.
Pros
A budget-friendly, lightweight, and versatile flashlight
Flexible 360-degree mount with secure straps for hand-held uses
Sufficient light output with acceptable brightness
Quick setup (nearly effortless)
A convenient push-button switch for turning it on/off
Cons
Not tested at a standard facility
No compliance certificates
No safety tail lights or strobes
6. Life Mounts LED Tactical Helmet ARC Rail Light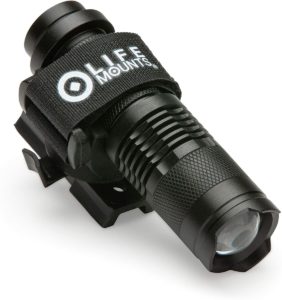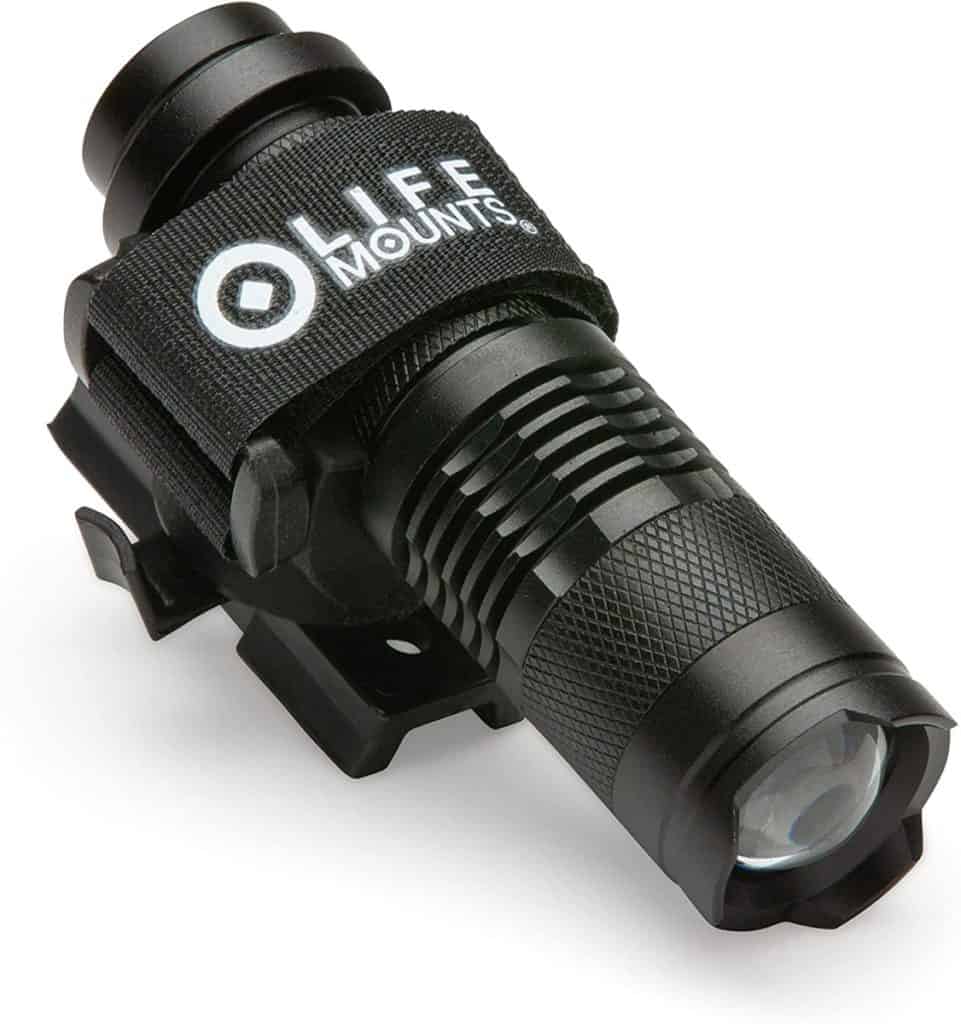 More affordable and compact than the above model, this helmet light requires an arc rail to be ready for use. This design makes it a little bit unconventional, I guess.
Build And Durability
The same aluminum has been treated to be stronger, so the housing can withstand shock, impact, and other rigors efficiently. I won't be surprised if you consider it to be more of a tactical type than a regular industrial helmet-mounted flashlight. Its patented mount comes built with silicone rubber and durable high-density polyethylene (HDPE).
Light Output And Illumination Quality
I think CREE LED requires an introduction. Expect no fewer than 300 lumens to illuminate your way over 1000 feet with a slightly better focus on the target surface or object.
From what I discovered, its multiple modes work better than the other product from Life Mounts. In addition, you can adjust your focus to some extent, if not as precisely as you could with a Streamlight or Miller helmet light.
Setup And Usability
For this light to fit securely with your helmet properly, an arc rail is essential. This requirement is, by far, a downside to the product since arc rails cannot be used with many welding helmets. So, you want to see if your helmet is ready to accept an arc rail.
Pros
One of the most affordable and lightweight flashlights
Easy to manipulate the position of the light for optimal focus
Sufficient light output (300 lumens)
Quick setup (with an arc rail) and secure straps for hand-held uses
A push-button switch for turning it on/off with gloved hands
Cons
Arc rail required for mounting (additional cost involved)
No safety tail lights or strobes
No compliance certificates included
7. FoxFury SideSlide C-Clamp Side Mounted Helmet Light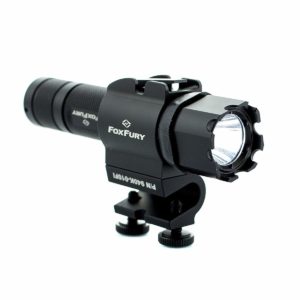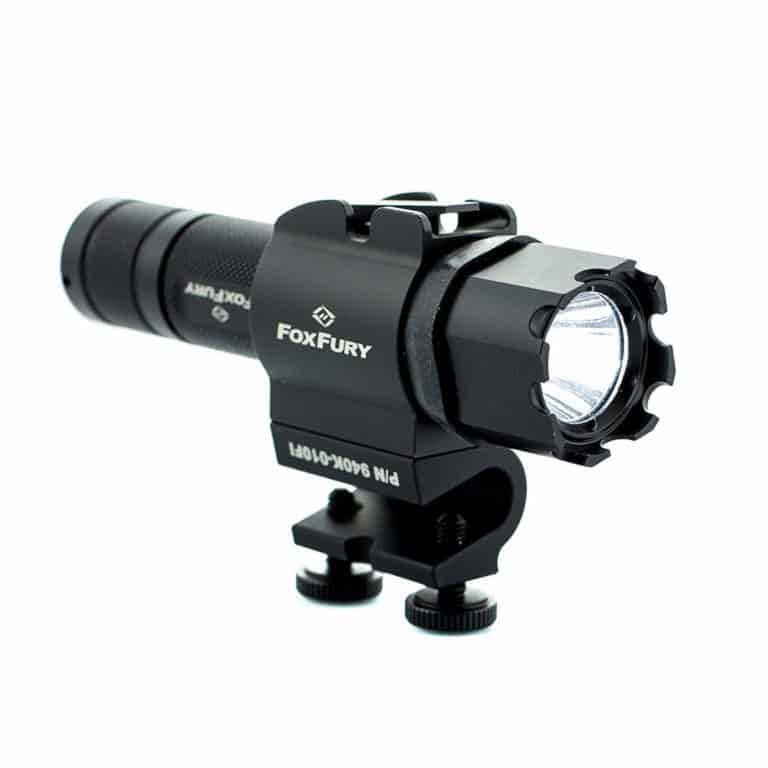 Some of the helmet lights I've already discussed are really good, while some are just basic examples. But this one stands out among its competitors by a mile.
Look at the price, and you won't hesitate to call it a premium helmet light built to last for years. Don't get me wrong. High-quality materials, above-average illumination, superb brightness, beam distance, and intensity make for its steep price.
Build And Durability
The head of the light uses 6061-T6 aluminum, and the housing comes anodized with hard material for excellent strength and durability. It has a fire rating of up to 140 ℉ or 60 ℃ and is fully compliant with NFPA 1971-8. 6 (2013).
Its waterproof features work as far as a depth of 1 meter. The anti-roll head prevents any chance of its rolling off plain surfaces. This C-Clamp model has a SideSlide lock that allows for quick conversion to a flashlight.
The length of the product itself is 5.5 inches, including a 1.5-inch head and a 1.1-inch head, all weighing 0.56 lb. The light feels a little bit heavy, and understandably so.
Light Output And Illumination Quality
Like a modern welding light, the SideSlide C-Clamp light allows users to choose from three modes: high, low, and flash, which delivers 275, 70, and 275 lumens, respectively.
I believe the life of the 18650 battery or 2 CR123 is one of the very few areas where FoxFury should work on improving. The batteries stay only 3.5 hours on the high mode and 8 hours on the low mode. You can keep the flashing mode on for five hours.
The ideal beam distance is up to 900 feet or 275 meters. However, you may take it up to 1,200 feet or 366 meters. A rear LED works as the safety light. Didn't all your boxes check out for a good welding helmet light? I know it did.
Setup And Usability
It is strictly a side-mounted light that is suitable for both traditional and job-specific helmets. It fits both full brim or low-profile helmets and hard hats. Firefighter helmets with eye protection, goggles, and visors are not a problem either.
I cannot think of a better choice among the other models when it comes to switching between a side-mounted style and a flashlight. This is how I see the C-Clamp.
Pros
Rugged design with required accessories
Very close to what a nearly indestructible light looks like
Exceptionally powerful flashlight with strike bezel for emergency purposes and self-defense
Compliant with all safety and industrial standards
Easy setup and operation (with a conveniently located tap switch)
Cons
Higher battery life expected
8. TINMIU Rechargeable LED Headlamp Flashlight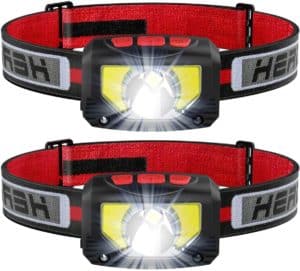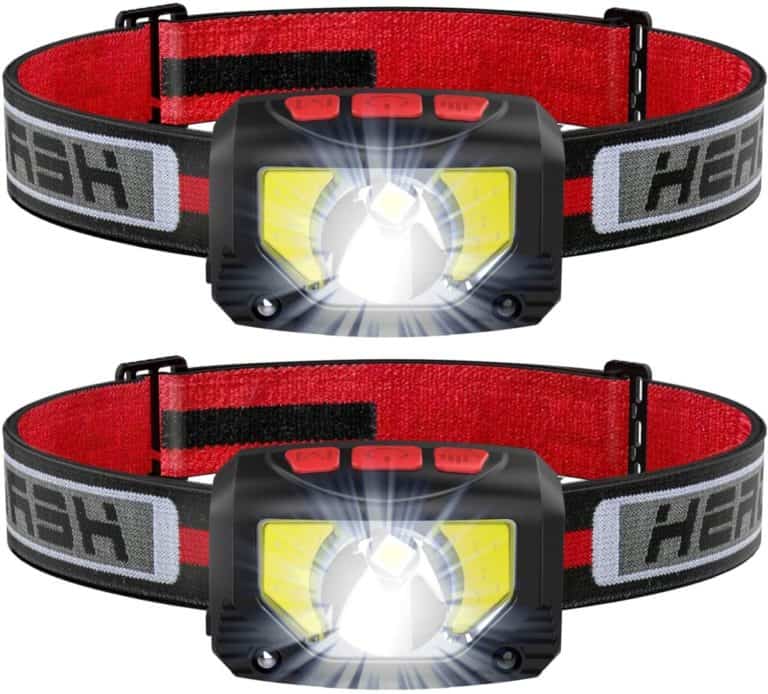 This product has contributed to revolutionizing the way we typically think about a traditional helmet light in terms of smart features.
I find it hard to believe that motion sensors, memory functions, and the like can be included in an affordable package like this. So, I feel excited to let you know the truth about this product despite its being the last one on my list.
Build And Durability
Encased in ABS plastic, the small parts remain protected against regular wear. ABS is a special thermoplastic polymer without a melting point.
The strap in lieu of a piece of mounting hardware makes this light conspicuous as far as its design is in question. The body is tiltable up to 90 degrees with the help of a rotation shaft.
The strap yields great elasticity. But can you put it on your helmet and ensure a secure fit with a lot of movement?
As hundreds of customers have suggested, it is more like a cap (except the cover) that fits well on your bare head than a light that attaches well to your helmet. However, using it with a welding helmet is not impossible, except that you want to use one of the smaller sizes.
The IPX5 rating indicates its capability to stay protected against water spray, rain, and snow. But you should avoid submerging it. The product is drop-tested in a controlled environment.
Light Output And Illumination Quality
Two types of illumination are available such as spotlight and floodlight, with each having both high and low modes. The red light features two modes: floodlight and strobe.
You have six modes in total, which deliver an adjustable range of output in lumens. Maximum output can be 1000 and 800 lumens for the spotlight and floodlight.
A 1200mAh battery powers the light, and it serves up to 4 hours on the high and 10 hours on the low mode. Unlike the batteries of other models here, the TINMIU light uses a rechargeable Li-polymer battery. A battery indicator shows how long before the next charge.
Setup And Usability
If you have a touchless faucet in your bathroom, you'll start using this light almost intuitively. Just wave a hand to activate its motion sensor, which turns on or off the lights. It is possible to keep the light on for hours without touching it.
The Memory Function is another example of sophistication to be a part of this headlamp. As you get accustomed to a certain mode, you can get it turned on without even remembering. Just press the 'Mode' button to get the last mode on. Remember that you'll have the "First" mode activated by default upon using the "On/Off" button.
Pros
No setup required
Adjustable strap with a durable rotation shaft
Smart features to enhance usability without much effort
Six different modes for varying degrees of brightness and lumen counts
Rechargeable battery
Cons
Considerable difficulty putting it on average welding helmets due to the strap
Not capable of staying protected when submerged
No IPX7 waterproof rating
Buyer's Guide To Choosing The Best Welding Helmet Light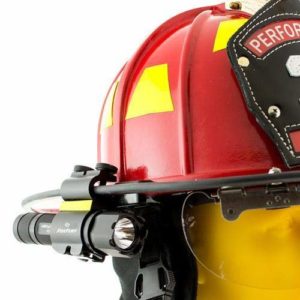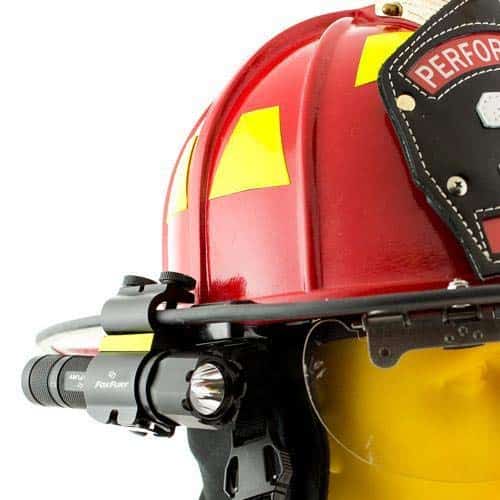 Helmet lights are not like large welding appliances, but you still need to consider some fundamental factors that are crucial to understanding their quality and usability.
Body (Housing) Material
Aluminum and plastic are common, with the former being a staple. Both 6000 and 6061 are known for their strength and resistance to impacts, but 6061 is a superior choice. Some lights come encased in an ABS body which offers excellent durability but with a few compromises.
Lumens
Lumen is the unit that measures the amount of light generated by a bulb or LED. Think of what gallons are to milk. So, the higher the number of lumens you see, the brighter the light is.
Luminous flux (lux) is another term referring to nearly the same thing with some underlying considerations. Let me give you an example to clarify the term.
Welding operations, in general, require 200-300 lux of illuminance. But these numbers do not equate to lumens. If you need to illuminate 5 square feet of area for your welding project, you should have at least 140 lumens.
I don't want you to take the hassle of understanding this complex calculation. You can go here and use a calculator to find exactly how many lumens you need.
Lighting Modes
Sometimes, welding professionals need to prepare for a variety of lighting conditions where both floodlight and spotlight modes are useful. Some helmet lights feature both high and low-intensity levels, while some models have only one fixed level.
Candela And Beam Distance
The unit that measures luminous intensity is candela. Beam distance indicates how far the light reaches. This particular factor may not make much sense for everyone in the welding industry.
Mount, Adjustability, And Helmet Styles
Aluminum clamps with knobs are the most common type of mount systems used by helmet lights. A regular clamp attaches to the side of a helmet above/ below its brim. Some clamps are specifically suitable for any style of helmets and hard hats.
Lighting kits designed for industrial helmets are appropriate for welding helmets too, but you should check if your preferred model allows for 360-degree adjustability.
Battery
Eight out of ten lights rely on batteries that need to be replaced after a specified duration which can be anywhere between 3 to 10 hours. Rechargeable batteries are a more cost-effective solution because you can save money on buying batteries after a few hours of usage.
Suggested Article:
Frequently Asked Questions
As I am about to conclude my discussion, I want to answer a few questions that customers often ask. Maybe, you could use a little help too.
What Is An Ideal Lumen Count For My Welding Helmet Light?
Unless you are planning a project that requires precision arc, you should buy a product that delivers around 150 lumens. Sometimes, you can finish the job with the availability of only 100 lumens, but a higher number is desirable.
Are NFPA Requirements Essential?
Since the organization is devoted to establishing safety codes and requirements to eliminate injuries and deaths due to electrical and fire hazards, every single recommendation from NFPA is advisable.
Passing NFPA requirements, a manufacturer is only able to show its commitment towards the safety of the user. So yes, you should check if a light meets these requirements.
How Can I Choose Between Floodlight And Spotlight?
Both modes are useful depending on how you want to have them. If your work involves a strict focus on a very small area, a spotlight is ideal. If you need illumination across a relatively large area or surface, you should choose the floodlight mode.
Can I Use A Tactical Light With My Welding Helmet?
Modern tactical lights have many features that make them versatile on a wide variety of applications from industrial work to survival. However, look for the qualities as mentioned above before choosing your light.
Is An IPX7 Rating Necessary?
Products with the IPX7 waterproof rating are always worth the money spent on them. For welding, professionals who are into hyperbaric welding should choose their helmet lights that have this rating.
Final Verdict
Starting from the beginning, both Streamlight 69331 and Miller light have pretty much everything to satisfy your need for illumination at a welding workshop.
But Streamlight 69140 grabs my attention as the best overall package. Nightstick NSP-4650B is also a wonderful product considering its extended runtime.
Both Life Mounts models are more affordable than others. Their low prices are not without limitations. TINMIU flashlight is more of a smart gadget than just a helmet light. Despite all its selling points, it may not be the best choice for everyone, especially those who want to wear their helmets with the light strapped around.
FoxFury's SideSlide C-Clamp Light is not a cheap addition to my list. Rather, it is costlier than the majority of helmet lights in the market. But I have no doubts about its performance, durability, and value for the money.
Which one do you think is good for you? I hope you don't wonder anymore. But if you do, I am here to help.
Happy buying!