Welding is a good and profitable line of work, but, carrying it out needs proper safety precautions. When performing arc welding functions such as shield, gas metal, and gas tungsten arc welding, your eye cornea can get inflamed. The sharp rays from the welding machine can cause burning damages to your retina. Your skin can also get exposed to radiation coming from the discharged UV, making you look sunburned.
All those risks can well get prevented by wearing the right welding protective equipment. These include a helmet, safety glasses, jackets, and gloves, etc. Today we represent the Esab Sentinel A50 Welding Helmet review.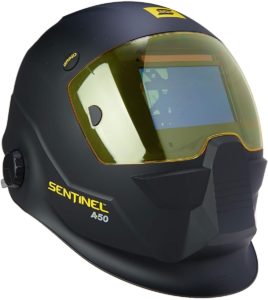 For this review, we will look into welding helmets equipment only. There are two main categories of welding helmets available in the market as follows:
Types Of Welding Helmets
1. Passive Welding Helmets
They're also known as standard or the traditional helmets. They were there from the beginning and were quite popular and widely used until recently. These helmets offer type 10 shade. The welder puts on the helmet in the up position when preparing to point the gun, torch, or electrode. The helmet gets flipped into place through a quick snap as the welder makes for striking.
2. Auto-Darkening Helmets
They're the more advanced welding helmets and are light reactive. They differ by a significant margin from the passive welding helmets. Its viewing lens has a shade of 3-4 in in-active mode. Thus, the welder will be able to see through. When its sensors detect any arc start action, the lens gets darkened to shade 8-13 instantly depending on welding extent.
The Auto-Darkening helmet model has a technological edge over the earlier passive model. It has more advanced features that offer more protection to welders than a passive model would. The market avails you a wide range of different types of welding helmets. This Esab Sentinel A50 review helps you in your selection by giving you all the details of one of the best Auto-Darkening welding helmets.
The Esab SENTINEL A50 Welding Helmet Review: Features
The Sentinel helmet is a new welding helmet in the market that came with a completely new design, high performance, and various automatic functionalities. It's one of the best welding helmets specifically designed to protect your face and eyes from spatter, sparks, and harmful radiation when carrying out welding functions. All the features come as a technological
improvement to those found in conventional welding helmets.
This helmet mainly targets people who are in the welding business, especially the ones who do not want to compromise on their safety while doing welding work. It's an ideal helmet suitable even for industrial use.
Comfortable to Use
The Esab Sentinel A50 got well designed with a sturdy shell that gets supported by a five-point HALO headgear. It weighs 1.4 pounds, which contributes significantly to reducing fatigue for workers working the full day.
The helmet has full adjustability as it has up to half a million contact points with differing combinations. That's five times the number of contact points in conventional welding helmets. Users, therefore, can make adjustments, shifting the weight around to reduce pressure points to endure the all-day tasks. It also comes with a ratcheting feature which allows users to make small to significant adjustments.
Excellent Vision
The comfort of a welding helmet needs to be accompanied by a clear vision. That makes the helmet entirely usable for the welder. The Esab Sentinel headgear rates highly as far as vision and clarity are concerned. It has a clarity rating of 1/1/1/2 and shade adjustability range of 5-13 ADF. The helmet allows welders to adjust to grind mode through an external switch.
Its shades can easily be swapped out with users having the option of adding clear or amber lenses on purchasing the helmet. The helmet's curved lens plus its smooth anti-scratch finish ensures no sparks land on users. That prevents the lens from being damaged. Welders will also find the curved design of this headgear useful as the 3.93 by 2.36-inch viewing area helps a lot. The curved vision allows the user to see all around the working area.
Easy to Set-up and Use
The Esab Sentinel helmet is one of the most comfortable equipment to take out of the box and immediately set-up for use. It features with an easy to understand quick start guide and a control panel using touch screen technology, making it simple to use. It has a backlit display which gets readable in low light, intuitive options, and an overall design enabling users to start using it immediately.
It also offers eight different memory functions to make it possible for you to program the shade preferences. All features, including lens changing, adjustments, and swapping parts out, extra, are easy to carry out. It's shades get powered by a suitable combination of replaceable batteries and solar cells.
Sensors
The helmet gets suitably fitted with robust sensors making it suitable even for industry use. The Sentinel helmet has four sensors which engage immediately on striking the arc within 1/25,000 seconds. This number of sensors is adequate to deal with out of position welding works where they may get obstructed.
Sensitivity Control
Your chosen Esab Sentinel welding helmet comes with adequate and adjustable sensitivity control. It allows you to make adjustments of brightness levels to trigger lens darkening. The function becomes useful when working under low amps with the arc less bright.
Delay Control
The helmet features a delay control functionality to adjust the period the lens needs to remain dark after finishing the arc work.
Technical Specs
Shade levels: inactive: shade level DIN 3.0 active, manual: shade level 5-8, 9-13
Power supply: Solar cells, 2x lithium batteries (CR2450)
Sensors: Four (4) Sensors
Sensitivity: Low–high. Adjustable with an infinite dial knob
Switching time: 0.04 ms at 131°F (55°C) / 0.075 ms at room temperature
TIG rating: ≥ 2 amps AC/DC
Optical clarity rating: 1/1/1/2
Viewing Area: 3.93 in. x 2.36 in.
Weight: 1.4lb (640g)
Warranty: 3 Years
Pros & Cons
Pros

The helmet offers a lot of clarity

It has a beautiful and robust stiff shell

You see everything around the welding area

It's lightweight and comfortable

The HALO headgear is just perfect
Cons
The lens gets a bit distorted when you move your head




while working

The touch screen seems not to work when you use gloves.
Few Alternatives You May Consider
As an Amazon Associate I earn from qualifying purchases
Final Words
The above Esab Sentinel A50 review serves as a useful guide if you're out looking for a high-quality welding helmet. It has all the qualities to handle any welding, including industrial tasks. The big vision range, lens clarity, and other amazing features put this helmet on a class of its own. It will give you all the protection you require when welding.