Imagine you are about to weld at a construction site, and you suddenly discover that the work light you bought after so much contemplation is not for outside projects. Or what if it is an outdoor light, but you learn it the hard way during your indoor tasks?
I hope you are not panicking. I only asked you to imagine because I am here to make sure that never happens for real. It is pivotal to know about work lights because their characteristics vary from one another. You cannot always use a single one for all purposes.
That is why I have done some digging to discuss them with you. And mind you, each is the best work light for welding with their goods and bads pointed out. Do not miss them if you need them!
Best Work Light For Welding: Comparison Table
The table you see below will brief you on the products. They will be of use once you get to the review section.
Best Welding Work Lights Reviews
1. LUTEC 6290Pro 9000 Lumen 90 Watt Dual-Head LED Work Light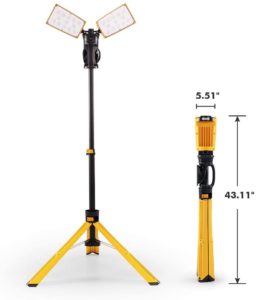 The powerful Lumen 90-Watt LED work light provides you with a high-intensity light. It has a color temperature of 5,000K. If you have projects requiring you to inspect things in detail, Lumen is the one for you.
Besides, the material used to make the light is professional-quality die-cast aluminum. It features integrated LEDs, meaning you will not need to spend your money on replacement. See? It saves your money too!
People who mostly have outdoor projects are picky about their work light because sometimes even high-quality lights do not perform well outside in wet areas. Lumen will solve that problem for them, being the best work light for welding. It is entirely waterproof so that you can take it wherever your project is. By waterproof, I mean it has a rating of IP54, telling you it can even handle water splashes as well!
Lumen gives you a lot of conveniences when you use it. Its height is adjustable up to 5 feet x 6 inches. You can rotate it vertically at 30-degree horizontally and 90-degree vertically. The flexibility lets you find the perfect angles for your task. Plus, the light comes with an 8-feet power cord.
There is a flip-lock with the tripod. If you use the light by putting it on the ground, you can simply fold it up after completing your work. Since the cord wrap is a built-in mechanism in the LUTEC6290 Pro, it makes folding easier.
The device is as secure as it gets. It has a back design shaped like multiple grooves. They extend the area of air contact to dissipate heat faster and keep you out of security risks.
If you buy this light, you will get an enormous warranty of 36 months! Within that time, if you feel any issue with the light, which is unlikely, knock the brand to get it solved instantly.
Finally, the upgraded 9000 Lumen is available within your budget. Click the link given below to look more into it.
Pros
Integrated LEDs, no replacement necessary, and durable materials
Budget-friendly with a three-year warranty
Suitable for outdoor projects
Waterproof, easy to use and fold, vertical and horizontal rotations, and adjustable height
A tripod with a flip-lock
Cons
No option to turn the lights on individually
2. PowerSmith PWL2200TS 20,000 Lumen Dual-Head LED Work Light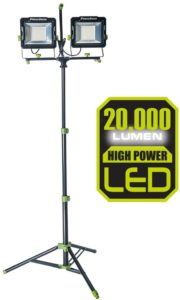 The 20,000 Lumen Dual-Head LED work light generates professional output with its super-bright and sustaining LEDs. Buying it will rid you of worrying about any replacement because it is that fantastic!
There are a couple of brightness levels in the lamps, which you can control with their power switches behind them.
PowerSmith offers a two-year warranty for the light. It weighs almost 18 pounds.
About the other features: the telescoping tripod is taller than 6 feet, having sufficient workability for your job. The tripod has flip locks with highly secure and quick height adjustments. You will also get a 9-feet power cord and the owner's manual in the package. That is a pretty good deal for the price, right?
Pay more attention to this last part. As stated by the California proposition, there is a warning of cancer and other reproductive harms. Be very aware of that if you make up your mind to purchase the light.
Pros
Very bright light with two levels to control the brightness
No replacement necessary. There is a two-year warranty with the light.
An output of 20,000 lumens
A tripod with flip-locks with quick height adjustments
Owner's manual included with instructions
Cons
According to some users, the LEDs might still emit light when you turn them off but keep them plugged. There is a chance that might impact the lifespan of the lights.
3. DEWALT 20V MAX LED Work Light (Tool Only)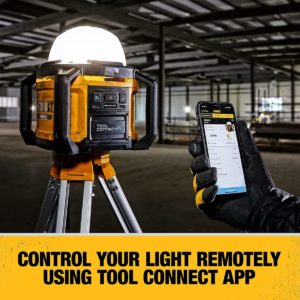 The portable DEWALT work light has an all-purpose white and natural light fitting for job site illuminations.
The light runs on batteries. But they do not come with the light. The buyer has to get them added. However, this rechargeable work light has an impact-resistant design to facilitate it to cope with job site conditions.
You can set up a DEWALT light by hanging it via a hook, with a tripod, or freestanding. Since the company sells the light individually, you have to buy a tripod separately. That could cause some people a bit of inconvenience.
The rating of the light is IP54. You can use it in both wet and dusty environments as it can resist water and dust. It weighs only 10 pounds. So, you can carry it comfortably. And there is a three-year warranty associated with the DEWALT work light.
Pros
A device to produce natural light with rechargeability
Impact-resistant lens and body
Apt for job sites because it is portable and dust- and water-resistant
Decent quality for all purposes
A 3 year warranty is available
Cons
No inclusion of battery and tripod
Pricey for a single tool
4. VonHaus Two-Head 10000 Lumen LED Work Light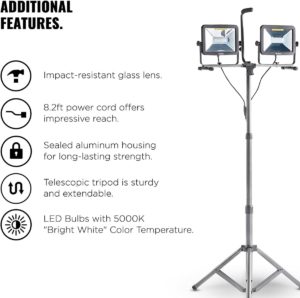 The LED lamps highlight impact-resistant glass lenses with waterproof and sealed die-cast aluminum to protect them during rough weather.
Let's talk about the beautiful headlamps now. The VonHaus 10000 Lumen has a pair of fully detachable and adjustable LED rotary lamps. You can change their angle from thirty degrees to ninety degrees to control the light direction accurately.
Do not look for on and off switches when you set up the VonHaus. It does not have any. But you will see a power outlet to do that. You can also run the quick-release function by detaching each light from your tripod for a faster setup, folding, and storage.
What is it about the VonHaus 1000 Lumens? It is a distinctly powerful, functional, and sizeable work light capable of producing 10000 Lumens of outputs. The LED bulbs are sustainable with a color temperature of 5000K. That's glittering bright!
While it indeed passes the criteria of the best work light for welding, it weighs more than 21 pounds. That may be a problem for some.
Pros
Waterproof and impact-resistant
Die-cast aluminum housing
An output of 10000 Lumens
Super bright light
LED rotary lamps with adjustability and detachability
Cons
Some might find its weight cumbersome.
5. LEDMO 10000LM Halogen Equivalent LED Work Light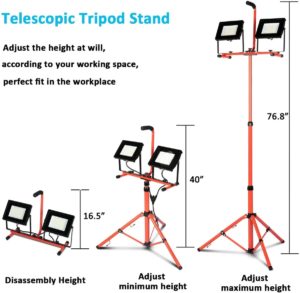 The company sourced high-strength stainless steel to produce the work light. So, what you will get will not just be a random pick. It is a gadget with high sturdiness and stability. It will not shake and distract you when you work.
Moreover, with the professional paint coating and multiple protection mechanisms, the LED work light will efficiently serve all your purposes related to lighting at construction sites, outdoor camping arrangements, and emergency occurrences.
The flexibility of the tripod is notable. You can extend it to as high as 76.8 inches and lower it to only 30 inches. It has a detachable handle secured by snap-on brackets. The flexibility makes the light apt for use in different environments with various purposes.
Halogen has a rating of IP65. That gives the work light the following attributes: high-quality hard floodlight, impact resistance, waterproof aluminum housing.
Guess how many years of warranty you will get for this product? Five years! No kidding! Within this period, if you face any problem with the work light or look to use the warranty, contact the company and ask for further assistance.
The brightness of the 10000 LM LED is higher than that of a 1000W lamp. Plus, it will save 80% of your electricity cost. Its die-cast aluminum has an effective cooling structure to ensure durability and safety in the long term.
The machine has a lifespan of 5000 hours. You can use it for both outdoor and indoor projects. Because it weighs only 8.8 lb, you can carry it easily.
Pros
Glittering light, yet cost-efficient
Great value for money
Five years of warranty
Professional-grade paint coating with versatile performance
Multiple protection systems
Cons
No instructions in the package, as complained by some
6. FREELICHT 6 Pack Linkable LED Utility Shop Light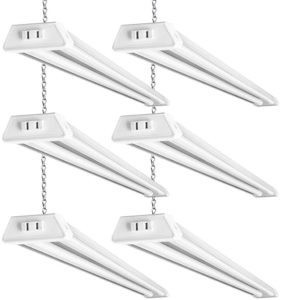 The LED shop lights are high-rated and linkable. You can connect four lights using connectors and use them in your home, office, garage, or workplace to save energy. Each of them has a length of four feet.
The installation of the process is a piece of cake. You will get a guide on that to teach yourself about the easy and quick setup. Along with that, the mounting hardware is also there. (The power cord comes with a plug!)
You have to mount directly to the ceiling to get enough brightness instantly in your basement, office, storage, or warehouse area.
Freelicht used first-class plastic to give you a glittering lighting experience from a lightweight work light. It aids you in turning your garage into a different place while minimizing the hassles of installing it.
If I had to write one word to review the Freelicht product, I would go for 'quality' without blinking my eyes. Freelicht poured its all to its shop light. From the materials to the LED chips, each beats the other with their efficiency and performance. The rest is yours to judge.
By the way, the warranty period extends to five years!
Pros
Topnotch quality
Remarkable performance
Easy to install and use
Amazingly bright lights
Warranty period: 5 years
Cons
The switching position could have been better
7. Hyperlite LED High Bay Light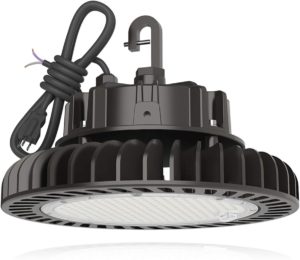 For users with a flat pocket looking for a standard-quality welding price, Hyperlite offers the best work light for lighting. First of all, I want to talk about its unbeatable illumination. It has a tremendously high-powered high bay light of 150w that produces industry-leading results!
Apart from its commercial-grade compatibility, 21k lumens will positively blow your mind with flashy and spacious illuminations. You get 140 lumens/watt, and now tell me if that does not promise you incredible performance.
And the price Hyperlite charges you for its high bay light will give you the realization that it is not a pretty good deal. It is the BEST one. But wait. There is more to it. The package includes an additional reflector cover for providing 20% uplight at max.
Beginners usually have two demands. They want a budget-friendly product. But it also has to be user-friendly. Well. It looks like Hyperlite made the product keeping them in mind. The setup process will not take you more than three minutes – it is that manageable.
The package will give you a five-foot power cord, an American hook (for free!), and a piece of safety rope to install the light in a hassle-free, organized manner. There is also an American plug (110V standard) to facilitate easy power sourcing.
This beautiful lamp has DCL and UL certifications. Its characteristics of water and dust resistance and commercial quality give it versatility and toughness to be the most durable light in the market. So, when you are outdoor working in rough conditions, do not have concerns about the light putting up with the environment. Its pure aluminum housing shelters it from any type of damage.
The light has a low profile, circular, and light design. And guess what? It is dimmable! There is also a warranty period of five years to make your experience even more supreme. And by some accident, if it does not meet your expectations and you want to replace it, you can do it within the first month of your purchase. Hyperlite totally killed it with this one, didn't it?
Pros
Unique design with an easy installation process
Additional supplies included
Five years of warranty with the availability of replacement facilities
Waterproof and dustproof
First-rated materials to prevent damages
Capable of performing in any condition
Budget-friendly and beginner-friendly
Cons
Some users faced glaring problems
8. LTE Lighting Event Portable LED Work Light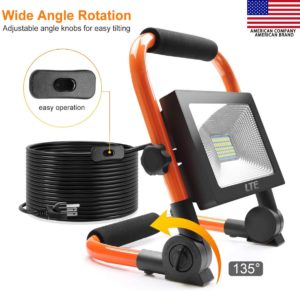 Let me disclose what I loved most about this work light before going into the review. You can use it for multiple purposes! And that includes outdoor lighting, hunting, hiking, camping, and car repairing too!
It can serve different purposes because of its chips of superior quality, which enable it to lighten up with 5500 LM, equivalent to a halogen bulb of 400W. In the process of doing that, the LED work light can save more than 85% of your electric bills.
When visiting the link given below to view the product, you will notice its design shaped like grooves. They are there to make faster heat dissipation, which also extends the lifespan of the light.
There is a five-meter cord, switches to turn the light on and off, a portable handle, and a durable standing bracket. All of them support the light to stay set correctly. Even more, the product is not vulnerable to water. You can use it in outdoor projects. If you also have indoor ones, it will serve you there too.
If you want brighter light, you will have to rotate the beam angle at 120 degrees. The adjustable knobs are there for vertical and horizontal rotations up to 180 and 135 degrees, respectively.
If you are interested in its materials, here you go. The manufacturing company tempered the light with glass panels to make it sustainable to withstand corrosions, wind impacts, and hammer blows. And it does all of that with a small weight of 2.61 pounds.
I started with some of the uses that you can get out of the work light. I will end with some more. The LTE Lighting Event LED work light is useable for construction sites, workshops, construction plumbing, attic, jetty, lathe, woodturning, and sandblast cabins. If you want to remodel your bathroom or the entire house, the work light will not disappoint you at all!
Pros
Made with reliable and quality materials
Capable of serving a lot of purposes
Resistance to hammer blows, wind impacts
Waterproof and energy-saving
Amazing service at outdoor projects
Cons
No warranty available
Room for improvement for the frame
9. ELIVERN LED Work Light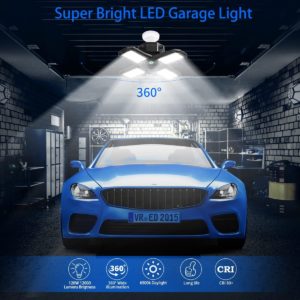 The materials of the work light from Elivern are aluminum. It has four adjustable heads also made of aluminum. As a result, the heat dissipation becomes faster and secures safety. Besides, you can make a 90-degree rotation with each head to cover large areas.
The powerful and highly upgraded LEDs have 12000 Lumens and 120 Watts. The company followed strict standards to qualify for FCC, RoHS, and CE.
You will get it at an unbelievably great price. I think it is one of the most affordable products on my list here. Additionally, it will also curb your electricity bills by a large margin.
Setting it up is also easy peasy. You will not need any tools, wires, or even professional electricians. It is as simple as fixing a bulb.
It is apt for indoor uses. Talk about the basement, workshop, or warehouse. You can use it anywhere.
Pros
Highly affordable and cost-saving
Sturdy and safe
Inclusion of a user manual
Nothing extra required to install the light
The best work light for welding at indoor
10. Steck Manufacturing 23240 MIG Light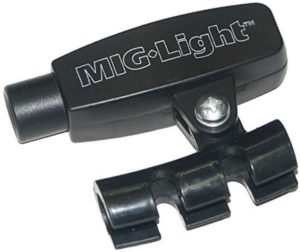 If you want to start with a highly economical work light, this Chinese manufacturing MIG light will be the best work light for welding.
It maintains a universal standard with its auto parts, weighing less than 3 ounces. It will not burden you when you carry it. All of that comes with assured remarkable performance.
There are warranty facilities included with the purchase. Make sure to look for it when you place your order. You may also get a refund for your product in specific cases within a given time. Visit the link below to learn about that.
Pros
Universal fit, machined exterior
Lightweight, affordable, and decent quality
Great performance
Warranty and other facilities involved
Cons
It may not stay put perfectly.
Mounting issues may occur at times.
11. Life Mounts LED Helmet Mounted Light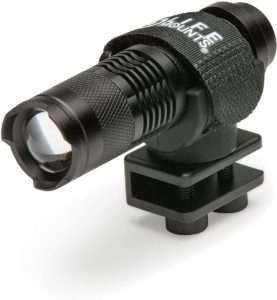 The final product to review today is the one from Life Mounts. You will know it is a must-have for you when you see its hardy hands-free LED lights. It is the best work light for welding at construction sites.
Life Mounts made its battery-powered light with heavy-duty aluminum and silicone. The installation process – well, there is not one. I mean, you will not need additional tools to set it up. If you want to use it manually, you will only need to remove its light, having it stay put whenever necessary. And mounting it on your welding helmet makes it very much convenient to use.
The work light allows you to use 360-degree rotations to provide you with adequate light at every angle. It highlights a push-button to switch it on and off. You can use it even while wearing a pair of thick gloves.
You will love how powerful the light is. It can illuminate 1000 feet at least. At the same time, it will not give you headaches about vulnerabilities to shocks and sprays. It can capably handle them. It is also drop-proof and weather-proof. So you see, durability is something that comes first about the Life Mounts piece.
Let's talk money now. Assuming you have gone to the link to see the price, I am pretty sure you are surprised at how budget-friendly it is. That is because Life Mounts is one of those companies that gave its best to its product while keeping it affordable for every user.
Pros
Nearly indestructible because of its quality making and high capability
Best deal within the price range
Easy installation and operation
Illumination up to a thousand feet
Cons
The battery does not last long.
Additional Read: Best Welding Helmet Lights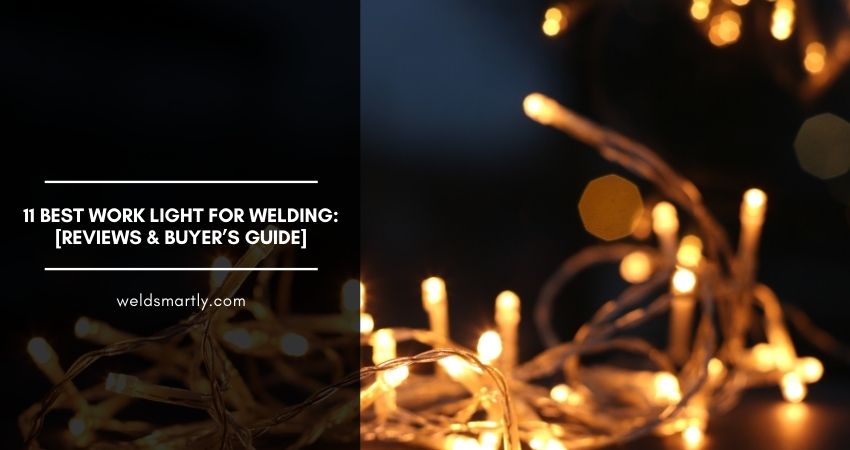 How To Buy The Best Work Light For Welding?
As you should know by now, there are different types of welding lights. How do you choose the best work light for welding among them? Let me lend you a hand here too.
LED Light
It is the first thing you should check when it comes to picking a welding light. LED bulbs are 80% more cost- and energy-saving than regular bulbs. Yet, their brightness is just as flashy. Besides, they do not produce much heat. So they are the perfect choice for using in places where there is arc heat already present.
Brightness
A lumen refers to the extent of brightness. The rule of thumb here is that the requirement for per square foot lighting is 100 lumens. So, when you visit the shop or order online, check that the light has at least 300 lumens to weld comfortably.
Type Of Your Work
If you have read the reviews attentively, you must have understood that not every work light is suitable for every work purpose. Thus, it is paramount for you to determine the type of your work. While some lights ace at fieldwork, others are for use in your shop only. So, you must, must establish your work purpose before deciding on a work light.
The Light Type
There are several types of welding work lights. So it is up to you to select one as per your needs. Let me introduce their types now.
Base-Mount: In this one, you will get a stand with the lights. They also incorporate various types of bulbs. They are capable of illuminating larger areas. On the other hand, you can get them to work well enough on outdoor and on-site jobs.
Handheld Work Light: This type of light is especially perfect for small workshops. They are affordable, and you can handheld or hang them. Providing adequate light, they do a fantastic job with automotive.
Fixed Mount: They also go by the name clamp-on lights. They require little effort to set up and adjust. A great idea here would be to install them at the place you do all your work.
All these options, while different from each other, are programmed to serve diverse needs. So, when you determine what type of work you will do most, proceed to figure out which work light will match your work the best.
The Bulb Type
So I have covered your work and the light types. Now let's talk about the bulb. It is also a vital component to take into account because they are what illuminate and provide brightness.
You should decide on the kind of bulb you are buying because it determines the light's intensity level. There are primarily three of them.
LED Bulbs: They produce stable light. According to users, it is the best one for work lights. They emit less heat than others and are not that expensive.
Incandescent: They generate lots and lots of light, but at the cost of durability. You will need to change them once in a while.
Halogen: It is the brightest one among the three here. Besides, it will not cost you a fortune. But a problem here is that they produce so much heat that it will become unbearable for you at some point to keep working under such conditions.
While examining the bulb types, do not forget about the lumens. The bulbs with a higher amount of lumens are undoubtedly the best. That is more applicable if you work in acutely dark conditions.
Regular Or Wireless
If your projects are outdoor, buy a corded, regular work light. Since power outlets are everywhere, you can work consistently with them.
However, the battery-powered ones are also great, especially for emergencies. Calculate your work requirements, and select a device on that basis. If needed, you can buy both.
Weight
Since portability is often a criterion for most users, weight is a matter of concern here. Having a lightweight work light is always advantageous. If you do not work outside often, a heavy one might do. But in the case of construction site jobs, you must have a portable welding light.
Frequently Asked Questions
What is the appropriate amount of lumens for work lights?
The best ones have 300 to 600 lumens. There are some lights that you can adjust, being the best for most situations. Standing lights also have adjustable brightness. However, power in the range of 3000 to 10000 lumens is the most flexible.
What exactly is Lumen?
A lumen is a unit to measure the light a bulb generates. The more the lumens, the brighter the light, and vice versa.
Which lighting system is the best for a welding shop?
I would go for LED without thinking twice. The second option would be induction lighting. Both of them have a preference over fluorescents.
Final Words
My final words for today about the best work light for welding will be about my favorites. See if those match yours!
For outdoor activities, I vouch for the Hyperlite work light for welding. It has 21000 lumens. So you know how handy it will be at work. Besides, it is incredibly durable. These two are my most prioritized criteria for a work light. And do not forget, it comes at a reasonable price.
Now, about the indoor work, my vote is for Elivern. Its versatility is the very thing you need. From your garage to your basement, from your office to your room, Elivern gets the job done. Indoor projects require a perfect lighting system. And Elivern is what that is.
My third favorite one is the PowerSmith work light because it is an all-rounder. It can serve you on outdoor and indoor projects. Imagine getting all of it combined in a single efficient device at a great bargain. I loved how PowerSmith made it fitting for different work requirements.
Along with these three, the honorary mention goes to the Dewalt work light. It is an all-purpose device that runs on batteries. Using it will give you the relief that it is always ready to work, so waiting for a power outlet outside does not make you delay.
I hope now you have got a much precise understanding of the best work light for welding. Do not hesitate to knock me if you want more insights.