As long as MIG welding is one of the regular processes at a workshop, flux core wires are useful, particularly in fabrication, shipbuilding, and maintenance. Flux-cored welding is a reliable process when your base metals have a rusty or oily surface with some contaminants.
The use of flux core wire is what this process is named after. Like other accessories and tools used in the metal industry, welding electrodes, including flux core wires, aren't created equal. A lot of things may vary from mechanical strength to performance and requirements of flux core welding wire.
So, you can use some help to know the basics and reviews of the top products. Well, here is my guide for you to learn what the best flux core wires should be like. It starts with a debate between the two most common wires in terms of diameter.
Flux Core Wire Diameter: .030 Vs .035 inch
Diameter is one standalone factor that considerably sets one flux core wire apart from another. But I guess you've already figured it out. So, I'll reveal a few things and tell you why I only picked .030 and .035 sizes.
While flux core wires are available in a variety of sizes (diameter), .030-and-.035-inch wires are the sizes used by the majority of professionals or enthusiasts. Well, why is this 'diameter' so important?
Flux core welding wire diameter is mostly about the wire's capability to help you handle a range of base metal thicknesses. For an all-around choice, .030-inch wires are good.
Depending on the output range of your welding machine, you can use .035-inch wires because they allow you to weld thicker base metal using a higher level of heat. The same idea applies to .045-inch wires as well.
Best Flux Core Wires Compared
My list consists of seven products from five different manufacturers. Here is a quick chart to show you the key specs of those products.
| | | | | | |
| --- | --- | --- | --- | --- | --- |
| Flux core Wire | Diameter/ Size | Part/ Model Number | Material | Weight | Miscellaneous Feature |
| Blue Demon E71TGS | .035 inch | E71TGS-035-02 | Carbon Steel | 2 lbs. | Style: 2# Spool |
| Lincoln Electric ED030584 | .035 inch | ED030584 | Mild Steel | 1 lb. | Tensile Strength: 70 ksi |
| Lincoln Electric ED016354 | .035 inch | ED016354 | Mild Steel | 10 lbs. | Tensile Strength: 70 ksi   Material Thickness: 5/16 inch to 1/2 inch |
| Forney 42300 | .030 inch | 42300 | Mild Steel | 2 lbs. | Tensile Strength: 79,000 psi |
| Hobart H222106-R19 | .030 inch | H222106-R19 | Mild and Galvanized Steel | 2 lbs. | Single and Multi-Pass |
| WeldingCity E71T-GS | .030 inch | E71TGS1030 | Mild Steel | 10 lbs. | Best Applications: Lap and Fillet Welding |
| INETUB BA71TGS | .030 inch | 3288365 | Carbon Steel with Manganese Mix or Zinc Coating | 10 lbs. | Specially designed for Outdoor Applications |
Now, I'll present my reviews of these products under two major categories, such as .030 and .035-inch flux core wires.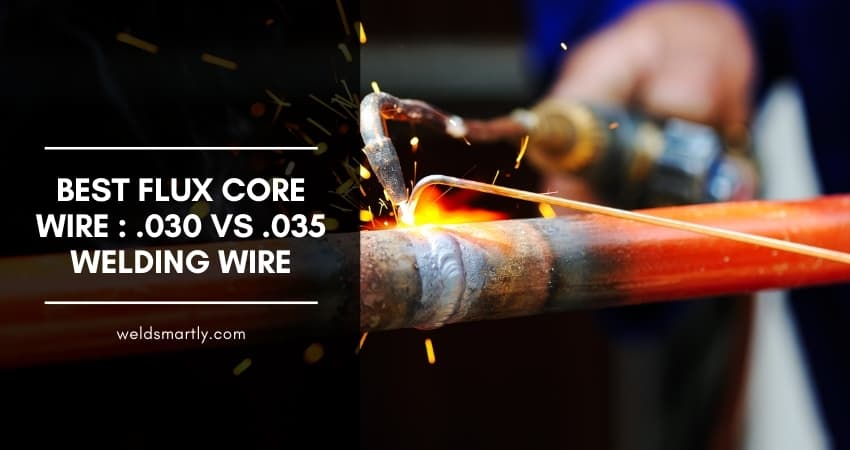 Best .035 Flux Core Wire
As you may have understood, flux core mig wires having this diameter are preferable to .030-inch wires when the base metal is relatively thicker up to 1/4 inch. I've chosen to review three products from two different brands.
1. Blue Demon E71TGS .035 – Best Flux Core Wires For Sheet Metal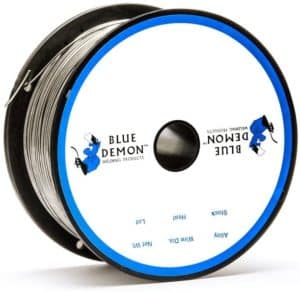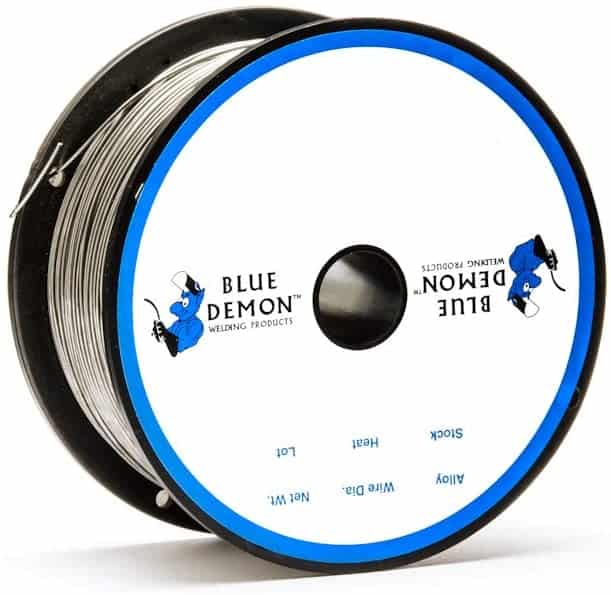 This .035 flux core wire is an all-position type and allows for single-pass operation on carbon steel. To be specific, I can say you would have better luck with galvanized steel than a typical variant of carbon steel. Galvanized steel is basically carbon steel with a zinc coating.
Like any regular all-position flux core welding wire, Blue Demon E71TGS uses a 'fast-freeze flux' in its formulation. If your base metal, I mean carbon or galvanized steel, is excessively contaminated, you should avoid using this particular wire.
Speaking of all positions, you can expect to have great control as you maintain two welding positions such as overhead and vertical up. This specific convenience makes it a highly desirable product for bodywork. With some skills, you can do well with thin alloy too.
How does it run? I would use this: 'adequately smooth and clean'. Since it is advertised to be ideal for carbon steel, you might want to know how it performs on that metal.
As said above, the flux in this wire eats whatever zinc is available in your base metal to prevent the spatter and fume up to a considerable level. Fusion also occurs without a problem.
Unwinding the flux core wire can be a little tricky. Didn't I say it runs well? Don't confuse yourself here. You can only see how it runs after it is unwinded. So, these are two different things.
What kind of welder do you need for this flux cored welding wire to work properly? A welder that runs a consistent range of amperes should be good for this wire. Even with higher-amp units, you can expect great results.
Pros
Suitable for carbon steel, particularly with zinc coating
Excellent arc performance
Extended slag coverage
Relatively low spatter
Easy and quick slag removal
Cons
A little bit of inconsistency reported by users who attempted to unwind the reels
Not the most useful flux core welding wire to use with high-end MIG units
2. Lincoln Electric ED030584 MIG Welding Wire – Best For Sheet Metal And Mild Steel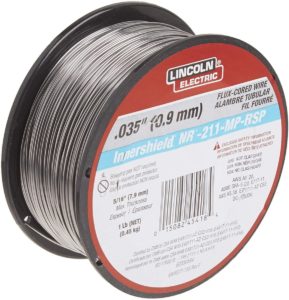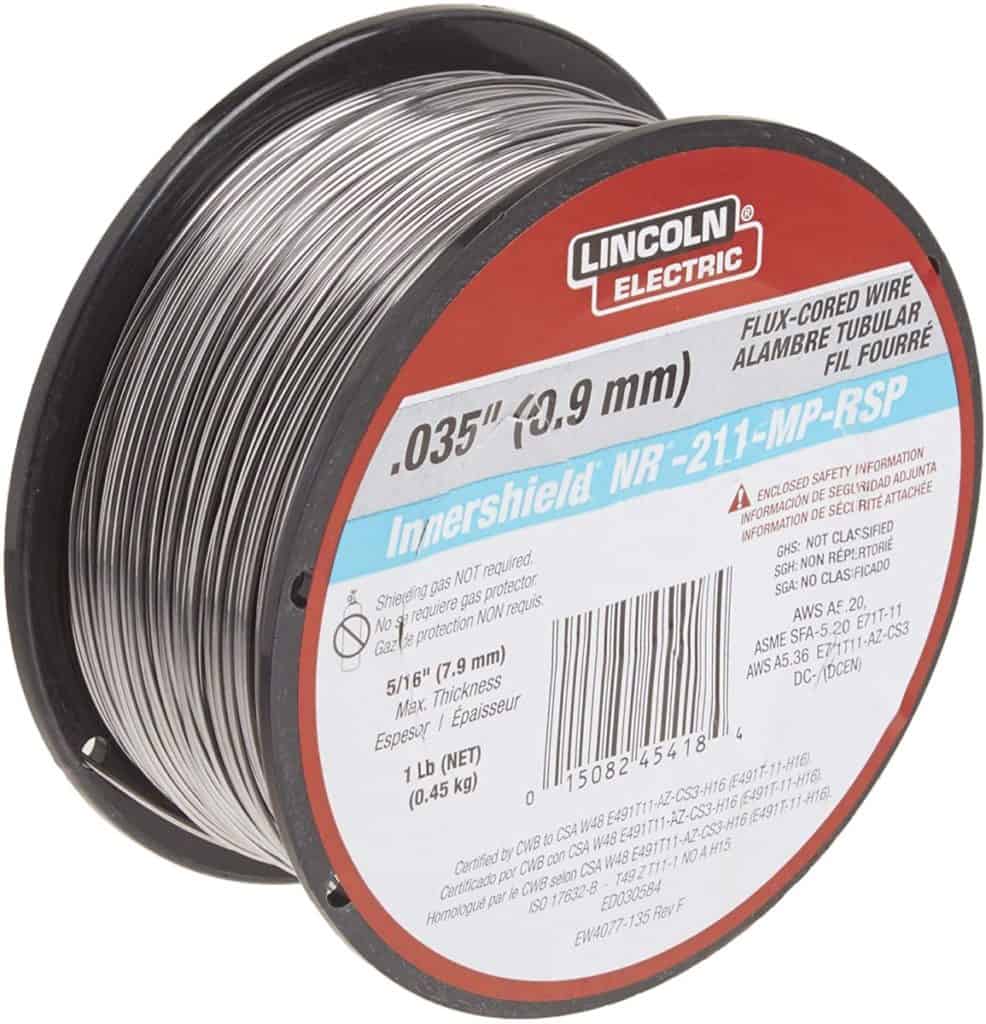 If I've learned anything after studying Lincoln's philosophy about manufacturing for years now, 'versatility' is the most important quality of any company's product. Let me tell you that this flux core welding wire should be used in MIG welding.
In line with this, the ED030584 flux core welding wire allows you to take on all-position welding tasks where you need to work with thin or light gauge plates. How thick should your base metal plate be? Steel plates having thicknesses from 5/16 inches to 1/2 inch are recommended.
Besides thin steels, the flux core welding wire works well on projects that involve copper back-up, propane cylinders, robotics, and hard automation. However, the product is not meant for aluminum.
Using this wire, you can expect a deposition rate at 1.5 kg (3.4 lbs.) per hour, maintaining DC polarity, current at 155 amps, and wire-speed at 0.275 inches (7 mm). You can settle for a slightly lower deposition rate (1.1 kg) to ensure greater efficiency.
Pros
Suitable for different varieties of base metals with minimal coatings (preferably steels)
Ideal for welding activities in windy conditions
Excellent bead appearance
Hassle-free slag removal
Fast-freezing properties to compensate for poor fit-up
Good tensile strength
Cons
Proven to serve well with the manufacturer's MIG welders only
3. Lincoln Electric ED016354 .035 10LB Flux Core Wire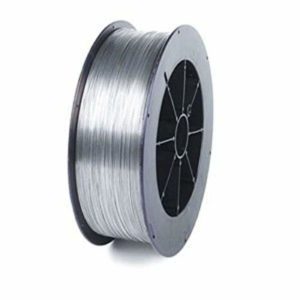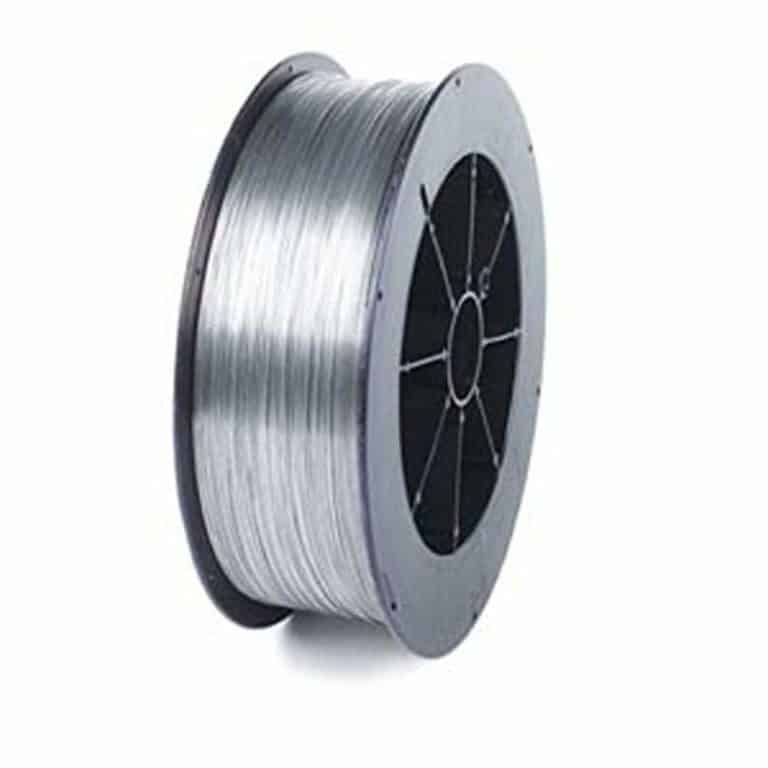 You need no telling that this flux core wire eliminates the need for any external/other shielding gas. Its mechanical properties may not be the best in class, but they are still good enough to help you get the job done. It is also capable of allowing for all-position welding.
The fast-freezing wire solidifies quickly for all-position welding without requiring you to shift your weld pool too much before the solidification. We all know that bead appearance is a serious concern. This flux core wire that falls in the group of 'fast-freeze' contributes greatly to shiny and smooth beads.
I believe no flux core welding wire can work without producing a little amount of slag, thereby requiring the operator to put in some post-weld cleanup. With ED016354, the effort required is minimal for slag removal. Speaking of the operator appeal, which Lincoln claims 'high', I would like to differ. The appeal is okay at most, if not high.
Pros
Suitable for windy conditions (up to 30 mph with no loss of operating characteristics)
Stiff with adequate column strength
Excellent feedability
Tolerant of various contaminants on steels and metal steels
Light slag produced but removable with a little effort
Cons
Only good for Lincoln welders when performance matters
Best .030 Flux Core Wire
Thin and light materials are the typical base metals to be used with this category. Flux cored welding wires with a diameter of .030 inches are more affordable than .035-inch wires and are known to deliver low spatter and deposition at a high rate.
1. Forney 42300 – Best Flux Core Wires For Mild Steel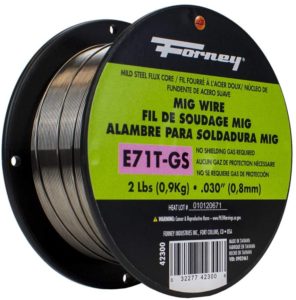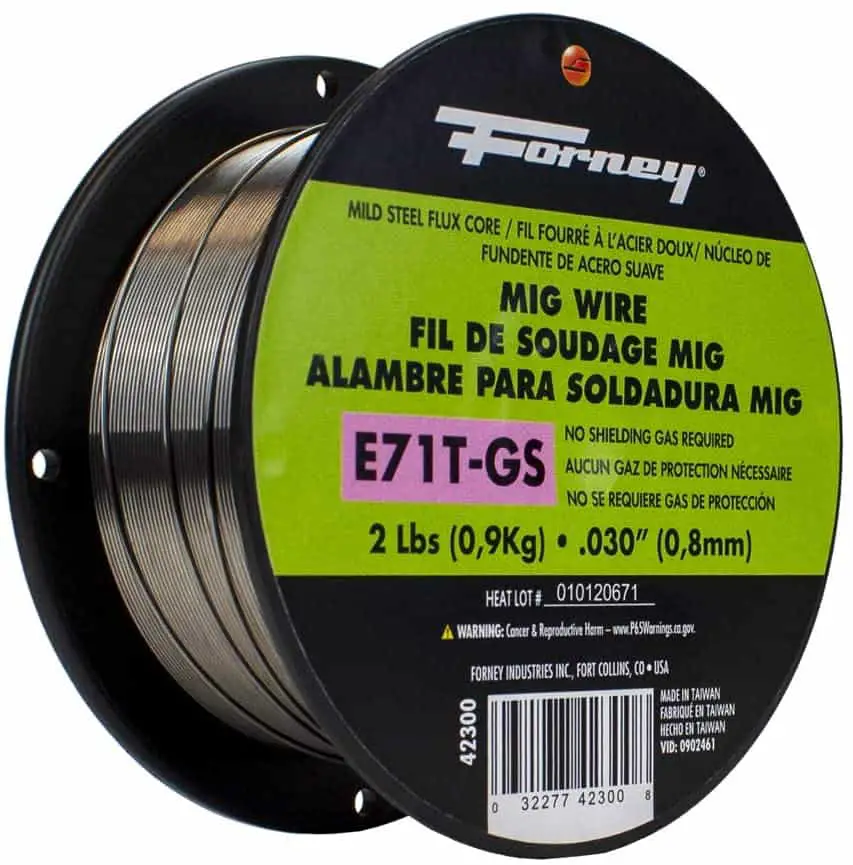 Despite its limitations in terms of suitability for different base metals, the E71T-GS does a fine job when you only choose mild steel with a single pass and relatively higher travel speed. Besides the convenience of all-position welding, its capability to work on dirty, painted, or rusty base metals is appreciable.
Spatter is an obvious problem with flux cored welding wire. You know that. The question is which level of it is acceptable and if it can be reduced without increasing the operating cost. Let me explain this particular factor, so you can understand the benefit of using this Forney flux cored welding wire.
With appropriate parameters, you can work with a low level of spatter. Using a mix of argon and carbon dioxide, the accumulation of spatter can be kept to a minimum. Having the properties to run slightly hotter than a regular solid wire, this self-shielded wire works wonder for single-pass applications at a good travel speed.
Working with this wire lets, you have safety because of no need for a gas tank to keep nearby while working. The wire won't cause a problem whether you work outside or within your walls.
Pros
Suitable for beginners with some skills and advanced FCAW professionals
Capable of working on rusty or dirty materials
Ideal for a wide variety of models of welders
A low level of slag and can be reduced
Excellent Tensile Strength (79,000 PSI)
Cons
Poor performance on hard steels
2. Hobart H222106-R19 2-Pound E71T-11 – Best Multipass Flux Core Wire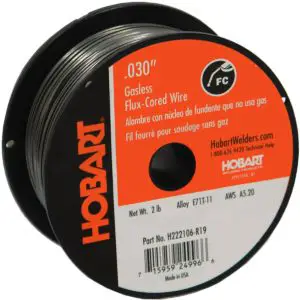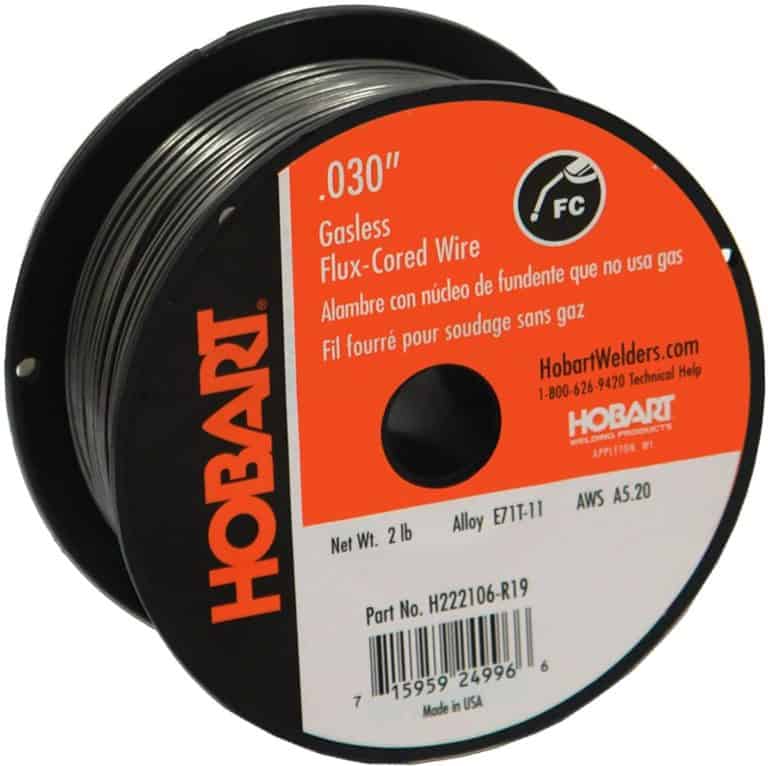 This Hobart wire is a self-shielded electrode negative (DCEN) flux core wire which is ready to allow for both single and multiple passes. Hobart suggests that the wire be used for thin-gauge galvanized or mild steels. I believe this strict application is meant for those who expect high-quality welds.
However, you can do well with thicker mild steel, too, depending on the type of work you want to complete. Recommendations include light fabrication (machinery, structural, and auto body), tank repair, and construction.
You should be worried about the production of slag and requirements for cleanup because these are typical concerns when you're using flux core wire. With this product, both factors are critical but not too much to make you choose another wire.
However, I need to mention that the use of DCEN might compromise the arc stability, which can be overcome with skill and caution. Except for this setback, you can efficiently handle applications involving oily or rusty plates and poor fit-up issues.
Pros
Suitable for mild and galvanized steel (thin gauges)
Capable of both single and multi-pass applications
Ideal for a wide variety of welding applications such as general and light fabrication, repair, prefab construction, etc.
Good for welding dirty and rusty plates
Easy to unwind and feed
Cons
Rigorous cleanup required between welding passes (in multi-pass applications)
3. WeldingCity E71T-GS Flux Core MIG Welding Wire – Most Affordable on The Budget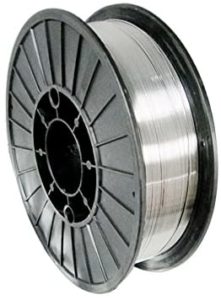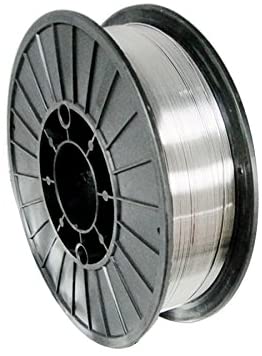 The wire comes packaged with aluminum foil that keeps it from unwanted dirt and contamination. As you set your welder to do its job, you'll hear a gentle 'frying-bacon' noise just like one of the happy customers pointed out. But that doesn't mean anything positive or negative about the wire, I guess. So, I'll focus on its performance.
It doesn't offer much versatility like the two of Lincoln's products, or many premium flux core rolls do. Still, you'll certainly benefit from its multi-pass capability, particularly on lap welding. Don't forget to use your safety gear for the smoke or fumes could come in a higher volume than you expect.
You might see the discount offer as compensation for poor mechanical properties, but I think that would be unjust because the wire serves well up to most of the claims made by WeldingCity.
Pros
Ideal for light fabrication, lap and fillet welding
Suitable for both single and multiple passes
Excellent usability with welders from other brands
Good tensile strength
Discount available upon purchase of two and more wire rolls
Cons
Emission of a lot of fumes
Susceptibility to (weld) cracks, which can be handled with proper cleanup
4. INETUB BA71TGS – Best Gasless Flux Cored Welding Wire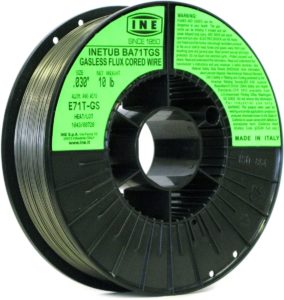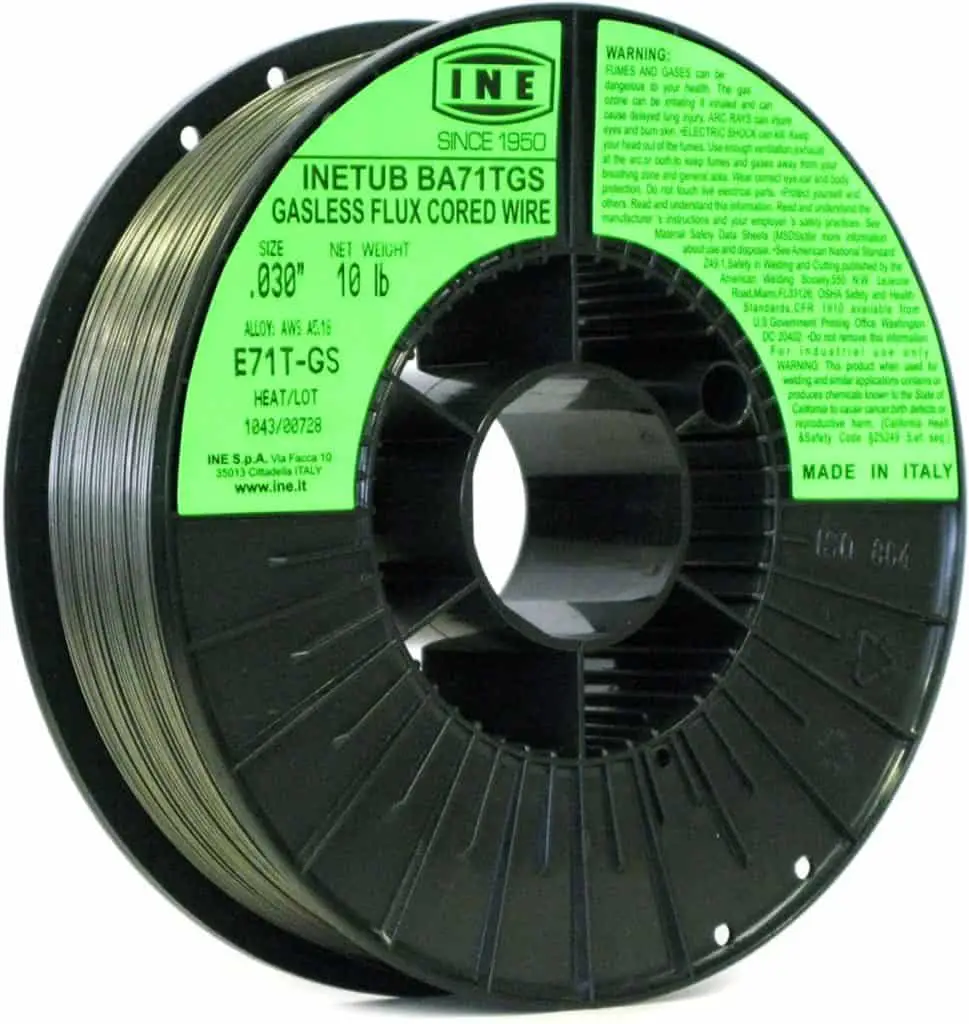 Before reaching a verdict for this wire, I would like to reveal the truth about certain catchphrases like 'easy slag removal', 'porosity free', 'full slag coverage', 'low spatter', and 'bead appearance'.
First up, the claim about porosity is true because you're not going to use any external gas, in which case you could allow too much of the gas flow or wrong size of the cup and end up causing porosity to the weld.
Speaking of the slag, I would say slag coverage is okay, but removal doesn't come very easily. For spatter, I think the appropriate word here is 'moderate'. With the right welding parameters, you won't have much to complain about after looking at the appearance and quality of beads.
A little bit about its mechanical characteristics is here if you are interested. Its yield strength is rated at 470 MPa (approximately 68,000 psi), and tensile strength is 570 MPa (approximately 83,000 psi). Compared to these properties of other flux core wire rolls, INETUB BA71TGS doesn't fall behind.
Pros
Ideal for boilers, construction and structural work, tanks, and fabrication
Ready for all-position welding
Suitable for thin carbon steel, including zinc coating and carbon-manganese compounds
Standard mechanical properties (tensile and yielding strength)
Excellent feedability
Cons
Occasional compromises on arc stability
Now what? All the products have been discussed with their advantages and limitations. But some insights and additional information about flux core wire will not only solidify your knowledge about the product but also help you purchase with confidence. So here goes my buying guide to the best flux core wires.
How To Choose The Best Flux Core Wire?
In this section, I'll present you with a comprehensive discussion about this kind of welding wire which will complement your understanding.
What Is Flux Core Wire?
Flux core wire can be defined as a special type of electrode that shares similarities with a stick electrode. In its composition, a metal rod gets covered with a specific form of powder which creates the shielding gas (not the external kind), the slag, and a number of different additives during welding operations.
Unlike other types of welding wires, flux core wire has the powder enclosed in its hollow tubular wire. These wires come in two types: self-shielded and gas-shielded, with the former requiring no external gas and the latter requiring one or more shielding gas.
The gas-shielded type facilitates out-of-position operations on thick metals and delivers a faster rate for solidification and easy removal of slag.
The self-shielding type protects the weld pool by burning and delivers optimal results, if not as good as its gas-shielded counterpart.
Reasons For Flux Core VS Solid MIG Wire (Flux Core Wire vs. Solid Wire)
If anyone wants to reflect on the whole thing and find a conclusive answer, they've got many things to consider, like the material's chemical and mechanical properties, the welder, the preferred welding position, the operator's skills, and the surroundings of the workshop.
Normally, I would tell you about each of these factors, but I'll pass because this article seeks to help readers find the best flux core wires, not the better choice between solid and flux core wires.
Flux-cored wires are recommended for projects where you need to weld thicker metals or do it outside the confined spaces. They come at a higher cost compared to solid wires.
Solid wires are easy to use and good for operations on thinner metals within walls.
AWS Flux Core Wire Classification System
The 'American Welding Society (AWS)' has specified the requirements that allow us to classify flux-cored wire. The specifications are expressed with a combination of letters and numbers.
In line with this, you can see each wire labeled with a letter-number designation that indicates the type of product, tensile strength, welding positions, performance, and the specific type. Taking 'E71T-1', the most popular of all flux core wires, as an example, I'll explain the designation.
E = Electrode
7 = Tensile Strength
1 = All-Position
T = Flux Core Wire Electrode
1 = Number of Passes
Welding Wire Diameter Range
Wire electrodes are available in four different sizes or diameters such as .024″, .030″, .035″, and .045″. Solid wires come in all four sizes, and flux-cored wires have these sizes, too, except .024″.
Which diameter is appropriate for your job is determined by the type and thickness of the material being welded and the welder's technical specs being used.
What You Are Welding: The Application
Common applications of flux-cored wires include vertical-up and flat welding and materials such as galvanized, zinc-coated, hard-to-weld carbon, or mild steels. So, typical projects include light fabrication, construction, automotive, repair, and maintenance jobs.
Spool size
The weight of the flux-cored wire determines the size of the spool. All the products I've reviewed here weigh from 1 lb. to 10 lbs. You need a 2 lb. spool if the wire weighs 2 lbs.
Welding Machine Factors
Before buying wire electrodes, you should know about your welding machine, especially the ranges of amperage, voltage, and 'wire feed speed (WFS)'. I'll keep it brief since you might want to decide quickly yet knowledgeably.
| | | |
| --- | --- | --- |
| Factors Associated with Welders | .030-Inch Wire | .035-Inch Wire |
| Amperes | 50 A to 175 A | 75 A to 200 A (150 A is fairly common) |
| Voltage | 15 V to 17 V | 15 V to 18 V |
| WFS | 80 to 445 inches/ minute | 70 to 310 inches/ minute |
Frequently Asked Questions
I've compiled some questions which customers often ask as they attempt to buy welding wire for their DIY and commercial projects.
What is flux core wire used for?
Answer: I've provided my insights into this topic above. So, I'll just put in a few reasons why you may want to choose flux-cored wires over solid wires.
1. Dirty steel (carbon or mild) and zinc-coated or galvanized steel with mill scale are better handled with this wire than with the solid ones.
2. Jobs that require excellent penetration and high deposition rate should be handled with this wire.
Besides, flux core wire contains some kind of de-oxidizing elements which trap the various contaminants in a 'weld pool' and then hold those contaminants in your slag coverage. Thus, weld problems associated with dirty base metals can be prevented. So, you need this wire if your material is too dirty to be used without cleanup.
Can I use flux core wire in a MIG welder?
Yes, you can. While a MIG welder requires shielding gases to work, flux-cored wire is suitable, thanks to its self-shielding properties. You can expect even better results with the gas-shielded type.
Is there flux cored aluminum wire?
Answer: Practically speaking, flux core aluminum wire is more of a hype than a physical product. Before you start disagreeing, let me give you a few reasons behind my statement.
The American Welding Society doesn't provide any specifications for this wire. Even, some demonstrations have been allegedly made in laboratories, no production processes have been reported to date.
An effective flux needs to be more active, I mean chemically than aluminum. The material has a high electromotive force that barely has any effective flux to work with.
Fluxes made for steel use certain chemicals which are not suitable for aluminum. As a result, similar fluxes can be corrosive and hygroscopic if considered for aluminum, requiring a serious storage facility.
Failure to abide by these procedures may bring welds but with porosity everywhere on them. Also, the chemicals used by these fluxes are extremely bad for the environment. So, the idea of manufacturing flux-cored aluminum wire hasn't been commercialized yet.
Does flux-core wire need gas?
Can you use a .035 tip with .030 wire?
It is the contact tip you're asking about. These tips transfer the current to the welding wire upon its passage to produce the arc. Using the contact tip's right size is critical to the consistency in wire feeding and dragging, which helps determine if you'll face any potential issues.
So, what happens if you use the wrong tip size, I mean .035 with .030 wire? Your wire may get mashed and pinched and struggle with feedability. Also, the wire may burn erratically, the last thing you need or want.
Do you push or pull flux core wire?
A pull or drag technique is an obvious choice. In this technique, you point the gun's tip back at your weld pool. Then, you need to pull it right away from the weld that is completed. Since the slag is pretty common in flux-cored welding, you have to drag. No exceptions!
How thick can flux core weld?
With a capable welder, you can weld material as thick as 3/16 inches using self-shielded flux cored wire on a single pass. If you choose the gas-shielded wire, you cannot weld metal thicker than 1/8 inch. Thicker materials require multiple passes but beware of the weld quality and bead appearance.
Final Verdict
I think you've already got a lot to keep in mind and add the key points to your decisions. But I cannot help passing a few more suggestions to sum up, my entire discussion.
Do you think you still got more to know about flux-cored wire? Feel free to send me a message so that I can write back.