Between 0.030 and 0.035 flux-cored wire, there is still a lot of misconception in the welding world, especially among novices, concerning which flux-cored wire to use. It is quite popular due to its great productivity and efficacy.
The ability to weld metal of various thicknesses, amount of spatter and smoking, tensile strength and elongation, ability to weld on a tight corner, heat disposition level, compatibility with welding machine, user friendly for different levels of users, and the price of the wire are the main differences between 0.030 and 0.035.
To dispel your uncertainties and give you a clear picture of what this article is about, I'll compare 0.030 vs0.035 flux-cored wire and present all important facts. Keep an eye out for updates.
What is a flux-cored wire?
A flux-cored wire is a type of electrode that's packed with flux material inside it. There isn't much of a difference between the MIG wire part and the self-shielded or gas-shielded properties.
Due to the flux substance, the user can use it for welding dirty metals and also outside where airflow is pretty high.
While flux core welding, the flux will generate and provide shielding gasses that help to protect the molten weld metal from getting into contact with oxygen and nitrogen. Not only that, but it also stabilizes the arc during welding.
Moreover, the presence of gas shielding reduces the burden of carrying a cylinder of shielding gas for welding. The major weld contaminants will turn into a protective substance, so you don't need shielding gas while using a flux-cored wire. This type of welding wire saves you time and reduces the cost.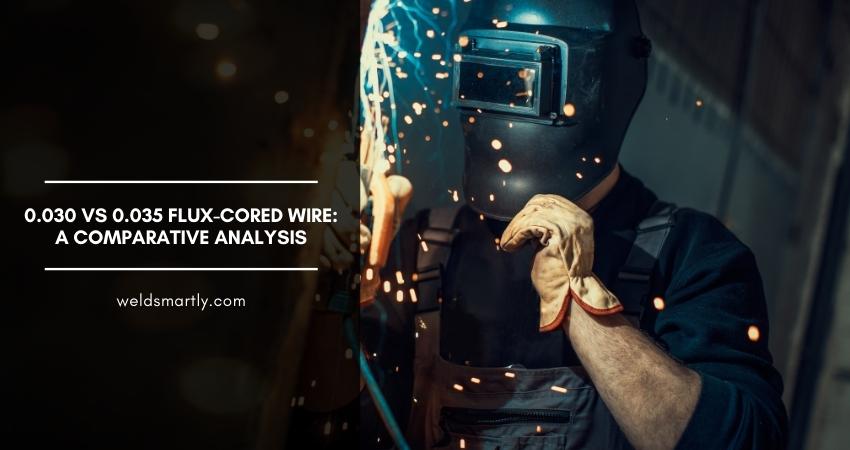 Now let's compare 0.030 vs 0.035 flux-cored wires to determine which one would be better for you?
0.030 vs 0.035 flux-cored wire: A comparative analysis
If you're a welder, you know that there are a lot of different types of welding wire out there. And if you're new to welding, you might be wondering what the difference is between 030 vs 035 flux core wire. Right?
Well, here's a quick rundown of the difference between these two types of welding wire:
Though on the latter point you will see the elaboration for your quick answer I am adding a table below. Hope it will broaden your idea a lot.
| | | |
| --- | --- | --- |
|  Characteristics | 0.030 flux core wire | 0.035 flux core wire |
| Thickness | Excellent for thin metals | Highly suitable for thick metals |
| Amperage level | Low (125 amp or less) | High (140 amp & a bit higher) |
| Compatible welding machine | 210V | 250V |
| Cost | Very cheap | A bit pricey |
| Wire stick out | Short | Long |
| Material thickness range | Up to ¼ inches or 22-14 gauge | Up to ½ inches |
| Percentage of smoking & spatter | Low | High |
0.030 flux-cored wire
For a proper plus consistent welding arc, you must ensure that the amount of electricity you will use is proportional to the wire thickness. You will get the best performance when you use the 0.030 flux wire with 210V input.
Though you can use it with 120V a higher voltage is necessary for an ample amount of heat during welding. And also for the perfect penetration.
When it comes to heat deposition rate, the 0.030 flux core wire has a high deposition rate, but you'll have to work slowly to get a flawless weld. The 0.030 flux core wire is simple to use and is appropriate for beginners. Because it can lead to fewer issues if something goes wrong.
In the welding community, a 0.30 flux-cored wire is mostly used for welding light & thin metals. The 0.030 is best suitable for light welding on the outside who does not want the extra pain of a full MIG shielding setup.
It can also fuse metal with thicknesses ranging from 14 to 22 gauge. In other words, it can weld material with a thickness of ⅛ to ¼ inches.
This wire can also be used to weld a variety of materials such as galvanized metal and automobile body pieces. However, you must exercise caution because it may result in burn through. Welding heavy metals with these wires is not recommended.
One of the best features of a 0.030 flux-cored wire is that it generates a small amount of smoke & spatter. And the credit goes to the low percentage of flux. Due to their low spatter, you don't have to waste a long time just cleaning after your welding is complete.
In addition to that, if your welder is not very powerful and has an amp level of 125 or less than 0.030 is a perfect choice. Because it will conduct voltage better and you will find the arc much more stable during welding.
Furthermore, the 0.030 flux core wire would be suitable for a welder machine with a small wire feed capacity. Because the 0.030 wire has poor tensile strength and elongation, you won't be able to make a very strong weld with it.
Besides, the 0.030 is a great pick for welding tight corners of the metal. Because it ensures that the deposition of metal is low & you can easily see the weld pool. Even in terms of cost, the 0.030 flux wired core is quite cheap.
0.035 flux-cored wire
First of all, the 0.035 flux core wire is an excellent pick for welding in windy conditions. Using this wire you will be able to make a strong & durable welding compared to the 0.030 flux-cored wire.
You have to maintain the right amount of electricity for the specific wire. For 0.035 wire, you need a welder that comes with 140 amps or a little bit higher.
Moreover, if you want to work on a welding project where you are gonna weld rusty metal, then the 0.035 flux core wire would be a good option. Because these wires will generate less amount of porosity & inclusions.
If you want to work on wide metal then the 0.035 flux core wire would be a great option because it comes with more filler. Another important thing is the joint factor. And, the 0.035 flux core wire would not be good for welding tight joints & which can generate higher beads that can eventually make a fragile joint.
In addition, if you have welding machines that can run on 220V, then you should use 0.035 flux core wire for near-perfect welding. For the optimum output for the wire, you need to use a 250V input welding machine.
You will find the 0.035 flux core wire extremely helpful for working on thicker metals. Moreover, you can easily weld metals that come with a thickness of ½ inches and more than that. It will be an easy task welding thick carbon steel and materials like galvanized roofing sheets.
However, one of the downsides of the 0.035 flux core is that it generates a high amount of spatter during welding. If you are a beginner then you should not use it to avoid any accidents. Because the high amperage of the wire can lead to burning through.
Also, the 0.035 flux core wire comes with more tensile strength & elongation which ensure a strong weld. Finally, the price of the 0.035 is also low but higher than the 0.030 flux-cored wire.
Final words
You can clearly see the subtle difference between the 0.030 and 0.035 flux-cored wire. Each of them comes with its own advantage which you can use according to your needs.
If you do welding occasionally then you can choose any one of them. But as a professional, you must ensure that you are buying the specific one for a specific metal welding machine.
Overall, in the 0.030 vs 0.035 flux wired core competition, the 0.030 may be better for you since it is able to weld more aggressively and smoothly.