People familiar with different welding types know both the MIG and Flux core are suitable welding methods.  But which one is better?
Today, I will compare two of the most popular and widely used welding methods. MIG and Flux Core are the names they go by. Each method has its merits and drawbacks, so it is sometimes difficult for a newbie to decide which method is best.
You don't need to worry since I've got you covered. In this article, I will evaluate both of these methods so you can determine which is best for you.
Comparison table of MIG vs. Flux Core Welding
Let's start the comparison with a table to get a slight idea about the differences.
| | | |
| --- | --- | --- |
| Criteria | MIG | Flux Core |
| Wire Cost | Comparatively less | Comparatively high |
| Gas Tank | Yes | No |
| Working surface | Metals that are bright white are best. | Any metal is fine. |
| Wind | Indoor wind < 5mph | Outdoor wind <35mph |
| Bead Appearance | Zero slag, a bit spatter | Both slag and spatter |
| Needed clean up | Not much | Cleaning of slag and spatter |
| Thin stock | Almost 24 ga | thicker than 1/8 |
| Thick stock | Given enough power | Up to 3 to 4 in. |
| Cast iron | Using cast iron, the weld is weak. | Stronger weld than MIG is possible using cast iron |
| Mobility | Harder to move because of the gas tank. | Easier to move since there is no gas tank. |
In-depth comparison: Mig vs. Flux Core Welding
We all know what differentiates a flux core welding from a MIG welding. And the answer is a Gas tank. While Mig welding needs a Gas tank, flux core does not. That's why it is more portable.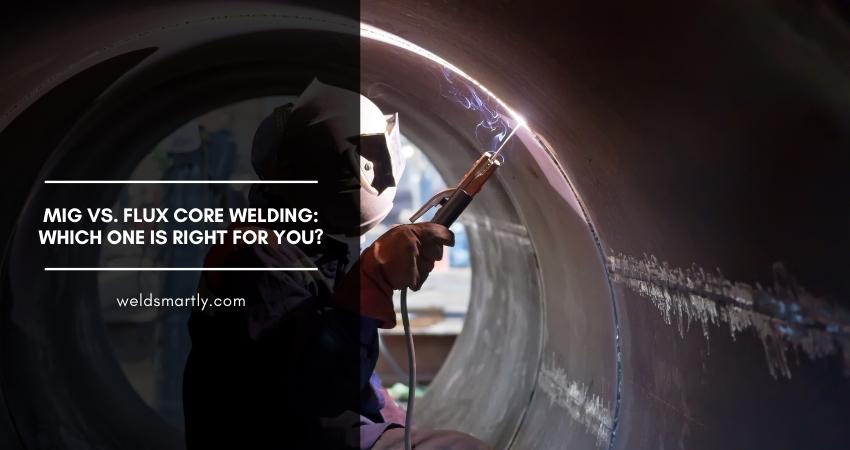 But there are many other differences as well. Let's go over the in-depth differences according to different criteria.
1. Shielding Gas
As simple as it sounds, flux-cored welding takes the win here since you don't need to worry about a gas tank to use a flux core welder. But how does it work?
In MIG welding, gas is provided to the welding torch through a wire. The gas is significant in performing MIG welding. Because it shields weld puddles taken from the gasses and reacts with the hot weld to cause defects.
And in flux core welding, the job of the gas is done by the flux stored inside the core of the wire. That's where the "flux-cored" name comes from. Reacting with the high heat of the weld, the flux releases a kind of protective gas. Along with that, slag gets produced that eventually crusts all over the weld. Hence a gas tank is not necessary.
And this ability to produce its own gas helps flux core welding take the win. In some places it goes by "gasless MIG", but as you can tell, this statement is not correct. Instead of being gasless, the flux core produces its own gas.
Both types of weldings have their pros and cons. For example, the Gas in MIG welding can easily be changed depending on the metal. But you can't do that easily with flux core welding.
But then again, in MIG welding, you have to carry gas tanks. And in the flux core, you need the wire of the right alloy. So to do flux core welding on different metals, you will need different types of wires.
2. Wire construction
Wire used in MIG is pretty solid compared to the flux-core method. Because the wire in the flux core is hollow and is filled with different additives and flux. You need to buy the exact wire for flux core welding to work. The wire varies depending on the type of weld you are going to do.
There's no confusion about buying a MIG wire. Because it's always the same. But with a fluxed core, you need to take weather, the type of metal, the type of weld, etc. into consideration before buying.
3. Polarity
If you look closely at the torch, you will find that the polarities in MIG and flux core are not the same. In the case of the MIG torch, the electrode is on the positive terminal. And in the case of the flux core, the electrode is set on the negative.
So, while changing wires, you should maintain polarity. If you don't, it will result in bad quality welds and excess spatter. In MIG, current flows from the work metal to the wire. The setup followed in MIG is called (DCEP), direct current electrode positive. In this setup, more heat is applied to the workpiece.
On the other hand, flux core welding has an electrode in the negative and the workpiece is positive. So, the current goes from wire to workpiece. This setup is known as DCEN. Though flux core weld might need the DCEP arrangement sometimes.
In the DCEN setup, the welds have lighter penetration and more heat is generated in the electrodes. That's why the welds are wider and more shallow than the DCEP setup. DCEN is used for thin metals.
The extreme heat produced in the electrodes is very beneficial in flux core welding. Because the additives and the flux inside need heat to work.
4. Filler material
In MIG welding, the wire used is made of solid metal. It is much purer compared to the flux core wire. You can easily use the MIG wire for multiple passes. The metal you will weld is usually the same as the alloy in MIG welding.
In flux-core welding, the wire used comes with different fillers. FCAW wires are specifically designed for different metals. So, you can't use a wire for different metals. While some flux core wires come with higher manganese, some come with less. The wires with higher manganese are not suitable for multiple passes.
That's why flux cored wires are usually rated according to how you can use them. If you are going to use the flux core wire for multiple passes, make sure it's rated accordingly.
5. Strength
Both the MIG and flux core welding can provide equally strong final welds. The strength of the weld mostly depends on whether you are using the right wire, proper technique, welder settings, etc.
The difference that is found though, is when you are welding cast iron. With cast iron, flux core welding is the winner. It gives you a more strong weld compared to the MIG welding. If you are to weld cast iron, it's better if you use flux core welding.
6. Penetration
You probably heard from somewhere that flux core welding is better for penetration. Ever wondered how?
First, let me clear out that both MIG and flux core welding can penetrate well enough. But with the same power supply, you will get a better penetration while using flux core wire. Because you get more heat on the electrode in flux core welding.
Though the difference is not much, it can be vital if working with a thick piece of metal. You will be saving a few bucks on the electricity bill by using the flux core welding.
7. Pricing
If we are talking about just the wires, flux core wires cost a bit more than solid wires. But you can't jump to a conclusion saying flux core welding is more expensive. Here's why?
Cause there are a few factors, you need to take into consideration. For example, in MIG welding, even though the wire is cheap, you will have to spend money on gas tanks. You will also be spending more money on electricity, upfront costs, etc. These make MIG welding more costly than flux core welding.
So, there is no specific answer as to which welding is more expensive. The total cost will vary on different factors. But in general, it's seen that MIG is more expensive.
MIG vs Flux Core: Which one to use?
Though both MIG and flux core are two of the most popular welding methods, they both have some advantages and disadvantages. You can experience those better while you are actually using them.
Still, for your understanding, we have put together some of the pros and cons of MIG and flux core welding.
Pros of MIG welding.
Very easily usable. All you have to do is pull the trigger to weld.
No slag, less spatter, and cleaner overall than flux core
Good with thin metals
Solid wires are easy to handle
Solid wires will cost you fewer money
Cons of MIG welding.
The setting up process is a bit hard
The overall cost is high because of the gas tank
Because of the gas tank, it's not easily portable
Not great with cast irons
A little bit of wind or breeze might cause problem—pros of flux core welding
You can easily set it up and learn how to use it.
No matter the condition, it works just fine even in the outdoors.
Less expensive compared to MIG.
Good for cast iron welding.
Easily portable.
Cons of flux core welding
It produces both slag and splatters.
Requires regular cleaning
You can do Aluminum welds.
Does not work great with thinner stock.
Additional Read: Best 110 volt MIG Welder
Frequently asked questions
Is flux core better than MIG?
Which one is better depends on various factors. If you are working indoors, MIG welding might be a better idea since it does not produce slag or spatter. So no clean-up is needed. On the other hand, flux core welding might be the better idea while working outdoors. Because it can work in any condition.
What is flux-core welding good for?
For welding thick metals, flux core welding is an excellent idea. Also if you want to weld outdoor, you can take advantage of flux core welding.
Can you weld aluminum with a flux core?
You can't weld aluminum with a flux core. You will need shielding gas.
Is flux welding strong?
Yes, flux welding is undoubtedly the strongest among other welding methods.
Can I MIG weld without gas?
As MIG welds are designed, it's impossible to weld without gas. If you are bothered about the gas tank, you can try flux core welding.
Conclusion
I hope this article helped you understand the differences between MIG vs Flux Core welding. WHAT YOU CHOOSE between MIG and Flux core welding is completely up to you.
I hope, this article will give you a detailed overview of these welding methods. You need to determine which wire and weld will be more efficient in which situation. That's what will help you become a better welder.