Welding is a popular work in modern times with new structures getting built every day. Thousands of workers use welders for their efficiency and the most effective workers work with engine driven welders.  Engine driven welders, such as Lincoln Bulldog 5500, promise to give an uninterrupted working session.
If you need to do some home welding, you need a welder generator for your light works. If you are a homeowner, you need a light machine but at the same time, it has to be powerful enough to meet your needs.
But whenever I am working with a welder generator, the problem I face is a low supply of energy. Though it's fine for light tasks it's not efficient for heavy materials. While working I feel the need for a welder that will be very portable but at the same time provide a strong power supply.
Not all welders can do both at once. But there are many engine driven welders that focus on efficiency. One such welder is Lincoln Bulldog 5500.
To help you to choose the best engine driven welder, we present here the Lincoln Bulldog 5500 reviews. We'll give you the information you need to know about this machine so that you do not make the wrong choice.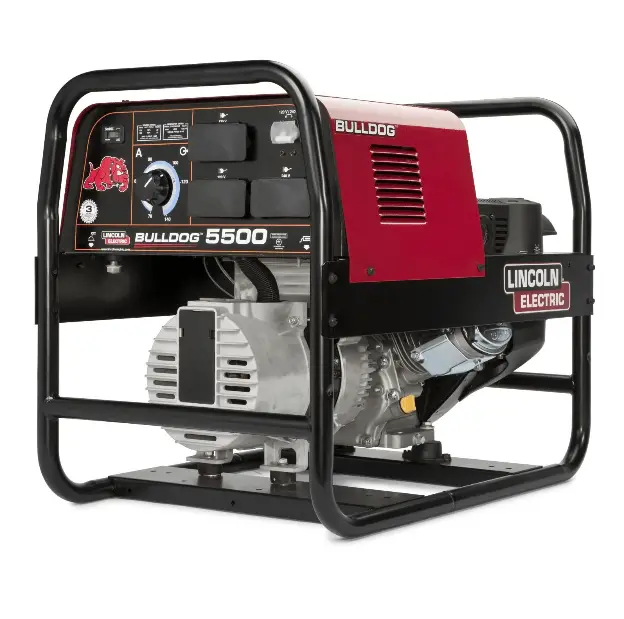 Things to Consider Before Buying an Engine Driven Welder
You can be a professional or not, but you must buy the correct machine suitable for your work so that you get the expected performance from the machine.
Therefore, you need to look at some pointers before buying a welder for your use.
From our end, we will make sure you know what you should look for before buying a welder.
So, let's start.
Who is it for?
Generally, professional users who need massive power for construction should never buy this one. This machine is for irregular welders or homeowners. It's not a professional tool for professional welders.
It is ideal for your home appliances.  Non-professionals who require home-based welding jobs should definitely get this.
So, according to us, it's good for homeowners and non-professionals only.
Fuel capacity
Either professional or non-professional, having a big fuel tank always help for users. You don't need to worry about refueling again and again if you have a large fuel tank.
Considering a machine with a large fuel tank and also the fuel type will help you to do your job.
We've gone through welders that work on gasoline or diesel. Though diesel machines last longer, gasoline machines are proven to be efficient.
Therefore, if you need efficiency, you should go with gasoline machines, or for a longer lifespan, you need something that works with diesel.
Requirement of power
Lightweight welding machines tend to have less power capacity than heavy welding machines. Grinder, pump, motor starting, or emergency power, you need a welding machine to have enough power for every one of these jobs.
Unless you are a professional welder, you don't need to worry much about power requirements. However, it's always safe to get a welding machine with a large power capacity.
Warranty
You should get a welding machine with at least 1 year manufacturer warranty. But nowadays companies like Lincoln provides 3 years of warranty so you don't need to worry about warranties much.
Electronic devices might have some electrical defects. With 3 years of warranty, you have enough time to find an issue with your build.
Mobility
For home users, mobility is really not an issue. Usually, the works are small for a home user, so you don't need a mobile device.
For professional workers, a mobile device is a must because they need to move the machine to different construction sites.
However, whether you are a professional user or not, mobile devices are always one step ahead in the long term race.
Presenting The Lincoln Bulldog 5500
Lincoln has been providing quality machines in the market for more than 100 years. So they do deliver the best in the market that is preferred by most reviewers and users.
We have got enough positive feedback to represent this machine as one of the best machines for home users. It is a great asset for homeowners as well as non-professionals who needs moveable AC stick welding and/or machine power.
Specifications
Rated Output

100A AC/25V/60%
125A AC/20V/30%

Output Range

Generator Output

5500 watts peak, 4000 watts continuous

Type of Engine

HP and speed

Cylinders

Dimensions (H x W x D)

25.6 in x 21.8 in x 31.5 in (651 mm x 553 mm x 800 mm)

Net Weight

198.00 (89.81 kg)
Performance level
The Bulldog 5500 is one of the most suitable welding machines for home use because it does the job with ease and maximum efficiency.
We've seen the machine go through a lot of tests. It has proven to be the best one for home users and has gained a powerful position in the market because of its productivity.
Who needs to buy this device
Every welder is not non-professional. Only who wants a welding machine for home and light use should buy the Bulldog 5500. It's an ideal device for homeowners and non-professional workers.
That's why homeowners and non-professionals should get this. But if you are a professional and still want a secondary machine for light works, you can grab Bulldog 5500 for yourself too.
What people have to say
People who have used this machine are extremely satisfied because of its smoothness and easy control. They always recommended buying this device. They said that it's easy to operate and use.
That's why people found this satisfying. This machine has brought another level of precision with its features. So it's definitely recommended for home users.
Pros:
Low-Lift Grab Bars
Rugged Tube Frame
Stick welding master
AC Generator Power
Easy maintenance
Easy mounting
Low noise
Low weight
Easy control
3 years of warranty
Good price against performance
Cons:
Limited in power for professionals
Lincoln Bulldog 5500 Reviews: Features and Benefits
Stick Welding
This machine is exclusively made for stick welding. It's a great portable AC stick welding machine that runs with a Kohler engine. It can constantly serve up to 140 amps of AC output.
That means it's a good choice for users who wants something for stick welding.
AC Generator Power
This machine has an AC generator included which is able to deliver 4000 watts continuously for your use. At the peak, it can go up to 5500 watts at its best.
Doesn't matter what you are doing or what you need. Grinder, pump, emergency power, or motor starting, it can do anything you want with this kind of welding power.
You can also plug in a POWER MIG 180C or POWER MIG 140C if you want to do some wire welding.
Rugged Tube Frame
The Lincoln Bulldog 5500 is known for its durability. It has a 1-1/4 in. (32 mm) diameter rugged tube frame which is the largest diameter tube frame in its class. It's also great for all-around sturdy protection.
Low noise
The welding machine produces lower noise than most of the machines in the market. Only 103 dB sound power has made the machine quieter than ever. At 23 ft. , it produces only 78.2 dBA sound level. So if you need performance with low sound, it is the right choice.
Quality and Reliability
The welding machine is rated at 40ºC, so you don't need to worry about high temperatures.
Its dependability and long life are all aided by the all-copper windings used in rotor and stator. That provides high-quality insulation. The machine is also manufactured under a quality system which is certified by ISO 9001.
The machine has a red and black powder paint finish. That offers increased durability and protection from rust and corrosion. It's also ultraviolet resistant and retains better color and gloss.
Easy control and simple power panel
The Lincoln Bulldog 5500 can be easily operated and it runs smoothly. The control side is simple and very easy to use.
The control panel has an hour meter to monitor run time for scheduled engine maintenance. It has an output control dial to keep control of output amps.
Maintenance at ease
Generally, maintaining a machine isn't a piece of cake. But thanks to Lincoln Bulldog 5500, maintaining machines has become easier than ever.
The machine can be easily cleaned and maintained. It has a large fuel fill opening, so you can easily refuel it yourself. The 1.9 gallon capacity of the machine offers extended run times and less frequent refueling. You don't even need an oil filter to replace again and again.
The Kohler gas engine offers automatic shutdown when low in fuel. So you don't need to worry about shutting it down when you need to refuel.
All these features make the welder extremely suitable for beginners who don't know their way around engine driven welders yet.
Alternates You May Consider
Table could not be displayed.
Check out our review of Hobart Champion 145 Welder.
Final Words
Finding a reliable engine driven welder that is easy to use yet enough efficient is hard to find. Most welders are either weak or difficult to maintain. It causes trouble for both professional and amateur workers.
Many generators are even annoying for the excessive noise they make. You don't want these problems to get in your way. The Lincoln Bulldog 5500 solves all these problems and provides a smooth welding.
Firstly, this device is very much compatible and its lightweight allows you to move it freely.
Secondly, this engine driven welder works quietly. This gives you a perfect work environment. Most importantly, it provides all of these at a cheaper price. Overall it's definitely a good engine driven welder for you.
So, from the review, you have seen that the Lincoln Bulldog 5500 is a great asset for homeowners and non-professional workers. If you want a great machine at an affordable price, go for it. Click here to know more and get the machine at the least price.