Plasma cutting is just as good and versatile as any other branch of metalworking. Regardless of purposes, you may need to pursue a variety of applications like drag cutting, fine feature detailing, extended reach cutting, metal gouging, etc.
You can rely on dozens of plasma cutters for the tasks but not just any model when you're interested only in accuracy, reliability, smoothness, and speed. These particular demands usually limit your options and raise concerns for power output, duty cycle, and smart control features.
Powermax 85 is one of the few plasma cutters with all those benefits but at a substantial expense. So, there're questions whether or not one should go for performance putting aside the thoughts about the budget. By the end of this Hypertherm Powermax 85 review, you'll be able to reach a well-informed decision.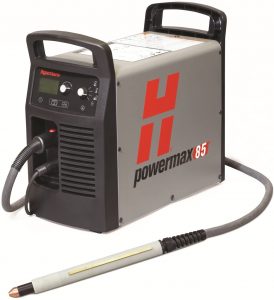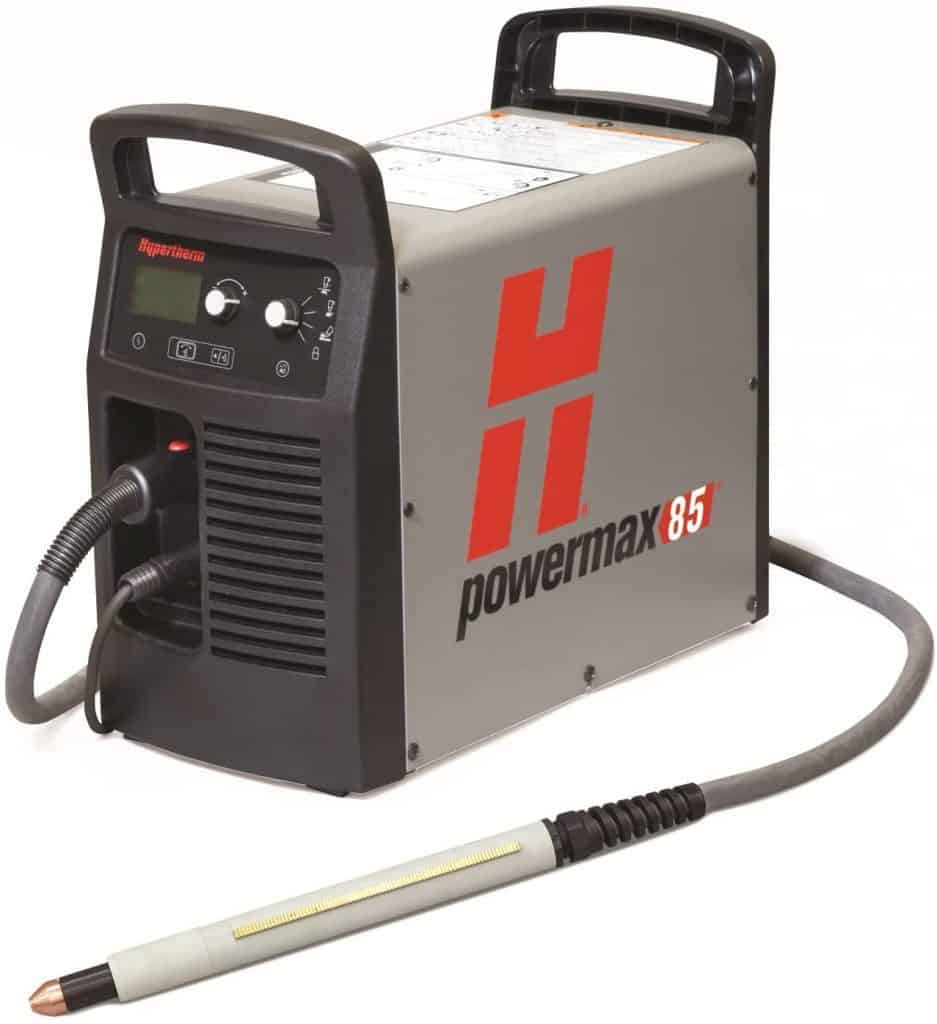 Check Price & Reviews on Amazon
Additional Read: Hypertherm Plasma Cutter Reviews
Introducing Hypertherm Powermax 85 Hand System
As an Amazon Associate I earn from qualifying purchases
Powermax85 is a premium plasma system that incorporates high-quality components and advanced technologies to serve users who look forward to cutting or severing 3/4″ to 1-1/2″ thick metal using handheld or mechanized means. The unit also allows for gouging actions at 19.5 lbs. per hour with a groove profile which can be up to .23″ deep and .28″ wide.
Powermax85 is a more expensive and capable version of Powermax65. Better performance, reliable duty cycle, higher operational speed, etc. make Powermax85 more desirable except only when the budget isn't a big deal.
Who Is Powermax85 Hand Plasma System for?
Factory professionals may not call it quite their desired type, but there's no denying the fact that the machine has been made to be far from a basic plasma system with mediocre cutting capacities.
So, the unit comes with adequate power to satisfy the day-to-day needs of plumbers, HVAC contractors, metalworking contractors, and owners of fabrication and repair shops.
Check Price & Reviews on Amazon
Problems You Might Face
A premium unit such as this one barely comes with any substandard component or an annoying limitation, yet you can't overlook the maintenance part, temperature factor, and arc issues.
Doing the Routine Maintenance
Some components require daily care while others do on occasions only. Here's a list with the recommended frequency for routine maintenance.
After Every Use: Check the indicators to find out anything wrong (faulty) and correct them. Inspect the installation and overall condition of the consumables.
Once in 3 Months: Inspect the torch lead, body, and trigger along with labels, power cord, and plug. Replace them if broken/damaged.
Once in 6 Months: Check the interior of the power supply and clean the inside using a vacuum tool or compressed air.
Dealing with High (Over) and Low (Under) Temperature
Turn on the power supply so that the fan cools it. If the power supply's internal temperature reaches -30° C (-22° F), you should relocate the power supply someplace warmer.
The Arc Sputters and Strange Noises (Particularly Hisses)
Due to leaving the air filter for a while without any maintenance, the element in it may get contaminated. So, the air filter bowl and element have to be replaced. Examine the gas line properly to find out if there's any sign of moisture. You can install a gas filtration system upon discovering moistures.
Pros
A powerful unit designed to allow for eight types of plasma cutting, piercing, and gouging applications
Exceptional cut thickness and gouging capacities for helping with demanding metalworking projects
Smart Sense™ function to maintain the required air pressure
SpringStart™ system to allow consistent starting and ensure the torch's reliability
True and tried drag cutting technology in conjunction with a patented shield to minimize the amount of dross and allow for smooth cutting
Compatible with different heat-resistant Duramax™ torch styles for gouging, hand or robotic cutting, and portable automation
Cons
Very expensive for everyone but professionals engaged in commercial projects
Too heavy for someone looking to carry it with one hand
Check Price & Reviews on Amazon
Hypertherm Powermax 85 Review: Features and Benefits
Powermax85 Plasma System is equipped with everything expected by users with both DIY and commercial needs. Let's unfold the product by its components and specs.
Cut Thickness and Capacities
The machine allows four types of uses at variable speeds.
Recommended clean cut thickness up to 1″ at 20 ipm and maximum thickness up to 1-1/4″ at 10 ipm
Maximum severance cut thickness up to 1-1/2″ at 5 ipm
Maximum piercing thickness up to 3/4″
Recommended gouging up to 19.5 lbs. per hour with a groove profile measured at 0.23″ D x 0.28″ W
Smart and Control Features
Three separate features are in use to allow the user enjoy great control over the operations.
SpringStart for consistent arc starting and torch functions
SmartSense for correct air pressure all the time without requiring manual actions
The Adjustment Knob for setting the amperage as required and allowing for the adjustment of gas pressure while manual mode
Duty Cycle and Power Efficiency
Under usual circumstances, the rated duty cycle is 60% at its maximum amperage. It may change depending on the voltage settings and number of electrical power phases. Here's a detailed list for your information.
40% @ 85 A, 200 – 208 V, 1-Phase
50% @ 85 A, 200 – 208 V, 3-Phase
50% @ 85 A, 240 V, 1-Phase
60% @ 85 A, 480 V, 1-Phase
60% @ 85 A, 230 – 600 V, 3-Phase
100% @ 66 A, 230 – 600 V, 1/3-Phase
Duramax™ Torches and Pilot Arc
The unit accepts a variety of torch styles which bring great versatility in hand cutting, portable automation, gouging, mechanized cutting, etc.
The pilot arc can be controlled via the four different positions of the operating mode switch.
Continuous arc for grating or cutting expanded metal
Non-continuous arc for drag cutting or piercing metal plate
Gouge mode for gouging metal plates (output can be compromised)
Torch lock function for letting the operator continue to cut with the torch locked on
Check Price & Reviews on Amazon
Final Words
With all the strong and downsides of the product being discussed, you can still look out for the perfect clue to learn how Powermax85 stands out among all its premium competitors.
'Reliable' should be the right word to define how the unit is going to satisfy those who prefer heavy-duty service to average performance. Also, it provides the user with the opportunity to gain some advantage while undertaking commercial projects.
Finally, the cost of the package is the only factor you need to overlook, and that makes sense when you expect no compromises on the cut quality and speed.
Click here to check the latest price!